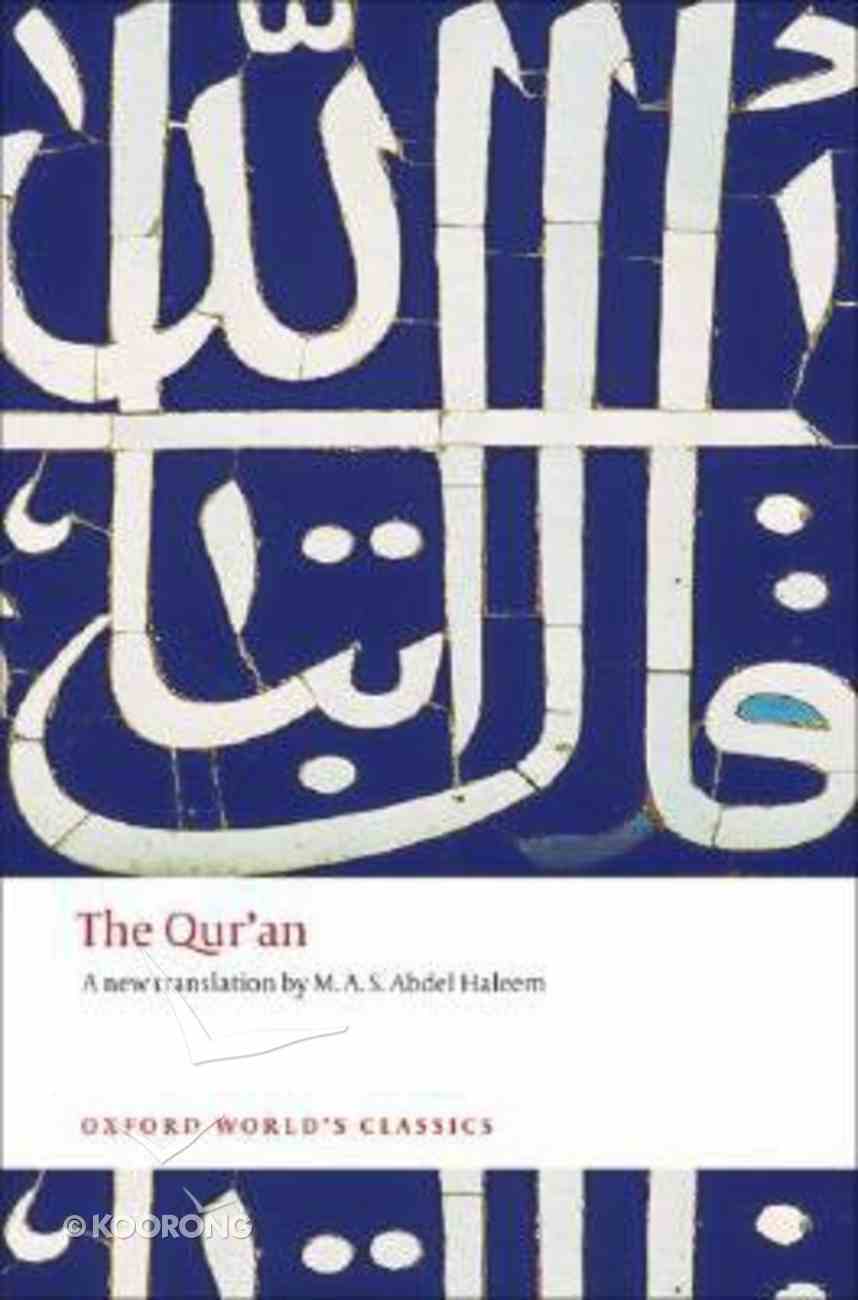 The Qur'an (Oxford World's Classics Series)
'Read! Your Lord is the Most Bountiful one who taught by the pen, who taught man what he did not know.' The Qur'an, believed by Muslims to be the word of God, was revealed to the Prophet Muhammad 1400 years...
The supplier of this item is out of stock. There will be a delay in the fulfillment of this item. We will keep your order on file and notify you of any changes to this item's status.
0 Available.
---
Free Shipping
for orders over $99.
'Read! Your Lord is the Most Bountiful one who taught by the pen, who taught man what he did not know.' The Qur'an, believed by Muslims to be the word of God, was revealed to the Prophet Muhammad 1400 years ago. It is the supreme authority in Islam and the living source of all Islamic teaching; it is a sacred text and a book of guidance, that sets out the creed, rituals, ethics, and laws of the Islamic religion. It has been one of the most influential books in the history of literature. Recognized as the greatest literary masterpiece in Arabic, it has nevertheless remained difficult to understand in its English translations. This new translation is written in a contemporary idiom that remains faithful to the original, making it easy to read while retaining its powers of eloquence. Archaisms and cryptic language are avoided, and the Arabic meaning preserved by respecting the context of the discourse. The message of the Qur'an was directly addressed to all people regardless of class, gender, or age, and this translation is equally accessible to everyone.
-Publisher
One of the most influential books in the history of literature, recognized as the greatest literary masterpiece in Arabic, the Qur'an is the supreme authority and living source of all Islamic teaching, the sacred text that sets out the creed, rituals, ethics, and laws of Islam. Yet despite the growing interest in Islamic teachings and culture, there has never been a truly satisfactory English translation of the Qur'an, until now.

This superb new translation of the Qur'an is written in contemporary language that remains faithful to the meaning and spirit of the original, making the text crystal clear while retaining all of this great work's eloquence. The translation is accurate and completely free from the archaisms, incoherence, and alien structures that mar existing translations. Thus, for the first time, English-speaking readers will have a text of the Qur'an which is easy to use and comprehensible. Furthermore, Haleem includes notes that explain geographical, historical, and personal allusions as well as an index in which Qur'anic material is arranged into topics for easy reference. His introduction traces the history of the Qur'an, examines its structure and stylistic features, and considers issues related to militancy, intolerance, and the subjection of women.

Clearly written and filled with helpful information and guidance, this brilliant translation of the Qur'an is the best available introduction to the faith of Moslems around the world.
About the Series: For over 100 yearsOxford World's Classicshas made available the broadest spectrum of literature from around the globe. Each affordable volume reflects Oxford's commitment to scholarship, providing the most accurate text plus a wealth of other valuable features, including expert introductions by leading authorities, voluminous notes to clarify the text, up-to-date bibliographies for further study, and much more.
-Publisher
Bestsellers in World Religions