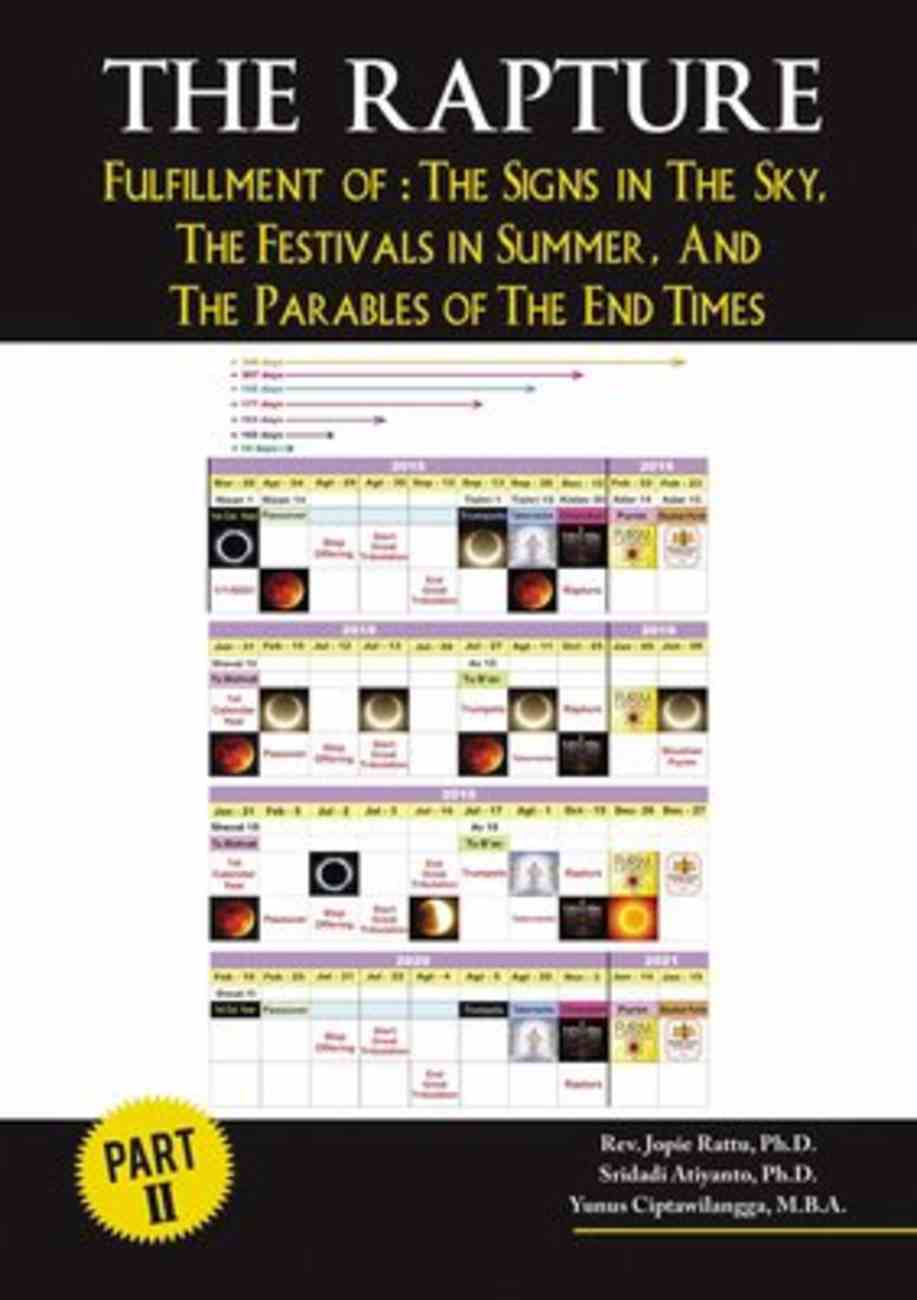 This second part of the book explains about the signs of heaven that are related to the second coming of the Lord Jesus. His first coming is marked by a sign in the sky in the form of a...
Instant download
---
Read using our free app on your tablet or mobile!
---
Free Shipping
for orders over $99.

This second part of the book explains about the signs of heaven that are related to the second coming of the Lord Jesus.


His first coming is marked by a sign in the sky in the form of a star in the east as explained in Matthew 2:2:


Saying, Where is he that is born King of the Jews? for we have seen his star in the east, and are come to worship him.


God also gave signs in the sky relating to His second coming:


The sun shall be turned into darkness, and the moon into blood, before that great and notable day of the Lord come: (Acts 2:20)


From 2014-2019 there were sixteen sky signs referred to the verse, in the form of nine solar eclipses and seven total lunar eclipses (moons like blood), thirteen of which occur right on the feast days of the people of Israel and three on the days that we interpret related to end-time events, that are on the day would be the beginning of great tribulation, on the day of the cessation of daily sacrifices, and the last day of great tribulation in Jerusalem.


Furthermore, the eclipses of years 2018 have the same interval of days with the ones in 2015, especially when reckoned from the calendar year beginning on the 1st day of Nissan and the other calendar year beginning on the 15th day of Shevat.


The Bible records that the end times will occur when conditions are safe and peaceful, but they will suddenly turn into chaos accompanied by severe persecution.


"For when they shall say, Peace and safety; then sudden destruction cometh upon them, as travail upon a woman with child; and they shall not escape." (1 Thessalonans 5:3)


In medical science, the normal gestation period lasts 266 days, and the Lord gave a lot of signs similar to pregnancy (266).


In addition, the book also explains the Israelite festivals and their meanings and prophecies. The Israelites have seven main feasts which are divided into two, namely the festivals of Rainy Season and the festival of Summer. The three festivals of the Rainy Season were fulfilled at the time of the first coming of the Lord Jesus. The four summer festivals in the form of the feast of the Trumpet, the day of Atonement, the feast of Tabernacles and the day of Hanukkah have not yet been fulfilled. Many theologians believe that the holidays will be fulfilled in connection with the second coming of the Lord Jesus.


Surprisingly, when we interpreted end-time events based on data of solar eclipses and total lunar eclipses, Israel's feasts and Bible verses, it turns out that our interpretation of the end-time events occurred precisely in the days the Summer feast and in accordance with the prophecies of these feast days, so that if this really happens then the second coming of the Lord Jesus will be the fulfillment of the Israel's Summer festivals!




-Publisher
Bestsellers in Spirit-filled Living