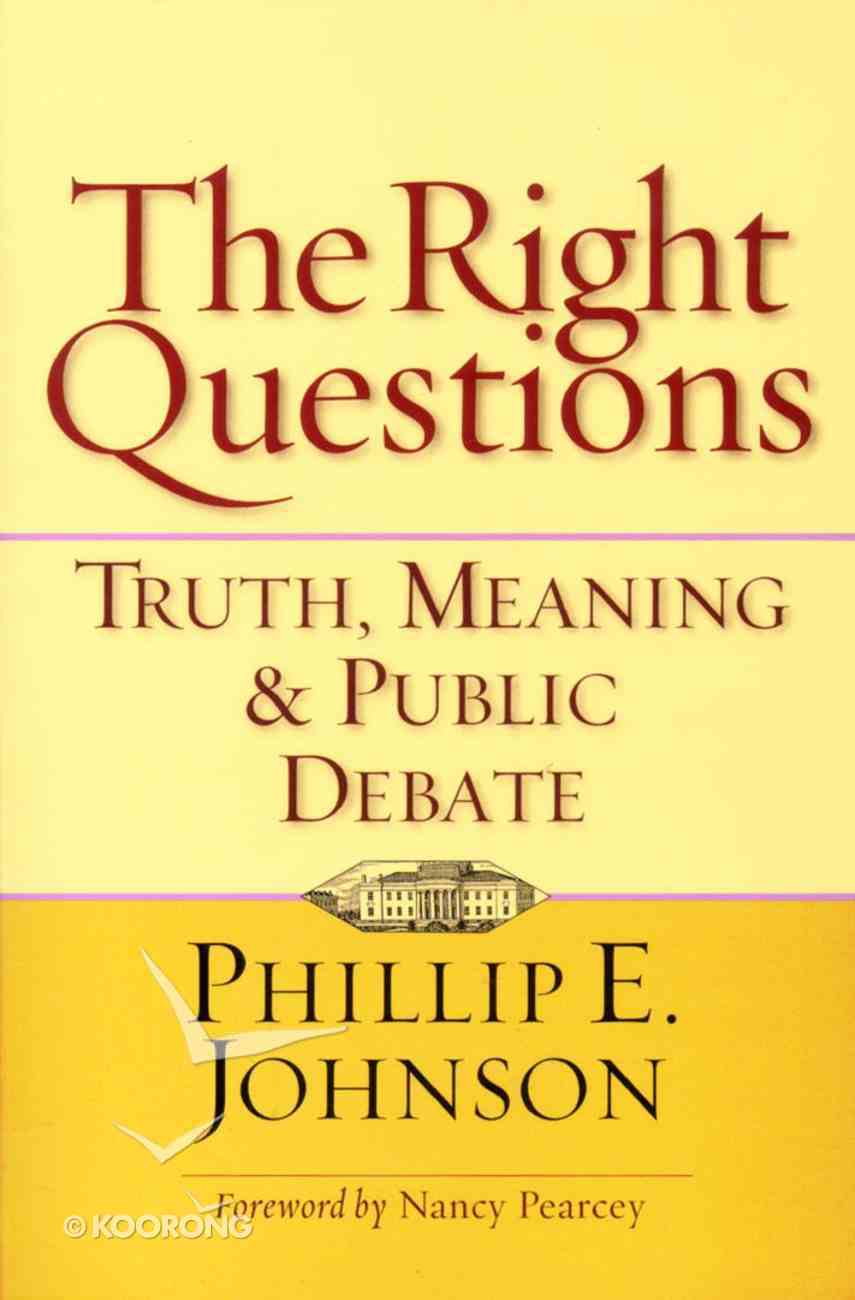 Phillip E. Johnson pries the lid off public debate about issues at the core of what contemporary society deems true and meaningful. He outlines the questions we ought to be asking about scientific inquiry, public education, civil liberties, moral choices...
Unavailable. Out of Print. Only available while stock lasts.
Out of Print
---
Free Shipping
for orders over $99.
Phillip E. Johnson pries the lid off public debate about issues at the core of what contemporary society deems true and meaningful. He outlines the questions we ought to be asking about scientific inquiry, public education, civil liberties, moral choices
-Publisher
An ECPA 2003 Gold Medallion Finalist!Phillip E. Johnson pries the lid off public debate about questions of ultimate concern--questions often suppressed by our society's intellectual elite. Moving far beyond matters of creation and evolution, Johnson outlines the questions we all ought to be asking about the meaning of human history, the limits of scientific inquiry, religion and education in a pluralistic society, truth, liberty and moral choices, and God and His Word, Jesus Christ.Johnson deftly demonstrates how the reigning naturalistic philosophy not only squelches public debate but also constrains us to ask the wrong questions. Unless we start with the right questions, Johnson argues, our discussions will be framed by the assumptions of that very philosophy which must be challenged.Johnson asserts that even the Christian church has much too often passively accepted this limiting frame of mind to the detriment of all. But Christian faith and conviction instead ought to lead in opening up the search for truth and meaning through the kind of public education that "teaches in controversy." Then all of us will be prepared to engage in lively, informed and civil debate about the questions that really matter.Why is it always wrong to mix science and religion?What is the ultimate premise, the beginning point, from which logic should proceed?How can a college education prepare students to understand the ultimate purpose or meaning for which life should be lived and to choose rightly from among the available possibilities?What is the appropriate understanding of religion in a pluralistic nation where substantial numbers of Christians, agnostics, Jews and Muslims all need to live together in peace?How can democratic liberalism remain viable when severed from its Christian roots?What is the most important event in human history?Provocative, personal, persuasive and prophetic, Johnson is certain to help us break free from our intellectual and spiritual captivity.
-Publisher
A graduate of Harvard University and the University of Chicago Law School, Phillip E. Johnson served as law clerk for Chief Justice Earl Warren of the United States Supreme Court and taught law for more than thirty years at the University of California, Berkeley where he is professor emeritus.


For the last decade Johnson has also been at the forefront of the public debate over evolution and creation. He is recognized as the leading spokesman for the intelligent design movement, and he has taken his message to such places as the New York Times and the Wall Street Journal. Johnson travels frequently to speak at conferences and with television and radio audiences. He has appeared on Chuck Colson's Breakpoint, on Business News Network's Consumer Hotlineand on James Dobson's Focus on the Family,"among other shows.


Johnson is an advisor to the Discovery Institutes Center for the Renewal of Science and Culture (Seattle, Washington). His Books include Darwin on Trial (1993); Reason in the BalanceThe Case Against Naturalism in Science, Law & Education (1998); The Wedge of TruthSplitting the Foundations of Naturalism (2002); The Right QuestionsTruth, Meaning & Public Debate (2004); Defeating Darwinism by Opening Minds. and most recently Against All Gods: What's Right and Wrong About the New Atheism. (2010)


Foreword By Nancy Pearcey
Introduction: The Logical Train
1. Biology And Liberal Freedom
The Human Genome Project And The Meaning Of Life
<em>the Right Questions About Science, God And Morality</em>
2. The Word Of God In Education
<em>the Right Questions About The Religious Foundations Of Education</em>
3. The First Catastrophe
Unarmed Among The Dragons Of The Mind
<em>the Right Questions About Logic</em>
4. My New Post
The Road Forward
<em>the Right Questions About The Meaning Of Life</em>
5. The Second Catastrophe
The Tottering Towers Of Faith
<em>the Right Questions About Religion And Tolerance In A Pluralistic Society</em>
6. Genesis And Gender
<em>the Right Questions About Genesis</em>
7. Truth And Liberty
Freedom To Dissent And Freedom To Do Right
<em>the Right Question About Truth And Liberty</em>
8. The Ultimate Question
What Is The Most Important Event In Humna History?
Index
Bestsellers in Christian Worldview