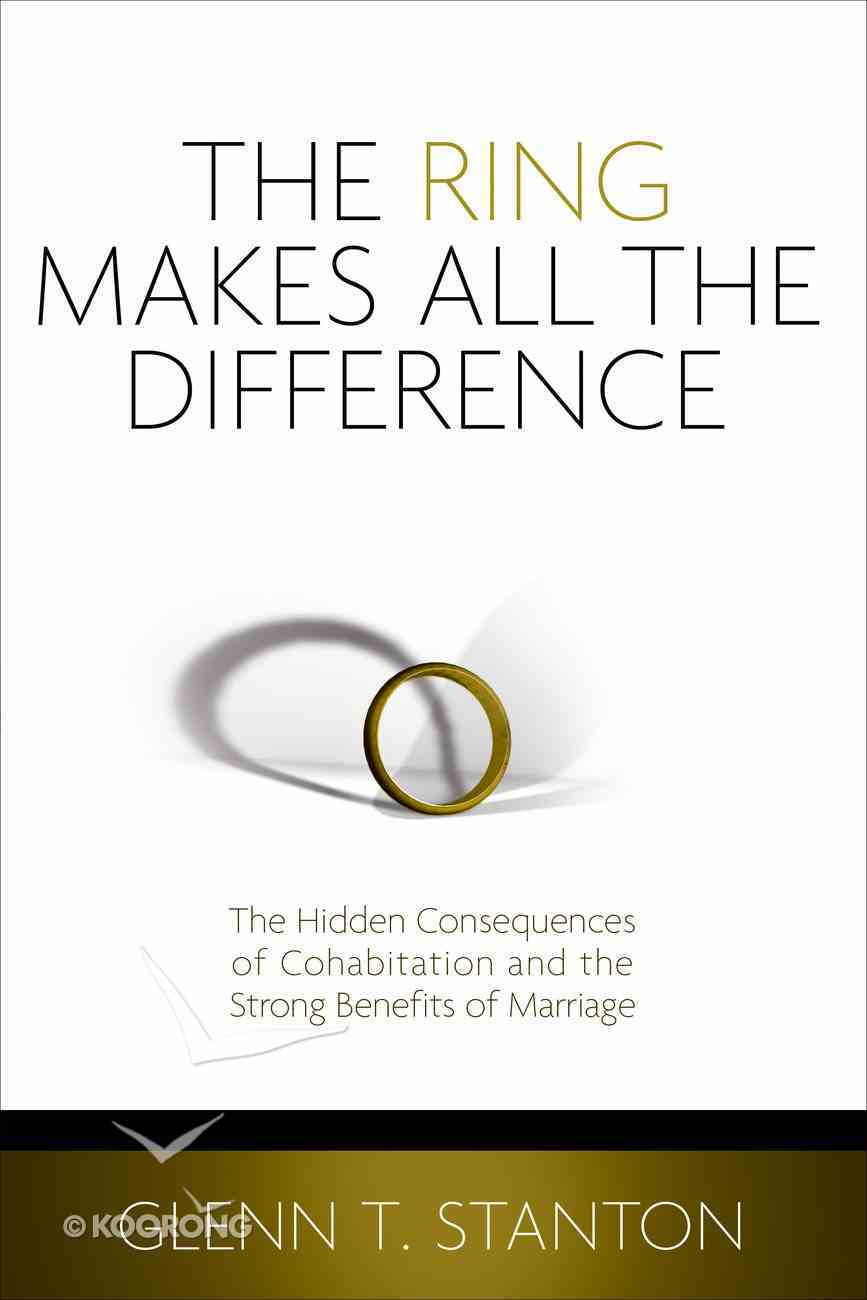 The Ring Makes All the Difference
Why not cohabitate? Many believe nothing is better for their future marriage than a trial period-cohabitation. It's the fastest growing family type in the U.S. So how's that working out? Are people truly happier? Author Glenn Stanton...
Available for immediate download.
---
Read using our free app on your tablet or mobile!
---
Free Shipping
for orders over $99.


Why not cohabitate?


Many believe nothing is better for their future marriage than a trial period-cohabitation. It's the fastest growing family type in the U.S. So how's that working out? Are people truly happier?


Author Glenn Stanton offers a compelling factual case that nearly every area of health and happiness is increased by marriage and decreased by cohabitation.


With credible data and compassion, Stanton explores the reasons why the cohabitation trend is growing; outlines its negative outcomes for men, women, and children; and makes a case for why marriage is still the best arrangement for the flourishing of couples and society.


This resource is ideal for those who are cohabitating or considering it, as well as pastors and counselors who need to be able to engage this issue.


^States and most Western nations. Most of these couples view the arrangement ^as a step toward marriage, or as a substitute for marriage. But does living ^together truly give people what they are longing for? Author Glenn Stanton ^offers a compelling factual case that nearly every area ^of health and happiness is increased by marriage and decreased by ^cohabitation.


How can young couples determine if moving in together is a wise ^move?  With more than half of American women no cohabitating sometime in their ^adult lives, pastors and counselors need to be prepared to advise young adults ^with factual and scriptural truth. With credible data and ^compassion, Stanton explores the reasons why the cohabitation trend is growing; ^outlines its negative outcomes for men, women and children; and makes a case for ^why marriage is still the best arrangement for the flourishing of couples and society



Chapter 1: Cohabitation Nation


Chapter 2: What Are Couples Looking ^For?


Chapter 3: How Cohabitating Relationships Differ from Marriage


Chapter ^4: Why Mom and Dad's Marriage License Matters to Children


Chapter 5: Health ^and Happiness


Chapter 6: Does Cohabitation Lead to Better Marriages?


Chapter ^7: Cohabitation: A Relationship on the Man's Terms


Chapter 8: The Book of ^Scripture and the Book of Science

Chapter 9: Marriage: A Better Way

GLENN T. STANTON is the director for Family Formation Studies at ^Focus on the Family in Colorado Springs and is directing a major research project ^on international family formation trends at the Institute of Marriage and Family ^in Ottawa. He debates and lectures extensively on the issues of gender, sexuality, ^marriage and parenting at universities and churches around the country. He served ^the George W. Bush administration for many years as a consultant on increasing fatherhood ^involvement in the Head Start program. Glenn is an author and contributor to many ^books and is quoted as a leading spokesperson on marriage and family issues. Glenn ^and his wife have five children and live in Colorado Springs, Colorado.


Many believe nothing is better for their future marriage than a trial ^period - cohabitation. It's the fastest growing family type in the U.S.  So ^how's that working out? Are people truly happier?


Glenn Stanton cites a wealth ^of research that looks at the effects of cohabitation and marriage on all areas ^of health and happiness. The results may surprise you.  Well-done, unbiased ^science supports the traditional, Biblical view of the importance of marriage.


 


If ^you're considering moving in together or currently living together, take the time ^to read this book. See for yourself the impact your current decisions will have ^on both your future and that of those you love. You'll quickly see that all relationship ^forms are not equal.  Cohabitation is not "marriage-lite."  Marriage is ^an action, a decision, a statement. Truly, The Ring Makes All the Difference.


"Christians ^believe traditional marriage matters because it is outlined for us in the pages ^of sacred Scripture.  But guess what?  Science, reason, and history are ^also on our side.  In this excellent book, my friend Glenn Stanton explains ^how all of these roads point to the importance of marriage." ~ Jim Daly, president ^- Focus on the Family


"LOVED this book!  An easy and insightful ^must-read for anybody thinking about living together or getting married as well ^as those working with young couples, such as pastors, counselors, or mentors." ~ Julie ^Baumgardner, president and executive director of First Things First


"This ^... explains why marriage is different from other relationships like cohabitation, ^and how marriage benefits adults and children by signifying clarity about the nature ^of the commitment between two partners.  It is both an important and a useful ^book."  ~ Scott M. Stanley, research professor, University of Denver; author, ^The Power of Commitment



The Ring Makes All the Difference tells ^us two hard truths: Cohabitation puts adults at risk for marital failure, and puts ^children at risk of being exposed to a relational merry-go-round that all too often ^ends in neglect or abuse." ~ W. Bradford Wilcox, director of National Marriage Project ^at the University of Virginia   


GLENN T. STANTON is the director ^for Family Formation Studies at Focus on the Family. He debates and lectures extensively ^on the issues of gender, sexuality, marriage, and parenting at universities and ^churches around the country. Glenn is an author and contributor to many books and ^is quoted as a leading spokesperson on marriage and family issues. Glenn and his ^wife have five children and live in Colorado.




Cohabitation is hands-down the fastest growing family form in the United ^States and most Western nations. Most of these couples view the arrangement ^as a step toward marriage, or as a substitute for marriage. But does living ^together truly give people what they are longing for? Author Glenn Stanton ^offers a compelling factual case that nearly every area ^of health and happiness is increased by marriage and decreased by ^cohabitation.


How can young couples determine if moving in together is a wise ^move?  With more than half of American women now cohabitating sometime in their ^adult lives, pastors and counselors need to be prepared to advise young adults ^with factual and scriptural truth. With credible data and ^compassion, Stanton explores the reasons why the cohabitation trend is growing; ^outlines its negative outcomes for men, women and children; and makes a case for ^why marriage is still the best arrangement for the flourishing of couples and society. 



-Publisher
Glenn T. Stanton is a husband, father, writer and speaker. He married his high-school sweetheart, Jacqueline Stanton, 22 years ago and they have five young children, ages nine and under. They have little sleep, but much joy! Glenn is the Director of Social Research and Cultural Affairs and Senior Research Analyst for Marriage and Sexuality at Focus on the Family.He is the author of Why Marriage Matters: Reasons to Believe in Marriage in Postmodern Society, which examines the rich and diverse benefits marriage brings to adults, children, and society. He is also a contributor to two books, The F
Bestsellers in Relationships