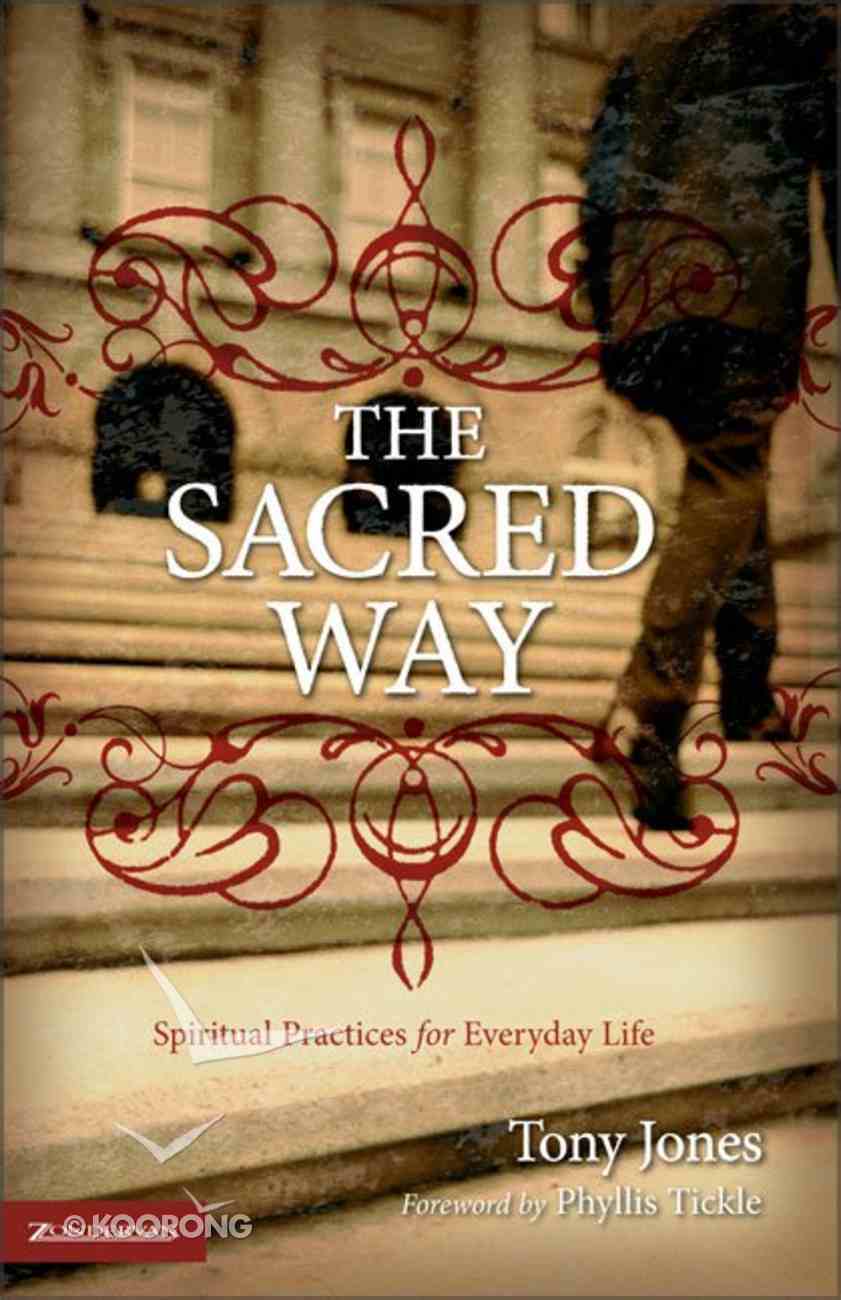 Broaden your spiritual horizons. How has spirituality changed in the last 500, 1,000, or even 2,000 years? How can ancient approaches to faith help my relationship with God today? In The Sacred Way, popular author and speaker Tony Jones...
Out of Stock
Available to Order
---
Expected to ship in 5 to 6 weeks from Australia.
---
Free Shipping
for orders over $99.
Broaden your spiritual horizons.

How has spirituality changed in the last 500, 1,000, or even 2,000 years? How can ancient approaches to faith help my relationship with God today? In The Sacred Way, popular author and speaker Tony Jones mines the rich history of 16 spiritual disciplines that have flourished throughout the ages and offers practical tips for implementing them in your daily life. Find encouragement and challenge through time-tested disciplines such as: Silence and solitude The Jesus prayer Meditation Pilgrimage Explore these proven approaches to deepening your faith. As you do, your way of living your spiritual life will never be the same.
-Publisher
This book mines the rich history of the church for spiritual disciplines that have been largely forgotten in the practice of Christianity. After introductory material that considers the human longing for spirituality and setting a working definition of the term ("To be enlivened by God's Spirit is the goal of Christian spirituality."), there is a historical and theological exploration of sixteen different ancient practices.
-Publisher
PRODUCT DETAIL
Catalogue Code 

223866

Product Code 

0310258103

EAN 

9780310258100

UPC 

025986258108

Pages 

224

Department General Books
Category Spiritual Growth
Sub-Category General
Publisher Emergent Ys
Publication Date 

Feb 2005

Sales Rank 

29469

Dimensions 

228 x 152 x 15

mm

Weight 

0.303

kg
Table Of Contents
Foreword.....6
Acknowledgements.....9
Part I: Introduction......11
1. The Quest For God.....13
2. What Is Spirituality And How Do You Practice It?.....25
Part Ii: Via Contemplativa: Contemplative
Approaches To Spirituality.....33
3. Silence And Solitude.....37
4. Sacred Reading.....47
5. The Jesus Prayer......59
6. Centering Prayer......69
7. Meditation.....77
8. The Ignatian Examen.....87
9. Icons.....97
10. Spiritual Direction.....107
11. The Daily Office.....117
Part Iii: Via Activa: Bodily Approaches To
Spirituality.....125
12. The Labyrinth.....127
13. Stations Of The Cross.....135
14. Pilgrimage.....149
15. Fasting.....159
16. The Sign Of The Cross And Other Bodily Prayers.....169
17. Sabbath.....179
18. Service.....189
Epilogue: Developing A Rule Of Life......195
Notes......201
Resources......213
1. Book Resources.....214
2. Web Resources.....218
3. A Short List Of Christian Spiritual Classics.....221
CHAPTER ONE The Quest for God Old habits are hard to break, and no one is easily weaned from his own opinions; but if you rely on your own reasoning and ability rather than on the virtue of submission to Jesus Christ, you will but seldom and slowly attain wisdom. For God wills that we become perfectly obedient to himself, and that we transcend mere reason on the wings of burning love for him. Thomas a Kempis I wrote a lot of this book in coffee shops. I was working at one in May when a spring thunderstorm came roiling across the plains of western Minnesota. The table at which I was sitting faced the large parking lot of an adjacent mall. As the wind picked up, the trees started to bend, and then the rain came in almost horizontal sheets. It being a weekday afternoon, the mall's parking lot was only half full. Way out on the edge was parked a brand new BMW 525i---it didn't even have license plates yet. Someone had parked it far away from all other cars, hoping to avoid the dings and dents of carelessly opened doors. As the wind gusted, I saw a shopping cart begin to roll, pushed by the storm. Free from the constraints of the Cart Corral, the unmanned missile gained speed, unhindered by obstacles as it wheeled across the slick asphalt. I saw it coming: The cart seemed to be caught in the tractor beam of the new car---250 yards and closing fast! 200 yards! 150! 100 yards! 50...25...10...5...Impact! That cart smashed right into the side of the as-yet unblemished BMW. I kid you not: There wasn't another car within 100 yards, but that cart was honed right in on its target. Mission accomplished. It seems to me that God is a lot like that shopping cart---not that God has four wheels and a child safety strap, but that God always seeks us out. No matter how far away we park, and no matter how much we try to avoid bumping into the Divine Creator of the Universe, God fi nds us and leaves a mark. It's not a search-and destroy mission; it's a search-and-give life mission. I've found that it's pretty common for God to hunt me down and smack me in the right front quarter panel. I know others share this feeling, hence the continued popularity of Francis Thompson's 19th century poem, 'The Hound of Heaven,' in which the protagonist proclaims, I fled Him, down the nights and down the days; I fled Him, down the arches of the years; I fled Him, down the labyrinthine ways Of my own mind; and in the mist of tears I hid from Him, and under running laughter. And yet, Love pursues, with an 'unhurrying chase' at an 'unperturbed pace,' and a Voice proclaims, 'Naught shelters thee, who wilt not shelter Me.' Love wins; God wins, hounding the poem's protagonist toward the gates of heaven, never giving up, in spite of attempts to outrun him. Now, this is a poem not a theological statement. It would be fairly silly to assert that one can't ignore God. In fact, it hardly needs to be stated that, of the six billion people on this planet, a pretty hefty number disregard God completely. But for a lot of us, Frances Thompson's poem articulates something significant. We have this nagging feeling that God is following us around, nudging us to live justly, and expecting us to talk to him every once in a while.* I guess I'm one of those people---one of those whom God is constantly nagging. Every time I leave God's side, as it were, it's not too long until I feel God tagging right along beside me. I can't seem to shake him. Yet having this sense of God's company doesn't necessarily translate to a meaningful spiritual life. I know this because despite my awareness of God's presence, I have spent most of my life trying to figure out what to do about it. Why Go Ancient? I was raised in a nice, Midwestern, church-going family. I went away to college and got involved in a conservative evangelical college group then went straight to seminary after graduation. In other words, by the time I was 25, my views of God, prayer, the Bible, etc. were pretty screwed up. I had more head-knowledge about faith, religion, whatever you want to call it, than a person should, but I really didn't seem to be able to put it into practice. I'd say there was one word that summed up my religious life: obligation. I had been taught that the way to connect with God on a daily basis is to have a 30-minute 'quiet time.' That is, you should sit down with your Bible open, read it a little, and then lay a bunch of stuff on God, making sure to mention how excellent he is before running through the list of all the things you need. I found this style of personal devotion to be a pretty shallow well, and it wasn't long before I was doing it only every other day, then once a week, and then, well, never. Taking the place of my 30-minute quiet time, however, were hours and hours of that great religious tradition: guilt. Here was the equation: God is out there + God wants to hear from me + I'm not talking = failure by me. After about 10 years of this, and hearing this same pattern corroborated by many people who were also trying to listen for God in their lives, something occurred to me: People have been trying to follow God for thousands of years, Christians for the last two thousand. Maybe somewhere along the line some of them had come up with ways of connecting with God that could help people like me. * I feel very uncomfortable referring to God as 'he.' On the one hand, I strongly believe that God is a personal being, but on the other hand, I believe that God is so much more than our words 'he,' 'she,' 'him,' and 'her' can capture. Recently, I've been trying to explain this to my three- and four-year-olds. When they look around at other people, dogs, birds, and hamsters, they only know 'he' and 'she,' so trying to convince them that God is neither and both and more than the two combined has been a challenge. So in this book, I'll try to avoid references to God as 'he' or 'she,' but sometimes I'll have to break my own rule in order to avoid literary awkwardness.
Bestsellers in Spiritual Growth