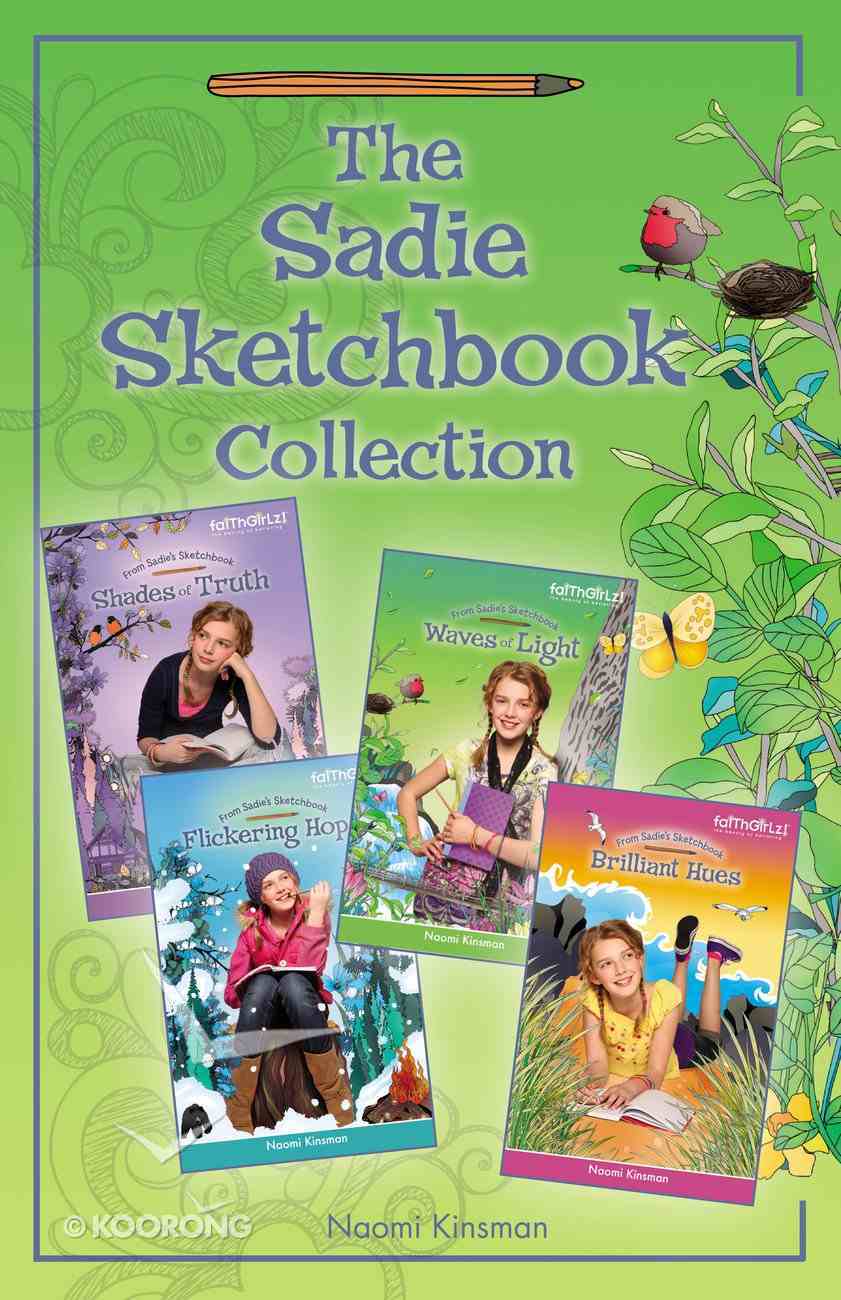 The Sadie Sketchbook Collection (Faithgirlz!/sadie's Sketchbook Series)
In this four-eBook bind-up of the Faithgirlz Sadie's Sketchbook series by Naomi Kinsman, readers meet twelve-year-old Sadie Douglas. Sadie is a regular girl struggling with everyday things like friendships, moving, family, and faith … and relying on that faith to...
Instant download
---
Read using our free app on your tablet or mobile!
---
Free Shipping
for orders over $99.

In this four-eBook bind-up of the Faithgirlz Sadie's Sketchbook series by Naomi Kinsman, readers meet twelve-year-old Sadie Douglas. Sadie is a regular girl struggling with everyday things like friendships, moving, family, and faith … and relying on that faith to survive.




This eBook collection includes:




Shades of Truth: It's Going to Be a Bear of a Year Sadie thought she'd have a perfect fresh start when she moved to Owl Creek, Michigan, but finding her place in her new school proves harder than she expected. In this divided town, Sadie's father's job mediating between bear hunters and researchers doesn't help her social life. Sadie's art instructor encourages her to explore her beliefs and express herself through her sketchbook, and things improve after Sadie befriends a kind girl from school and a researcher's son---but she can't stop worrying about the bears. As everything swirls around her, Sadie must learn what it means to have faith when you don't have all the answers.




Flickering Hope: Can You Ever Trust the Enemy? Things finally seem to be falling into place for Sadie. Bear season is over, and her relationship with her art teacher is on the mend. Her home life is going better than ever, and even her enemy, Frankie, wants to be friends. But can Frankie be trusted? Ruth and Andrew think she's spying for her father, helping him find a way to capture Sadie's favorite bear. But Sadie suspects something else is going on with Frankie. She must decide who to trust and find out if---and how---her growing faith can get her through.




Waves of Light: Where is God when you need him? After struggling to fit into a new town and school, Sadie faces questions about her faith, family, and friendships, questioning all she has come to believe. Sadie's life is spinning out of control. Her friend moved away, her mom remains ill, and her dad wants to leave town. At least the play Sadie is helping produce appears to be going well. After all, she gets to create the sets with her art teacher's help. But even that falls apart when a flash flood destroys her teacher's home and art. How can she trust or even believe in a God who would allow all this? God isn't fair. With everything crumbling and her faith on the edge, Sadie must find strength in the God she's questioning in order to hold on in the midst of her struggles.




Brilliant Hues: Sketching A Whole New Life Won't Be Easy Life comes full circle for Sadie as she heads back to Menlo Park, California. But Sadie finds she no longer fits in, especially when one of her dad's cases thrusts her into the spotlight and puts her in danger. She turns to her faith, but the youth group just isn't the same, and Sadie has a lot to think about when she hears what some kids believe. She returns to Owl Creek for a reprieve, but everything feels different. She just wants things to go back the way they used to be. Will her faith be strong enough to get her through?


-Publisher
Naomi Kinsman has always dreamed of plunging into a fiction world, like Lucy does in Voyage of the Dawn Treader. In Naomi's first career, acting and directing for the theater, this dream was inches from her reach. But writing has made the dream possible, and now Naomi regularly slips into book worlds and shares her adventures through her company, Society of Young Inklings, dedicated to empowering young writers across the country. Naomi is the author of the 2009 Moonbeam Gold Medal winner, Spilled Ink, and she has written and directed over 50 plays for young audiences. She lives in Northern Cal
Bestsellers in Confident Readers (Age 8-12)