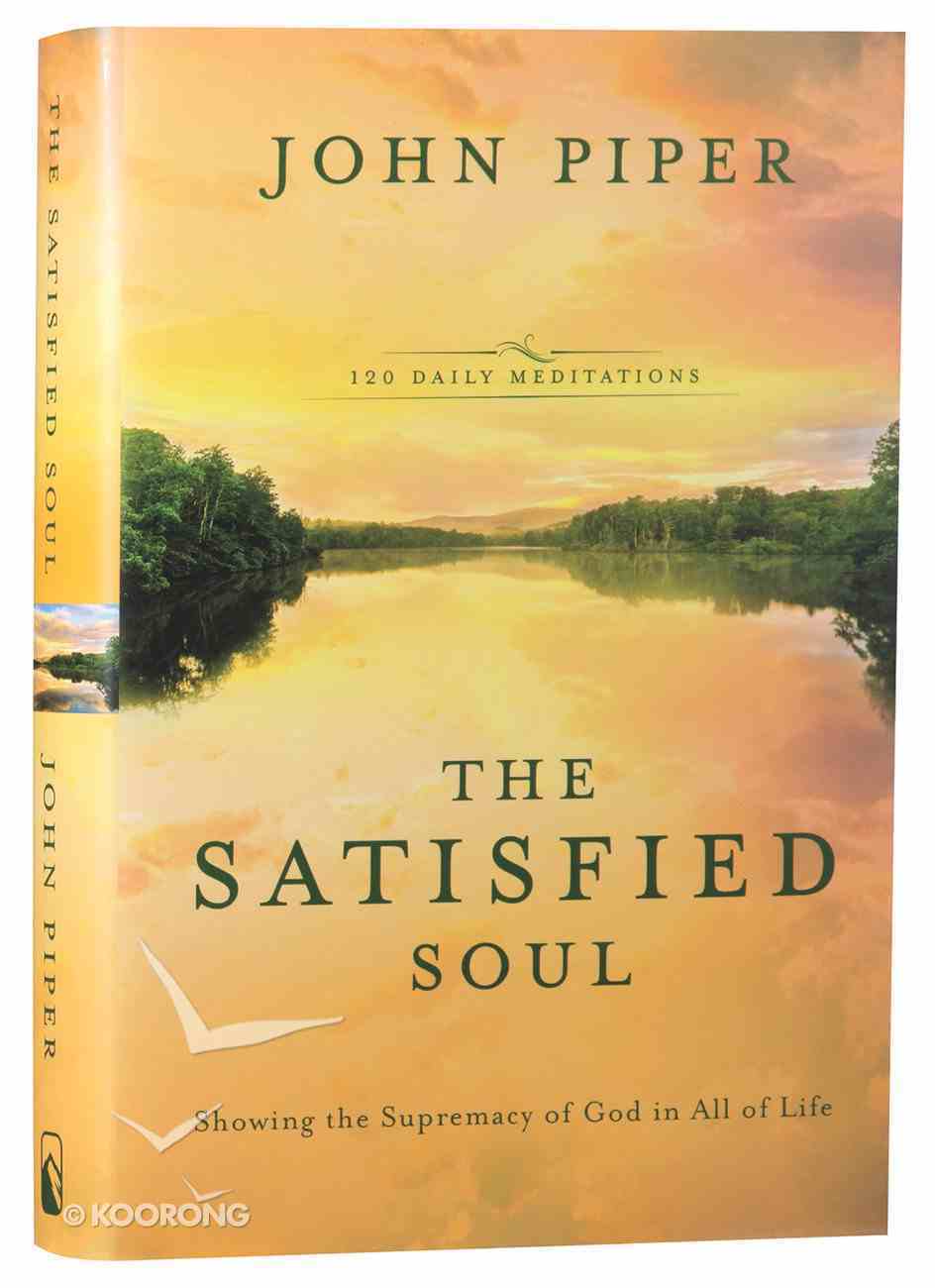 The 120 devotional readings in this collection cover a diverse array of topics, from traditional themes of Christian faith and discipleship to current issues like terrorism, media, racism, mental health, and voting. In all, beloved pastor John Piper reveals the...
---
Expected to ship tomorrow from Australia.
---
Free Shipping
for orders over $99.
The 120 devotional readings in this collection cover a diverse array of topics, from traditional themes of Christian faith and discipleship to current issues like terrorism, media, racism, mental health, and voting. In all, beloved pastor John Piper reveals the awesome majesty of God.
:If you want to understand more clearly the awesome majesty of God, this collection of one hundred twenty classic devotional readings by beloved pastor and author John Piper will reveal a deeper understanding of God and how to enjoy His involvement in every facet of life. Whether already intimately acquainted with Scripture or just beginning to experience the Bible's rich truths, readers will find their faith stirred and strengthened on a variety of topics, including traditional themes like anger, Satan, prayer, grace, worship, prayer, and heaven, as well as topics in the daily news like terrorism, media, racism, loving Muslims, marriage challenges, mental health, politics and voting, and much more.
-Publisher
PRODUCT DETAIL
Catalogue Code 

457619

Product Code 

9781601429995

ISBN 

1601429991

EAN 

9781601429995

Pages 

432

Department General Books
Category Devotions
Sub-Category General
Publisher Multnomah Publishers
Publication Date 

Aug 2017

Sales Rank 

6589

Dimensions 

216 x 148 x 33

mm

Weight 

0.535

kg
John Stephen Piper was born 11 January 1946 in Chattanooga, Tennessee, to Bill and Ruth Piper. The Pipers soon moved to Greenville, South Carolina, where John spent his growing-up years. His father was an itinerant evangelist who also ministered through international radio and Bible courses. John has written a tribute to his mother, who died in 1974, in the booklet, What's the Difference (Crossway Books, 1990) which is also chapter one of the book, Recovering Biblical Manhood and Womanhood (Crossway Books, 1991).

At Wheaton College (1964-68), John majored in Literature and minored in Philosophy. Studying Romantic Literature with Clyde Kilby stimulated the poetic side of his nature and today he regularly writes poems to celebrate special family occasions and rich, biblical truths. At Wheaton John also met Noel Henry whom he married in 1968.

Following college, John completed a Bachelor of Divinity degree at Fuller Theological Seminary in Pasadena, California (1968-71). While at Fuller, John discovered the writings of Jonathan Edwards.

John did his doctoral work in New Testament Studies at the University of Munich, Munich, West Germany (1971-74). His dissertation, Love Your Enemies, was published by Cambridge University Press and Baker Book House (and is now available through Crossway). Upon completion of his doctorate, he went on to teach Biblical Studies at Bethel College in St. Paul, Minnesota for six years (1974-80).

In 1980, sensing an irresistible call to preach, John became the senior pastor of Bethlehem Baptist Church in Minneapolis, Minnesota, where he ministered for 33 years, until 2013. Together with his people, John was dedicated to spreading a passion for the supremacy of God in all things for the joy of all peoples through Jesus Christ - a mission he continues now for the wider church through the ministry of desiringGod.org. John says of his ministry:
"The ministry of preaching is the central labor of my life. My prayer is that through that ministry and everything else I do the great glory of our God and Savior Jesus Christ would be magnified as more and more people come to live out the obedience of faith more and more deeply."

John is the author of over 50 books and now frequently travels to speak, and writes regularly, through Desiring God.

John and Noel have four sons, a daughter, and twelve grandchildren.
:A Word to the Reader
 
One of the reasons I put together collections of short meditations is that my life has been changed as much by paragraphs as by books.Books on one topic are valuable. They let the author explore all the angles of an insight. But where do the insights themselves come from? Usually they come from paragraphs. Even sentences. For reasons not entirely explainable, God can make a single paragraph life changing.

Perhaps some evening your soul is hungry. Not for anything in particular, just a soul-hunger. A longing. Something is needed beyond what television is going to give. Something about God, or about the meaning of your life, or about eternity. You're tired and you know that you probably can't stay awake to read twenty pages. So you pick up a book that you know focuses on eternal things, a Godward book. And three minutes later you have seen something, and you will never be the same again.

It may take a lifetime to sound the depths of what you just saw. But the seeing happens in an instant. It's as if God takes the paragraph in his fingers and uses it to adjust the lens on the eye of your soul, and some- thing wonderful comes into focus that you had never seen before.

Isn't it amazing to think about the relationship between God's focusing fingers and the human activity of writing and reading?  You may have read that same paragraph before—perhaps just the other evening. But this time, God put his fingers on it and turned the lens just one more focusing notch. What this means is that I should pray as a writer, and you should pray as a reader. We should ask God to do this focusing.

I think of your reading and my writing as a kind of partnership in the pursuit of a Godward miracle. I write, you read, but God gives sight. What we both want is this miracle of seeing—seeing life-changing things about God and life and eternity.

In one of his letters, the apostle Paul said, "By reading you can perceive my insight into the mystery of Christ" (Ephesians 3:4, author's translation). But was reading enough? A few sentences later he prayed, "That you may have strength to…know the love of Christ" (Ephesians 3:18–19). Something more was needed than reading. Something from God—he called it "strength to know." Earlier he had prayed that the eyes of his readers' hearts would be "enlightened that you may know" (Ephesians 1:18). Something from God is needed—in answer to prayer. This is what I meant when I said that God takes a human paragraph and puts his fingers on the lens of the eye of your soul. The slightest turn, and we are made strong with sight. We are never the same again.

So I have written. And you are reading. And God is ready to act. My words are not Scripture. They are not infallible like God's words. But my earnest aim in all I write is to be faithful to God's written Word in the Bible. To point to God and his Son and his works and his ways. My aim is a Godward book in the hope that God would put his fingers on its paragraphs and turn the lens of the eye of your soul, ever so delicately, and bring glories into focus.
This is how God forms us into his image. "Beholding the glory of the Lord, [we] are being transformed into the same image from one degree of glory to another" (2 Corinthians 3:18). This is our aim: from a Godward paragraph, to a sight of glory, to A Satisfied Soul.
 
***

I have enjoyed a long and happy relationship with Multnomah Books— especially in bringing my shorter writings to publication. A Satisfied Soul is a continuation of what we began in A Godward Life, Book One (2001, 2015), and continued in A Godward Life, Book Two (2003, which became Taste and See, 2005, 2016), Pierced by the Word (2003), Life as a Vapor (2004), and A Godward Heart (2014).

A Satisfied Soul is now the third volume of 120 (or more) readings, alongside A Godward Life and Taste and See. The three together combine for 365 daily readings, one for every day of the year, if you like. This new volume is a compilation of the three previously published smaller books (Pierced by the Word, Life as a Vapor, and A Godward Heart). Multnomah and the team at Desiring God thought it would serve readers to bring those three smaller devotionals together in this one volume to complement A Godward Life and Taste and See. I am thankful for this publishing partnership for the sake of spreading what I pray will prove to be life-changing, Christ-exalting paragraphs.
 
*** 

The Morning I Heard the Voice of God
When God's Word Gets Personal
 
Let me tell you about a most wonderful experience I had early Mon- day morning, March 19, 2007, a little after six o'clock. God actually spoke to me. There is no doubt that it was God. I heard the words   in my head just as clearly as when a memory of a conversation passes across your consciousness. The words were in English, but they had about them an absolutely self-authenticating ring of truth.  I know beyond the shadow of a doubt that God still speaks today.

I couldn't sleep for some reason. I was at Shalom House in northern Minnesota on a staff couples' retreat. It was about 5:30 in the morning. I lay there, wondering if I should get up or wait till I got sleepy again. In his mercy, God moved me out of bed. It was mostly dark, but I managed to find my clothing, get dressed, grab my briefcase, and slip out of the room without waking up Noël. In the main room below, it was totally quiet. No one else seemed to be up. So I sat down on a couch in the corner to pray.

As I prayed and mused, suddenly it happened. God said, "Come and see what I have done." There was not the slightest doubt in my mind that these were the very words of God, in this very moment. At this very place in the twenty-first century, God was speaking to me with absolute authority and self-evidencing reality. I paused to let this sink in. There was a sweetness about it. Time seemed to matter little. God was near. He had me in his sights. He had something to say to me. When God draws near, hurry ceases. Time slows down.

I wondered what he meant by "come and see." Would he take me somewhere, as he did Paul into heaven to see what can't be spoken? Did "see" mean that I would have a vision of some great deed of God that no one has seen? I am not sure how much time elapsed between God's initial word, "Come and see what I have done," and his next words. It doesn't matter. I was being enveloped in the love of his personal communication. The God of the universe was speaking to me.

Then he said, as clearly as any words have ever come into my mind, "I am awesome in my deeds toward the children of man." My heart leaped up, "Yes, Lord! You are awesome in your deeds. Yes, to all men whether they see it or not. Yes! Now what will you show me?"

The words came again. Just as clear as before, but increasingly specific: "I turned the sea into dry land; they passed through the river on foot. There they rejoiced in me, who rules by my might forever." Suddenly I realized God was taking me back several thousand years to the time when he dried up the Red Sea and the Jordan River. I was being transported by his word back into history to those great deeds. This is what he meant by "come and see." He was transporting me back by his words to those two glorious deeds before the children of men. These were the "awesome deeds" he referred to. God himself was narrating the mighty works of God. He was doing it for me. He was doing it with words that were resounding in my own mind.

There settled over me a wonderful reverence. A palpable peace came down. This was a holy moment and a holy corner of the world in north- ern Minnesota. God Almighty had come down and was giving me the stillness and the openness and the willingness to hear his very voice. As I marveled at his power to dry the sea and the river, he spoke again. "I keep watch over the nations—let not the rebellious exalt themselves."

This was breathtaking. It was very serious. It was almost a rebuke, at least a warning. He may as well have taken me by the collar of my shirt, lifted me off the ground with one hand, and said with an incomparable mixture of fierceness and love, "Never, never, never exalt yourself. Never rebel against me."


I sat staring at nothing. My mind was full of the global glory of God. "I keep watch over the nations." He had said this to me. It was not just that he had said it. Yes, that is glorious. But he had said this to me. The very words of God were in my head. They were there in my head just as much as the words I am writing at this moment are in my head. They were heard as clearly as if at this moment I recalled that my wife said, "Come down for supper whenever you are ready." I know those are the words of my wife. And I know these are the words of God.

Think of it. Marvel at this. Stand in awe of this. The God who keeps watch over the nations, like some people keep watch over cattle or stock markets or construction sites—this God still speaks in the twenty-first century. I heard his very words. He spoke personally to me.

What effect did this have on me? It filled me with a fresh sense of God's reality. It assured me more deeply that he acts in history and in our time. It strengthened my faith that he is for me and cares about me and will use his global power to watch over me. Why else would he come and tell me these things?

It has increased my love for the Bible as God's very Word, because it was through the Bible that I heard these divine words, and through the Bible I have experiences like this almost every day. The very God of the universe speaks on every page into my mind—and your mind. We hear his very words. God himself has multiplied his wondrous deeds and thoughts toward us; none can compare with him! "I will proclaim and tell of them, yet they are more than can be told" (Psalm 40:5).

And best of all, they are available to all. If you would like to hear the very same words I heard on the couch in northern Minnesota, read Psalm 66:5–7. That is where I heard them. Oh how precious is the Bible. It is the very Word of God. In it God speaks in the twenty-first century.
This is the very voice of God. By this voice, he speaks with absolute truth and personal force. By this voice, he reveals his all-surpassing beauty. By this voice, he reveals the deepest secrets of our hearts. No voice anywhere anytime can reach as deep or lift as high or carry as far as the voice of God that we hear in the Bible.

It is a great wonder that God still speaks today through the Bible with greater force and greater glory and greater assurance and greater sweetness and greater hope and greater guidance and greater transforming power and greater Christ-exalting truth than can be heard through any voice in any human soul on the planet from outside the Bible.

The great need of our time is for people to experience the living reality of God by hearing his word personally and "transformingly" in Scripture. Something is incredibly wrong when words that claim to be from God from outside Scripture are more powerful and more affecting to us than the inspired Word of God.

Let us cry with the psalmist, "Incline my heart to your testimonies" (Psalm 119:36). "Open my eyes, that I may behold wondrous things out of your law" (Psalm 119:18). Grant that the eyes of our hearts would be enlightened to know our hope and our inheritance and the love of Christ that passes knowledge and be filled with all the fullness of God (Ephesians 1:18; 3:19). O God, don't let us be so deaf to your Word and so unaffected with its ineffable, evidential excellency that we celebrate lesser things.