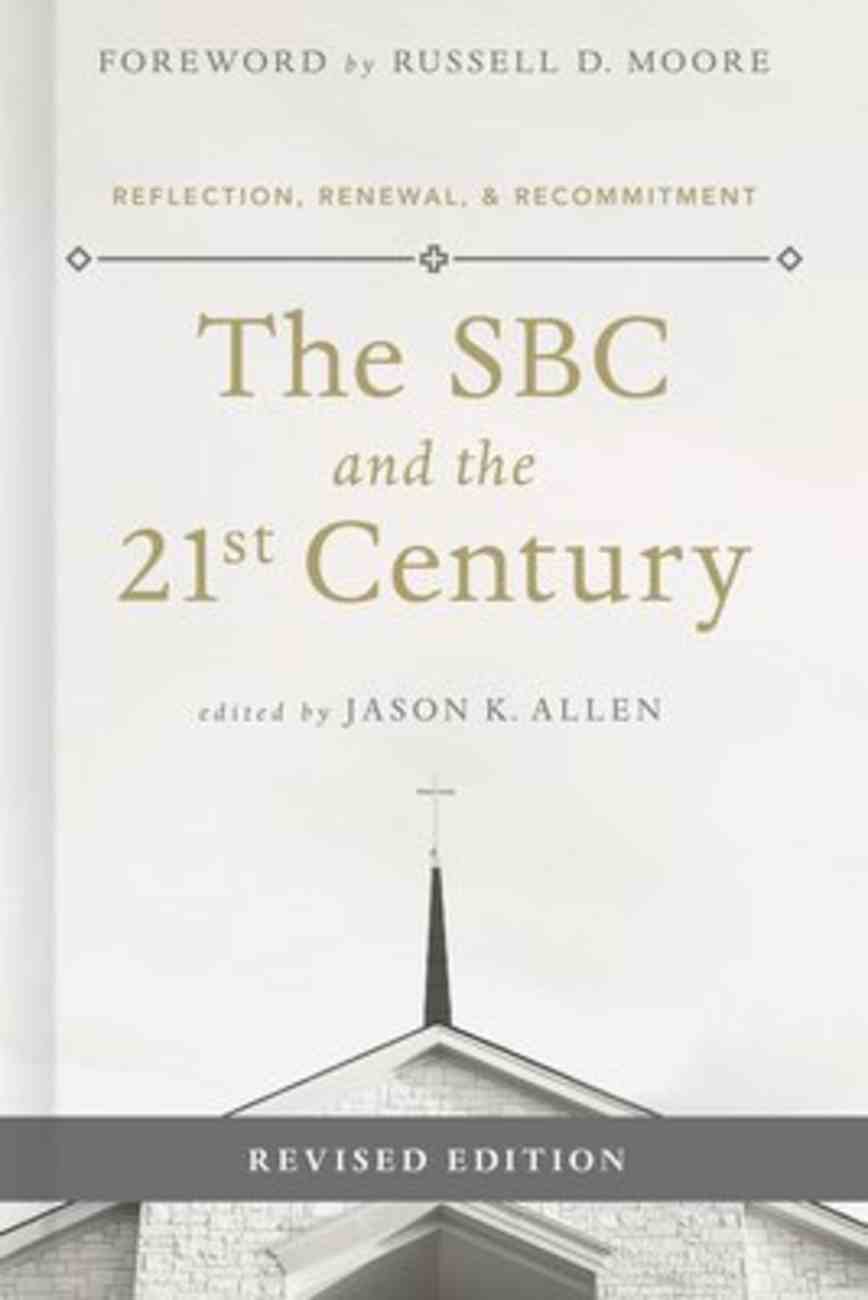 The Sbc and the 21St Century: Reflection, Renewal & Recommitment
:The Southern Baptist Convention is currently facing issues that challenge its identity, heritage, and future. In The SBC and the 21st Century, Revised Edition, key leaders address critical issues such as: · Will the SBC grow more unified...
---
Expected to ship tomorrow from Australia.
---
Free Shipping
for orders over $99.
:The Southern Baptist Convention is currently facing issues that challenge its identity, heritage, and future. In The SBC and the 21st Century, Revised Edition, key leaders address critical issues such as:

· Will the SBC grow more unified around shared convictions and mission or will it fragment over secondary concerns and tertiary doctrinal differences?
· Will the SBC be able to maintain a distinct Baptist identity while engaging and partnering with the broader evangelical community?
· Will the SBC be willing to reimagine its structures, programs, and efforts to effectively reach the world for Christ or will it risk being a past-tense denomination?

This volume not only promotes meaningful dialogue, it calls leaders throughout the SBC into action. Extensive thought, research, assessment, and wisdom from some of the SBC's brightest minds have been poured into this volume with the intent of rendering a helpful contribution to SBC life that will propel forward the collective work of Southern Baptists well into the 21st century.
-Publisher
:<div><p>foreword, <i>russell D. Moore</i><br /> Preface&amp;#160; &amp;#160; &amp;#160; &amp;#160; &amp;#160; &amp;#160;<br /> Acknowledgments&amp;#160; &amp;#160; &amp;#160;&amp;#160;<br /><br /> Introduction<br /> A Never-changing Witness In An Ever-changing World: The Enduring Southern&amp;#160;baptist Mandate&amp;#160; &amp;#160; &amp;#160; &amp;#160; &amp;#160;&amp;#160;<br /><i>&amp;#160; &amp;#160; &amp;#160;jason K. Allen</i><br /><br /> Part 1: Southern Baptist Convention And Cooperation<br /> 1.&amp;#160;how The Cooperative Program Empowers Churches To Gospel Ministry&amp;#160; &amp;#160;&amp;#160;<br /> &amp;#160; &amp;#160;<i> &amp;#160;robert J. Matz &amp;amp; John Mark Yeats</i><br /> 2.&amp;#160;by The Numbers: What Sbc Demographics Tell Us About Our Past, Present, And Future&amp;#160; &amp;#160; &amp;#160; &amp;#160;<br /><i>&amp;#160; &amp;#160; &amp;#160;thom S. Rainer</i><br /> 3. From Babylon Baptist To Baptists In Babylon: The Sbc And The Broader Evangelical Community&amp;#160; &amp;#160; &amp;#160; &amp;#160; &amp;#160;&amp;#160;<br /><i>&amp;#160; &amp;#160; &amp;#160;collin Hansen &amp;amp; Justin Taylor</i><br /> 4. The Future Of Baptist State Conventions&amp;#160; &amp;#160; &amp;#160;&amp;#160;<br /><i>&amp;#160; &amp;#160; &amp;#160;paul Chitwood &amp;amp; John L. Yeats</i><br /> &amp;#160;<br /> Part 2: Southern Baptist Doctrine And Distinctives<br /> 5.&amp;#160;southern Baptists And The Quest For Theological Identity: Unavoidable Questions For The Twenty-first Century&amp;#160; &amp;#160; &amp;#160; &amp;#160; &amp;#160; &amp;#160;&amp;#160;<br /><i>&amp;#160; &amp;#160; &amp;#160;r. Albert Mohler Jr.</i><br /> 6.&amp;#160;who Are Southern Baptists? Toward An Intergenerational Identity&amp;#160;&amp;#160;<br /><i>&amp;#160; &amp;#160; &amp;#160;david S. Dockery</i><br /> 7.&amp;#160;more Than Fifteen Million Southern Baptists? Recovering Regenerate Church Membership&amp;#160; &amp;#160; &amp;#160; &amp;#160; &amp;#160; &amp;#160;<br /><i>&amp;#160; &amp;#160; &amp;#160;john Mark Yeats</i><br /> 8.&amp;#160;a Denomination Always For The Church: Ecclesiological Distinctives As A Basis For Confessional Cooperation&amp;#160; &amp;#160;&amp;#160;<br /><i>&amp;#160; &amp;#160; &amp;#160;jason G. Duesing</i><br /> 9.&amp;#160;steel-toed Birkenstocks And Doctrine-loving Christians: Southern Baptist Witness And Ethics In The New Sexual Age&amp;#160; &amp;#160;&amp;#160;<br /><i>&amp;#160; &amp;#160; &amp;#160;owen D. Strachan</i><br /> &amp;#160;<br /> Part 3: Southern Baptist Ministry And Mission<br /> 10. Kindling Afresh The Gift Of God: Spiritual Renewal, Strategic Reinvention, And The Sbc&amp;#160; &amp;#160; &amp;#160; &amp;#160; &amp;#160; &amp;#160;<br /><i>&amp;#160; &amp;#160; &amp;#160;ronnie Floyd</i><br /> 11. The Future Of The Imb And Our Collaborative Great Commission Work&amp;#160; &amp;#160; &amp;#160;<br /><i>&amp;#160; &amp;#160; &amp;#160;david Platt</i><br /> 12.&amp;#160;every Church On A Mission: The North American Mission Board In The Twenty-first Century&amp;#160; &amp;#160; &amp;#160; &amp;#160; &amp;#160; &amp;#160;&amp;#160;<br /><i>&amp;#160; &amp;#160; &amp;#160;kevin Ezell</i><br /> 13.&amp;#160;training The Next Generation Of Pastors, Ministers, And Missionaries: Southern Baptist Theological Education In The Twenty-first Century&amp;#160; &amp;#160;&amp;#160;<br /><i>&amp;#160; &amp;#160; &amp;#160;jason K. Allen</i><br /> 14.&amp;#160;preach The Word! Biblical Preaching And Congregational Renewal&amp;#160; &amp;#160; &amp;#160;<br /><i>&amp;#160; &amp;#160; &amp;#160;tony Merida</i><br /> 15.&amp;#160;every Kindred, Tongue, And Tribe? Ethnic Diversity In The Sbc&amp;#160; &amp;#160; &amp;#160;<br /><i>&amp;#160; &amp;#160; &amp;#160;daniel L. Akin &amp;amp; Walter R. Strickland Ii</i><br /><br /> Conclusion&amp;#160; &amp;#160; &amp;#160;&amp;#160;<br /> &amp;#160; <i>&amp;#160; &amp;#160;jason K. Allen</i><br /><br /> Appendix A&amp;#160; &amp;#160;&amp;#160;<br /> Appendix B&amp;#160; &amp;#160;&amp;#160;<br /> Contributors&amp;#160; &amp;#160;<br /> Name And Subject Index&amp;#160; &amp;#160; &amp;#160; &amp;#160; &amp;#160;&amp;#160;<br /> &amp;#160;<br /><br /><!--![endif]----></p></div>