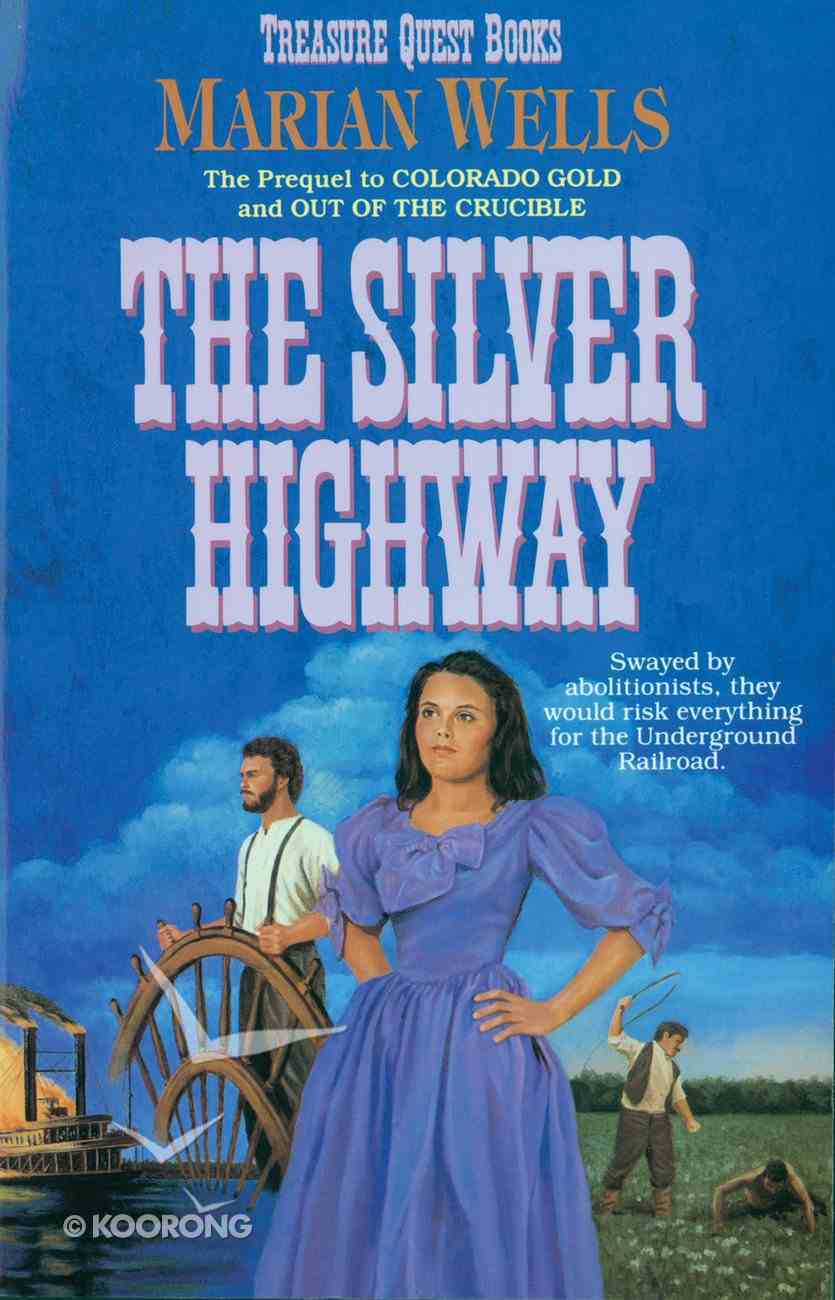 The Silver Highway (#03 in Treasure Quest Series)
North meets South with a mighty clash of wills, each side clinging stubornly to political ideals destined to separate families, ruin fortunes, and touch off a war that would devastate an entire nation. Some men and women, driven by principle,...
Available for immediate download.
---
Read using our free app on your tablet or mobile!
---
Free Shipping
for orders over $99.
North meets South with a mighty clash of wills, each side clinging stubornly to political ideals destined to separate families, ruin fortunes, and touch off a war that would devastate an entire nation. Some men and women, driven by principle, joined together, risking everything in order to protect a race of people that were considered to be less than human--a race that could be bought and sold as slaves, subject to the whims and abuses of their masters. This movement became known as the Underground Railroad.

The Silver Highway portrays the lives of Alexander Duncan and Matthew Thomas as they are exposed to the abolitionist movement, quickly drawn into the cause, and lend a hand of helping slaves escape from their masters to the freedom of Canada.

Meanwhile, Matt's sister Olivia befriends Crystal, a young Creole, while attending a boarding school out East. When Crystal is called home, dark rumors break out as to the reason. Once home, Crystal tries to piece together the puzzle surrounding her past--and uncovers foreboding secrets that threaten to destroy both her present and future.
-Publisher
North meets South with a mighty clash of wills, each side clinging stubornly to political ideals destined to separate families, ruin fortunes, and touch off a war that would devastate an entire nation. Some men and women, driven by principle, joined together, risking everything in order to protect a race of people that were considered to be less than human--a race that could be bought and sold as slaves, subject to the whims and abuses of their masters. This movement became known as the Underground Railroad.

The Silver Highway portrays the lives of Alexander Duncan and Matthew Thomas as they are exposed to the abolitionist movement, quickly drawn into the cause, and lend a hand of helping slaves escape from their masters to the freedom of Canada.

Meanwhile, Matt's sister Olivia befriends Crystal, a young Creole, while attending a boarding school out East. When Crystal is called home, dark rumors break out as to the reason. Once home, Crystal tries to piece together the puzzle surrounding her past--and uncovers foreboding secrets that threaten to destroy both her present and future.^^The entire nation balanced precariously on the brink of a devastating war, each side clinging stubbornly to political and moral ideals. Some men and women, compelled by principles of freedom as old as the human race, risked everything in order to protect people considered to be less than human_people who could be bought and sold at the whim of their masters. This protective movement came to be called the Underground Railroad.^^The Silver Highway introduces Alexander Duncan while returning to the characters of Matthew Thomas and others found in Colorado Gold and Out of the Crucible. Drawn into the abolitionist cause, Alexander and Matthew help slaves escape on "the Silver Highway" from their masters to freedom in the North. Meanwhile, Matthew's sister Olivia, while attending a boarding school out East, befriends Crystal, a young Creole. Dark rumors and foreboding secrets about Crystal's past threaten to destroy both her present and future.
-Publisher