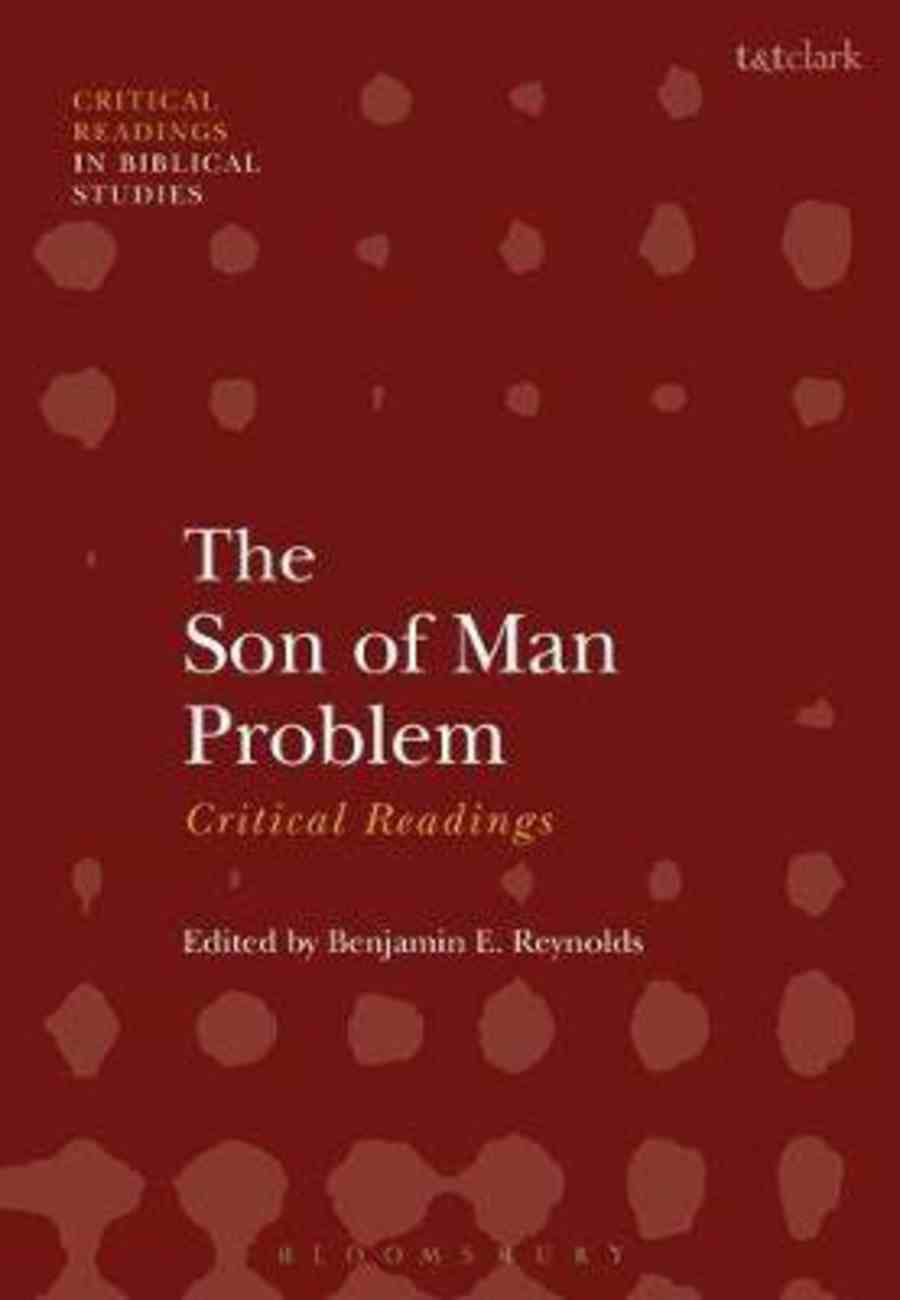 The Son of Man Problem (T&t Clark Critical Readings In Biblical Studies Series)
The Son of Man sayings are some of the most contested sayings in the Gospels. They preserve a phrase employed by Jesus to refer to himself, yet the meaning of the saying in its various contexts has been hotly debated...
Special Order Item
0 Available.
---
Free Shipping
for orders over $99.
The Son of Man sayings are some of the most contested sayings in the Gospels. They preserve a phrase employed by Jesus to refer to himself, yet the meaning of the saying in its various contexts has been hotly debated for centuries. Some identify allusions to other literature in the bible, including the book of Daniel. Others see it as simply being a strange rendering in Greek of an Aramaic phrase that was relatively commonplace. The history of research on these sayings is here presented by Benjamin E. Reynolds in a volume of critical readings, which provides access to over 50 years of scholarly research. These essays and articles include the most often cited articles that address the various aspects of the Son of Man debate. In addition to these most well-known pieces Reynolds includes carefully selected additional essays that allow readers to trace different developments in the debate and to provide an entry into the waters of 'the Son of Man Problem' and the numerous solutions that have been offered. Each section features an introduction and a section of annotated further readings.
-Publisher
Abbreviations
Preface And Acknowledgments
Part One: Son Of Man Debate And Method
Introduction To Part 1
1. Is The Son Of Man Problem Insoluble? - A.j.b. Higgins, St David's University College, Uk
2. Neglected Features In The Problem Of "the Son Of Man." - C.f.d. Moule, University Of Cambridge, Uk
3. Is The Son Of Man Problem Really Insoluble? - Morna D. Hooker, University Of Cambridge, Uk
4. New Research On The Son Of Man Problem - Carsten Colpe, University Of Goettingen, Germany
5. Method In Our Madness, And Madness In Their Methods: Some Approaches To The Son Of Man Problem In Recent Scholarship - Maurice Casey, University Of Nottingham, Uk
6. Further Reflections On 'the Son Of Man:' The Origins And Developments Of The Title - Frederick H. Borsch, Lutheran Theological Seminary, Usa
7. The Synoptic 'son Of Man' Sayings In The Light Of Linguistic Study - I. Howard Marshall, University Of Aberdeen, Uk.
8. Summary And Concluding Observations - Larry W. Hurtado, University Of Edinburgh, Uk
Annotated Bibliography: Son Of Man Debate And Methodological Concerns
Part Two: Idiomatic Solutions To The Son Of Man Problem
Introduction To Part 2
9. The Use Of Son Of Man In Jewish Aramaic, Appendix E - Geza Vermes, University Of Oxford, Uk
10. The New Testament Title "son Of Man" Philologically Considered - Joseph A. Fitzmyer, Catholic University Of America, Usa
11. The Son Of Man: "a Man In My Position" Or "someone"?' - Richard Bauckham, University Of St Andrews, Uk
12. General, Generic And Indefinite: The Use Of The Term "son Of Man" In Aramaic Sources And In The Teaching Of Jesus - Maurice Casey, University Of Nottingham, Uk
13. Speaking Up For Qumran, Dalman And The Son Of Man: Was Bar Enasha A Common Term For "man" In The Time Of Jesus?' - Paul Owen, Montreat University, Usa, And David Shepherd, Trinity College Dublin, Ireland
14. The Son Of Man Debate Revisited (1960-2010) - Geza Vermes, University Of Oxford, Uk
15. Expressing Definiteness In Aramaic: A Response To Casey's Theory Concerning The Son Of Man Sayings - Peter J. Williams, Tyndale House, Uk
Annotated Bibliography: Idiomatic Solutions To The Son Of Man Problem
Part Three: Danielic Origins Of 'the Son Of Man'
Introduction To Part 2
16. The Son Of Man In Daniel, Enoch, And The Gospels - T.w. Manson, University Of Manchester, Uk
17. The Son Of Man In Ancient Judaism And Primitive Christianity: A Suggestion - Norman Perrin, University Of Chicago, Usa
18. Exit The Apocalyptic Son Of Man - Ragnar Leivestad, University Of Oslo, Norway
19. Re-enter The Apocalyptic Son Of Man - Barnabas Lindars, University Of Manchester, Uk
20. The Messianic Associations Of "the Son Of Man." - William Horbury, University Of Cambridge, Uk
21. The Apocalyptic Son Of Man Sayings - Adela Yarbro Collins, Yale University, Usa
22. The Danielic Son Of Man - John. J Collins, Yale University School, Usa
23. 'son Of Man': Its Origin And Meaning In Second Temple Judaism - Lester L. Grabbe, University Of Hull, Uk
Annotated Bibliography: Danielic Origins Of 'the Son Of Man'
Part Four: The Son Of Man In The Septuagint Version Of Daniel 7
Introduction To Part 4
23. Daniel 7,13 And The Septuagint - J. Lust, Leuven University, Belgium
24. One Like A Son Of Man As The Ancient Of Days" In The Old Greek Recension Of Daniel 7:13: Scribal Error Or Theological Translation? - Loren T. Stuckenbruck, Ludwig Maximillians University Munich, Germany
25. The Septuagint Version Of Daniel 7,13-14 - Otfried Hofius, University Of Tubingen, Germany
26. The "one Like A Son Of Man" According To The Old Greek Of Daniel 7,13-14 - Benjamin E. Reynolds, Tyndale University, Canada
Annotated Bibliography: 'one Like A Son Of Man' In The Greek Versions Of Daniel 7
Select Bibliography
Index Of References
Index Of Authors
Index Of Subjects
Bestsellers in Biblical Studies