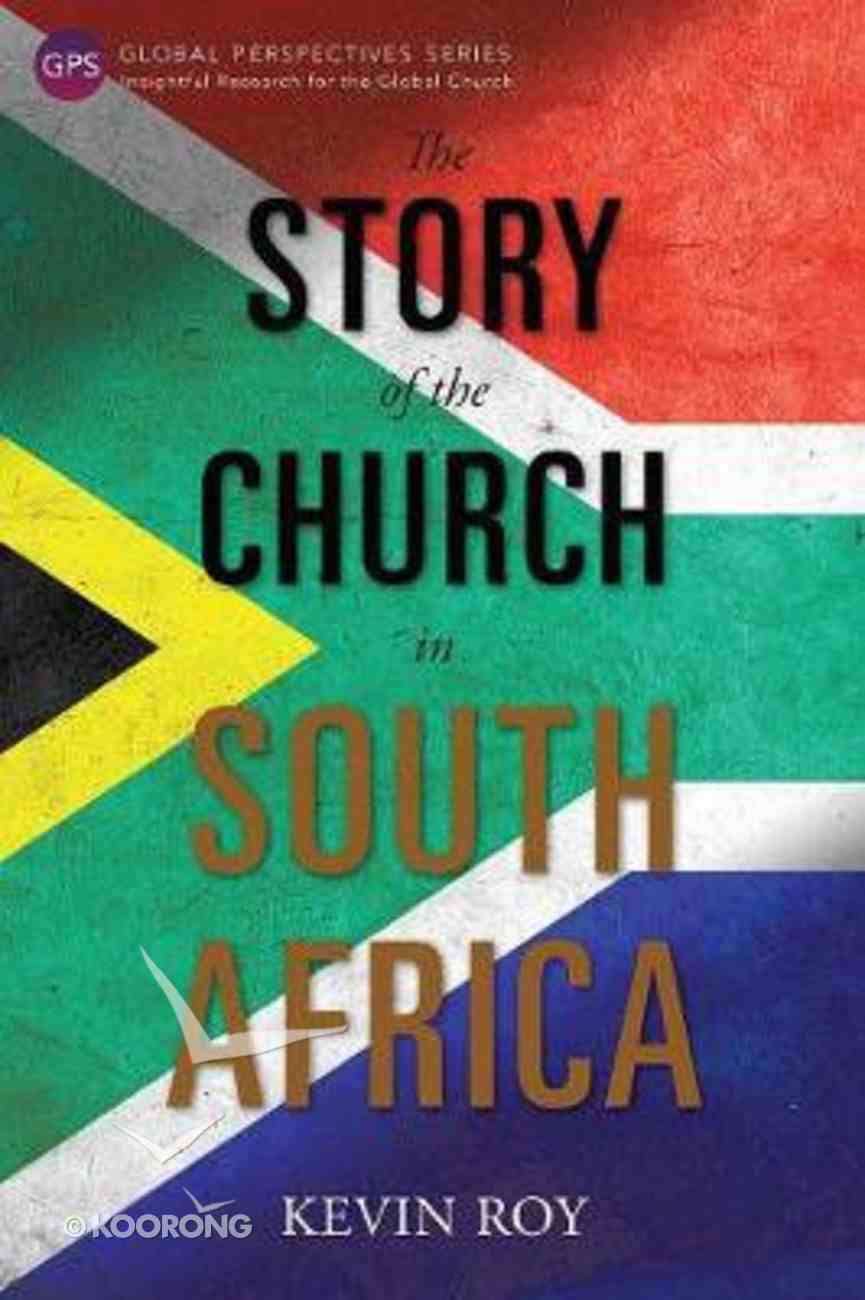 The Story of the Church in South Africa (Global Perspectives Series)
$28.99
20% OFF
―
save $5.80
From Calvinist to Catholic, from Charismatic to AmaZioni, the Rainbow Nation has one of the most colourful, variegated, and bewildering array of Christian churches in the world. Where on earth did they all come from? How did they develop? What...
---
Expected to ship tomorrow from Australia.
---
Free Shipping
for orders over $99.
From Calvinist to Catholic, from Charismatic to AmaZioni, the Rainbow Nation has one of the most colourful, variegated, and bewildering array of Christian churches in the world. Where on earth did they all come from? How did they develop? What do they believe? How are they related to one another?In this clear and readable history of Christianity in South Africa, Kevin Roy answers these questions with comprehensive, succinct and rigorous historical analysis with sympathy and honesty. Dr Roy does not shy away from the failures and sins of the participants in this story that intertwines with the history of the peoples and tribes in South Africa. This book is a testimony of divine love and patience in the midst of human folly and frailty, of successes and faithful service to God.
-Publisher
<p>foreword</p><p>preface</p><p>list Of Abbreviations</p><p>1 An Overview</p><p>&amp;nbsp;&amp;nbsp; &amp;nbsp;the Dutch Period</p><p>&amp;nbsp;&amp;nbsp; &amp;nbsp;the British Period</p><p>&amp;nbsp;&amp;nbsp; &amp;nbsp;the Modern Period</p><p>2 The Dutch Period</p><p>&amp;nbsp;&amp;nbsp; &amp;nbsp;van Riebeeck And The Dutch Settlers</p><p>&amp;nbsp;&amp;nbsp; &amp;nbsp;the Indigenous People Of The Cape</p><p>&amp;nbsp;&amp;nbsp; &amp;nbsp;slaves And The First Minister</p><p>&amp;nbsp;&amp;nbsp; &amp;nbsp;arrival Of The French Huguenots</p><p>&amp;nbsp;&amp;nbsp; &amp;nbsp;george Schmidt And The Moravians</p><p>&amp;nbsp;&amp;nbsp; &amp;nbsp;lutheran Beginnings</p><p>&amp;nbsp;&amp;nbsp; &amp;nbsp;helperus Ritzema Van Lier</p><p>&amp;nbsp;&amp;nbsp; &amp;nbsp;michiel Christiaan Vos</p><p>&amp;nbsp;&amp;nbsp; &amp;nbsp;the Re-establishment Of The Moravian Mission</p><p>&amp;nbsp;&amp;nbsp; &amp;nbsp;some Closing Reflections On The Dutch Period</p><p>3 The Start Of The British Period</p><p>&amp;nbsp;&amp;nbsp; &amp;nbsp;the London Missionary Society (lms)</p><p>&amp;nbsp;&amp;nbsp; &amp;nbsp;dr Johannes Theodorus Van Der Kemp</p><p>&amp;nbsp;&amp;nbsp; &amp;nbsp;ntsikana &amp;ndash; The Morning Star Of The Xhosa Church</p><p>&amp;nbsp;&amp;nbsp; &amp;nbsp;john Philip</p><p>&amp;nbsp;&amp;nbsp; &amp;nbsp;churches Of British Origin</p><p>&amp;nbsp;&amp;nbsp; &amp;nbsp;the Journey So Far</p><p>4 &amp;ldquo;ethiopia Shall Stretch Out Her Hands&amp;rdquo;</p><p>&amp;nbsp;&amp;nbsp; &amp;nbsp;robert Moffat</p><p>&amp;nbsp;&amp;nbsp; &amp;nbsp;david Livingstone</p><p>&amp;nbsp;&amp;nbsp; &amp;nbsp;the Great Trek</p><p>&amp;nbsp;&amp;nbsp; &amp;nbsp;daniel Lindley</p><p>&amp;nbsp;&amp;nbsp; &amp;nbsp;the Formation Of Two New Afrikaans Reformed Churches</p><p>&amp;nbsp;&amp;nbsp; &amp;nbsp;andrew Murray</p><p>&amp;nbsp;&amp;nbsp; &amp;nbsp;revival</p><p>&amp;nbsp;&amp;nbsp; &amp;nbsp;charles Pamla</p><p>&amp;nbsp;&amp;nbsp; &amp;nbsp;doctrinal Conflict In The Dutch Reformed Church</p><p>&amp;nbsp;&amp;nbsp; &amp;nbsp;bishop Colenso</p><p>&amp;nbsp;&amp;nbsp; &amp;nbsp;ethiopianism</p><p>&amp;nbsp;&amp;nbsp; &amp;nbsp;lutherans</p><p>&amp;nbsp;&amp;nbsp; &amp;nbsp;reflections On The British Period</p><p>5 A South African Pentecost</p><p>&amp;nbsp;&amp;nbsp; &amp;nbsp;the Second Anglo-boer War (1899&amp;ndash;1902)</p><p>&amp;nbsp;&amp;nbsp; &amp;nbsp;prisoner-of-war Camp Revivals</p><p>&amp;nbsp;&amp;nbsp; &amp;nbsp;zion And Pentecostal Beginnings</p><p>&amp;nbsp;&amp;nbsp; &amp;nbsp;the Apostolic Faith Mission (afm)</p><p>&amp;nbsp;&amp;nbsp; &amp;nbsp;the Full Gospel Church Of God</p><p>&amp;nbsp;&amp;nbsp; &amp;nbsp;assemblies Of God (ag)</p><p>&amp;nbsp;&amp;nbsp; &amp;nbsp;nicholas Bhengu</p><p>&amp;nbsp;&amp;nbsp; &amp;nbsp;further Pentecostal Movements And Churches</p><p>&amp;nbsp;&amp;nbsp; &amp;nbsp;the African Instituted (or Independent) Churches</p><p>6 The Growing Church Struggle</p><p>&amp;nbsp;&amp;nbsp; &amp;nbsp;the Ecumenical Movement</p><p>&amp;nbsp;&amp;nbsp; &amp;nbsp;the Rise Of Apartheid</p><p>&amp;nbsp;&amp;nbsp; &amp;nbsp;the Development Of The Christian Council Of South Africa (ccsa) And The Growing Rift Between Afrikaans</p><p>&amp;nbsp;&amp;nbsp; &amp;nbsp;and English Churches</p><p>&amp;nbsp;&amp;nbsp; &amp;nbsp;the Federal Mission Council (fmc) Of The Drc And Its Efforts To Devise A Just Racial Policy</p><p>&amp;nbsp;&amp;nbsp; &amp;nbsp;sharpeville And Cottesloe</p><p>&amp;nbsp;&amp;nbsp; &amp;nbsp;albert Luthuli</p><p>&amp;nbsp;&amp;nbsp; &amp;nbsp;z. K. Matthews</p><p>&amp;nbsp;&amp;nbsp; &amp;nbsp;beyers Naud&amp;eacute;</p><p>&amp;nbsp;&amp;nbsp; &amp;nbsp;a Non-political Interlude</p><p>7 Towards A New South Africa</p><p>&amp;nbsp;&amp;nbsp; &amp;nbsp;the Struggle Intensifies</p><p>&amp;nbsp;&amp;nbsp; &amp;nbsp;the Newer Charismatic Churches</p><p>&amp;nbsp;&amp;nbsp; &amp;nbsp;the Collapse Of Apartheid</p><p>&amp;nbsp;&amp;nbsp; &amp;nbsp;the New South Africa</p><p>8 The Last Twenty Years: A Brief Postscript</p><p>&amp;nbsp;&amp;nbsp; &amp;nbsp;the Truth And Reconciliation Commission</p><p>&amp;nbsp;&amp;nbsp; &amp;nbsp;looking Ahead</p><p>bibliography</p><p>index</p>