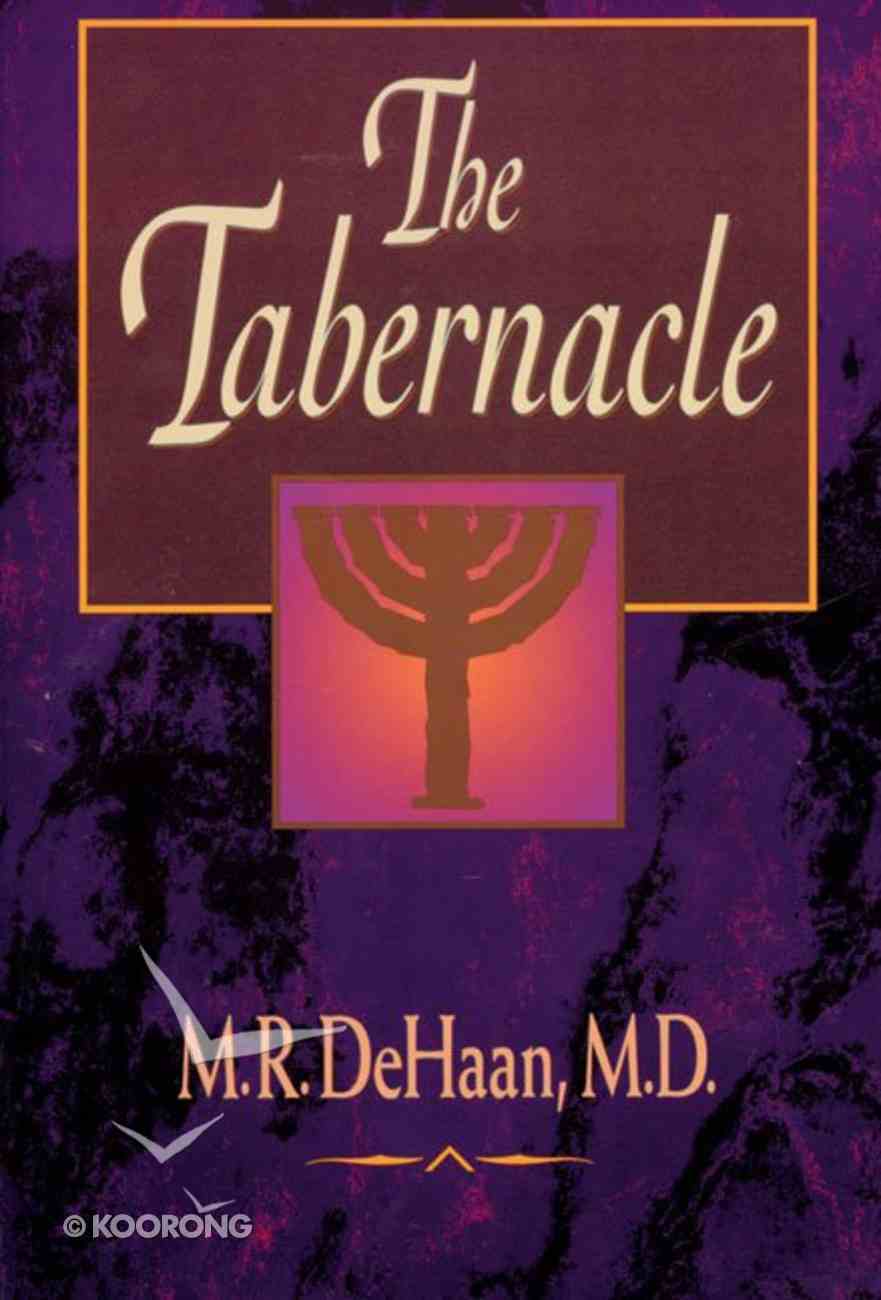 The tabernacle in the wilderness, which became the center of all worship of the children of Israel during their journeyings, was designed by God Himself in heaven. It was a perfect replica of something that already existed before; it is...
---
Expected to ship within 1 hour from Australia.
---
Free Shipping
for orders over $99.
The tabernacle in the wilderness, which became the center of all worship of the children of Israel during their journeyings, was designed by God Himself in heaven. It was a perfect replica of something that already existed before; it is a picture, a type, and a shadow of the Lord Jesus Christ, where God meets man, and where deity and humanity meet in one person. Every detail of the tabernacle points to some aspect of the person and work of our Savior. Then the tabernacle becomes, secondarily, a picture of the believer. Thirdly, it provides a complete picture of the plan of salvation. It is an inexhaustible subject. Within the pages of this book, the three pictures of Christ, the believers, and the plan of salvation are drawn with stimulating and expressive words to emphasize the message of "Christ in us, the hope of glory."
-Publisher
12 Chapters
-Publisher
PRODUCT DETAIL
Catalogue Code 

23543

Product Code 

0310234913

EAN 

9780310234913

UPC 

025986234911

Pages 

192

Department Academic
Category Biblical Studies
Sub-Category New Testament
Publisher Zondervan
Publication Date 

Apr 1979

Sales Rank 

28614

Dimensions 

203 x 136 x 11

mm

Weight 

0.163

kg
The late M. R. DeHaan, MD, spoke to millions as he conducted his half-hour radio program of Bible teaching each Sunday for more than twenty-seven years. His training included Hope College, the University of Illinois Medical School, and Western Theological Seminary. His son, Rev. Richard W. DeHaan, now carries on the work of the Radio Bible Class.
Introduction
1. The Architect Of Salvation
2. Law And Grace In Salvation
3. Where God Meets Man
4. Whosoever Will May Come
5. The Blood Foundation
6. The Roof Of The Tabernacle
7. Badger Skins And Shoes
8. Ropes And Pins
9. The Shadow Of The Cross
10. Fire From Heaven
11. God's Wash Basin
12. The Furniture In God's House
13. The Golden Candlestick
14. The Place Of Prayer
15. The Rent Veil
16. Alone With God
17. Under The Blood
18. Death And Resurrection
19. The House Of Blood
20. The Hatred Of God
21. Reconciled By Blood
22. Christ Our Substitute
23. The Sanctity Of Blood
24. The Day Of Atonement P. 180
P. 180
The Rat Race Like a rat in a maze, the path before me lies. SIMON AND GARFUNKEL You were running a good race. Who cut in on you and kept you from obeying the truth? GALATIANS 5:7 The timer clicked, the TV screen fluttered, and the speaker blared the morning news. 'Morning already?' groaned Larry. He rolled over and squeezed the pillow tightly over his ears, not seriously thinking he could muffle the announcement of another day in the rat race. Then the aroma of coffee from the timer-operated percolator lured him toward the kitchen. Six hours of sleep may not have been the house rule growing up, but success at the end of the twentieth century demanded a premium from its active participants. A rising star like Larry couldn't squander time sleeping. Curls of steam rose from the bowl of instant oatmeal; the microwave had produced predictably perfect results in perfect cadence with his thirty-five-minute wake-up schedule. Slouched in his chair, propped against his elbow, Larry noticed the computer screen staring back at him. Last night he balanced his checkbook after the eleven o'clock news, and, weary from the long day, he must have neglected to switch it off. His wife, Carol, had a welcomed day off, so she slept in. Larry went through the rote motions of getting the kids off to school. After the two younger children had been dropped off at day-care, he was alone in the car with Julie. Twelve-year-old Julie seemed troubled lately. 'Daddy, do you love Mom anymore?' she asked. The question came out of the blue to Larry, but Julie had been building the courage to ask it for months. Their family life was changing, and Julie seemed to be the only member of the family diagnosing the changes. Larry reassured her he loved Mom very much. Carol didn't plan to go back to work when she first started on her MBA degree. Bored with her traditional, nonworking housewife role, she just wanted more personal self-fulfillment. Her magazines conferred no dignity on the role of mother tutor. Although her family satisfied her self-esteem need for many years, other neighborhood women her same age seemed to lead glamorous lives in the business world. She couldn't help but question her traditional values. 'Maybe I'm too old-fashioned---out of step with the times,' she thought to herself. So, two nights each week for three and a half years she journeyed off to the local university, a big investment---not to mention the homework. By the time she walked across the stage to receive her diploma, Carol was convinced women had a right to professional fulfillment just as much as men. Larry, a tenacious, carefree sales representative, advanced quickly in his company. Fifteen years of dream chasing rewarded him with a vice-president's title. The pay covered the essentials, but they both wanted more of the good life. 'I've been thinking about going back to work,' Carol told him. Larry didn't protest. She earned extra money as a bank teller at the beginning of their marriage, and the money helped furnish their honeymoon apartment. By mutual agreement, Carol stopped working when Julie was born, and ever since they had been hard-pressed to make ends meet. Even though his own mother didn't work, Larry knew things were different now for women. Still, he had mixed emotions about sending their two small children to a day-care center. But since money was always a problem, he just shrugged and kept silent when Carol announced she had started interviewing for a job. Larry clearly understood the trade-off. More money, less family. More family, less money. Yet, they really wanted the good life. Their neighbors bought a twenty-four-foot cabin cruiser. Larry was surprised to learn they could own one, too, for only $328 per month. By scrimping for five months they pulled together $1,000 which, when added to their savings, gave them enough for the $2,500 down payment. Larry loved cars. His gentle dad had always loved cars. If a shiny two-door pulled up next to him at a traffic light, Larry's heart always beat faster---he could just picture himself shifting through the gears of a fancy European import. By accident he discovered that for only $424 a month he could lease the car of his fantasies---a racy import! Leasing never occurred to him before. Carol desperately wanted to vacation in Hawaii that year; her Tuesday tennis partner went last spring. But they couldn't do both. 'If you go along with me on this one, I'll make it up to you, Carol. I promise!' Larry told her, his infectious grin spreading across his face. She reminisced how that impish, little-boy smile had first attracted her to him. He had been good to her, she thought. 'Okay, go ahead,' Carol told him. His dad always loved Chevys. Larry's tastes had evolved with the times. Carol dreamed of living in a two-story home with a swimming pool, but, with the car and boat payments so high, it remained a dream for years. Larry slaved twelve- and fourteen hour days---always thinking of ways to earn more money for Carol's dream house. When Carol went to work, they added up the numbers and were elated to see they could finally make the move. The strain of keeping their household afloat discouraged them. There were bills to pay, kids to pick up from day-care, deadlines to meet, quotas to beat, but not much time to enjoy the possessions they had accumulated. Words from a Simon and Garfunkel song haunted Larry's thoughts: 'Like a rat in a maze, the path before me lies. And the pattern never alters, until the rat dies.' He was trapped. Carol pressured out---she just couldn't take it anymore. She believed Larry had let her down. He was supposed to be strong. He was supposed to know how to keep everything going. But Larry was just as confused about their situation as she was. As the U-haul van pulled away from the house, Larry couldn't quite believe she was actually doing it---Carol was moving out. She said she just needed some time and space to sort things out, that she was confused. The question Julie had asked a few months earlier burned in his mind, 'Daddy, do you love Mom anymore?' Yes . . . yes, he loved her, but was it too late? How did things get so out of hand?
Bestsellers in Biblical Studies