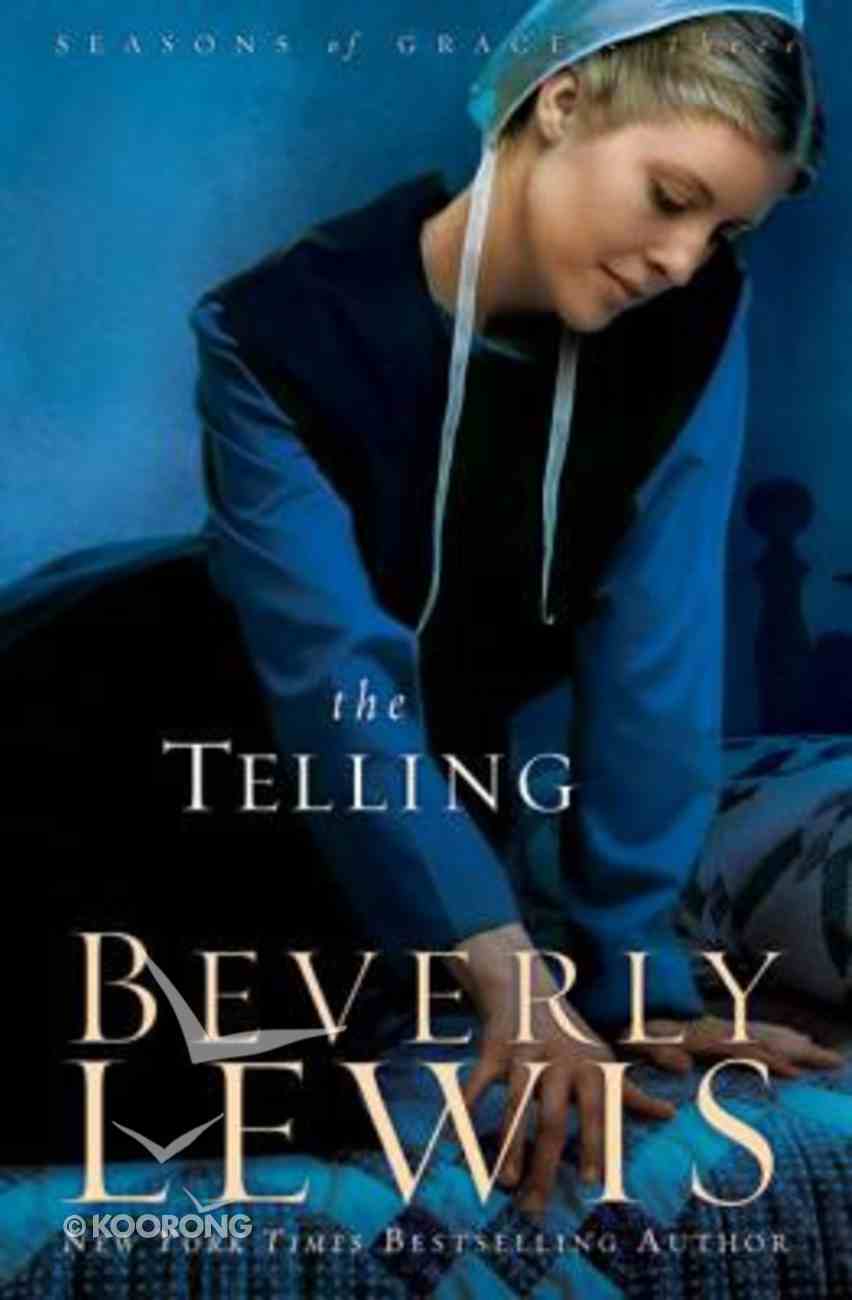 The Telling (#03 in Seasons Of Grace Series)
EVERY MILE LEADS HER CLOSER TO THE TRUTH.... Glancing at my reflection in the washroom mirror, I didn't focus on my hair peeking out from beneath my Kapp, nor the shape of my features. What I noticed caught me off...
Unavailable. Out of Print. Only available while stock lasts. eBook is Available.
Out of Print
---
Free Shipping
for orders over $99.
EVERY MILE LEADS HER CLOSER TO THE TRUTH.... Glancing at my reflection in the washroom mirror, I didn't focus on my hair peeking out from beneath my Kapp, nor the shape of my features. What I noticed caught me off guard as I studied my tired, even terrified expression. I saw clearly now the uncertainty in my own blue eyes. Is this trip such a good idea, really? Sighing, I knew in my heart I was willing to put up with any awkwardness--even fear--if it meant bringing Mamma home. No matter the gawking eyes or the inconvenience, I ought to cherish the trip for what it meant: A chance for Mamma to start over with a clean slate. I turned on the water once again, washing my hands a second time--as if peering in the mirror had somehow tainted me. Surely by now Mamma understood that leaving without an explanation was a blight on us all. Besides, didn't she feel estranged, even cut off? Wouldn't she like to begin anew...if she could?
-Publisher
Grace Byler leaves Bird-in-Hand in a fancy car to search for her mother in Ohio. But what if Lettie Byler doesn't wish to be found? Meanwhile, Lettie continues her private quest to find the missing piece of her life. As clues take her from state to state, she is increasingly torn between the family she has left behind and the yearning for her long-lost child.

Struggling to come to terms with a grave medical diagnosis, Heather Nelson is determined to forgo traditional medicine--to her father's chagrin--in hopes of finding answers and healing in Amish country. But first, she offers to drive her Amish friend, Grace Byler, to Ohio.

Will mother and daughter, and one seriously ill graduate student, find the answers they long for? Or will "the telling" cause them all further pain?
-Publisher
Beverly Lewis was born Beverly Marie Jones in 1949, in Lancaster, Pennsylvania, and grew up in the heart of 'Pennsylvania Dutch' country. She played and composed on the piano and wrote avidly from a very young age. Beverly's father was an Assemblies of God pastor, and she was raised in that denomination. However, she became fascinated with her ancestral links to the Old Order Mennonite community into which her maternal grandmother, Ada Buchwalter, had been born. Beverly's deep affinity for her Amish heritage has inspired much of her prodigious literary output - over eighty books for both children and adults.

Beverly graduated from Evangel University with a degree in Music Education, and became a schoolteacher. When her own three children were middle school age, Beverly began submitting stories to children's magazines. Her first book Mountain Bikes and Garbanzo Beans was published in 1993.

Beverly's first adult fiction, published in 1997, was the Heritage of Lancaster County trilogy, about the experiences of a young Amish woman Katie Lapp as she moves from the plain traditions of her upbringing into the modern world. Beverly has followed this award-winning bestseller with a stream of popular titles that have established her as one of our time's most beloved storytellers. Her titles include the Cul-De-Sac Kids, the Girls Only (GO!), and the Holly's Heart series for children, and the Amish based Rose, Seasons of Grace, Abram's Daughter, The Courtship of Nellie Fisher, and Annie's People series. She has received numerous awards including two Silver Angel Awards for her novels The Postcard and Annika's Secret Wish, and a Golden Book Award for The Shunning, the first volume of her Heritage of Lancaster County series.

Beverly is a member of the National League of American Pen Women as well as a Distinguished Alumnus of Evangel University. She says of her leisure:

"When I'm between writing deadlines, I enjoy hiking in the Rocky Mountains with my husband. Cooking from scratch, playing Mozart at the piano, and making family memory albums, as well as traveling to meet my devoted readers during book tours, are some of my very favorite things. I also adore reading biographies and memoirs, as well as classic literature."

She makes her home with her husband David in Colorado. In addition to their three adult children, they have three grandchildren.