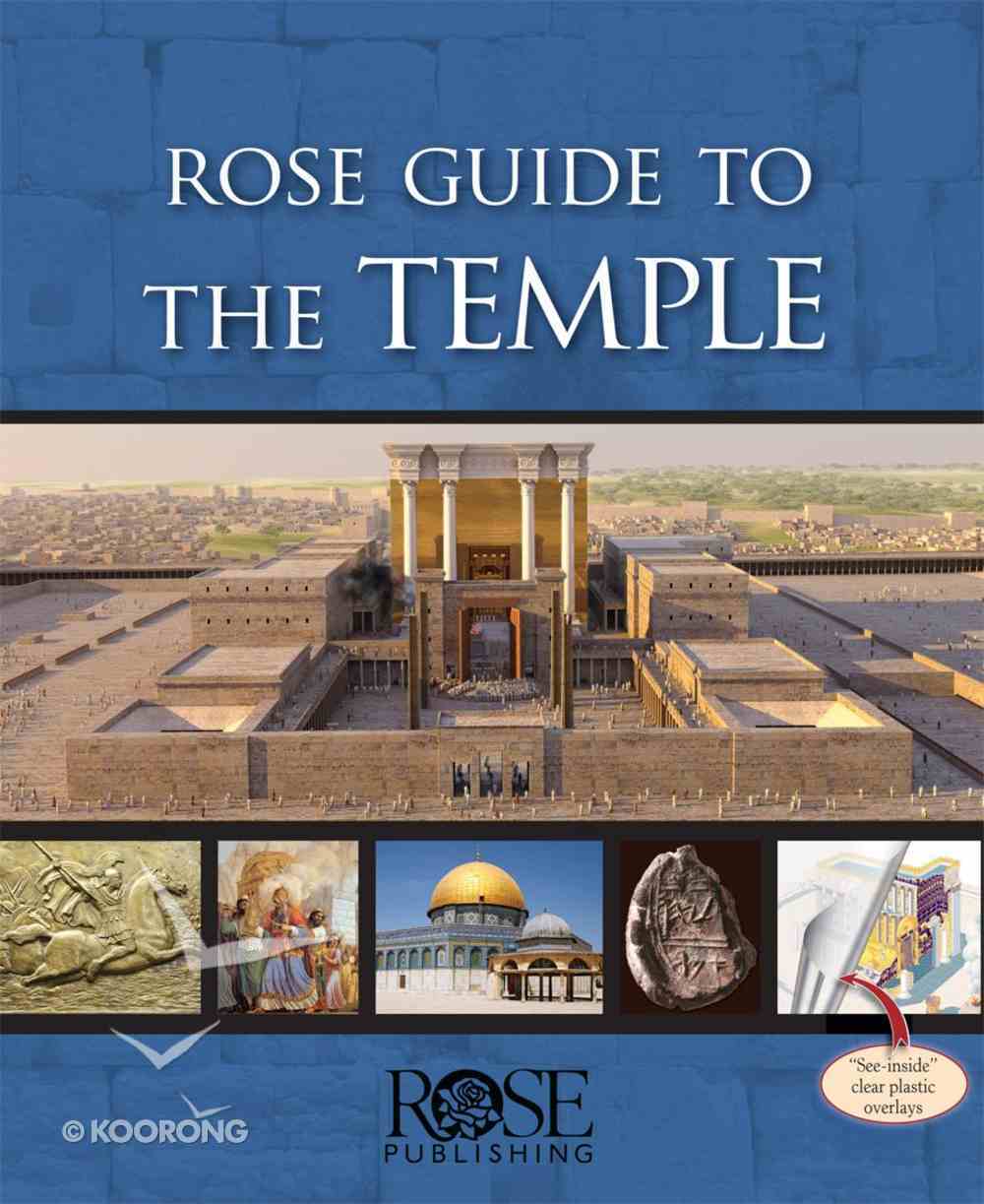 The Temple (Rose Guide Series)
Rose Guide to the Temple ? an overview of the historical significance and events surrounding God?s House in Jerusalem Rose Guide to the Temple is a full-color book that provides an easy-to-understand overview of the history of the...
Instant download
---
Expected to ship on Monday from Australia.
---
Read using our free app on your tablet or mobile!
---
Free Shipping
for orders over $99.

Rose Guide to the Temple ? an overview of the historical significance and events surrounding God?s House in Jerusalem



Rose Guide to the Temple is a full-color book that provides an easy-to-understand overview of the history of the Temple in Jerusalem. Rose Guide to the Temple contains 150 images, charts, diagrams, photos, and illustrations, more than any other book on the market. Many of these images cannot be found in any other Temple book. This book is the only one, which allows you to ?see? what the Temple looked like, inside and out, during Old Testament times.


Rose Guide to the Temple examines the important events and people in the history of the Temple from Abraham to modern day, including:
Solomon?s Temple: The First Temple built by Solomon according to the directions provided by David for the "House of the Lord" The significance of the Temple and its furnishings: (The Courtyard, Brazen Altar and Basins, Molten Sea); The Holy Place (Golden Lampstand, Table of the Bread of the Presence, Altar of Incense); and the Holy of Holies (The Veil, Ark of the Covenant, Cherubim) Time line of the Temple from the time of King David to today The Second Temple built by Zerubbabel Herod?s Temple: The Second Temple expanded by Herod The importance of the Temple at the time of Jesus History of the Temple Mount:During the Roman and Byzantine Periods, Islamic Period and Dome of the Rock From the Crusades to the Modern Era The new Jerusalem
Rose Guide to the Temple was written by archeologist and professor Dr. Randall Price, ThM, PhD, a Distinguished Research Professor and Executive Director of the Center for Judaic Studies at Liberty University. He is also an Adjunct Professor of Apologetics at Veritas Theological Seminary and Founder and President of World of the Bible Ministries. Inc. Dr. Randall Price has spent more than 30 years exploring the Holy Land and studying the Temple.


If you are a student of God's Word and are interested in learning more about the Temple in Jerusalem, Rose Guide to the Temple is the best resource to learn about, what Jesus called, ??my Father?s house.?


Rose Guide to the Temple provides an excellent blend of research of literary sources, archeological evidence, and architectural calculations of the Temple structures. It is based on painstaking research into all the technical details provided by Scripture sources, as well as ancient literary descriptions. The student of Scripture as well as of religion will learn much from the clear and beautiful presentation of details that cannot be easily visualized when reading Scripture passages. This is an absolute must for the modern student and visitor to Jerusalem.
Dr. Emanuel Tov, J.L. Magnes Professor of Bible, Hebrew University of Jerusalem



Rose Guide to the Temple _ an overview of the historical significance and events surrounding God's House in Jerusalem



Rose Guide to the Temple is a full-color book that provides an easy-to-understand overview of the history of the Temple in Jerusalem. Rose Guide to the Temple contains 150 images, charts, diagrams, photos, and illustrations, more than any other book on the market. Many of these images cannot be found in any other Temple book. This book is the only one, which allows you to ?see? what the Temple looked like, inside and out, during Old Testament times.


Rose Guide to the Temple examines the important events and people in the history of the Temple from Abraham to modern day, including:
Solomon's Temple: The First Temple built by Solomon according to the directions provided by David for the "House of the Lord" The significance of the Temple and its furnishings: (The Courtyard, Brazen Altar and Basins, Molten Sea); The Holy Place (Golden Lampstand, Table of the Bread of the Presence, Altar of Incense); and the Holy of Holies (The Veil, Ark of the Covenant, Cherubim) Time line of the Temple from the time of King David to today The Second Temple built by Zerubbabel Herod's Temple: The Second Temple expanded by Herod The importance of the Temple at the time of Jesus History of the Temple Mount:During the Roman and Byzantine Periods, Islamic Period and Dome of the Rock From the Crusades to the Modern Era The new Jerusalem
Rose Guide to the Temple was written by archeologist and professor Dr. Randall Price, ThM, PhD, a Distinguished Research Professor and Executive Director of the Center for Judaic Studies at Liberty University. He is also an Adjunct Professor of Apologetics at Veritas Theological Seminary and Founder and President of World of the Bible Ministries. Inc. Dr. Randall Price has spent more than 30 years exploring the Holy Land and studying the Temple.


If you are a student of God's Word and are interested in learning more about the Temple in Jerusalem, Rose Guide to the Temple is the best resource to learn about, what Jesus called, ?my Father's house.?


Rose Guide to the Temple provides an excellent blend of research of literary sources, archeological evidence, and architectural calculations of the Temple structures. It is based on painstaking research into all the technical details provided by Scripture sources, as well as ancient literary descriptions. The student of Scripture as well as of religion will learn much from the clear and beautiful presentation of details that cannot be easily visualized when reading Scripture passages. This is an absolute must for the modern student and visitor to Jerusalem.
Dr. Emanuel Tov, J.L. Magnes Professor of Bible, Hebrew University of Jerusalem


-Publisher
Bestsellers in Biblical Studies