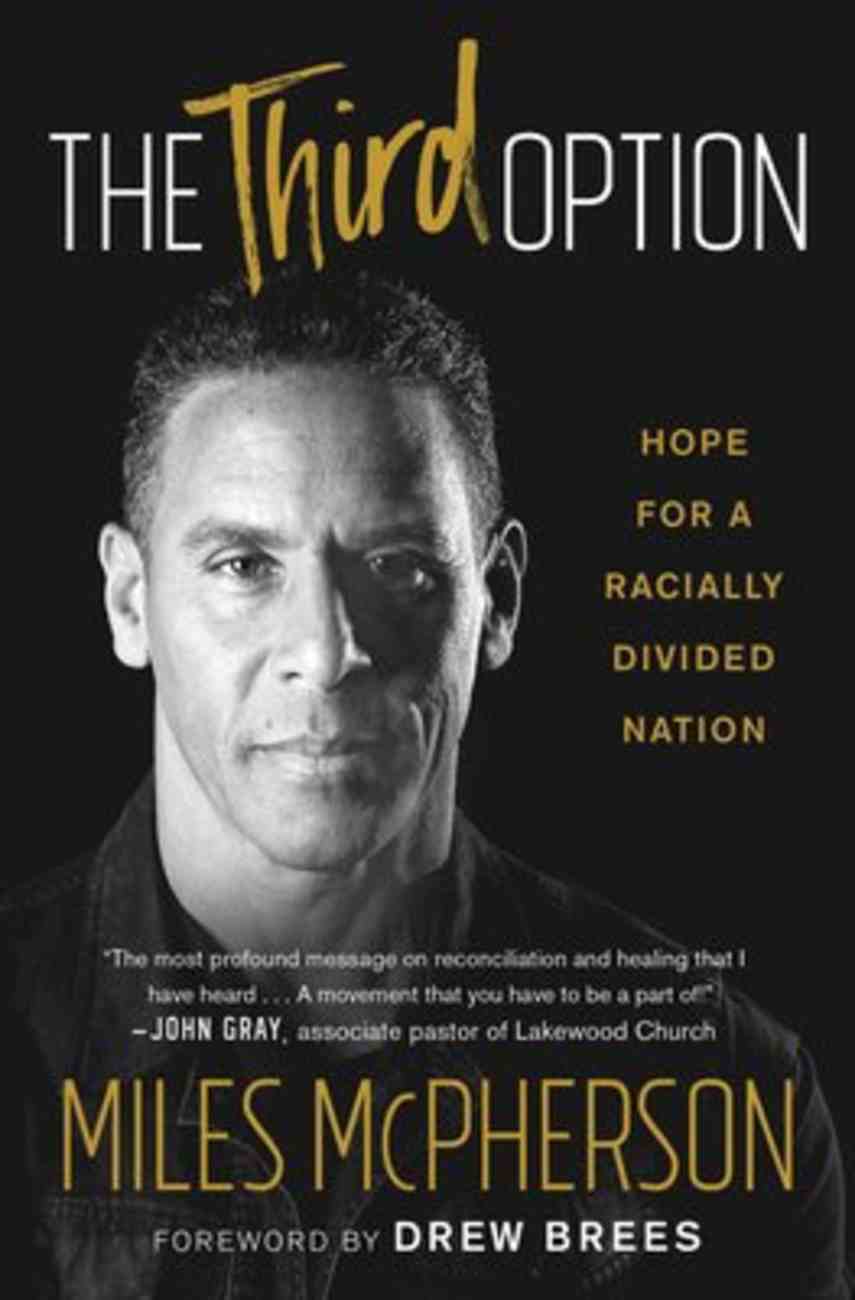 The Third Option: Hope For a Racially Divided Nation
Miles McPherson, founder of The Rock Church in San Diego, presents "a discussion about race that we desperately need...a must read" (Bishop T.D. Jakes, Senior Pastor, The Potter's House) and argues that we must learn to see people not by...
---
Expected to ship within 14 hours from Australia.
---
Free Shipping
for orders over $99.
Miles McPherson, founder of The Rock Church in San Diego, presents "a discussion about race that we desperately need...a must read" (Bishop T.D. Jakes, Senior Pastor, The Potter's House) and argues that we must learn to see people not by the color of their skin, but as God sees them-humans created in the image of God. Pastor Miles McPherson, senior pastor of The Rock Church in San Diego, addresses racial division, a topic many have shied away from, for fear of asking the wrong question or saying the wrong thing. Some are oblivious to the impact racism has, while others pretend it doesn't exist. Even the church has been affected by racial division, with Sunday now being the most segregated day of each week. Christians, who are called to love and honor their neighbors, have fallen into culture's trap by siding with one group against another: us vs. them. Cops vs. protestors. Blacks vs. whites. Racists vs. the "woke." The lure of choosing one option over another threatens God's plan for unity among His people. Instead of going along with the culture, Pastor Miles directs us to choose the Third Option: honoring the priceless value of God's image in every person we meet. He exposes common misconceptions that keep people from engaging with those of different racial and ethnic backgrounds, and identifies the privileges and pitfalls that we all face. The Third Option challenges us to fully embrace God's creativity and beauty, as expressed in the diversity of His people. By following the steps and praying the prayers outlined in his book, Pastor Miles teaches us how we can all become leaders in unifying our communities, our churches, and the nation.
-Publisher
Miles McPherson is president and founder of Miles Ahead Ministries and speaks to hundreds of thousands of teens and adults each year. A former defensive back with the San Diego Chargers, Miles is a nationally known evangelist and the founder of The Rock Church, which meets at San Diego University. Miles and his wife make their home in San Diego with their three children. ýIn his ministry Miles has talked to young people from all walks of life???one-on-one and in youth rallies of thousands. He knows what makes them tick, especially rebellious teenagers. That's because he was one. As a junior

Bestsellers in Christian Worldview