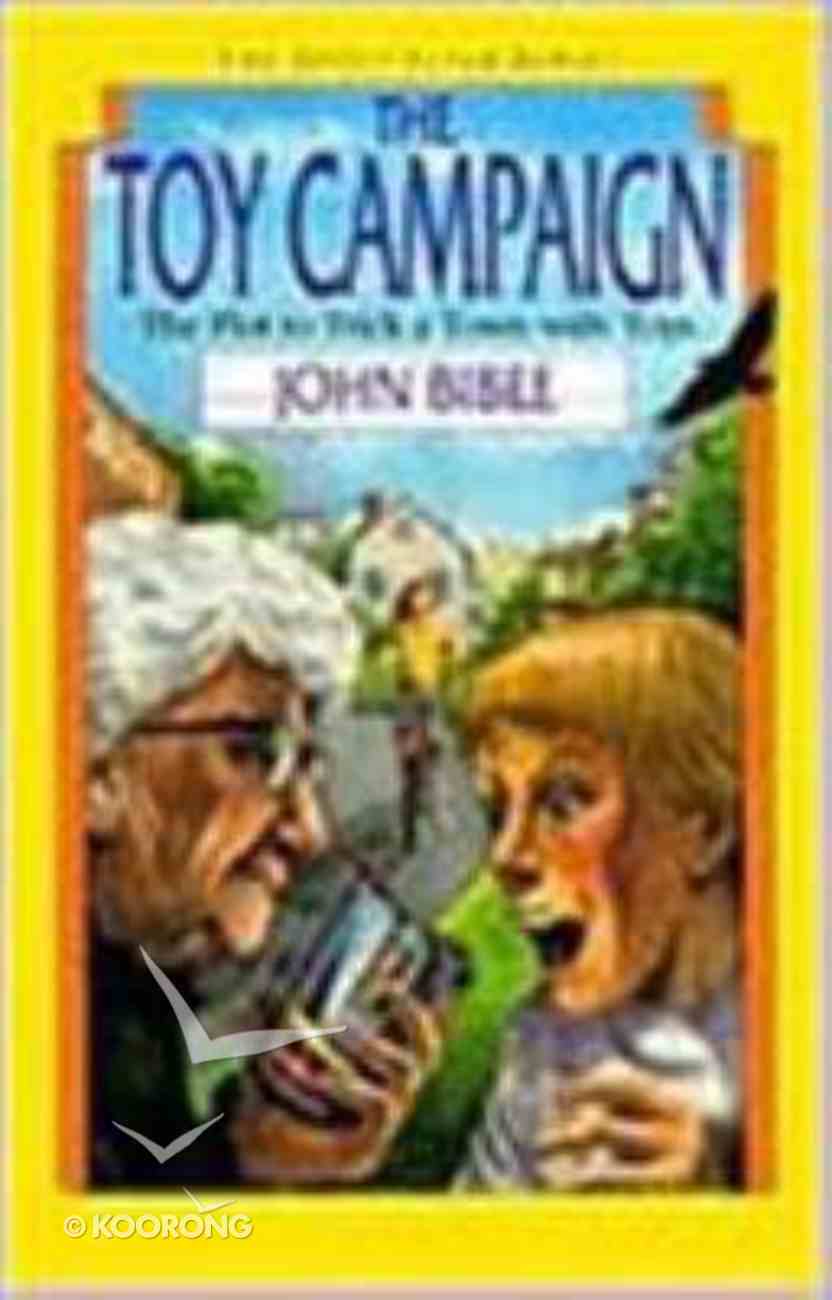 The Toy Campaign (#02 in Spirit Flyer Series)
1. When the Toy Store Closed2. Through the Black Window3. The Cobra Club Listens In4. Susan's Incredible Tale5. Mrs. Happy Buys a Store6. Barry Tails John7. A Mountain of Toys8. A Spirit Flyer Rescue9. The Toy Campaign10. An Unexpected Trip11....
---
Free Shipping
for orders over $99.
1. When the Toy Store Closed2. Through the Black Window3. The Cobra Club Listens In4. Susan's Incredible Tale5. Mrs. Happy Buys a Store6. Barry Tails John7. A Mountain of Toys8. A Spirit Flyer Rescue9. The Toy Campaign10. An Unexpected Trip11. The New Improved Toy Store12. On a Throne of Garbage13. The Warning Horn14. Next to the Last in Line15. The Parade Begins16. Toy Fever17. Mrs. Happy's Puppets18. Losing a Battle19. How to Stop a Leak20. Susan's Failure21. The Light on the Bike22. A Cry to the Kings23. Inside a Beam of Light24. The Target Hour Arrives25. Two Spirit Flyers26. Cause for Celebration27. Closed for Inventory28. The Greatest Gift of All
-Publisher
In The Toy Campaign someone sets out a plot to trick a town with toys, toys that have a powerful and sinister effect on their owners. Two children know a scheme is brewing and set out on their bicycles that have wonderful powers to find out what the plan is and stop it.
-Publisher
What would happen if someone decided to trick a whole town--by giving them toys? But not just any toys, you understand. Toys that had a powerful and sinister effect on their owners. And what if only two children knew the evil plot was in the works?The magic continues as John and Susan Kramar speed through this book of mystery and adventure. As the Fourth of July approaches, they know some scheme is brewing. Armed only with bicycles that possess wonderful powers, their job is to find out what the plan is and stop it.
-Publisher
John Bibee is the author of 8 adventure books in the Spirit John Bibee is the author of 8 adventure books in the Spirit Flyer Series and 8 mystery books in the Home School DetectivFlyer Series and 8 mystery books in the Home School Detectives series. Some of his books have been read during children'es series. Some of his books have been read during children's story hours broadcast on radio stations across the countrys story hours broadcast on radio stations across the country. Several have also won awards from Christian Home & School . Several have also won awards from Christian Home & School C
1. When The Toy Store Closed
2. Through The Black Window
3. The Cobra Club Listens In
4. Susan's Incredible Tale
5. Mrs. Happy Buys A Store
6. Barry Tails John
7. A Mountain Of Toys
8. A Spirit Flyer Rescue
9. The Toy Campaign
10. An Unexpected Trip
11. The New Improved Toy Store
12. On A Throne Of Garbage
13. The Warning Horn
14. Next To The Last In Line
15. The Parade Begins
16. Toy Fever
17. Mrs. Happy's Puppets
18. Losing A Battle
19. How To Stop A Leak
20. Susan's Failure
21. The Light On The Bike
22. A Cry To The Kings
23. Inside A Beam Of Light
24. The Target Hour Arrives
25. Two Spirit Flyers
26. Cause For Celebration
27. Closed For Inventory
28. The Greatest Gift Of All
Bestsellers in Confident Readers (Age 8-12)