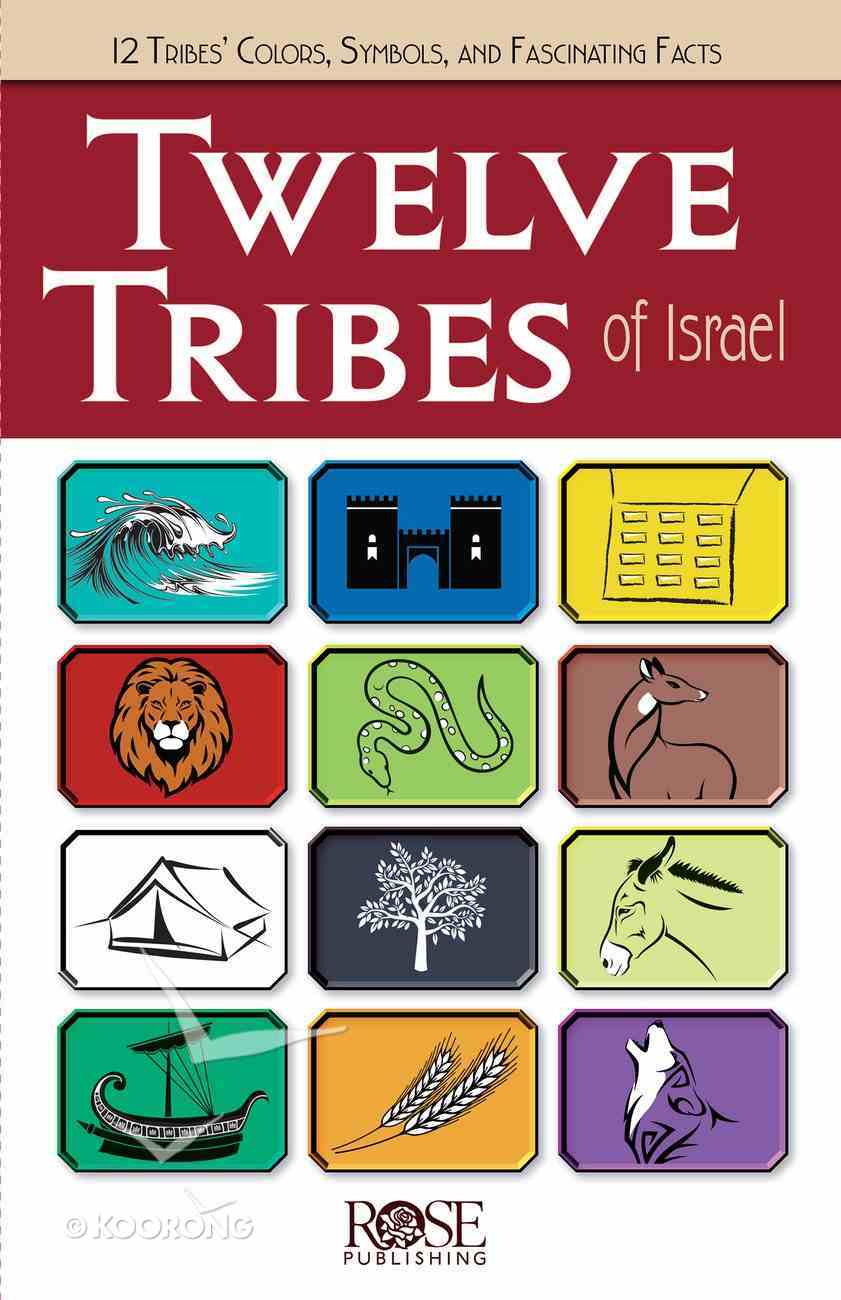 The Twelve Tribes of Israel (Rose Guide Series)
Enjoy having a simple overview on the 12 Tribes of Israel at your fingertips. See each tribe's symbol, meaning, history, and other fascinating facts at a glance. Includes incredible visual aids, such as a full-color map, family tree, Tabernacle diagram,...
Instant download
---
Expected to ship tomorrow from Australia.
---
Read using our free app on your tablet or mobile!
---
Free Shipping
for orders over $99.

Enjoy having a simple overview on the 12 Tribes of Israel at your fingertips. See each tribe's symbol, meaning, history, and other fascinating facts at a glance. Includes incredible visual aids, such as a full-color map, family tree, Tabernacle diagram, and more.


Almost every person in the Bible belonged to one of the 12 Tribes of Israel based on their ancestry: From Moses who was a Levite to the Apostle Paul who was Benjaminite. Each tribe had its own history, land, and heritage. Now you can easily grasp the "backstory" of each tribe and see key information at a glance! For example, find out the significance of Jesus being called the "Lion of Judah." For each of the 12 Tribes of Israel, you will get-

A quick overview of its meaning, size, family history, location, and more. A picture of the tribe's symbol (such as the lion from the Tribe of Judah) Simple summary of Jacob's blessing, Moses' blessing, and other key events related to each tribe. (Find out the major battles, controversies, and scandals that impacted each tribe. Plus, see which important Bible people came from each tribe of Israel.) Features Incredible Visual Aids (Map of Israel, Tabernacle Diagram, and more)
This pamphlet is packed with visual aids that will help you see key information at a glance. These visuals will enrich your understanding of the 12 Tribes of Israel and add depth to any Old Testament study:

Family Tree of Jacob (Israel) Tabernacle diagram showing where each of the 12 tribes encamped around the Tabernacle. Time Line showing key events, starting with Abraham's journey from Haran Easy-to-read, full-color map showing how the "promised land" was divided amongst each of the 12 tribes according to their inheritance. The map is color-coded so you can easily spot each tribe's location!
Find out Fascinating Facts about the Twelve Tribes of Israel:
From the largest tribe (Judah) to the smallest (Simeon), this pamphlet is packed with fascinating facts on each of the 12 tribes of Israel.


Here's just 4 quick facts about the Tribe of Judah:

The tribe of Judah led the other tribes on their march toward the Promised Land. This tribe of Judah camped on the east side of the tabernacle-the only side with an entrance (Num. 2). Jesus, Caleb, David, and Micah all came from the tribe of Judah. Judah means "praise" and its symbol is the lion. (Note: This is why Jesus is known as the Lion of Judah).
See the 12 Tribes of Israel Throughout the Old and New Testament
As you read the unfolding history in the Bible, it's helpful to pay attention to how God worked through the 12 tribes of Israel to fulfill his purposes-especially his purpose of bringing from the tribe of Judah, Jesus the Savior, the "Lion of Judah."

In Genesis, the first book of the Bible, we see God working through a family: Jacob and his 12 sons (who represent the 12 Tribes of Israel). Jesus came from the smallest clan from the Tribe of the Judah. In the New Testament, he uses the Apostle Paul (a Benjaminite) to spread the gospel message to the Gentiles. In Revelation, the last book of the Bible, we are reminded of a remnant of 144,000 people sealed by God-12,000 from each of the 12 tribes of Israel. Here's a list of the 12 Tribes along with key people: Zebulun Issachar Judah (Jesus, Caleb, David) Gad Simeon Reuben Benjamin (Jeremiah, Mordecai, Paul) Manasseh (Joshua, Deborah, Samuel) Ephraim Naphtali Asher Dan Reflection/ Discussion Questions for Rose's 12 Tribes of Israel Pamphlet Read Panel 3 on the Tribe of Reuben. Why is the tribe of Reuben associated with the symbol water? Why is having a stable character so important to success? How does the Lord help make us more stable, and how can we grow in this area?

Read Panel 4 on the Tribe of Simeon and re-read Genesis 34:24-31. Simeon attacked the people of the city of Shechem to avenge the assault on his sister Dinah. Have you ever struggled to forgive someone who deliberately hurt you because it feels like you are "letting them off the hook?" Why do you think God requires us to forgive, love, and even bless our enemies? (Consider the advantages of forgiveness and the consequences of un-forgiveness.)
Read Panel 5 on the Tribe of Levi. Moses, Aaron, Miriam, and John the Baptist were all from this tribe. What was this tribe's role in the Jewish community? How is Jesus as our High Priest associated with the responsibilities of this tribe?

Topics to consider: Fulfillment of Old Testament prophecy; Jesus leading us into the promise land; Jesus being our only entrance into God's presence; etc.

Read Panel 6 on the Tribe of Judah. Why is it significant that Jesus came from the Tribe of Judah?
Look at the diagram on Panel 7. Notice how the tribes camped around the Tabernacle, placing the "presence of God" literally in the center of their existence. How can we place (and keep) God in the center of our lives? List 3 practical ways
Read Panel 10 on the Tribe of Issachar. Why is this tribe's symbol a donkey? What does Moses and Jacob's blessing of this tribe reveal about God's view of hard work? If God promises to make "all things work together for good," why do we still have to work hard?
Read Panel 11 on The Tribe of Joseph. What was Joseph's response to his brothers who sold him into slavery? Recall a time in your own life that God transformed what was intended for "evil" into good. Take a moment to thank God in prayer for his faithfulness in that specific situation (and in any current situations). Look at the Map on Panel 13. This map shows how the each tribe received a portion of the promised land. It took the Israelites decades before finally receiving their promised inheritance. What promises are you trusting and waiting for God to fulfill in your own lives? How does seeing God's faithfulness to the 12 Tribes of Israel encourage your own faith?
-Publisher
Bestsellers in Tracts/booklets