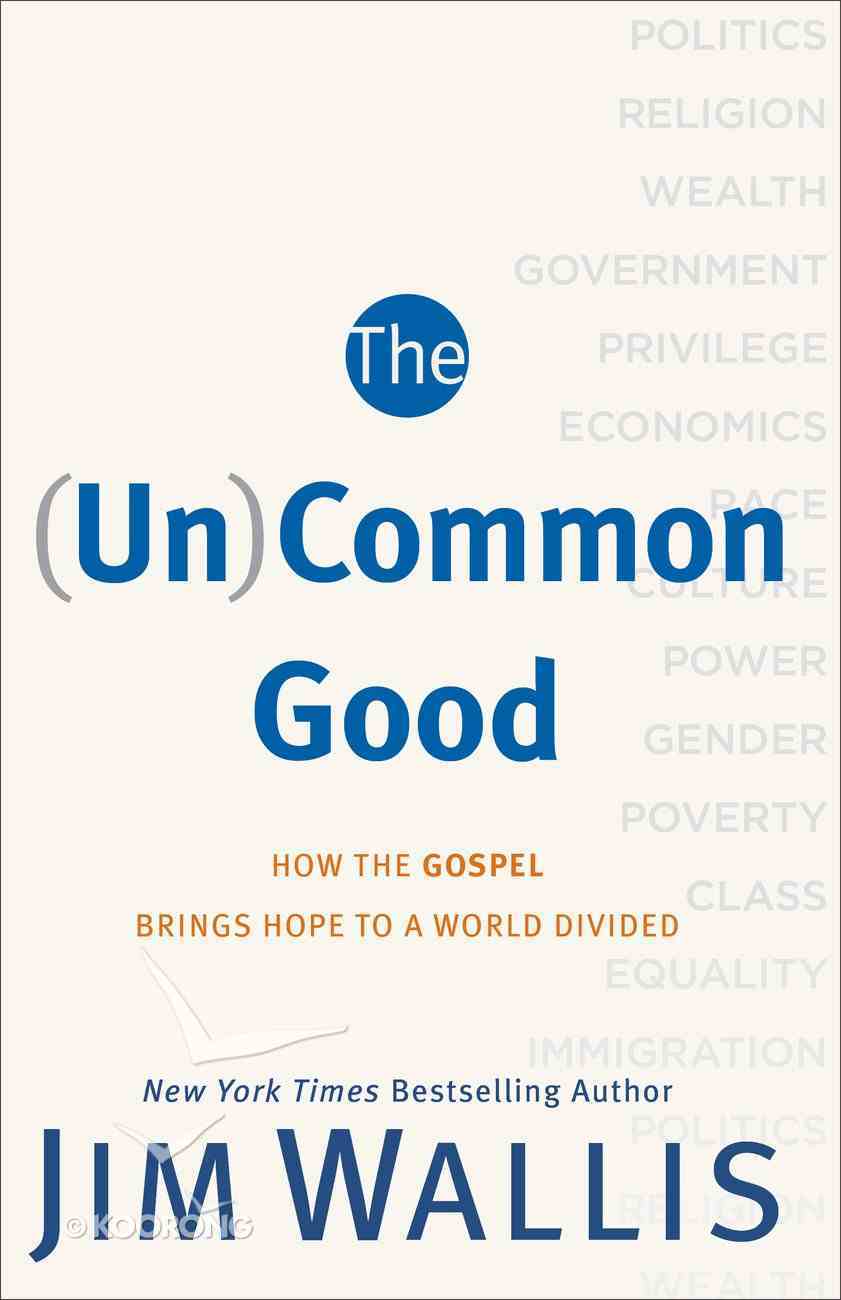 Jim Wallis thinks our life together can be better. In this timely and provocative book, he shows us how to reclaim Jesus's ancient and compelling vision of the common good--a vision that impacts and inspires not only our politics but...
---
Available in other Formats
Available for immediate download.
---
Read using our free app on your tablet or mobile!
---
Free Shipping
for orders over $99.
Jim Wallis thinks our life together can be better. In this timely and provocative book, he shows us how to reclaim Jesus's ancient and compelling vision of the common good--a vision that impacts and inspires not only our politics but also our personal lives, families, churches, neighborhoods, and world. Now available in paperback with a new preface.

"Personal/political, religion/politics, faith/power, ideology/pragmatism ... Jim Wallis is a wrestler of values, ideas, and policies and how they interact to shape the world we live in. His deep, melodious voice is easy to listen to, but what he says takes a harder commitment to live by."--Bono, lead singer of U2; cofounder of ONE.org

"Wallis persuades more powerfully here than ever before... . He lays out the theology of [Jesus's gospel of the kingdom] and then issues to all Christians a rallying cry to apply that theology both in private life and in the arena of public activity."--Phyllis Tickle, author of Emergence Christianity

"Jim Wallis has long been an influential voice on Christian ethics and public life... . A fresh take on the interplay of faith and politics in America."--Relevant

"Jim Wallis and I have a variety of differences on domestic and international policy, but there is no message more timely or urgent than his call to actively consider the common good."--Michael Gerson, op-ed columnist,
The Washington Post

"Reading this book will help you be more like Jesus, especially in the public square."--Joel C. Hunter, senior pastor, Northland--A Church Distributed
-Publisher
Jim Wallis is the author of the "New York Times" bestseller "God's Politics", which electrified Americans disenchanted with how the Right had co-opted all talk about integrating religious values into our politics by offering an alternative voice. Wallis is a leading figure at the crossroads of religion and politics in America today, the author of eight books, and the founder of Sojourners, a global faith and justice network. He is a public theologian, an internationally renowned speaker and preacher, a faith-based activist, husband, and father to two young boys, and a Little League baseball cC
Jim Wallis Thinks Our Life Together Can Be Better. In This Timely And Provocative Book, He Shows Us How To Reclaim Jesus's Ancient And Compelling Vision Of The Common Good--a Vision That Impacts And Inspires Not Only Our Politics But Also Our Personal Lives, Families, Churches, Neighborhoods, And World. Now Available In Paperback With A New Preface.<br> <br> "personal/political, Religion/politics, Faith/power, Ideology/pragmatism ... Jim Wallis Is A Wrestler Of Values, Ideas, And Policies And How They Interact To Shape The World We Live In. His Deep, Melodious Voice Is Easy To Listen To, But What He Says Takes A Harder Commitment To Live By."--<b>bono</b>, Lead Singer Of U2; Cofounder Of One.org<br> <br> "wallis Persuades More Powerfully Here Than Ever Before... . He Lays Out The Theology Of [jesus's Gospel Of The Kingdom] And Then Issues To All Christians A Rallying Cry To Apply That Theology Both In Private Life And In The Arena Of Public Activity."--<b>phyllis Tickle</b>, Author Of <i>emergence Christianity<br></i><br> "jim Wallis Has Long Been An Influential Voice On Christian Ethics And Public Life... . A Fresh Take On The Interplay Of Faith And Politics In America."--<i>relevant<br></i><br> "jim Wallis And I Have A Variety Of Differences On Domestic And International Policy, But There Is No Message More Timely Or Urgent Than His Call To Actively Consider The Common Good."--<b>michael Gerson</b>, Op-ed Columnist,<br> <i>the Washington Post<br></i><br> "reading This Book Will Help You Be More Like Jesus, Especially In The Public Square."--<b>joel C. Hunter</b>, Senior Pastor, Northland--a Church Distributed
Bestsellers in Christian Worldview