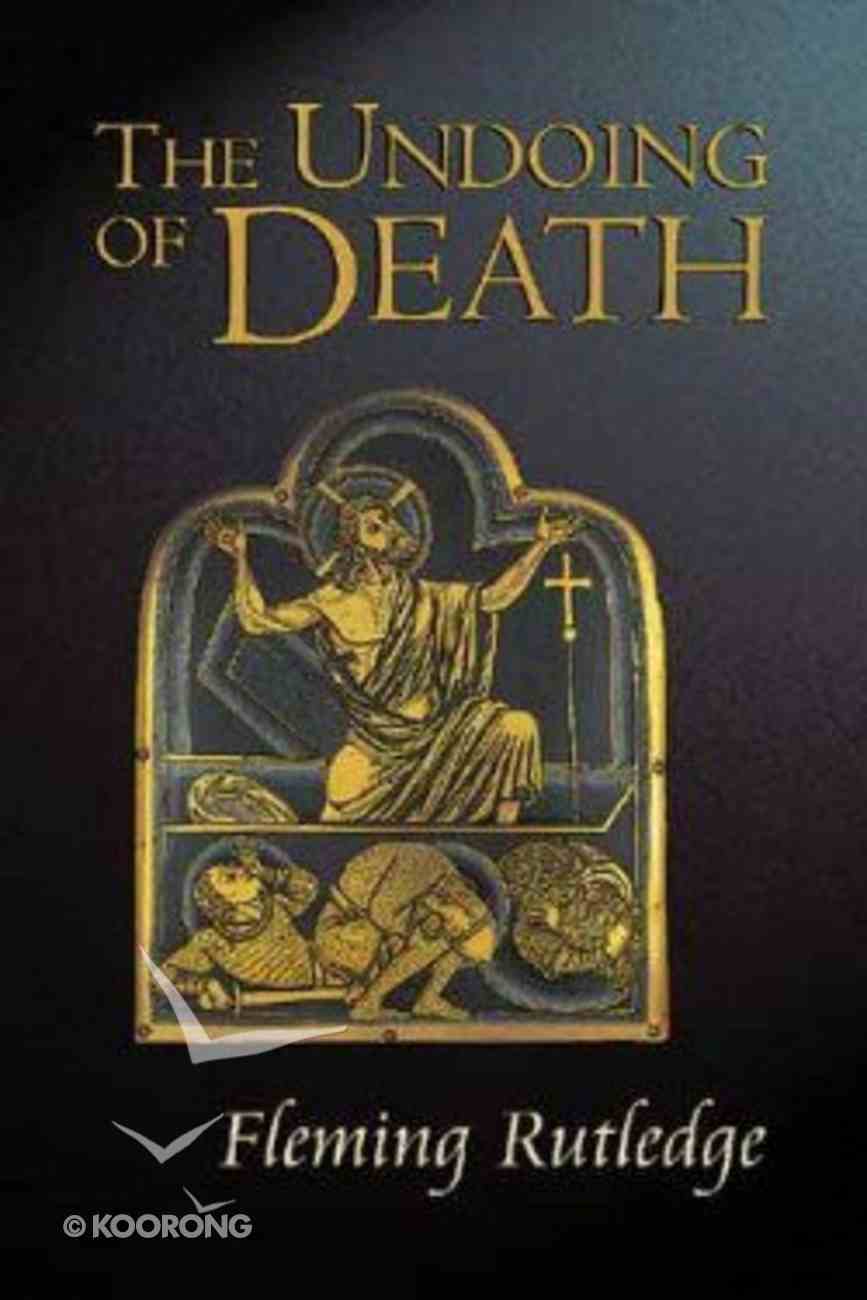 The Crucifixion and Resurrection of Jesus comprise the two-part event at the heart of the Christian story. Because of its unique meaning and the intense emotions it invokes, Holy Week brings high expectations on the part of congregations and places...
---
Expected to ship within 3 hours from Australia.
---
Free Shipping
for orders over $99.
The Crucifixion and Resurrection of Jesus comprise the two-part event at the heart of the Christian story. Because of its unique meaning and the intense emotions it invokes, Holy Week brings high expectations on the part of congregations and places unusual demands on those who deliver the messages. It takes a specially gifted preacher to communicate the profundity of Christ's Passion and its supreme relevance for our contemporary world.

Fleming Rutledge is just such a preacher. Heralded by congregations and peers alike as one of today's most compelling and powerful Christian voices, Mrs. Rutledge is also a best-selling author whose previous collections of sermons have touched readers deeply. This new volume, representing twenty-five years of Holy Week and Easter preaching, offers a wide-ranging vision of the Cross and Resurrection that will inform and inspire committed believers and serious seekers alike.

Divided into seven sections that progress through Holy Week from Palm Sunday to Good Friday to Easter and on through Eastertide, these sermons incorporate the biblical themes of sacrifice for sin, vicarious suffering, victory over evil and death, and the new creation arising out of eternal love. Many of these sermons are brand-new; others — especially those for Good Friday — have been rethought and reworked over a period of years. None have ever been published before. All of them consistently display Mrs. Rutledge's startling ability to bridge the message of the ancient biblical texts with the distinct needs of modern people.

Intellectually engaging, pastorally wise, and beautifully written, The Undoing of Death is accented with thirty-three artistic masterpieces depicting the events of Holy Week, making it a feast for the eye as well as the soul.

Table of Contents

PART ONE
The First Day of Holy Week: Palm Sunday
The Tears of Palm Sunday
The New World Order
Lead Us to Calvary
PART TWO
Monday, Tuesday, and Wednesday of Holy Week
The King's Ransom
The Messiah Comes to His Temple
The Lamb of God
PART THREE
Maundy Thursday or Holy Thursday
Lord, Not My Feet Only
Night of Shame, Night of Glory
The Lord Looked at Peter
PART FOUR
Good Friday
Seven Meditations
The Man with No Trousers
Shame and Spitting
Scapegoat and Sacrifice
The Common Criminal
Somebody Has Got to Pay
The Accursed Messiah
The Heart That Broke
Six Meditations
Despised and Rejected
God Made Jesus to Be Sin
Outside the Camp
Not Bad But Good
TheCurse and the Substitution
The Stealth Bomber
Three Meditations: The Three Signs on Calvary
Darkness at Noonday
The Temple Veil
The Open Tombs
More Sermons for Good Friday
The Hour of Glory
The Great Exchange
The Crucifixion of Self-Help
September 11, 2001: A Cross at Ground Zero
PART FIVE
The Day of Resurrection: Easter Day
Midnight in the Kingdom of Death
Face to Face, Hand in Hand
PART SIX
Easter Week
Beyond Possibility
Recognizing Jesus
The Undoing of Death
Out of Our Control
Refreshment Time
PART SEVEN
Eastertide
My Taste Was Me
The Peace from Somewhere Else
It Ain't Necessarily So
The Hidden Pathway to Joy
-Publisher
In this collection of sermons representing 25 years of Holy Week and Easter preaching, Fleming Rutledge offers a wide-ranging vision of the cross and the resurrection.
-Publisher
Fleming Rutledge is an Episcopal priest now engaged in a nationwide ministry of preaching and teaching. Her other best-selling books have been widely acclaimed across denominational boundaries and have established her reputation as one of America's finest preachers.


Titles by Fleming Rutledge include Help My Unbelief; The Battle for Middle-earth: Tolkien's Divine Design in The Lord of the Rings; The Bible and The New York Times; The Seven Last Words from the Cross; The Undoing of Death and Not Ashamed of the Gospel: Sermons from Paul's Letter to the Romans.


Most recently she has produced And God Spoke to Abraham: Preaching from the Old Testament


Bestsellers in Church Resources