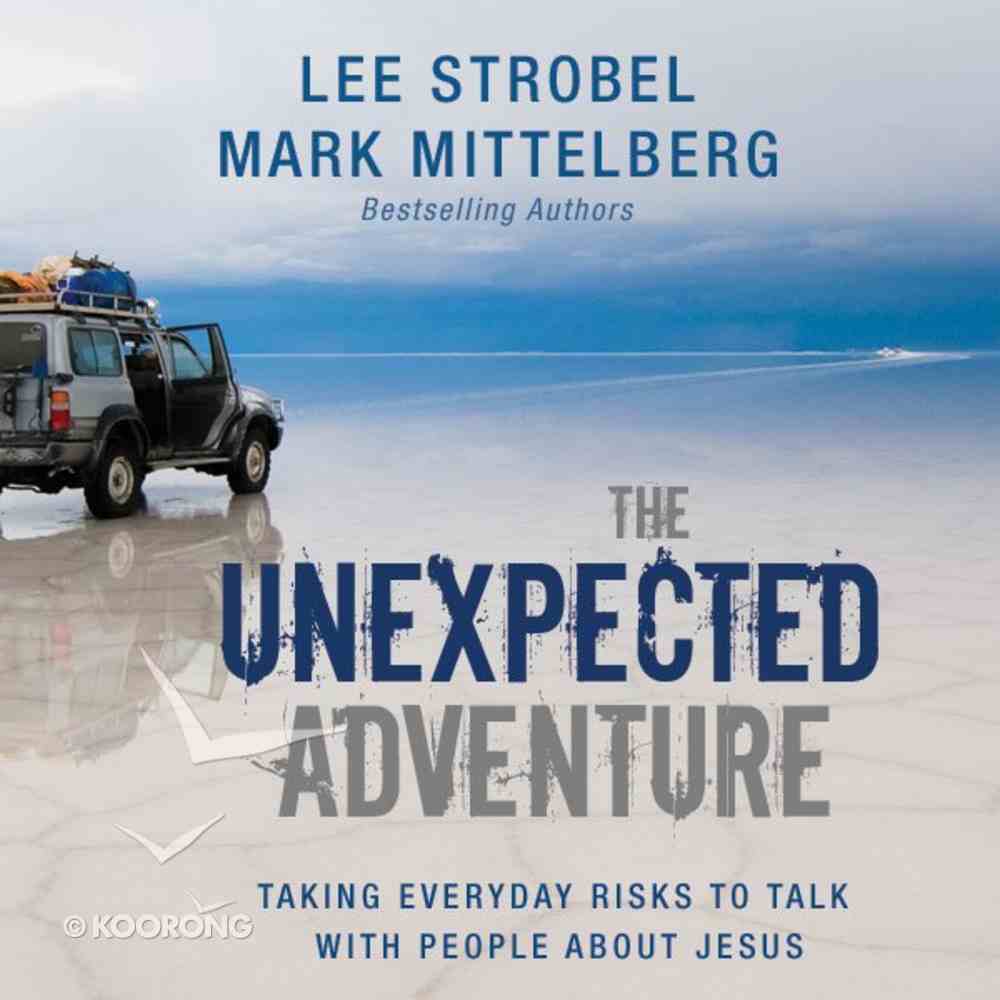 Virtually every Christian knows that he or she should be evangelistically engaged, but few actually embark on this "unexpected adventure," where days that start out dull and routine can suddenly blossom into thrilling escapades. They sense they're missing something -...
---
Available in other Formats
Available for immediate download.
---
Free Shipping
for orders over $99.
Virtually every Christian knows that he or she should be evangelistically engaged, but few actually embark on this "unexpected adventure," where days that start out dull and routine can suddenly blossom into thrilling escapades. They sense they're missing something - and this book would help them understand why it's impossible to have a plain vanilla Christian life while at the same time seizing opportunities to influence others for Christ.Built on Lee Strobel's best-received conference talk, "Maggie's Poem," this book begins with the inspiring story of what happened to Maggie because of Lee's continual sharing of the words and love of Jesus to a person who truly needed God. The book will tell other real-life stories - some funny, some heart-breaking - from the evangelism adventures the authors have experienced. Rather than being "how to" training, this book focuses on the "want to." Its goal is to winsomely transform the reader's values and priorities by painting a picture of personal evangelism that's so compelling, so desirable, so irresistible, and so darn do-able that they simply must share in the adventure!Readers will walk away with an insatiable desire to experience white-knuckle Christianity. They will develop a heart that's bursting with compassion and empathy for their spiritually confused friends, colleagues, neighbors, and family members. They will make a fresh commitment to taking spiritual risks to share their faith. They will become excited about their church's outreach programs. They will hunger to get more training in evangelism to further sharpen their skills.
-Publisher
Atheist-turned-Christian, Lee Strobel is the former award-winning legal affairs editor of The Chicago Tribune. He holds a Master of Studies in Law degree, as well as a journalism degree and was a professional journalist for 14 years, winning Illinois' top honours for investigative reporting and public service journalism from United Press International.

In 1981, after a two-year investigation of the evidence for Jesus, Lee received Christ as his Saviour, and subsequently became a teaching pastor at two of America's largest churches - Willow Creek Community Church, Chicago in 1987 and Saddleback Valley Community Church, California in 2000. In 2002 he left Saddleback's staff to focus on writing.

A New York Times best-selling author of nearly 20 books, he has been described by the Washington Post as "one of the evangelical community's most popular apologists." His journey from atheism to faith has been documented in the Gold Medallion-winning books The Case for Christ, Inside the Mind of Unchurched Harry and Mary and The Case for Faith.

His other best-sellers include Surviving a Spiritual Mismatch in Marriage, which he co-authored with his wife, Leslie; God's Outrageous Claims and What Jesus Would Say? Lee also shared the prestigious ECPA Jordon Christian Book of the Year award in 2005 for a curriculum he co-authored about the movie The Passion of the Christ.

Lee is also co-author of the Becoming a Contagious Christian training curriculum, which is used around the world. And his articles have been published in a variety of magazines, including Discipleship Journal, Marriage Partnership, The Christian Research Journal, Guideposts, and Decision. He is also a contributing editor and columnist for Outreach on-line magazine.

Lee and Leslie have been married for 33 years and live in Southern California. They have a daughter, Alison, and son Kyle who is married to Kellie, both Alison and Kyle are writers.
- Koorong
Bestsellers in Christian Living