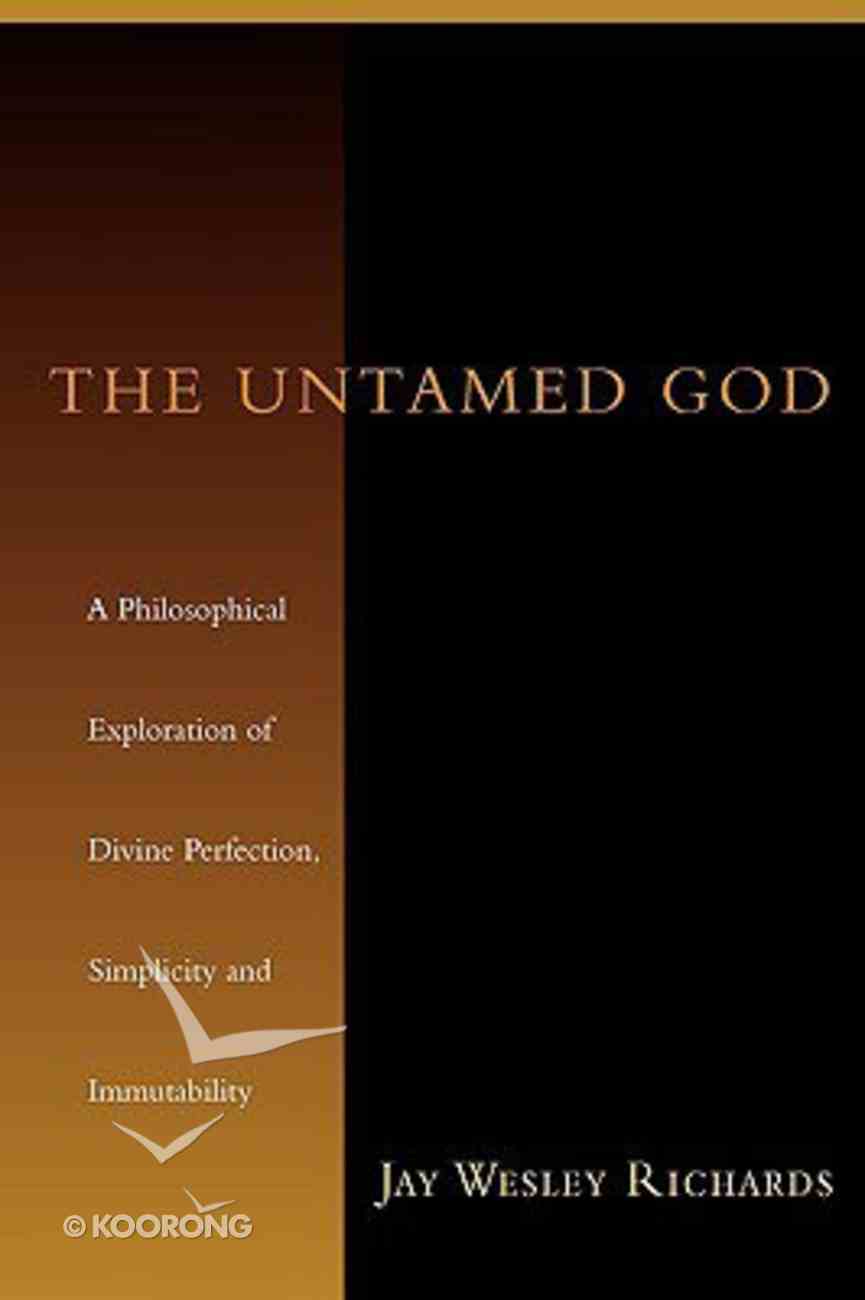 Table of ContentsAcknowledgementAbbreviationsIntroductionI. Christian Theism: Some Preliminary IssuesII. From Modal Speech to EssentialismIII. Theological EssentialismIV. Karl Barth's Actualistic Doctrine of GodV. Dealing with Barth's Doctrine of GodVI. Charles Hartshorne's Surrelativist Doctrine of GodVII. Dealing with Hartshorne's Doctrine of GodVIII. The...
Locally Sourced
Available to Order
---
Expected to ship within 10 days from Australia.
---
Free Shipping
for orders over $99.
Table of ContentsAcknowledgementAbbreviationsIntroductionI. Christian Theism: Some Preliminary IssuesII. From Modal Speech to EssentialismIII. Theological EssentialismIV. Karl Barth's Actualistic Doctrine of GodV. Dealing with Barth's Doctrine of GodVI. Charles Hartshorne's Surrelativist Doctrine of GodVII. Dealing with Hartshorne's Doctrine of GodVIII. The Difficult Doctrine of Divine ImmutabilityIX. The Difficult Doctrine of Divine Simplicity Conclusion: Essentialism and the Doctrine of Divine IdeasBibliography
-Publisher
God is sovereign. God is perfect. God is immutable. God created everything. God is triune. The Son of God was incarnate in Jesus Christ. The essential tenets of classical theism regarding the doctrine of God can be stated fairly easily. However, questions have been raised regarding the coherence of these beliefs taken as a whole. Some have seen fit to abandon classical theism. Others have acknowledged tensions in the traditional concept of God and have sought to resolve them by means of making significant concessions. Jay Wesley Richards believes that classical theism with its biblical norm can and ought to be maintained. He shows how a philosophical defense, using the analytical tools of modal logic, can be mounted that preserves traditional Christian beliefs. Richards astutely defends essentialism, arguing that it is both intrinsic to the Christian understanding of God and preserves the contingency of creation and the God-world relation. To further clarify and defend his proposal he engages appreciatively and critically the thought of Karl Barth and Charles Hartshorne as well as addressing the related and currently debated matters of divine simplicity and immutability.
-Publisher
Jay Wesley Richards mounts a philosophical defense of the classical Christian doctrine of God, using the analytical tools of modal logic, engaging the thought of Karl Barth and Charles Hartshorne, and addressing the related and currently debated matters of divine simplicity and immutability. His own carefully crafted proposal upholds the historic Christian doctrine of God while critiquing some of its more stringent formulations that render God's relations with contingent creation problematic.
-Publisher
Richards (Ph.D., Princeton Theological Seminary; Th.M., CalvRichards (Ph.D., Princeton Theological Seminary; Th.M., Calvin Theological Seminary; M.Div., Union Theological Seminary)in Theological Seminary; M.Div., Union Theological Seminary) is a research fellow and director of institutional relation is a research fellow and director of institutional relations at Acton Institute for the Study of Religion and Liberty is at Acton Institute for the Study of Religion and Liberty in Grand Rapids, MI. He has published articles in philosophy n Grand Rapids, MI. He has published articles in philosophy C
Acknowledgments
Abbreviations
Introduction
1. Christian Theism: Some Preliminary Issues
2. From Modal Speech To Essentialism
3. Theological Essentialism
4. Karl Barth's Actualistic Doctrine Of God
5. Dealing With Barth's Doctrine Of God
6. Charles Hartshorne's Surrelativist Doctrine Of God
7. Dealing With Hartshorne's Doctrine Of God
8. The Difficult Doctrine Of Divine Immutability
9. The Difficult Doctrine Of Divine Simplicity
Conclusion
Bibliography
Author Index
Subject Index