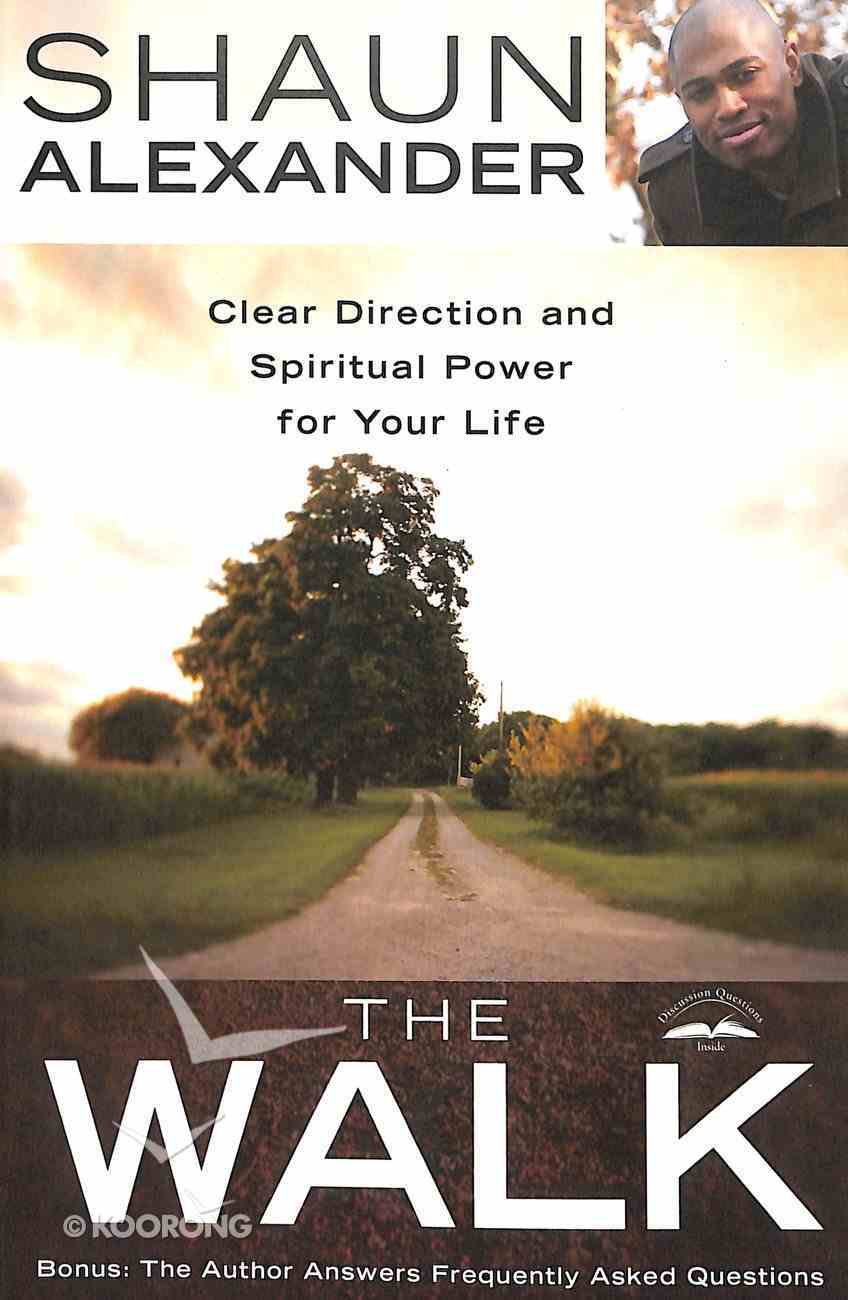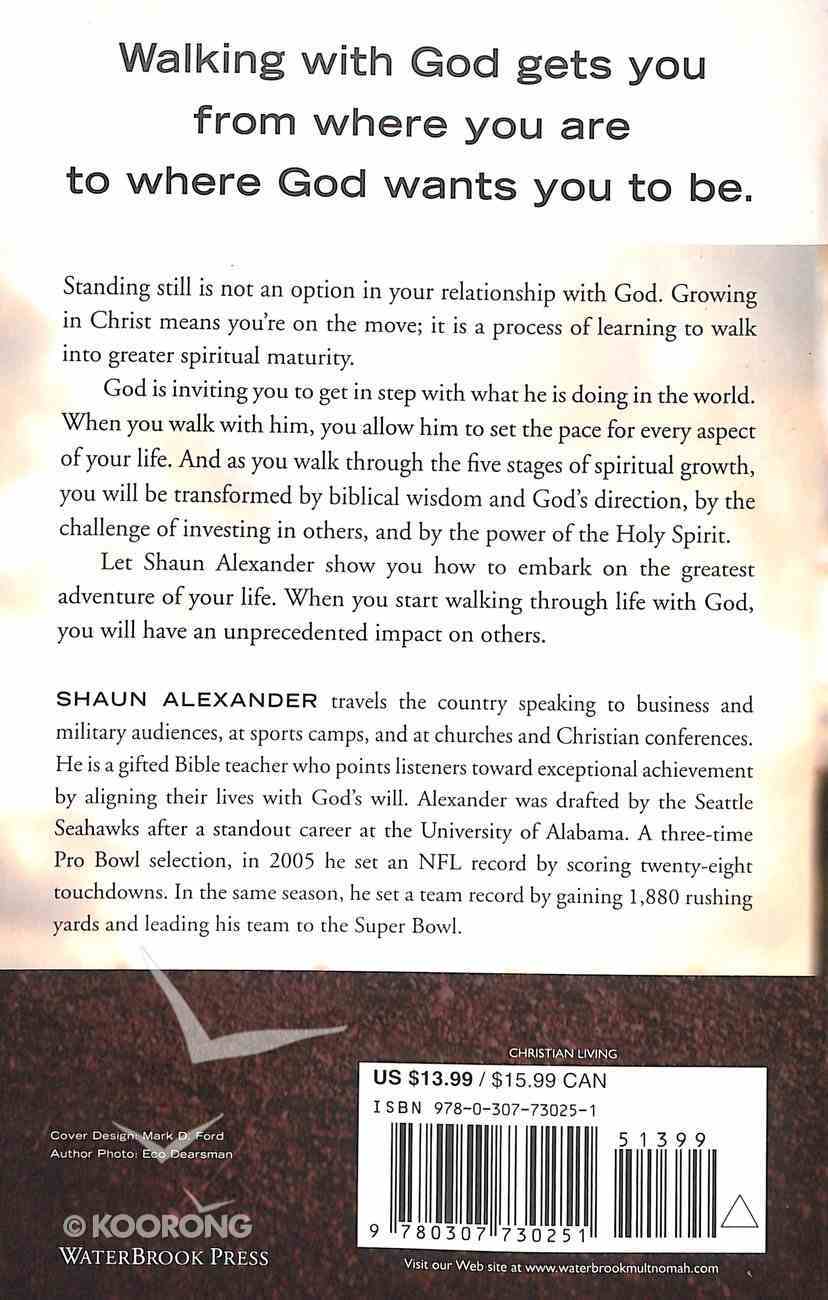 Walking with God gets you from where you are to where God wants you to be. Standing still is not an option in your relationship with God. Growing in Christ means you're on the move; it is a process of...
Out of Stock
Available to Order
---
Expected to ship in 4 to 5 weeks from Australia.
---
Free Shipping
for orders over $99.

Walking with God gets you from where you are to where God wants you to be.


Standing still is not an option in your relationship with God. Growing in Christ means you're on the move; it is a process of learning to walk into greater spiritual maturity.


God is inviting you to get in step with what he is doing in the world. When you walk with him, you allow him to set the pace for every aspect of your life. And as you walk through the five stages of spiritual growth, you will be transformed by biblical wisdom and God's direction, by the challenge of investing in others, and by the power of the Holy Spirit.


Let Shaun Alexander show you how to embark on the greatest adventure of your life. When you start walking through life with God, you will have an unprecedented impact on others.


 


-Publisher
PRODUCT DETAIL
Catalogue Code 

320123

Product Code 

9780307730251

ISBN 

0307730255

EAN 

9780307730251

Pages 

240

Department General Books
Category Christian Living
Sub-Category General
Publisher Waterbrook Press
Publication Date 

Oct 2011

Sales Rank 

46480

Dimensions 

201 x 131 x 17

mm

Weight 

0.215

kg
Shaun Alexander is the star running back for the recent Super Bowl-contending Seattle Seahawks. He was voted the MVP (Most Valuable Player) in the National Football League for the 2005 season. Shaun was born in Florence, Kentucky, and now lives in Kirkland, Washington, with his wife and two young children.
      Sweat drips from my nose as I lean over, hands on my knees,and gasp for breath. I look across the huddle at the left tackle. He's a high school all-state pick; he's a college all-American; he's an all-pro offensive lineman in the National Football League (NFL). Our eyes meet, and I grin at him. He nods back as if to say, "Follow me."
      To my right is the fullback. Blood trickles down his forearm, and mud covers his jersey, but he doesn't seem to mind. He's my running mate and my protector. He leads the way, opening holes in the line and throwing his body against linebackers, safeties, and defensive ends who try to stop me. He catches my eye and winks as if to say, "Let's do it."
      Moments later the quarterback leans into the huddle. "All right. We need two yards for a first down. Green, power right, check, shift right, F left, ninety-seven OT on two." This is a play where I follow the fullback to the right through a hole between the right guard and the right tackle. 
      As we break the huddle, I see the crowd stand to its feet. At the far end of the field, the American flag flaps in the breeze. The crowd is cheering, watching, hoping. Seven yards behind the line of scrimmage, knees bent, cleats digging into the turf, I ease into position.
      And then everything slows down—the American flag on its pole, the crowd, the players on the field. As if in slow motion, linemen settle into their stance, planting their hands in the grass. Tension fills the air. Something big is about to happen. The quarterback barks the signals, firm and decisive. "Set. Hut!"
      Suddenly there's a loud pop as our linemen collide with players on the defensive line. Up and down the line of scrimmage, groaning and growling, players wrestle like gladiators. As the quarterback drops back, I step
to the right. In the next instant I feel the ball slap against my stomach. I clutch it with both arms. My legs are moving, my mind racing. Read it. Read it. Hit the hole or cut back. "Cut!" I plant my foot and explode through the line.
      Ahead of me, the fullback crashes into a linebacker. The slot receiver sprints toward the safety. As they collide, the safety flips into the air.
      The crowd gasps.
      With the safety out of the way, I move to the left toward the sideline. From the corner of my eye, I catch a glimpse of the crowd on its feet. Fans are waving their arms and screaming, but all I hear is the whoow, whoow, whoow of my breath as I sprint down the field. 
      By then the cornerback has taken an angle on me and is closing fast. He cuts into my lead with every step. I run harder and harder, calling on every ounce of strength in my body, past the forty-yard line, then the thirty, and the twenty. The cornerback is closing the gap as my foot crosses the ten-yard line. I can hear him behind me and just to the right. I can feel his eyes boring in on me and know that every muscle in his body is pushing to knock me down.
      At the five-yard line he dives, reaching with both hands to make the tackle. His arms brush my cleats. I stumble, put my hand on the ground, then stumble again. All the while I tell myself, Pick up your head. As I stagger to the right, I lift my chin. My feet come under me, and I sweep into the end zone for a touchdown. A sixty-yard run on third-and-two. Now that's what I'm talking about!
      The roar of the crowd echoes in my helmet as I turn to celebrate with my teammates. Then up the field I see the trainer and members of my team running toward the thirty-yard line. A player is lying on the ground, writhing in pain. I jog up the field and join the players who are gathered around him. I can see that his leg is broken, twisted at a sickening angle.
      "Get the cart," someone orders. Others sigh with resignation, knowing an injury like that could take a player out of the game for the remainder of the season, perhaps even for good.
      Then, without hesitation, some of us kneel beside our injured teammate. We lay our hands on his leg and begin to pray, invoking God's healing presence and power. We agree together, just as Scripture says, "Lord, let Your will be done here on earth, as it is in heaven. There are no broken bones in heaven" (see Matthew 6:9–10). As we pray, the player's shattered bone moves back into place, perfectly aligned and as strong as before. Our teammate looks up at us, his eyes wide with wonder.
      How would you express the feeling of having your broken leg repaired by God while you're lying on a football field?
      By then the crowd is silent, many standing with their hands to their faces in a look of amazement. They start to murmur, and the look on their faces says they have never seen anything like this. Even those of us who prayed for our teammate to be healed watch in awe as he trots toward the sideline. I turn to the others, look at them, and point to—
      Just then my eyes popped open, and I stared at the ceiling. My heart was pounding. "It was just a dream," I whispered. I glanced at the alarm clock and rubbed my eyes. "But couldn't it really happen, just like that?"
      I have dreamed that dream many times, wearing the different uniforms of the teams I've been a part of in high school, college, and the NFL, and I have realized that I'm not really me in that dream. I represent a Christian who believes in God's power and lives in such a way that God is free to work through his life. The dream illustrates what God can do through a life that is fully yielded and obedient to Him.
      Still, I ask myself, is it possible? Can God do today what He did long ago through men like Moses, Elijah, and the first-century apostles? Is it possible for us to experience His miraculous presence to the same extent they did? I think it is. Scripture certainly suggests that it's possible. But how?

LIVING YOUR DREAM

      Football has been more than a dream for me. I began playing as a young boy, back in Florence, Kentucky. With the help of coaches, my parents, and many others, I developed skills as a player and earned a football scholarship to the University of Alabama. There, I played for Coach Gene Stallings and Mike Dubose with the Crimson Tide. After college I was drafted in the first round (nineteenth overall) to play for the Seattle Seahawks.
      My sixth season with the Seahawks was my breakout year. I set a number of team and NFL records and was named the NFL's Most Valuable Player. At the conclusion of that season, we won the National Football Conference championship and went to the Super Bowl. Although we lost to Pittsburgh, that season was one of my best ever.
      As I began my seventh season in 2006, I looked forward to building on what we'd accomplished the prior year. I trained hard and came to the season's first game with great expectations. We opened that year against the Detroit Lions.
      Sometimes life-changing events come to you with a sign written in huge letters that spell out "YOUR LIFE IS ABOUT TO CHANGE." Other times the moment slips by with little or no recognition. That game against Detroit was one of the latter. I didn't realize its significance until months afterward.
      During that game a defensive lineman fell on my foot, pinning it in place between his body and the ground. He had shot through the line toward me, and as I cut left to escape his grasp, one of his teammates met me face to face. All three of us fell to the ground. This seemed like a normal play: you get the ball, you run, you get tackled. Pads crash, bodies hit the turf, the whistle blows, everybody gets up and tries it again. That's football. That's normal.
      But on this play my left foot got sandwiched between the ground and the lineman's three-hundred-pound body. As I trotted back to the huddle, I could feel the pain.
      For a football player, physical pain is a way of life. Since I began playing organized football as a young boy, I have taken the field while nursing sprains, strains, and aches in almost every part of my body. That day against Detroit I didn't think about the pain. But the pain in my foot never went away. I continued to play that day and carried the ball nineteen times for fifty-one yards. The pain was a distraction, and I failed to gain the yardage that I expected of myself, but I wasn't too concerned. 
      After the game team doctors told me I had a bone bruise. That's a medically nonspecific term for "You got hit hard, and the pain goes to the bone." I spent time with the trainer but continued to play. Two weeks later, in a game against the New York Giants, the bruise became a fracture, and I was out most of the season.
      Doctors told me to stay off my foot, so I spent a lot of time reading. One of the books I read goes deep into the reality of spiritual warfare. While reading The Call by Rick Joyner, I realized that God works in an orderly fashion; He is a God of order. And as I listened to God, I saw that some things in my life were out of order.
Bestsellers in Christian Living