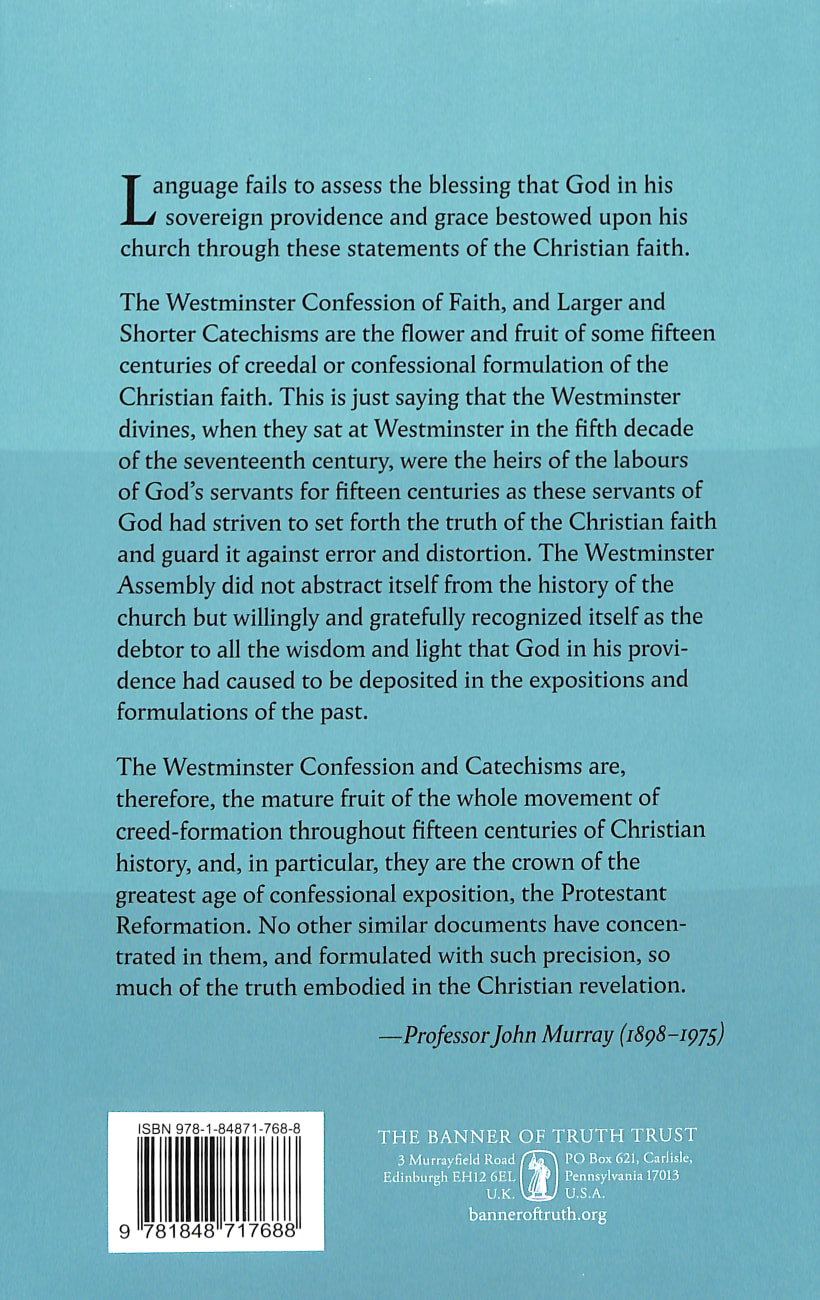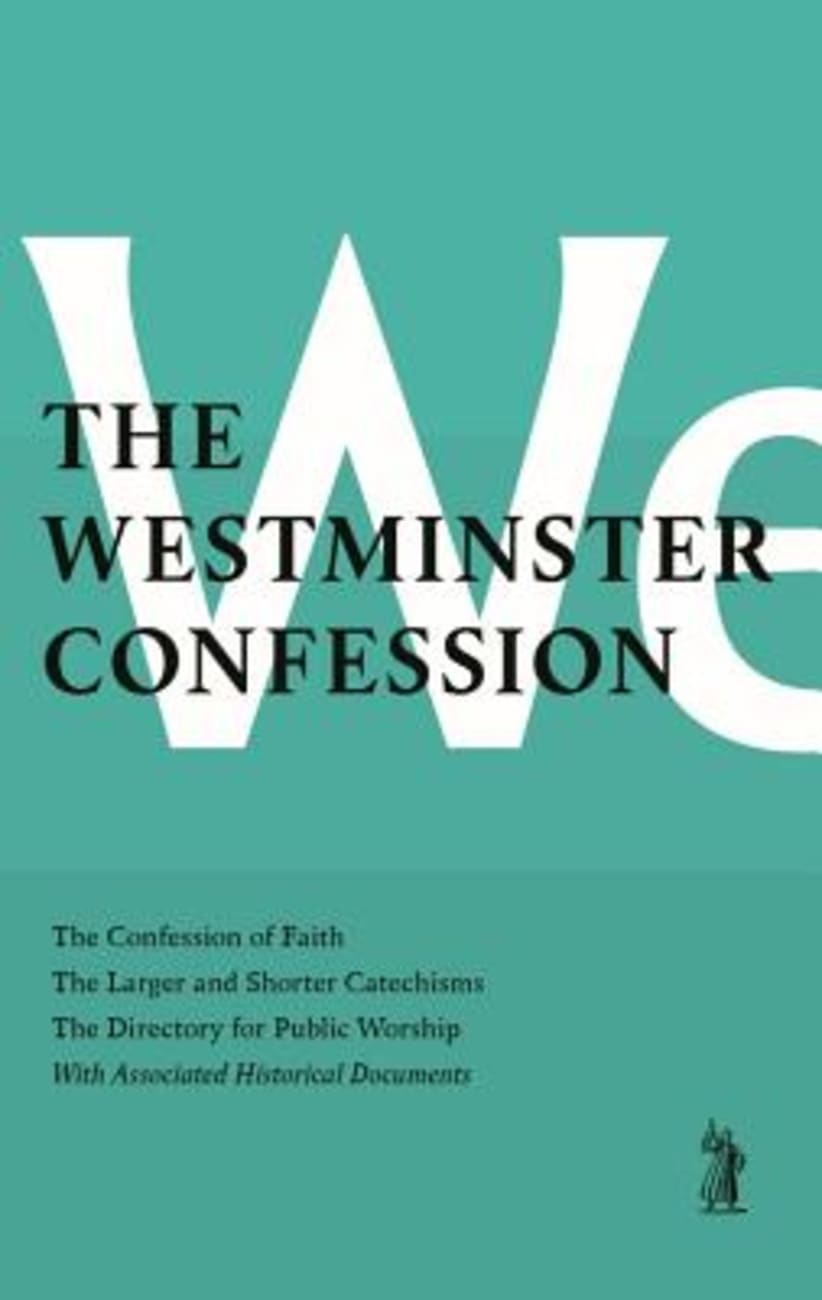 The Westminster Confession: The Confession of Faith, the Larger and Shorter Catechism, the Sum of Saving Knowledge, the Directory For Public Worship, and Other Associated Documents
On 1 July 1643, the Westminster Assembly of Divines, consisting of many of the foremost theologians of the English and Scottish churches, convened at Westminster Abbey in London. Their task from the English Parliament was ambitious to say the least:...
---
Expected to ship tomorrow from Australia.
---
Free Shipping
for orders over $99.
On 1 July 1643, the Westminster Assembly of Divines, consisting of many of the foremost theologians of the English and Scottish churches, convened at Westminster Abbey in London. Their task from the English Parliament was ambitious to say the least: to reform the liturgy, discipline, and government of the Church of England; to promote church unity between England, Scotland, and the Continent; and to clarify and revise the Thirty-Nine Articles of Religion of the Church of England.

Over the course of five politically tumultuous years, committees of the Assembly met and developed a set of documents that would have significant influence in defining the belief and practice of Presbyterian churches in Britain (especially in Scotland) and indeed the world. The doctrinal framework that the Assembly established in their Confession also provided the foundation of the central credal documents of the Baptists and Congregationalists that were clarified in the decades following the Assembly.

Although the hoped-for unity between the English and Scottish churches did not materialise, nevertheless the documents produced by the Assembly, and especially the Confession of Faith and Larger and Shorter Catechisms, would become the touchstone for sound doctrine, cherished by generations of Christians as a well-honed summary of biblical truth.

Of the Confession of Faith itself, Professor John Murray noted: 'The Westminster Confession is the last of the great reformation creeds. No creed of the Christian church is comparable to that of Westminster in respect of the skill with which the fruits of fifteen centuries of Christian thought have been preserved, and at the same time examined anew and clarified in the light of that fuller understanding of God's word which the Holy Spirit has imparted.'

This volume contains the Confession of Faith, the Larger and Shorter Catechisms, and the other principal documents to come out of the Westminster Assembly. The text is newly typeset, and biblical references are given in full. Later American revisions of the Westminster Confession are included in an appendix.


"I stand in awe at the profound level of theological and biblical precision manifest in the Westminster Confession of Faith. I would argue that the Westminster Standards are the most precise and accurate summaries of the content of biblical Christianity ever set forth in a creedal form. In my judgment, no historic confession surpasses in eloquence, grandeur, and theological accuracy the Westminster Confession of Faith."
- R C Sproul

"The Westminster Standards ... are the richest and most precise and best guarded statement ever penned of all that enters into evangelical religion, and of all that must be safeguarded if evangelical religion is to persist in the world."
- B B Warfield

Contents:

To the Christian Reader, Especially Heads of Families vii
Mr Thomas Manton's Epistle to the Reader xiii
Acts of Assembly and Parliament xix
The Confession of Faith 1
Appendix: American Revisions to the Confession of Faith 169
The Larger Catechism 177
The Shorter Catechism 419
The Sum of Saving Knowledge 473
The National Covenant 507
The Solemn League and Covenant 523
Acknowledgment of Sins, and Engagement to Duties 531
The Directory for the Public Worship of God 545
The Form of Presbyterial Church Government 583
The Directory for Family Worship 621
A Table of the Chief Matters Contained in the Confession of Faith and Larger Catechism 629