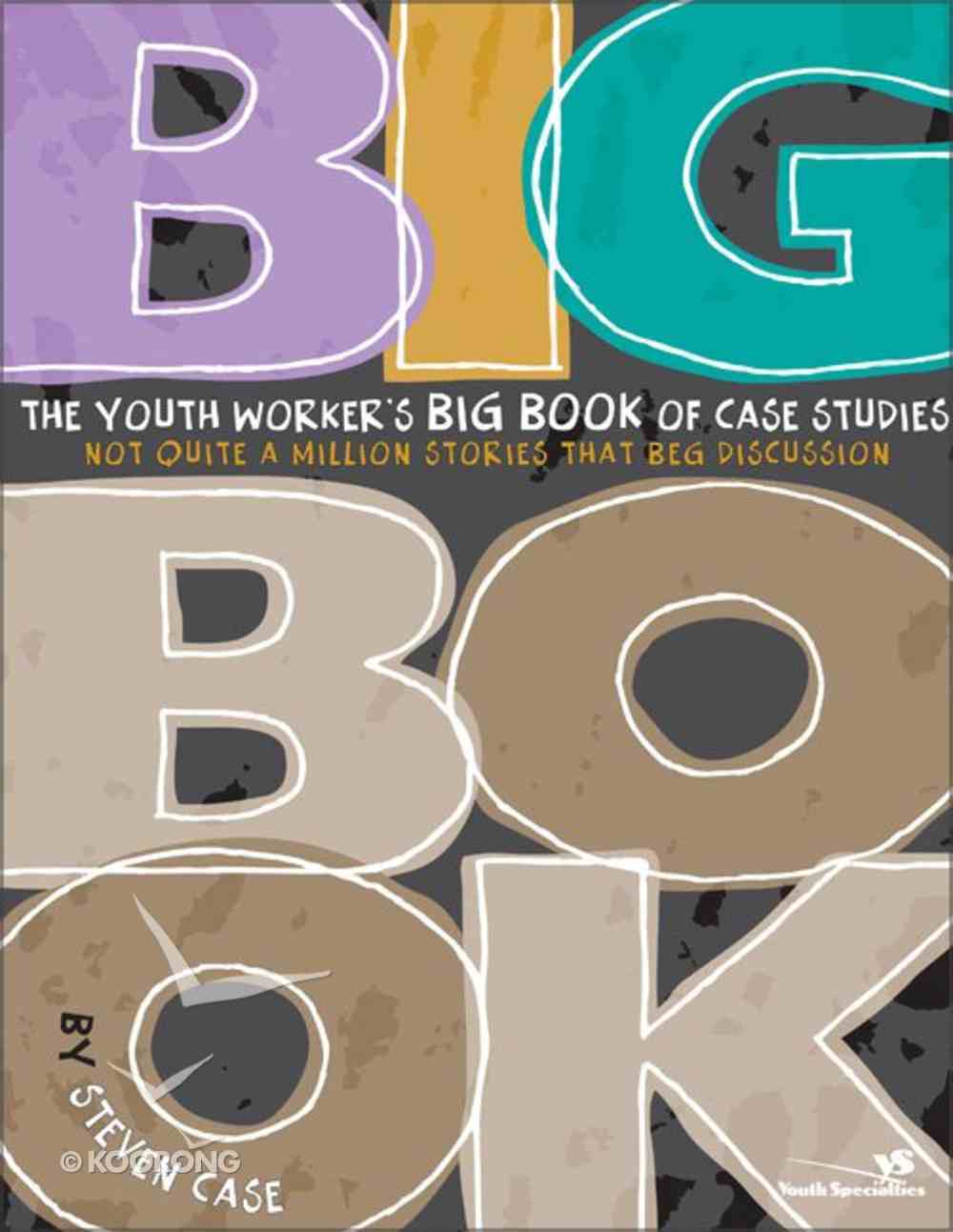 The Youth Worker's Big Book of Case Studies
This explosive book of approximately 185 "case studies" by veteran youth worker and prolific author Steve Case will lead students to see their own lives and circumstances differently. Easy answers are not easy to find. With THE YOUTH WORKERS...
---
Free Shipping
for orders over $99.
This explosive book of approximately 185 "case studies" by veteran youth worker and prolific author Steve Case will lead students to see their own lives and circumstances differently.

Easy answers are not easy to find. With THE YOUTH WORKERS BIG BOOK OF CASE STUDIES, your teenagers will be talking, and thinking about stuff that matters most in their lives. Open-ended questions, excruciating dilemmas, familiar scenarios, and going-deeper at Scripture make these cutting-edge case studies power-packed and unforgettable. Why just have mere chats with teens when you can use THE YOUTH WORKERS BIG BOOK OF CASE STUDIES to dig deeper, gaining insights that will enrich your group, and students' lives outside the group! In this gigantic collection, you'll get . . .

- More than 180 faith-building case studies of issues vital to students complete with provocative discussion questions and themed Bible verses and passages!

- Fun, engaging, sometimes very serious discussions!

- Easy-to-use, overflowing indexes - contents, categories, multiple topics - cross referenced for every youth leader's need.

- Among the categories dealt with: Family; School; Sex-Dating; Friends; and Growing Up.

Add sizzle, spice, even a little bit of controversy to you next lesson, service, message, or sermon with THE YOUTH WORKERS BIG BOOK OF CASE STUDIES!

-Publisher
Case has been in youth ministry for more than a dozen years. He's worked for various denominations and currently serves as youth minister for Windermere Union United Church of Christ. He has published several articles on creative worship ideas for teens, taught workshops on the subject at national ministry conventions.
Table Of Contents
1. The Incredible Shrinking Youth
Group...10
2. Teacher's Pet...11
3. Obey The Rules Of Youth Ministry 12
4. My Brother's Shadow...14
5. Should I Stay Or Should I Go?...16
6. Free Cookies--kindness Gone Bad...18
7. Home Sweet Home Or Battle Zone?...20
8. Thou Shalt Not Borrow...21
9. In The Dark...22
10. Leave It To Beaver...24
11. Shower The People...with Love?...25
12. Cleaning Jesus...26
13. You Smell Smoke?...28
14. Broken Memories...30
15. Out Of The Comfort Zone...32
16. Getting High...34
17. Long Lost Friend...35
18. The Scoop...36
19. My Sister's Keeper...38
20. Joyful Noise...40
21. The Report Card...42
22. Across The Board...44
23. The Jerk...46
24. God Calling...47
25. Not Amused...48
26. Where There's Smoke...49
27. Shattered...50
28. Face Time...52
29. Smokin'...53
30. Making The Grade...54
31. Restricted Viewing...55
32. Kelly Green...56
33. Your 'boy' Is Back In Town...57
34. Your 'boy' Is Back In Town Part 2...58
35. What You Wish For...59
36. Packing Heat?...60
37. The Morning After...62
38. Making The Grade...64
39. Missed It By That Much...65
40. Keeping It Warm...66
41. A Family Addiction...67
42. Little Lies...68
43. Out With A Bang...70
44. Values? What Values?...72
45. Get A Room!...73
46. Wallflower...74
47. Strike One...75
48. Family Tradition...76
49. Who Is My Sister?...77
50. The Flu Medicine...78
51. Making Room Or Opening The Door?...79
52. Party Girl...80
53. Backstage...81
54. Anger Wins...82
55. I Am So Proud Of My Kids...83
56. Chameleon...84
57. Hot Instant Message...85
58. That Boy...86
59. Whatever It Takes...87
60. Security...88
61. Driving...89
62. The Day Off...90
63. Trivial...91
64. Hero Worship...92
65. Beyond Belief...93
66. Elsewhere...94
67. Temple Faith...96
68. Made Whole...97
69. Memorial...98
70. Like That...100
71. Sunshine...101
72. Missed...102
73. Embarrassed...104
74. Invited...106
75. Calling Home...107
76. All Prayers...108
77. Unwelcome...109
78. Shot...110
79. Perfect To Imperfect...111
80. Adult Education...112
81. Lessons Learned...113
82. Party Plans...114
83. Customer Satisfaction...115
84. Only Constant In Life: Change...116
85. Dressing Up...118
86. The View From Here...120
87. Intrusion...121
88. Down To Size...122
89. Four-time Failure...123
90. Memory Loss...124
91. Over-developed?...125
92. The Right To Vote...126
93. Listen Up!...127
94. This Far...128
95. More Than Close?...130
96. Learning Lessons...132
97. Left Alone...133
98. Best Laid Plans...134
99. Christmas Complaints...135
100. Reserving Judgment...136
101. No Word...137
102. Take Up The Cross...138
103. On A Mission...139
104. Sanctuary...140
105. Green...141
106. Standing Up...142
107. Results...143
108. Conflict...144
109. Most Likely...145
110. Opening Up...146
111. No Gifts...147
112. Turning Pages...148
113. Waitress Wanted...149
114. Left Unsaid...150
115. Women's Rights...151
116. Just Words?...152
117. Un-steady...153
118. Out Of The Dark...154
119. Home Cooking?...155
120. Welcome?...156
121. A Team Of One...158
122. Plan 'b'...159
123. The Face Of Jesus...160
124. What Happens...161
125. Part Of The Game...162
126. Red And Blue...163
127. New Creation...164
128. Developments...165
129. No Stopping...166
130. Same Old, Same Old...167
131. Distance...168
132. Score...169
133. Staying Put...170
134. In The Cards...172
135. Home For The Holidays...174
136. Reason For The Season...176
137. Worship...177
138. Score...178
139. To Burn Or Not To Burn?...179
140. Joyful?...180
141. Confirmed...181
142. Cheer...182
143. Crossing The Line...183
144. References...184
145. Eye Of The Beholder...186
146. My Way...188
147. Snapshot...190
148. Party On...192
149. For The Glory...194
150. Appearances...196
151. Sides...198
152. Help Me...200
153. Guess Who's Coming To Dinner...202
154. Surfacing...204
155. Guess Who's Coming To Dinner Part 2...205
156. Not My Girl...206
157. Truth, Justice, And The American Way...208
158. Spike...210
159. Jesus Who?...212
160. Promises, Promises...214
161. Hallie's Friend...216
162. Is This It?...218
163. Corners...220
164. Fessing Up...222
165. Like A Prayer...223
166. Old-fashioned...224
167. Sharing...226
168. Dreamers...228
169. Screen...230
170. Garret's History...231
171. What Mom Doesn't Know...232
172. Nothing Happened...234
173. The People In Your Neighborhood...236
174. Uncertain Terms...238
175. Fun And Games...240
176. It's An Art...242
177. Twist...243
178. Destruction...244
179. Like A Man...245
180. And They'll Know We Are Christians...246
181. Witness...248
182. Ammunition...250
183. Coming Attractions...252
184. Honor...253
185. Paying The Price...254
The Youth Worker's Big Book of Case Studies: Not Quite a Million Stories That Beg Discussion Copyright 2003 by Youth Specialties Youth Specialties Books, 300 South Pierce Street, El Cajon, CA 92020, are published by Zondervan, 5300 Patterson Aveune SE, Grand Rapids, MI 49530 Library of Congress Cataloging-in-Publication Data Case, Steven L., 1964- The youth worker's big book of case studies : not quite a million stories that beg discussion / by Steven L. Case. p. cm. ISBN-10: 0-310-25562-7 (pbk.) ISBN-13: 978-0-310-25562-8 (pbk.) 1. Church group work with youth--Case studies. I. Title. BV4447.C3785 2004 259'.23--dc22 2003015185 Unless otherwise indicated, all Scripture quotations are taken from the Holy Bible: New International Version (North American Edition). Copyright 1973, 1978, 1984 by International Bible Society. Used by permission of Zondervan. Some of the anecdotal illustrations in this book are true to life and are included with the permission of the persons involved. All other illustrations are composites of real situations, and any resemblance to people living or dead is coincidental. All rights reserved. No part of this publication may be reproduced, stored in a retrieval system, or tranmitted in any form or by any means---electronic, mechanical, photocopy, recording, or any other--- except for brief quotations in printed reviews, without the prior permission of the publisher. Web site addresses listed in this book were current at the time of publication. Please contact Youth Specialties via e-mail (YS@YouthSpecialties.com) to report URLs that are no longer operational and replacement URLs if available. Editorial and art direction by Rick Marschall Edited by Jim Kochenburger Proofreading by Anita Palmer Cover design by ArtParts Interior design by Rayburn Design Design assistance by Sarah Jongsma Editorial Assistance by Ted Marschall Printed in the United States of America Dan belongs to the youth group at a church that hired a new youth minister a year ago this week. Under the previous youth minister, youth meetings were always a fun place to go on Sundays. Every week 50 to 60 teenagers showed up. In addition, they had a youth group calendar packed with cool activities, like concerts, ski trips and amusement park trips. Over the past year, under the new youth minister, attendance has dropped from a weekly average of 50 teenagers to just 15. The group has gotten a lot more serious. Instead of fun ski weekends, the group goes and works at homeless shelters and participates in workcamps- helping fix up homes for poor people. The new youth minister has serious discussions and asks hard questions about life and the future-stuff that Dan doesn't want to think about. A bunch of Dan's friends who no longer come have invited him to a church a few miles away that's like how their youth group used to be. It seems 'everybody' is going there. Dan has to decide which group he would like to belong to. What's the big deal? Does it matter which youth group Dan attends? Why? Aren't the fun and fellowship in the other group important as well as the serious stuff in Dan's youth group? Why? Should a youth group be more fun or more serious? Why? (What are the positive reasons for having a fun youth group? Negatives? What are the positive reasons for having a serious youth group? Negatives?) What are the most important things Dan should consider as he decides between youth groups? What's the difference between learning and being taught? What's important in this situation? Matthew 13 :9 ; Romans 8 :28 Think back over your life from a year or so ago to now. When have you grown the most as a person? Explain. How does your experience apply to Dan's decision? If you were Dan, what would you do? Meetings Discuss:: David has Mr. Hawthorne as his teacher for two classes. Nobody likes Mr. Hawthorne. He gives a tremendous amount of homework and doesn't seem to care about his student's personal schedules and he doesn't put up with any fooling around. He has assigned more detentions and called more parent conferences than any other teacher. For some reason, Mr. Hawthorne likes David. He respects his work and says David shows 'promise.' Spring Break is coming up and Mr. Hawthorne traditionally assigns a huge term paper to be turned in the day school resumes. Several of David's friends have asked him to use his influence with Mr. Hawthorne to talk him out of the assignment in order to protect their cool Spring Break plans. David doesn't want to fall from Mr. Hawthorne's good graces, but he does want to have a good time on Spring Break with his friends. Is this teacher's expectation reasonable? Why? How easy is it to tell your friends 'No'? How much respect do your teachers get from the students in your classes? How much do they get from you? Is respect earned or is it given to everyone, until you have reason to do otherwise? Who was the best teacher you ever had? Not your favorite but the one who was best at their job? Should the students just stop moaning, suck it up and do the assignment? At what point? Why? How difficult a situation is David in? Explain. Matthew 5:14-16 1 Timothy 4 :14 What role does 'pleasure-seeking' play in David's difficult situation? Explain. If you were David, what would you do to be respectful to Mr. Hawthorne? How would you respond to your friends?
Bestsellers in Youth Ministry