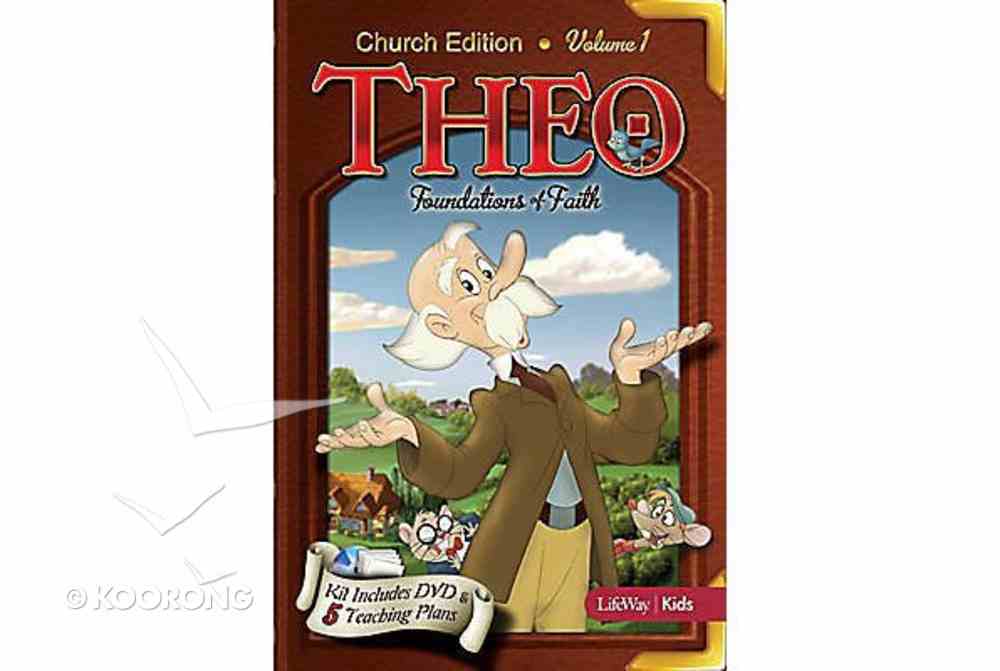 Theo #01: Foundations of Faith (Church Edition DVD) (#01 in Theo Dvd Series)
THEO Church Edition: Foundations of Faith makes teaching theology easy and fun for school-age children with Theo the Animated Theologian who offers a rare combination rich theological content and high entertainment value. Join Theo and his mischievous little friends as...
Out of Stock
Available to Order
---
Expected to ship in 5 to 6 weeks from Australia.
---
Free Shipping
for orders over $99.

THEO Church Edition: Foundations of Faith makes teaching theology easy and fun for school-age children with Theo the Animated Theologian who offers a rare combination rich theological content and high entertainment value. Join Theo and his mischievous little friends as they explore theological lessons like faith, obeying God s Word, forgiveness, the armor of God, sin and the plan of salvation. Make the biblical content come alive through fun, age-appropriate Bible curriculum that revolves around the Bible stories imbedded in each episode of Theo. Each entertaining, animated episode corresponds with a printable lesson plan that digs deep into God s Word. Theo is perfect for small group times and makes teaching theology easy


THEO Church Edition: Foundations of the Faith
(Episodes 1-4 plus Bonus Session)


Episode 1 Saving Faith
Themes: What is faith?
Bible Story: Abraham
Bible Passage: Hebrews 11:1


Episode 2 Trust and Obey
Themes: Obedience, obeying God s Word
Bible Story: Jonah
Bible Passage: John 14:15


Episode 3 Forgiveness
Themes: What is forgiveness?
Bible Story: Parable of the Unforgiving Servant
Bible Passage: Ephesians 4:32


Episode 4 Armor of God
Themes: What is the armor of God?
Bible Story: Paul in a Roman prison, the armor of God
Bible Passage: Ephesians 6:10


Bonus Session Good News
Themes: God s love, sin, salvation, eternal life, ABCs
Bible Story: Philippian Jailer (Acts 16)
Bible Passage: John 3:16


Features: Levels of Biblical Learning Concept Area: God; SalvationFive 10-minute videos on DVDROM portion contains leader information, teaching plans, and parent informationMakes teaching theology easy and funHelps lead children to a personal relationship with Jesus ChristTeaches important aspects of growing in grace"


-Publisher
Bestsellers in Children's Ministry