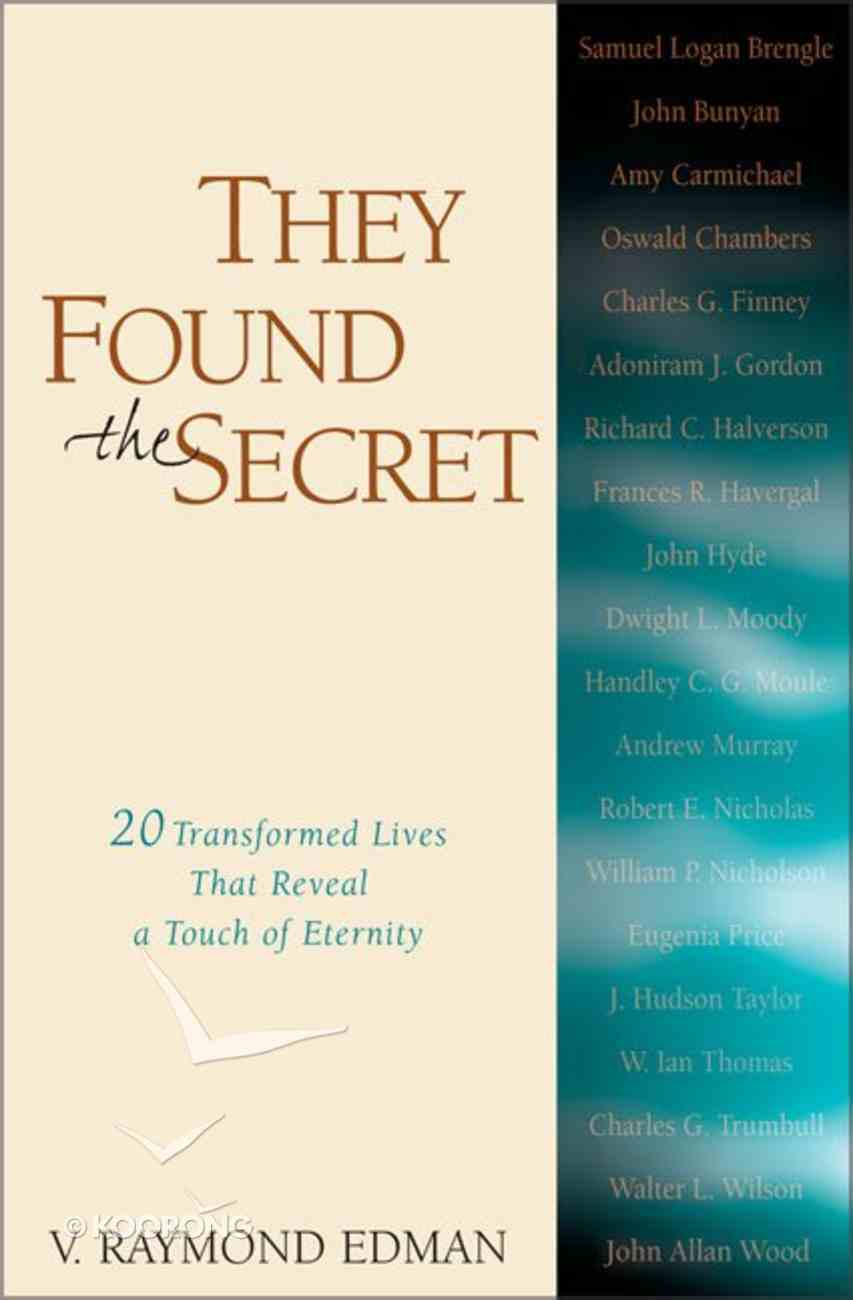 This book presents the lives of twenty well-known and little-known Christians in search of the pattern which leads to the abundant life Jesus promised.
Out of Stock
Available to Order
---
Expected to ship in 5 to 6 weeks from Australia.
---
Free Shipping
for orders over $99.
This book presents the lives of twenty well-known and little-known Christians in search of the pattern which leads to the abundant life Jesus promised.
-Publisher
PRODUCT DETAIL
Catalogue Code 

23557

Product Code 

0310240514

EAN 

9780310240518

UPC 

025986240516

Pages 

192

Department General Books
Category Biography
Sub-Category General
Publisher Zondervan
Publication Date 

Feb 1984

Sales Rank 

12691

Dimensions 

202 x 139 x 11

mm

Weight 

0.158

kg
V. Raymond Edman is best remembered as the fourth president of Wheaton College in Illinois and as the writer of many devotional books. He earned his Ph.D. in International Relations from Clark University in 1933 and soon after that went to Wheaton were he remained until his death in 1967 while speaking in chapel.
Introduction Every now and then we come across a life that is radiant, revealing a richness, a warmth, a triumph that intrigues and challenges us. These lives we find in biographies out of the past: and just when we begin to think that such people lived only in other days we meet one in real life, right in the middle of the twentieth century! The details of their experiences are usually quite different; yet as we listen to their stories and watch their lives, either in our reading or in our contact with them, we begin to see a pattern that reveals their secret. Out of discouragement and defeat they have come into victory. Out of weakness and weariness they have been made strong. Out of ineffectiveness and apparent uselessness they have become efficient and enthusiastic. The pattern seems to be self-centeredness, self-effort, increasing inner dissatisfaction and outer discouragement, a temptation to give it all up because there is no better way, and then finding the Spirit of God to be their strength, their guide, their confidence and companion---in a word, their life. The crisis of the deeper life is the key that unlocks the secret of their transformation. It is the beginning of the exchanged life. What is the exchanged life? Really, it is not some thing; it is some One. It is the indwelling of the Lord Jesus Christ made real and rewarding by the Holy Spirit. There is no more glorious reality in all the world. It is life with a capital L. It is new life for old. It is rejoicing for weariness and radiance for dreariness. It is strength for weakness and steadiness for uncertainty. It is triumph even through tears and tenderness of heart instead of touchiness. It is lowliness of spirit instead of self-exaltation and loveliness of life because of the presence of the altogether Lovely One. Adjectives can be multiplied to describe it: abundant, overflowing, overcoming, all-pervading, satisfying, joyous, victorious; and each is but one aspect of a life that can be experienced but not fully explained. Said the Savior: 'I am come that they might have life, and that they might have it more abundantly.' We find newness of life in Christ by receiving Him as our own Savior from the penalty of sin. Abundance of that life we find by surrendering self and drawing on the unfailing resources of the Almighty. There is life and then there is life more abundant. This is the exchanged life. The expression, 'the exchanged life,' was first used, as far as I know, by J. Hudson Taylor, founder of the China Inland Mission. Out of striving and struggling, out of discouragement and defeat he came to the realization of life more abundant in Christ. I have found no happier description than his: The Exchanged Life. And I have found no more concise contrast between the old and the new than that stated by the late Dr. A. B. Simpson in his poem entitled Himself. Once it was the blessing, now it is the Lord; Once it was the feeling, now it is His Word; Once His gifts I wanted, now the Giver own; Once I sought for healing, now Himself alone. Once 'twas painful trying, now 'tis perfect trust; Once a half salvation, now the uttermost; Once 'twas ceaseless holding, now He holds me fast; Once 'twas constant drifting, now my anchor's cast. Once 'twas busy planning, now 'tis trustful prayer; Once 'twas anxious caring, now He has the care; Once 'twas what I wanted, now what Jesus says; Once 'twas constant asking, now 'tis ceaseless praise. Once it was my working, His it hence shall be; Once I tried to use Him, now He uses me; Once the power I wanted, now the Mighty One; Once for self I labored, now for Him alone... In this book are testimonies of men and women who have found the promise of life more abundant to be true. With procedure proper to a witness they tell us what happened, rather than attempting to teach us in fine detail the doctrine of their experience. From a multitude of witnesses throughout the centuries I have chosen just a few by way of illustration. The pattern of their experiences is much the same. They had believed on the Savior, yet they were burdened and bewildered, unfaithful and unfruitful, always yearning for a better way and never achieving by their efforts a better life. Then they came to a crisis of utter heart surrender to the Savior, a meeting with Him in the innermost depths of their spirit; and they found the Holy Spirit to be an unfailing fountain of life and refreshment. Thereafter life was never again the same, because in one way or another they had learned what the apostle Paul had testified: 'I am crucified with Christ; nevertheless I live; yet not I, but Christ liveth in me; and the life which I now live in the flesh I live by the faith of the Son of God, who loved me, and gave himself for me.' New life had been exchanged for old. I have deliberately chosen witnesses of diverse personalities and backgrounds. God is no respecter of persons! There are those of yesteryear like John Bunyan, and of today like Richard C. Halverson and William P. Nicholson. There are clergymen like A. J. Gordon, and laymen like Dwight L. Moody. Some are well known, like Charles G. Finney, while others may be little known or even quite forgotten, like J. A. Wood. There are mystics like Andrew Murray and practical men like Charles G. Trumbull and Robert E. Nicholas. There are women as well as men: Frances Ridley Havergal of England, Amy Carmichael of India, and Eugenia Price of contemporary America. The details of their experience of the crisis of the deeper life are delightfully different; yet their testimony to the reality of the joy and power of the Spirit-filled life is unanimous. Nowhere in Scripture are we taught to seek experience. Rather, the Word says, 'Seek ye the Lord.' It is He who satisfies the longing soul. He is the secret of the exchanged life!