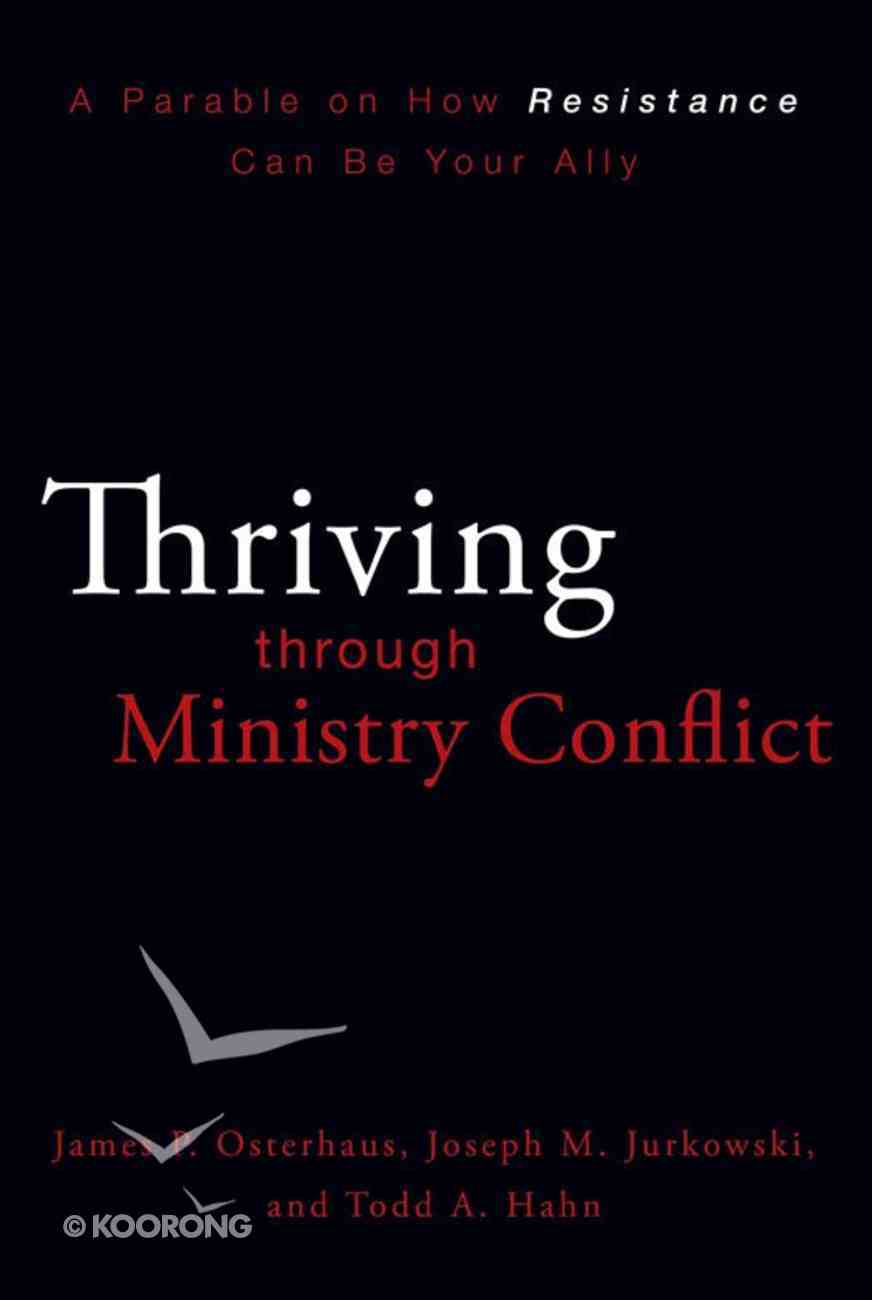 Thriving Through Ministry Conflict
Church conflict doesn't have to be an enemy that tears a congregation apart. By learning how to handle it wisely, pastors and church leaders can make resistance one of their most valuable allies. Far from fearing conflict, leaders can turn...
Order now to secure your copy when our stock arrives.
0 Available. Expected to ship in 5 to 6 weeks from Australia.
---
Expected to ship in 5 to 6 weeks from Australia.
---
Free Shipping
for orders over $99.
Church conflict doesn't have to be an enemy that tears a congregation apart. By learning how to handle it wisely, pastors and church leaders can make resistance one of their most valuable allies. Far from fearing conflict, leaders can turn it into a catalyst for positive change and a stronger, more united church. Through the fictional story of a typical pastor embroiled in conflict, Thriving through Ministry Conflict shows how to handle and resolve conflict in a healthy way. By working through a series of response activities and discussion questions, the reader will gain powerful insights into the emotional dynamics of conflict. Here are the knowledge and tools that can help pastors and church leaders trade self-defeating responses to conflict for an empowering, constructive approach; gain a working command of key conflict survival principles; and cultivate the skills needed to effectively navigate the conflicts every ministry leader faces.
-Publisher
PRODUCT DETAIL
Catalogue Code 

299008

Product Code 

9780310324669

ISBN 

0310324661

EAN 

9780310324669

Pages 

160

Department Academic
Category Church
Sub-Category Church Life/issues
Publisher Zondervan
Publication Date 

Jan 2010

Dimensions 

203 x 136 x 12

mm

Weight 

0.145

kg
Jim Osterhaus, (PhD, American University) a partner and consultant for The Armstrong Group, has been quoted in the New York Times, Los Angeles Times, Seattle Times, and many other leading publications. He is a psychologist, dynamic executive coach, and public speaker with extensive experience in helping individuals move through change, conflict, and reorganization. He has authored seven books and written dozens of articles for magazines and trade journals around the country. His latest book, co-authored with Kevin Ford, is The Thing in the Bushes - Turning Organizational Blind Spots into CompeA
Todd Hahn (M.Div Gordon Conwell Theological Seminary) is a nationally recognized expert on helping churches understand and reach Generation X, adding and programming alternative worship services, and coaching churches through church planting and satellite campus development. He is widely known for his speaking at workshops and conferences at the denominational level and also in the local church context, as well as planting one of the nation's fastest growing and innovative churches, in North Carolina. Todd is the coauthor of Genxers After God: Helping a Generation Pursue Jesus and Reckless HopA
Joseph M. Jurkowski (M.A. University of Maryland) is the president, chief mobilization officer and one of the founding partners for The Armstrong Group and founder of the Counseling Center of Fairfax, Va. He has worked with Fortune 500 executives as a strategic thinker in conflict resolution, a leader in applying systems theory in organizational settings, an entrepreneur, and a well-respected leader in his work with the federal government. He has appeared in such diverse publications as Entrepreneur, the Cincinnati Enquirer, the Washington Post, and CU Times. A
Contents
List Of Response Activities 9
Acknowledgments 11
Introduction: A Dangerous And Difficult Path 13
1. Welcome To The Jungle 19
2. Ctrl + Alt + Delete = ? 26
3. It's All About You 37
4. Things Fall Apart 45
5. The Deepest Water 58
6. On The Right Track 67
7. Thaw In Chicago 74
8. Back At Work 84
9. Entrusted 94
Response Activities
Phase 1: The Problem Is You, So Know Yourself 101
Phase 2: Resistance Is Your Ally 114
Phase 3: Adaptive Change 128
Discussion Questions 151
List Of Response Activities
Phase 1:the Problem Is You, So Know Yourself
1. Reflection Scenario And Questions 104
2. Red Zone, Blue Zone Quiz 105
3. Your Red Zone Behaviors 107
4. Boundaries 110
Phase 2: Resistance Is Your Ally
5. Reflection Scenario And Questions 115
6. Resistance 117
7. Projection 120
8. Transference 123
9. Postures 125
Phase 3: Adaptive Change
10. The Adaptive Leader 130
11. Technical Versus Adaptive Change 133
12. Reframing 135
13. Principles For Managing Conflict 140
14. Secrets To Healthy Conflict 144
15. The Confrontation Process 146
16. When Heading Into The Red Zone 148
CHAPTER 1 Welcome to the Jungle Barry Wolf was getting used to the headaches. They started in the back of his head and worked their way relentlessly to a point behind his eyes so that no amount of kneading his temples helped.When a headache hit, he had to accept the misery until sleep or half a bottle of ibuprofen kicked in. It was no way to live if one wanted to lead a church effectively. And Barry was all about effectiveness. After a ten-year career in insurance sales, Barry had come to the conclusion that God wanted him to become a pastor. Packing up his family, including two kids, Barry moved across the country for ministerial studies. Putting his rare combination of people skills and organizational acumen to work, Barry finished school early and landed his first pastorate, leading the First Community Church of Elizabethton, Illinois. Barry had moved into his first call with the conviction that churches in the twenty-first century should be more than traditional chaplaincies and social clubs for the spiritually minded. He believed that the church should have an impact in the community and should function as an effective, life-changing organization by leading people to follow Christ closely and to live that out in their day-to-day lives. Barry wasn't sure how to make this happen, but he had both theological and commonsense business training and figured he could work it out in the field. The call process had been a fairly straightforward one. Jim Grendell, the chairman of the search committee, combined the precision of a veteran CPA with the winsomeness of a gifted salesman. He was also refreshingly honest, even blunt, qualities that Barry admired, even if his own people-pleasing tendencies occasionally prevented him from practicing them. 'Look,' said Jim, 'I believe that you are the man for this job. You are in your midthirties, so you are not wet behind the ears. At the same time, this is your first pastorate, so you are not coming in with a lot of preconceptions. You also have a background as a salesperson, which you are going to need to turn this church around.' Jim described a church whose best days were behind it but which had potential for the future. First Community had been founded during the church boom years of the 1950s and had grown quickly. Located in a fairly affluent suburb of Chicago, the church attracted a wide spectrum of members, from young families to retirees. Its programs for children were known throughout the area, it boasted a series of gifted pastors, and the church made a significant contribution toward meeting the needs of the disadvantaged in the community. The church's growth stabilized in the mid-1960s and stayed level for about another decade. In the 1970s the demographics of the community began to change as many families moved a bit farther away from the Chicago center. Those left behind tended to be older folks who had no desire to move and those who could not afford to move. In time the ethnic composition of the area began to change as well, and First Community, which had been mostly white, did not reflect this change. By the early 1990s the sanctuary, which seated 700 and had been filled nearly to capacity for years, held about 225 worshipers on Sunday morning, and the median age of the congregation was spiking upward. Driven in part by the economic boom of the mid- to late-1990s, young families began to repopulate Elizabethton, but again the church wasn't able to attract this new population. By 2000, when Barry took the reins as pastor, the church's beautiful structure and rich history belied its decline in members, finances, and energy. Barry was not one to shy away from a challenge and so had had no difficulty deciding to come to First Community.With Jim's stated support and the sense of the search committee that Barry was the one to lead the church in its efforts to reach young families and so revitalize itself, Barry and his family had moved to Elizabethton with high hopes and trust in God. The next three years had been the longest of Barry's life. The congregation's worship seemed lifeless. There was a shortage of volunteers in every area. Offerings provided enough money to pay salaries and keep the building up, but there were few resources to expand ministry and create new programs, things Barry knew were essential to reach the changing community. Worst of all, some of his early allies had become antagonists.The search committee had invited him specifically because he was young and creative and they knew the church needed to change. But when Barry began to implement changes---even minor ones to make the worship services livelier and to brighten the children's ministry rooms---he met resistance that seemed wholly out of proportion to his decisions. The great shock was that Jim Grendell had become his nemesis. Five minutes into Barry's first board meeting at First Community Church, it was clear who called the shots---Jim. Jim was not a physically imposing man, but he had a presence about him.He could talk to anyone about nearly everything and did so with charm. He was well spoken, was looked to as a mentor by many, and in spite of his apparent strength was given to emotion and even tears when discussing an issue important to him. And usually others followed him. Jim was the kind of guy you wanted on your side and the exact person you hoped and prayed wasn't aligned against you, because, Barry soon realized, Jim took no prisoners when something stood between him and his goals. And within a year Jim's apparent goal was to ensure that anything Barry proposed was shot down in flames. Barry and his wife, Sophia, sometimes sat up late at night as Barry tried to divine what could have caused the change in Jim, at least the change that Barry perceived.Was Jim threatened by Barry? Was he insecure? Was he manipulative? Had he lied when he recruited Barry by saying the church wanted change, and then did everything he could to block change? Had Barry missed something? And most often, what could Barry do to get around Jim's obstructionism or to change the way Jim led in the church? Now, Barry was ready to pack it in. The board was stalemated. Attendance was static. Finances were mediocre. And Jim's campaign had taken on a new form---personal attacks against Barry. Barry heard the whispers. The pastor isn't what he appears to be. He takes a lot of long lunches, and doesn't it seem that pastors get a lot more time off than us working people? Why does he want to change everything around here? Who does he think he is? And according to some, Jim would occasionally tear up and say, 'I had such hopes for him, for this church. But I think I was wrong. I am not at all sure that Barry is up to the task.' All the while, in public, Jim presented himself as Barry's best friend and confidant. All in all, Barry had led well and there were many in the church who supported him. The intrigue was mostly on the leadership level. But the conflict was killing Barry as board meetings turned into war zones, and initiatives which Barry felt were crucial died in subcommittees or mysteriously disappeared during the implementation phase. In their late-night chats, Barry and Sophia had begun to talk about moving on. What most people didn't know was that behind his outgoing and friendly demeanor, Barry was a bit of a loner, prone to depression, and consumed with making others happy. He had never been able to understand these impulses fully, and now he knew he was paying the price for not paying attention. Sophia was wise, compassionate, a good listener, and strong. She encouraged him to hang in there, to do what he knew to be right, and to be patient. But Barry wasn't so sure he could anymore.