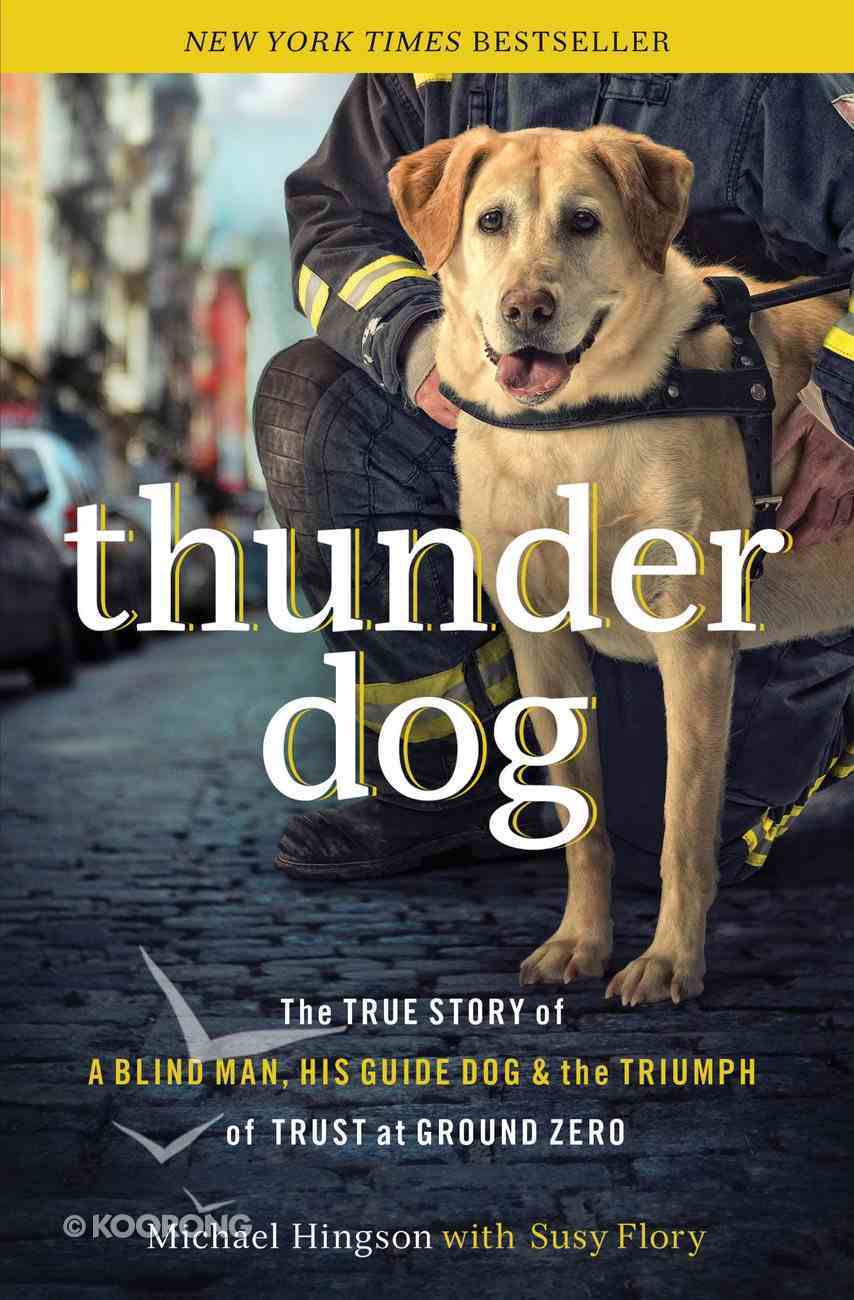 A blind man and his guide dog show the power of trust and courage in the midst of devastating terror. It was 12:30 a.m. on 9/11 and Roselle whimpered at Michael's bedside. A thunderstorm was headed east, and she...
Instant download
---
Read using our free app on your tablet or mobile!
---
Free Shipping
for orders over $99.
A blind man and his guide dog show the power of trust and courage in the midst of devastating terror.

It was 12:30 a.m. on 9/11 and Roselle whimpered at Michael's bedside. A thunderstorm was headed east, and she could sense the distant rumbles while her owners slept. As a trained guide dog, when she was "on the clock" nothing could faze her. But that morning, without her harness, she was free to be scared, and she nudged Michael's hand with her wet nose as it draped over the bedside toward the floor. She needed him to wake up.

With a busy day of meetings and an important presentation ahead, Michael slumped out of bed, headed to his home office, and started chipping away at his daunting workload. Roselle, shivering, took her normal spot at his feet and rode out the storm while he typed. By all indications it was going to be a normal day. A busy day, but normal nonetheless. Until they went into the office.

In Thunder Dog, follow Michael and his guide dog, Roselle, as their lives are changed forever by two explosions and 1,463 stairs. When the first plane struck Tower One, an enormous boom, frightening sounds, and muffled voices swept through Michael's office while shards of glass and burning scraps of paper fell outside the windows. But in this harrowing story of trust and courage, discover how blindness and a bond between dog and man saved lives and brought hope during one of America's darkest days.

- Publisher


Faith. Trust. Triumph.


"I'm sorry," the doctor said. "He is permanently and totally blind. There is nothing we can do for him."


George and Sarah Hingson looked at each other, devastated. Their six-month-old son, Michael was a happy, strawberry blond baby boy, healthy and normal in every way except one. When the Hingsons switched on a light or made silly faces, Michael did not react. Ever. "My best suggestion is that you send him to a home for the blind," the doctor continued. "He will never be able to do anything for himself."


Forty-seven years later, a yellow Labrador retriever puppy was born in the whelping unit of Guide Dogs for the Blind in San Rafael, California. The puppy's name was Roselle. On September 11, 2001, she saved Michael's life. This is Roselle's story too.


-From the Introduction


Every moment in Michael Hingson's and Roselle's lives seemed to lead up to this day. When one of four hijacked planes flew into the World Trade Center's north tower on September 11, 2001, Michael Hingson, a district sales manager for a data protection and network security systems company, was sitting down for a meeting. His guide dog, Roselle, was at his feet. Paired for twenty-one months, man and dog spent that time forging a bond of trust, much like police partners who trust their lives to each other.


Michael couldn't see a thing, but he could hear the sounds of shattering glass, falling debris, and terrified people flooding around him and Roselle. However, Roselle sat calmly beside him. In that moment, Michael chose to trust Roselle's judgment and not to panic. They were a team.


Thunder Dog is a story that will forever change your spirit and your perspective. It illuminates Hingson's lifelong determination to achieve parity in a sighted world and how the rare trust between a man and his guide dog can inspire an unshakable faith in each one of us.


^
"I trust Roselle with my life, every day. She trusts me to direct her. And today is no different, except the stakes are higher." ?Michael Hingson

^
First came the boom?the loud, deep, unapologetic bellow that seemed to erupt from the very core of the earth.??Eerily, the majestic high-rise slowly leaned to the south. On the seventy-eighth floor of the World Trade Center's north tower, no alarms sounded, and no one had information about what had happened at 8:46 a.m. on September 11, 2001?what should have been a normal workday for thousands of people. All that was known to the people inside was what they could see out the windows: smoke and fire and millions of pieces of burning paper and other debris falling through the air.

^
Blind since birth, Michael couldn't see a thing, but he could hear the sounds of shattering glass, falling debris, and terrified people flooding around him and his guide dog, Roselle. However, Roselle sat calmly beside him. In that moment, Michael chose to trust Roselle's judgment and not to panic. They are a team.

^
Thunder Dog allows you entry into the isolated, fume-filled chamber of stairwell B to experience survival through the eyes of a blind man and his beloved guide dog. Live each moment from the second a Boeing 767 hits the north tower, to the harrowing stairwell escape, to dodging death a second time as both towers fold into the earth.

^
It's the 9/11 story that will forever change your spirit and your perspective. Thunder Dog illumiates Hingson's lifelong determination to achieve parity in a sighted world, and how the rare trust between a man and his guide dog can inspire an unshakable faith in each one of us.


-Publisher
Michael Hingson, national ambassador for the Braille Literacy Campaign, is a miraculous survivor of 9/11. He lives with his wife, Karen, in the San Francisco Bay Area with two guide dogs, Africa and Fantasia, and one cat, Sherlock. A
Susy Flory is a writer, speaker, journalist, and animal lover who inspires people to embrace passion and adventure. She authored So Long Status Quo, coauthored Fear Not Da Vinci, and has written for Guideposts and Today's Christian Woman. She holds degrees in English and psychology. www.susyflory.com