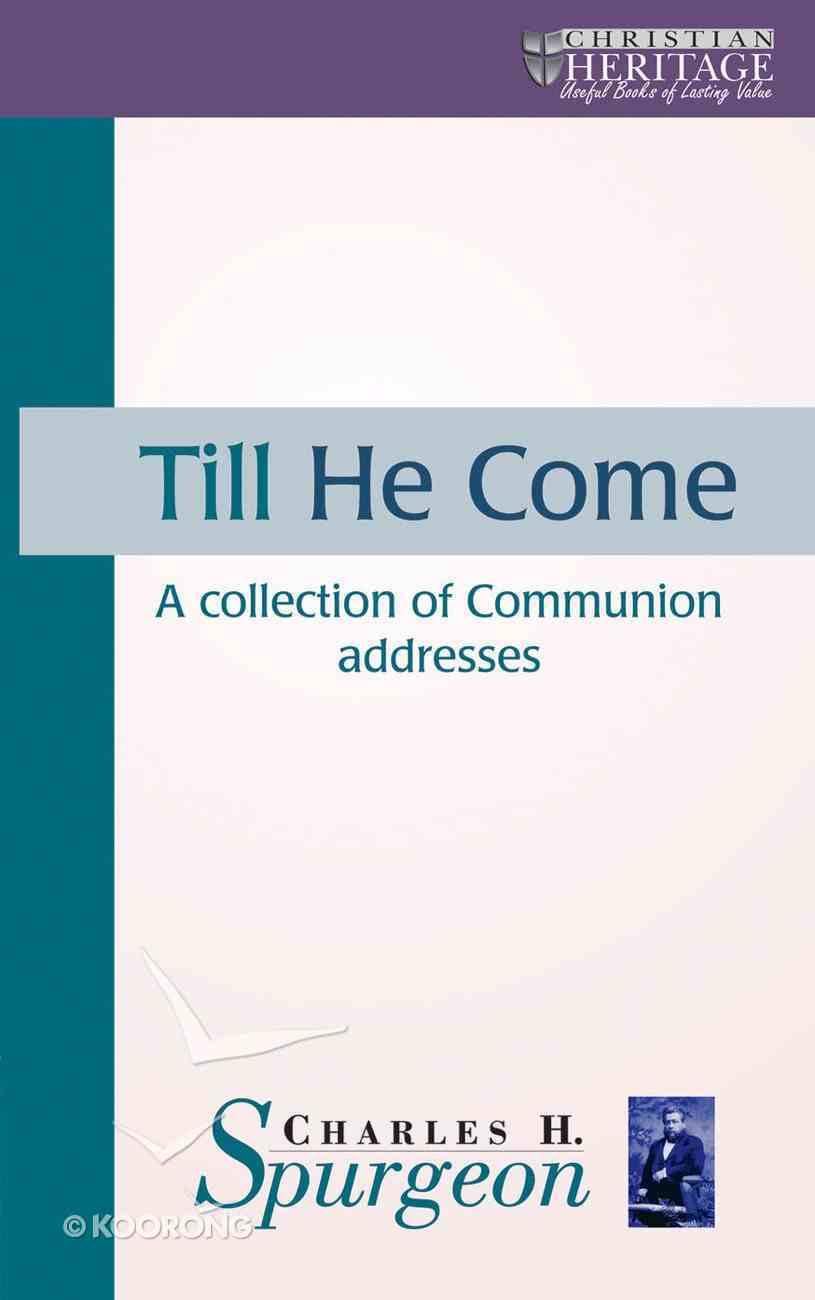 Till He Come
$17.99
25% OFF
―
save $4.50
---
Expected to ship within 13 hours from Australia.
---
Free Shipping
for orders over $99.
256 Pages
-Publisher
John Charles Ryle 1816 1900 was the first Bishop of Liverpool England. After a dazzling sporting career at school and university poised on the verge of national recognition he gave it all up to become a minister in the Church of England.However his leadership abilities on the field of play stood out and prepared him for the difficult task of being an evangelical leader of a mixed diocese in the most sectarian of English cities. Throughout his period in office Ryle was respected by his colleagues to the extent that even one of his most strident opponents broke down and wept at the news of his death. He was able to master the difficult task of being firm in his beliefs and loving in his application of them. His gracious spirit is an example to us today. This is probably why many of Ryle's writings have been continuously in print for over 100 years. Here Ryle explains that divisive often derided and misapplied by advertising term 'born again'. He explains what being 'born again' means wh
-Publisher
When Spurgeon spoke at communion meetings they were often times of great solemnity, sometimes times of rejoicing, but always times when God's presence was at work in the hearts of the assembled congregation. He was not only a great orator but a man with a warm pastoral heart. The times together around the Lord's Table were times when both features came together in rejoicing to urge the congregation to think once more about the great event they were celebrating. This comes through clearly to the reader today as it must have done to the hearer then.
-Publisher
Charles Haddon Spurgeon, (1834 - 1892) served for thirty years as preacher and pastor of London's six-thousand-seat Metropolitan Tabernacle. Converted in 1850 at the age of fifteen, he began to help the poor and to hand out tracts; he was known as "The Boy Preacher." He preached his first sermon at the age of sixteen. At age eighteen, he became the pastor of Waterbeach Baptist Chapel, preaching in a barn. In 1856, Spurgeon married Susannah Thompson; they had twin sons, both of whom later entered the ministry. Spurgeon's compelling sermons and lively preaching style drew multitudes of people, and many came to Christ. Soon, the crowds had grown so large that they blocked the narrow streets near the church. Services eventually had to be held in rented halls, and Spurgeon often preached to congregations of more than ten thousand. The Metropolitan Tabernacle was built in 1861 to accommodate the large numbers of people. The prime minister of England, members of the royal family, and Florence Nightingale, among others, went to hear him preach. Spurgeon preached to an estimated ten million people throughout his life. Not surprisingly, he is called the "Prince of Preachers". In addition to his powerful preaching, Spurgeon founded and supported charitable outreaches, including educational institutions. He also founded the famous Stockwell Orphanage. His writings, including thousands of sermons, are still popular with pastors and devotional readers who, like him, treasure the gospel of God's grace.