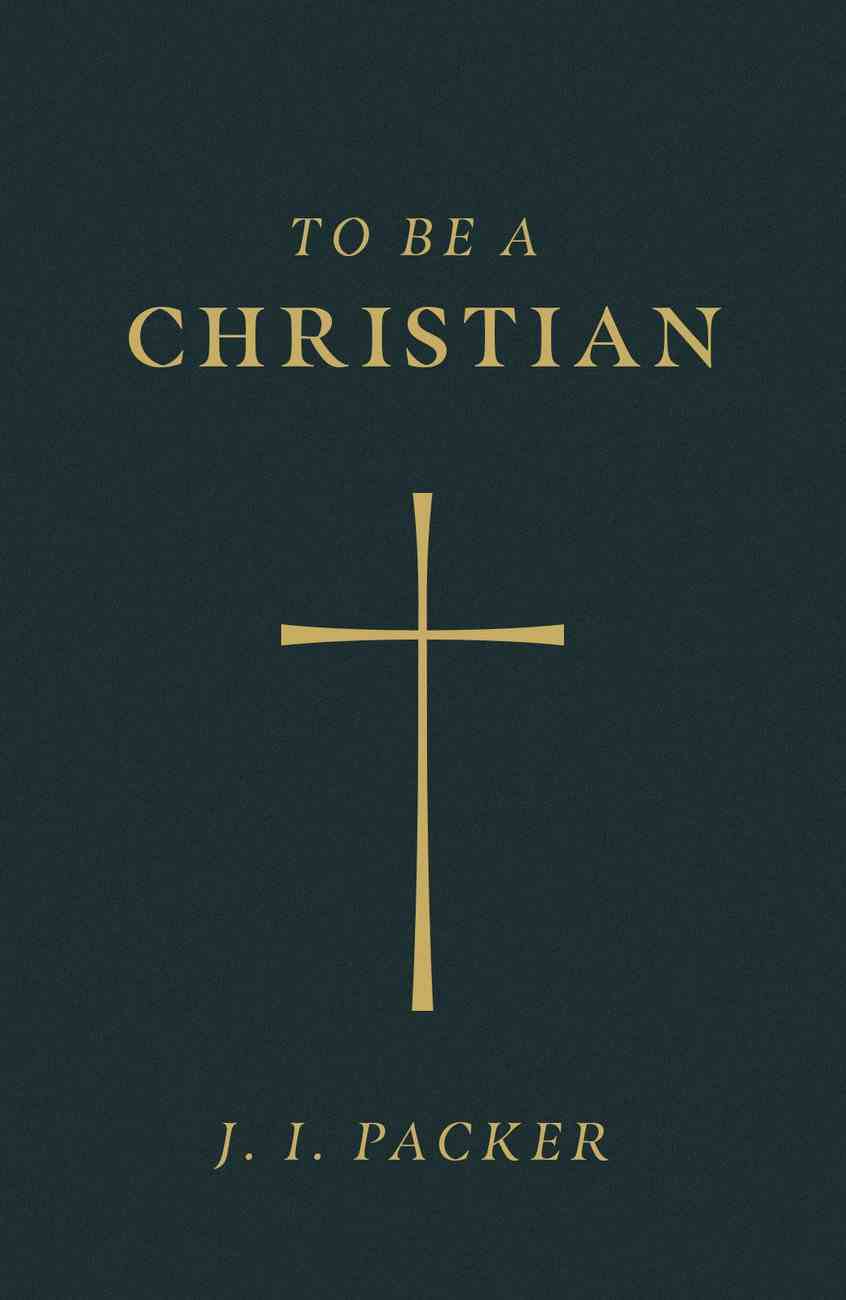 To Be a Christian (ESV) (Pack Of 25)
: To Be a Christian By J.I. Packer and Lane Dennis What does it mean to be a Christian? What is essential for Christian faith and life? How can we know Jesus Christ and experience the full love...
---
Expected to ship within 2 hours from Australia.
---
Free Shipping
for orders over $99.
:
To Be a Christian


By J.I. Packer and Lane Dennis


What does it mean to be a Christian? What is essential for Christian faith and life? How can we know Jesus Christ and experience the full love of God through him? How can you become a child of God, anchored in the full reality of unquenchable joy, beginning in this life and ever increasing in the life to come?


It is possible to know about these things, however, without actually knowing them personally in one's life. In order not to miss what God is offering you, it is imperative that you receive Jesus Christ as your own Savior and Lord-if you have not already done so-and commit yourself to him to be his life-long disciple.


There is no more important thing in life that you could ever do-both for the sake of this life and immeasurably more for the life to come. And when you have received Jesus Christ as your own Savior and Lord, to know that you have done it, so that you can go on from there, knowing the fullness of joy as a child of God both now and forever.


To be a Christian is a lifelong personal commitment to Jesus Christ, but it begins with becoming a Christian in a deliberate conscious way, much like being a spouse begins with taking marriage vows. Being a Christian is a process of advance from that point. As you continue with Christ, with his Father as your heavenly Father, his Holy Spirit as your helper and guide, and his Church as your new family, you will constantly be led deeper into your born-again calling of worship, service, and Christ-like relationships.


You need to know from the beginning that God creates human beings for the purpose of knowing him, loving him, and enjoying a deep friendship with him. But no one naturally fulfills this purpose. We are all out of step with God. In the words of the Bible, we are sinners, guilty before God and separated from him (Romans 3:23). Life in Christ is, first and foremost, God's taking living action to remedy our dire situation (Romans 5:8).


The key facts of this divine remedy-which the Bible calls the Gospel (meaning "good news")-are these:


1. God the Father sent his eternal Son into this world to reconcile us sinners to himself, and to preserve and prepare us for his glory in the life to come.


2. Born of the Virgin Mary through the Holy Spirit, God's son (whose human name is "Jesus") lived a perfect life, died a criminal's death as a sacrifice for your sins, and rose again from the grave to rule as Christ (meaning "the Anointed One"), reigning on his Father's behalf in the Kingdom of God.


3. Reigning now in heaven, Jesus continues to draw sinners to himself through the communication of the Gospel here on earth.


4. By the Holy Spirit, God enables us to turn wholeheartedly from our sinful and self-centered ways (repentance) and to entrust ourselves to him, to live in union and communion with God (faith).


Our natural condition could not be more desperate and urgent. In spiritual terms, our sin and self-centeredness is the way of death, and fellowship with Christ is the way of life now and forever. As the Apostle Peter said when her proclaimed the Gospel on Pentecost morning: "Repent and be baptized every one of you in the name of Jesus Christ for the forgiveness of your sins, and you will receive the gift of the Holy Spirit. For the promise is for you and for your children and for all who are far off, everyone whom the Lord our God calls to himself (Acts 2:38-39).


God the Father calls us to himself through his Son. Jesus said, "I am the way, and the truth, and the life. No one comes to the Father except through me" (John 4:16). As we come to the Father, through Jesus Christ his Son, we experience and know and grow in the unconditional and transforming love of God.


God the Son calls us to believe in him. We may understand a great deal about Jesus, but that is not the same as personally believing in Jesus as our Lord and Savior. We can attend church services and do many good things without knowing the risen Jesus. Knowing Jesus as Savior and Lord means personally believing in him, surrendering our lives to him, and living as his joyful followers.


God the Holy Spirit enlightens our minds and hearts to believe in Jesus, giving us spiritual birth and life as we believe and trust in him. Our loving Father will "give the Holy Spirit to those who ask him" (Luke 11:13). As we place our faith in Jesus, the Holy Spirit comes to live in us and wonderfully provides us with the power and gifts for life and ministry as Jesus' disciples. To live faithfully as Christians, we must rely upon the equipping and enabling power of the Holy Spirit. In a way beyond our grasp, the Father, the Son, and the Holy Spirit are revealed as equally one God and three Persons.


The Father, the Son, and the Holy Spirit are near to us at all times and will hear us whenever we pray with sincerity, truly meaning what we say. God calls us to enter into continual repentance and faith in Christ. And the way to enter into life in Christ-today and forever-is to pray a prayer like this (preferably in the presence of a mature Christian):


Lord Jesus Christ, I confess my faults, shortcomings, sins, and rebellious acts, and ask you to forgive me. I embrace you, Lord Jesus, as my Savior and Lord. Thank you for your atoning death on the cross in obedience to your Father's will, to wash away my sins. I enthrone you, Lord Jesus, to be in charge of every part of my life, and I ask you to indwell and empower me with your Holy Spirit, so that I may live as your faithful follower from now on, in this life and forever with you in heaven. In Jesus name I pray these words with all my heart and soul, amen.


If you have prayed the prayer above "to be a Christian," we would encourage you to visit the GoodNews.org website, where you can read the Bible free and find many helpful materials for your new life as a Christian.


Excerpted from To Be A Christian: An Anglican Catechism. Used by permission of the Anglican Church in North America.




-Publisher
PRODUCT DETAIL
Catalogue Code 

570007

Product Code 

9781682164044

ISBN 

1682164047

EAN 

9781682164044

Pages 

6

Department Ministry
Category Tracts/booklets
Sub-Category General
Publisher Good News Publishers
Publication Date 

Apr 2020

Sales Rank 

88459

Dimensions 

134 x 88 x 12

mm

Weight 

0.132

kg
James Innell Packer was born in Gloucester, UK, in 1926, the son of a clerk for the Great Western Railway. Packer won a scholarship to Oxford University, where he obtained a BA (1948), MA (1954), and PhD (1954). It was at Oxford that Packer attended lectures by C.S. Lewis, whose teachings would become a major influence in his life. In a meeting of the Oxford Inter-Collegiate Christian Union, Packer committed his life to Christian service.

After briefly teaching Greek at Oak Hill College in London, Packer entered Wycliffe Hall to study theology and was ordained in the Anglican Church, becoming a presbyter in 1953. From the 1950s through the 1970s, Packer held several academic positions at Tyndale Hall, Bristol and Oxford. During this time, he became recognized as a leader in the evangelical movement in the Church of England. In 1978, he signed the Chicago Statement on Biblical Inerrancy, which affirmed the conservative position on inerrancy, although he is not a literalist with regard to the creation narratives of Genesis. On the matter of ministry roles in the church, Packer is a complementarian. His theology is Reformed, though he is open to ecumenical rapprochement with Anglo-Catholics, which has drawn sharp criticism from some quarters. He famously parted ways with Martyn Lloyd-Jones over this issue in the late 1960s.

In 1979, Packer moved to Vancouver, BC, Canada, to take up a position with Regent College, where he would become Professor of Theology, a position he retains beyond the age of 90, even though his vision is now seriously impaired. Since 2009, Packer has been theologian emeritus of the Anglican Church in North America.

During a ministry career spanning over six decades, and through his prolific written output, Packer has distinguished himself as one of the leading theologians and church historians of our time. His book Knowing God (1973) has become a modern classic, and he has done much to stimulate wider interest in the great works of Puritan spirituality - a great passion of his. He has been a frequent contributor to and an executive editor of Christianity Today. Packer served as general editor for the English Standard Version of the Bible (2001), an evangelical revision of the Revised Standard Version of 1971. His other books include, A Quest for Godliness, Evangelism and the Sovereignty of God, Growing in Christ, and Rediscovering Holiness.

Packer and his wife Kit have three adopted children. Packer rises early at four in the morning, and until he lost his eyesight wrote by means of his old manual typewriter. He loves seriously hot and spicy food, and his favourite book of the Bible is Ecclesiastes.
Bestsellers in Tracts/booklets