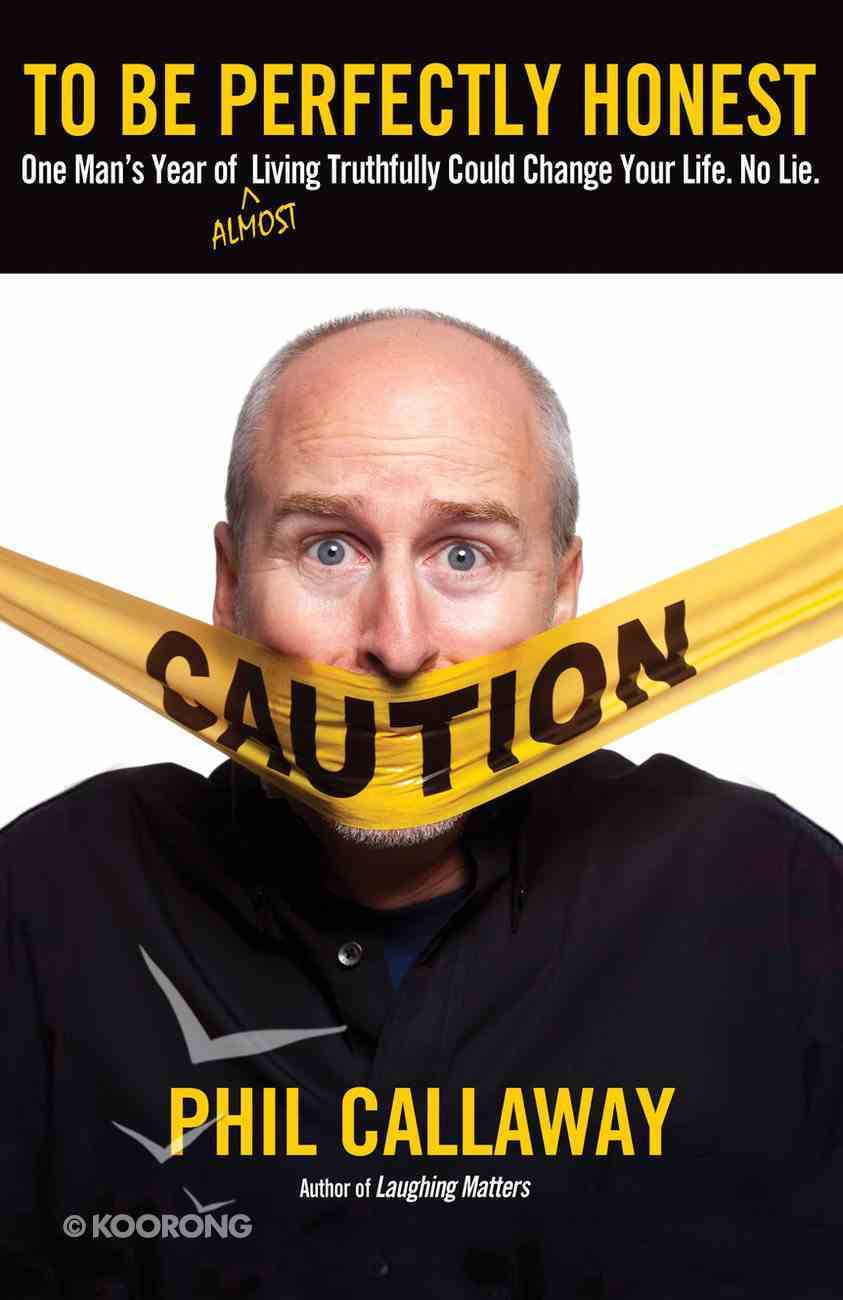 Praise for To Be Perfectly Honest aThis book is fabulous and funny. I couldnat read it all at once because my doctor doesnat want me to tear my stitches! These journal entries can help alter the way we view our...
Out of Stock
Available to Order
---
Expected to ship in 4 to 5 weeks from Australia.
---
Free Shipping
for orders over $99.
Praise for To Be Perfectly Honest aThis book is fabulous and funny. I couldnat read it all at once because my doctor doesnat want me to tear my stitches! These journal entries can help alter the way we view our speech and relationships, Godas grace, and our own integrity. To be perfectly honest, I plan to plagiarize everything Phil has written here!a -Bryan Duncan, Grammy Awardaowinning musician aReading Phil Callawayas writing is one of lifeas pure pleasures. His books are not just a pleasure to savor, like eating a perfectly ripe pear. They are full of firm insights that give grace for the daily race, especially when the journey is hard.a -Ellen Vaughn, New York Timesbest-selling coauthor of Itas All About Himand author of Time Peace aPhil Callaway may be known for his humor, but he takes on a serious topic in To Be Perfectly Honest: He tries not to lie for one solid year. Thankfully, he takes us along on his 365-day journey with his sense of humor firmly intact. Youall enjoy this book-no lie.a -Mark Joseph, Foxnews.com, author of The Lion, the Professor, and the Movies: Narniaas Journey to the Big Screen aPhil is what youad get if you tampered with the genes of Garrison Keillor, Dave Barry, and my fourth-grade Sunday school teacher. Donat buy a copy of this book. Buy a few dozen.a -Joel Freeman, author of God Is Not Fair, chaplain for the Washington Bullets Praise for Phil Callaway aI love Phil Callaway because he manages to accomplish what few writers can-masterfully blending laughter with learning.a -Lee Strobel, best-selling author of The Case for Christ aVery few authors make me laugh out loud. Phil Callaway makes me roar. Maybe thatas why I savor his books like a cup of hot chocolate. Sipping each story slowly, rolling it around my mouth to get the full flavor. Then spitting it all over the room in reaction to the hilarious truth.a -Ken Davis, author and comedian aReading Phil Callaway is like playing in holy sand. Youare having so much fun you donat realize how much has gone into your shoes and is now sticking to your life.a -Chris Fabry, author and host of Chris Fabry Live! aGod speaks through the small and ordinary in extraordinary ways. Phil has listened and heard-and thankfully decided to share it with us.a -Michael Card, author, teacher, and singer/songwriter aPhil Callaway is master of the funny bone and the heart tug. He pretends to be just a fellow traveler, but Iam not fooled: he knows the ground well, and Iad follow him anywhere.a -Mark Buchanan, author of The Rest of Godand Hidden in Plain Sight aPhil keeps us laughing so it doesnat hurt so much when we face the truth.a -John Fischer, author of What on Earth Are We Doing? aPhil Callaway really enjoys life-life with his family and life with his Lord. Heas the kind of contented, happy Christian I like to be around.a -Luis Palau, author and evangelist aVery likely Phil Callaway has the best sense of humor in the Western hemisphere. Rollicking humor, subtle wit, charm, and style donat often coexist in one authoras prose, but they surely do in the case of Phil Callaway.a -Paul L. Maier, author of A Skeleton in Godas Closetand Pontius Pilate From the Trade Paperback edition.
-Publisher
Would I Lie to You? Not This Year. 
 
Veteran author and speaker Phil Callaway is no stranger to daunting challenges. He has been laughed at—repeatedly—by large crowds of people from Halifax to Hong Kong. He fathered three children in three years, spent much of last year on airplanes built by the lowest bidder, and flipped an out-of-control ATV, which doesn't mean he sold it for a profit. So who better than Phil Callaway to boldly accept a challenge that would make the average person run and hide?
 
Phil promised to tell the truth for an entire year, and he wasn't joking. Twelve months later, his journal was crammed with successes, near-successes, and outright failures. During his year-long experiment with veracity, he made a disastrous financial investment, fielded hundreds of intrusive questions from friends and strangers, attended a thirty-year class reunion, and waded into possibly the most revealing—and hilarious—situations he has ever documented.
 
Find out what happens when a follower of Jesus does his level best to always tell the truth. There is no doubt you'll be entertained. But don't be surprised if you are left with a question: how might your life be changed if you sold out to the truth—with no exceptions?
-Publisher
Phil Callaway is an award,winning columnist and a popular speaker at conferences, churches, camps, and Promise Keeper events. He is the author of several books, including Making Life Rich Without Any Money, Parenting: Don't Try This at Home, Who Put My Life on Fast-Forward?, With God on the Golf Course and I Used to Have Answers, Now I Have Kids. Phil is married to his high,school sweetheart, Ramona.
The Truth Dare

Some phone calls change your Saturday; some your entire year. When my editor called, he couldn't have known he would accomplish both.

"I've had an idea for a while," said Ron. "It will make for a great book, and you're just the guy to write it."

I'm human. I was flattered.

"Is it about understanding women?" I asked. "About being sensitive to my wife's needs?"

"Why?"

"I'm good at those things, Ron. I am most excellent."

"Are you telling the truth?"

"Uh…why do you ask?"

"Well, that's what this book is about: complete and total honesty. I want you to see if you can tell the whole truth and nothing but the truth for an entire year."

"I'm sorry," I said, "you're breaking up on this end." (I pretended to hang up, and judging from the prolonged silence, he thought I had.) The truth is, as my Native American friend Roy likes to say, I had reservations.

For some, a lieless year would be an easy assignment. Their natural habitat is the truth. Not me. I lie for a living. Oh, I'm not a used-car salesman or a politician. Nor do I write copy for bank advertisements. It's worse. I am a humorist. I stand in front of audiences and tell stories. These stories are 99 ¾ percent true—at least as far as I can remember. But sometimes I add just enough salt to keep a tale savory, just enough falsehood to keep people interested. Some of the things I describe may not technically have happened, but they might just as well have.

After pretending to get back on the line, I leaked all this information to Ron as if he were my priest. He seemed to listen attentively, though he could have been working a crossword puzzle, texting his wife, or reading e-mail. I told him the assignment would be complicated by the fact that I have been a chronic fudger all my life. Most people don't know this because I have become so adept at it. I fudge that I'm fudging.

And to be honest with you, I learned it at church. The church my family was part of seemed to reward falsehood. Nothing seemed to be more important than a person's outward appearance, so from an early age, I learned to fake my faith. Whenever anyone asked, I'd claim that I'd been having my devotions. I'd sing "I love to tell the story…of Jesus and His love" when I would sooner have had my eyebrows plucked by spider monkeys than talk to anyone about God. Our church embraced an impossible system of rules, which was rigged to render you miserable, no matter what you did. Ignore the rules and you were guilt-ridden. Follow them to the letter and you ended up either self-righteous or sporting a nervous twitch. As a result, I bathed my answers to adult questions in what they preferred to
hear.

"What have you been up to, Philip?"

The truthful answer was, "When I haven't been coveting or gossiping, I've been lusting. And, honestly, I kind of enjoy all three." But instead I'd say, "Just struggling to memorize the gospel of John, brother."

Ron quite enjoyed hearing my confession, and instead of being discouraged by it all, he was more convinced than ever that I was the perfect author for the project. I mentioned once again that history did not weigh in on the side of my success. "My ancestors were horse traders, Ron. They sold slow animals then got out of town fast."

"You're our guy!" he said, and we hung up.

I still wasn't sold on the idea, but I couldn't stop thinking that I would love to read such a book.

If someone else wrote it.

Following someone's yearlong experiment in telling the truth wouldn't just entertain me, it may change my thinking and—if the author were honest, vulnerable, and wise—inspire me with hope. I mentioned the book idea to friends who have known me for years. I said, "I am considering taking a truth vow." Without exception, their eyebrows shot up to their bangs, though one said, "Isn't that a bit like giving up arson for Lent?"

Yeah, sort of. But that didn't stop me from accepting the challenge. And in no time I encountered the first major drawback. Having shared openly that I was now solely a truth-telling individual, I found that some of my friends insisted on getting a straight answer to things they'd wondered about since fourth grade.

"So," one asked, "do you remember in 1983 when we rented Rocky III and I bought taco chips and root beer and you said you'd pay me back later?"

"I'm not sure. Is that the one with 'Eye of the Tiger'?"

"Did you pay me back?"

"Probably not," I said, handing him five bucks. I hadn't written a word, and already I was out of pocket. How much would all this honesty cost me?

Other questions troubled me even more, like could I stay happily married while being completely honest with my wife? Would people pelt me with ethical dilemmas? What are the side effects to subjecting myself to sodium Pentothal injections for a year? How honest should I be in a book about my struggles with faith, family, and the challenges of life?

In the end I agreed to write this book for the same reason some people watch NASCAR on television. I was eager to see what would become of me. Would my life change? Would I crash?

"You sure I can't write about my expertise in understanding women?" I begged Ron during our next phone call.

"Nope," he replied. "Come on, Callaway, you can do this. Tell the truth and shame the devil. Besides, I want to read it."

And with those words, the most intriguing year of my life began.

Author's Note

This book is a work of fact. I have, however, taken two liberties. First, I engaged in minor chronological adjustments. Second, a handful of names and minor details were changed so that I may continue to live in peace and go out in public without incident in the small community I call home. I suppose a nomadic lifestyle would be ideal for an author. You could breeze into town, point out people's inconsistencies and hypocrisies, then hightail it out of there before they discover how inconsistent and hypocritical you are. The first draft of To Be Perfectly Honest contained all the actual names and places, and it was really quite fun. But I realized it's like a Wal-Mart greeter pointing people to Target. Not smart.
Bestsellers in Christian Living