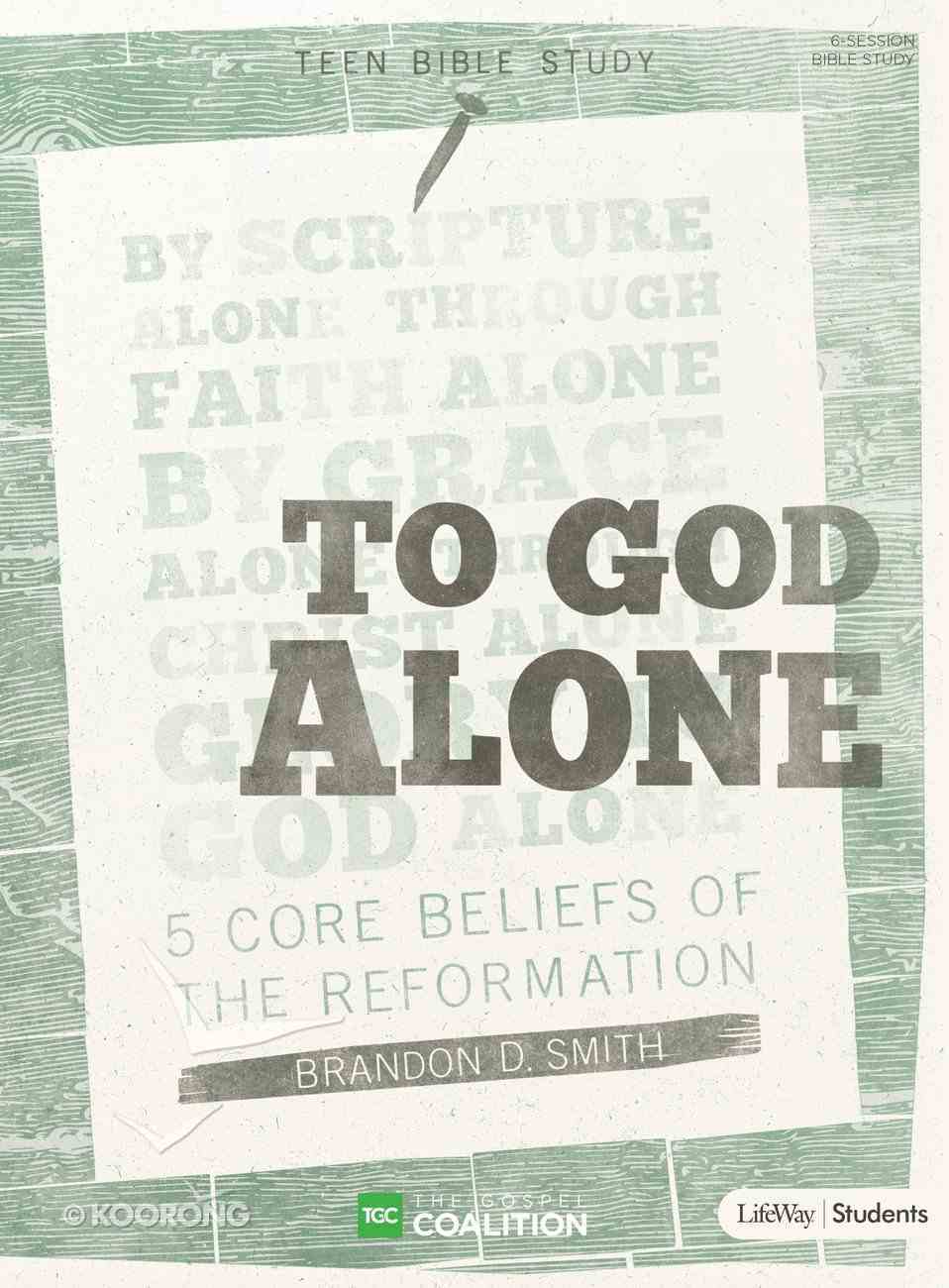 To God Alone: 5 Core Beliefs of the Reformation (Teen Bible Study)
: It has been 500 years since Martin Luther nailed his Ninety-Five Theses to the door of the All Saints' Church in Wittenberg, Germany. Luther's Theses called for reform of the church and served as the catalyst for the Protestant...
Available Now.
10+ Available
---
Expected to ship tomorrow from Australia.
---
Free Shipping
for orders over $99.
:
It has been 500 years since Martin Luther nailed his Ninety-Five Theses to the door of the All Saints' Church in Wittenberg, Germany. Luther's Theses called for reform of the church and served as the catalyst for the Protestant Reformation. Its impact is still felt today.

To God Alone: 5 Core Beliefs of the Reformation is a 6-session study for students that relives the work of Luther and other Reformers who challenged the teachings of the Catholic Church. More specifically, this study will examine the five core truths that came out of the Reformation, now referred to as the solas. Group members will explore these essential convictions of the faith and emerge more immersed in the gospel of Jesus Christ. The solas include:

Sola Scriptura (By Scripture alone)
Sola gratia (By grace alone)
Sola fide (Through faith alone)
Solus Christus (Through Christ alone)
Soli Deo gloria (Glory to God alone)

How is the Reformation still relevant today? As political pressure mounts, morality drifts with today's culture, and evangelicalism becomes more and more refined in a post-Christian world, it's even more important to hold the convictions of the great Reformation closer than ever. In short, the solas point us to community as well as identity. As you'll see in this study, they're more than just a bunch of cold Latin terms that academics throw around in church history books. The five solas, like the Reformation itself, are intensely practical. They were the DNA of the Reformation and are still the DNA of the church today. They are grounded in real life, everyday following of Jesus. They're the most important, basic truths you can ever believe.

We stand on the shoulders of Christians in the past, and knowing where we came from will help us keep moving forward.

Member Workbook includes a small-group experience for 6 small-group sessions, individual study opportunities for each day of the week, applicable Scripture, "How To Use This Study," and a group discussion guide.

Features:
6 small-group sessions that include an introductory session and application of the 5 solas Individual study opportunities for continued growth 6-session workbook with group and personal component

Benefits:
Gives students a better understanding of The Reformation's impact on today's world Reveals the weighty importance of the inspired Word of God Helps students grasp the importance of grace and its role in the life of a disciple Contributes to a believer's understanding of biblical and historical depth of faith Students will conclude the group understanding how Christ alone provides all life's answers Shows students how to live life for the glory of God and how this is our biblical mandate

About the authors:

Kevin DeYoung has been the senior pastor of University Reformed Church since August 2004. His three main responsibilities include preaching, leadership, and administration. He is the author of several books, including Crazy Busy and The Hole in Your Holiness. Kevin was born outside Chicago in South Holland, Illinois, and from the third grade on, grew up in Jenison, Michigan. He attended Hope College and Gordon-Conwell Theological Seminary. Prior to serving at URC, Kevin was the associate pastor of First Reformed Church in Orange City, Iowa. Kevin and his wife, Trisha, have six children.

Dr. R. Albert Mohler, Jr. serves as the president of The Southern Baptist Theological Seminary. Recognized as a prominent leader among American evangelicals, Dr. Mohler hosts two programs ("The Briefing" and "Thinking in Public"), writes a popular blog, and is widely sought as a columnist and commentator. He is the author of Culture Shift, Desire & Deceit, and many other books. Mohler also serves on the boards of several organizations, including Focus on the Family, and is a member of the Council for Biblical Manhood and Womanhood and a council member of The Gospel Coalition. He is married to Mary, and they have two children.

Trevin Wax is the managing editor of The Gospel Project, a gospel-centered small group curriculum for all ages, published by LifeWay Christian Resources. A contributor to numerous publications, including Christianity Today and World, Trevin writes daily at Kingdom People, a blog hosted by The Gospel Coalition. He is the author of Gospel-Centered Teaching, Clear Winter Nights, Counterfeit Gospels, and Holy Subversion. A former missionary to Romania, Trevin was recently named by Christianity Today as one of 33 millennials leading the next generation of evangelicalism. He lives in middle Tennessee with his wife, Corina, and their three children.

Brandon D. Smith works with the Christian Standard Bible and teaches theology at various schools. He's also the author of Rooted: Theology for Growing Christians and They Spoke of Me: How Jesus Unlocks the Old Testament, and co-hosts the Word Matters podcast. He holds a BA in Biblical Studies from Dallas Baptist University, an MA in Systematic & Historical Theology from Criswell College, and is pursuing a PhD in Theology at Ridley College in Melbourne, Australia. He lives near Nashville, Tennessee with his wife, Christa, and their two daughters.


-Publisher
:<div>session 1: Why The Reformation Matters<br /> Session 2: Scripture Alone<br /> Session 3: Grace Alone<br /> Session 4: Faith Alone<br /> Session 5: Christ Alone<br /> Session 6: Glory To God Alone</div>
Bestsellers in Youth Ministry