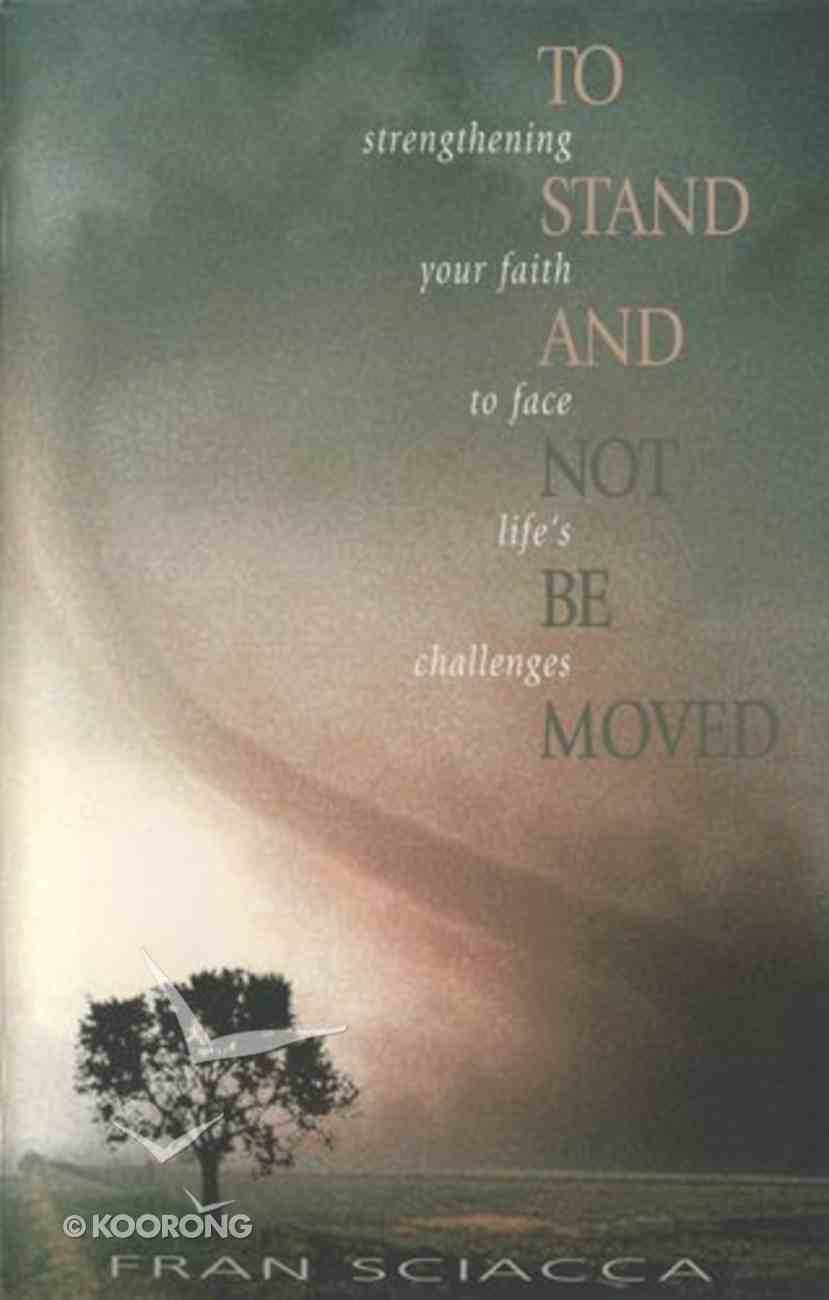 To Stand and Not Be Moved
When life gets going too fast, it's easy to get swept along with the current. We get dragged down and pulled off course by things like selfishness, distorted priorities, avoiding difficulty, and making things more important that God. TO STAND...
Out of Stock
Available to Order
---
Expected to ship in 5 to 6 weeks from Australia.
---
Free Shipping
for orders over $99.
When life gets going too fast, it's easy to get swept along with the current. We get dragged down and pulled off course by things like selfishness, distorted priorities, avoiding difficulty, and making things more important that God. TO STAND AND NOT BE MOVED, the third in Fran Sciacca's Bible study series, is designed to help you get a grip on living your faith on a level that is deep, yet very basic
1. EVE- The Necessity of a Grateful Heart^2. EZRA-Knowing God Means Knowing His Book^3. ABRAHAM-Are You a Stranger or a Tourist^4. ESTHER-Seeing Your Life as a Means, Not an End^5. ESAU-Ignoring God: The Subtle Deception^6. THE WOMAN AT THE WELL-Life-to-Life Ministry^7. JONATHAN-Friendship, With God at the Center^8. MARTHA-Being True to Your Priorities^9. NATHAN-Speaking the Difficult Truth in Love^10. PAUL-Sensitivity to Your Own Conscience^11. JOSEPH-Dealing with Sexual Temptation^12. DANIEL-Staying True When It Matters Most^84 pages^
-Publisher
"Stand firm. Let nothing move you. Always give yourselves fully to the work of the Lord, because you know that your labor in the Lord is not in vain." (1 Cor. 15:58) When circumstances change and life gets going too fast, it's easy to get swept along with the current. We get dragged down and pulled off course by things like selfishness, distorted priorities, avoiding difficulty, and making things more important than God. But if you build your life like you'd build your house--sturdy, with a solid foundation and quality materials--then the tide of chaotic circumstances will not blow you away. You can stand firm on solid ground. To Stand and Not Be Moved is a Bible study designed to help you get a grip on living your faith on a level that is deep and yet very basic. Here you will examine the lives of twelve Bible characters who stood firm in the midst of life's chaos. You'll learn from people like: Eve--The Necessity of a Grateful Heart Esther--Seeing Your Life as a Means, Not an End Daniel--Staying True When It Matters Most Martha--Holding True to Your Priorities Nathan--Speaking the Difficult Truth in Love If you want to plant your feet solidly on God and His Word, To Stand and Not Be Moved will give you the edge on what it means to "let nothing move you."
-Publisher
This topical Bible study will help you get a grip on living your faith on a level that is deep and yet very basic. You will examine the lives of 12 Bible characters who stood firm on God's promises in the midst of life's chaos and endured in their faith. ^ If you want to plant your feet solidly on God and His Word, To Stand and Not Be Moved will give you the edge on what it means to "let nothing move you." ^- 12 lessons ^
-Publisher