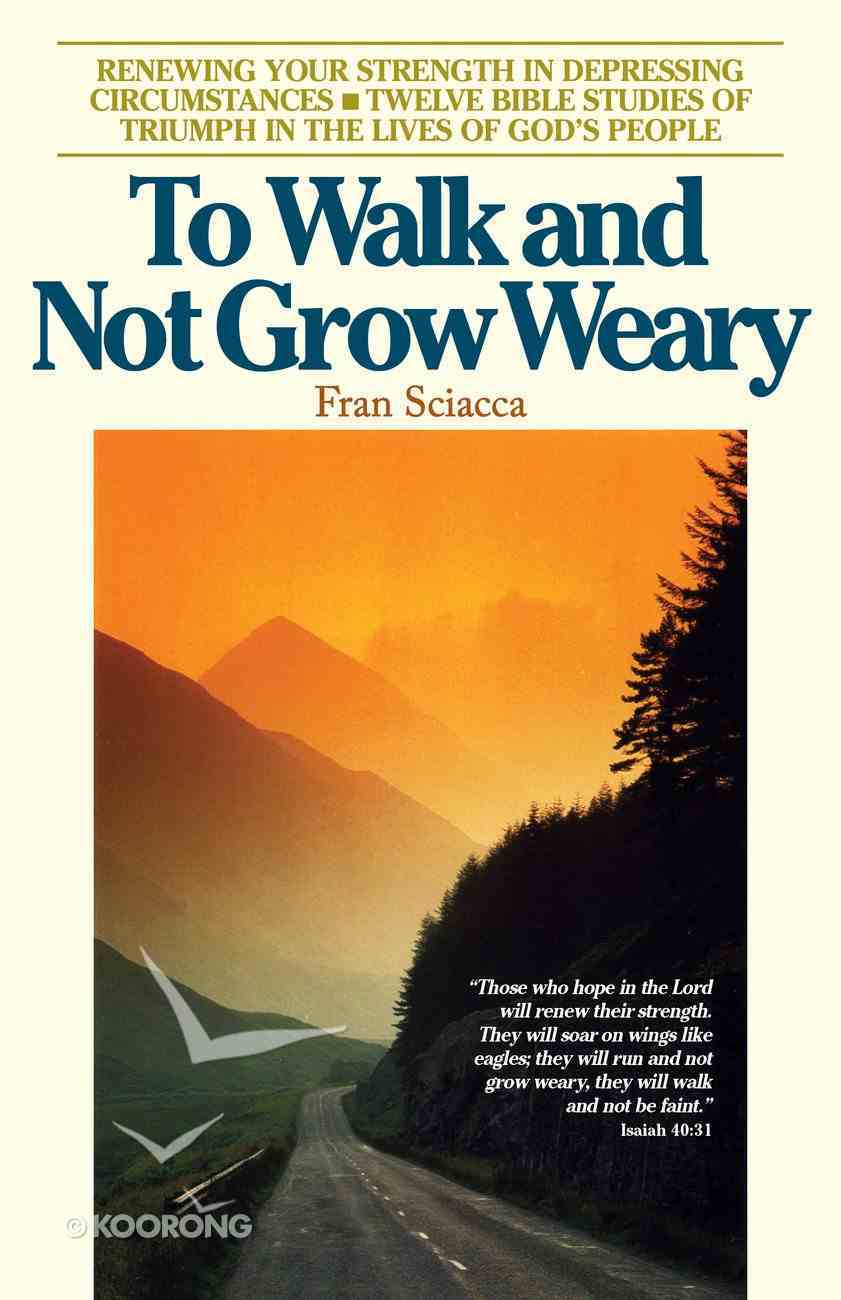 To Walk and Not Grow Weary
Are you constantly fighting emotional fatigue, loneliness, discouragement, pressure to succeed, oppressive guilt, or circumstances you can't change? Take heart! Scripture shows us that people of God have gone through the same depressing circumstances that plague us today - yet...
---
Free Shipping
for orders over $99.
Are you constantly fighting emotional fatigue, loneliness, discouragement, pressure to succeed, oppressive guilt, or circumstances you can't change? Take heart! Scripture shows us that people of God have gone through the same depressing circumstances that plague us today - yet they triumphed by God's grace. This workbook contains 12 Bible studies that present cameos of God's people under pressure. Each study teaches you how to welcome God's solution to a particular problem area. 81 pages, from Navpress
1. ELIJAH-Changing Our Schedule^2. MOSES-Learning to Let Go^3. JONAH-The Regression of Pride^4. JOB- When the Lights Go Out^5. DAVID-Dealing with Guilt^6. SOLOMON-The Fruits of Materialism^7. PAUL-Depression as a Tool in God's Hand^8. ASAPH-Looking to the World^9. JEREMIAH- Searching for Success^10. ISRAEL-The Myth of Nostalgia^11. JESUS-How to Handle Rejection^12. BARNABAS-Encouraging Others^88 pages^
-Publisher
Has life left you feeling out of breath, drained, unable to be the person that by God's grace you've set your sights on? RENEW YOUR STRENGTH. When your resources are at a low ebb, you're susceptible to depression--and none of us is fully exempt from its inner grip. You may be struggling to stay above water, all the time fighting off factors from within and without--emotional fatigue, loneliness, discouragement, pressure to succeed, oppressive guilt, circumstances you can't change. Take heart! Scripture shows us that men and women of God have gone through the same depressing circumstances that plague us today--yet they triumphed through God's grace. To Walk and Not Grow Weary contains twelve Bible studies that present cameos of God's people under pressure. You'll learn how to identify human problems and welcome God's solutions in chapter such as: Job--When the Lights Go Out David--Dealing with Guilt Jesus--How to Handle Rejection Barnabas--Encouraging Others Let God renew your strength as you place your hope in Him. He has promised that you will "soar on wings like eagles...run and not grow weary...walk and not be faint."
-Publisher
By studying the portraits of 12 men and women of God who have gone through hard times yet triumphed through His grace, we can learn how our souls can be restored in times of trauma, hurt, or depression. ^ ? 12 lessons
-Publisher