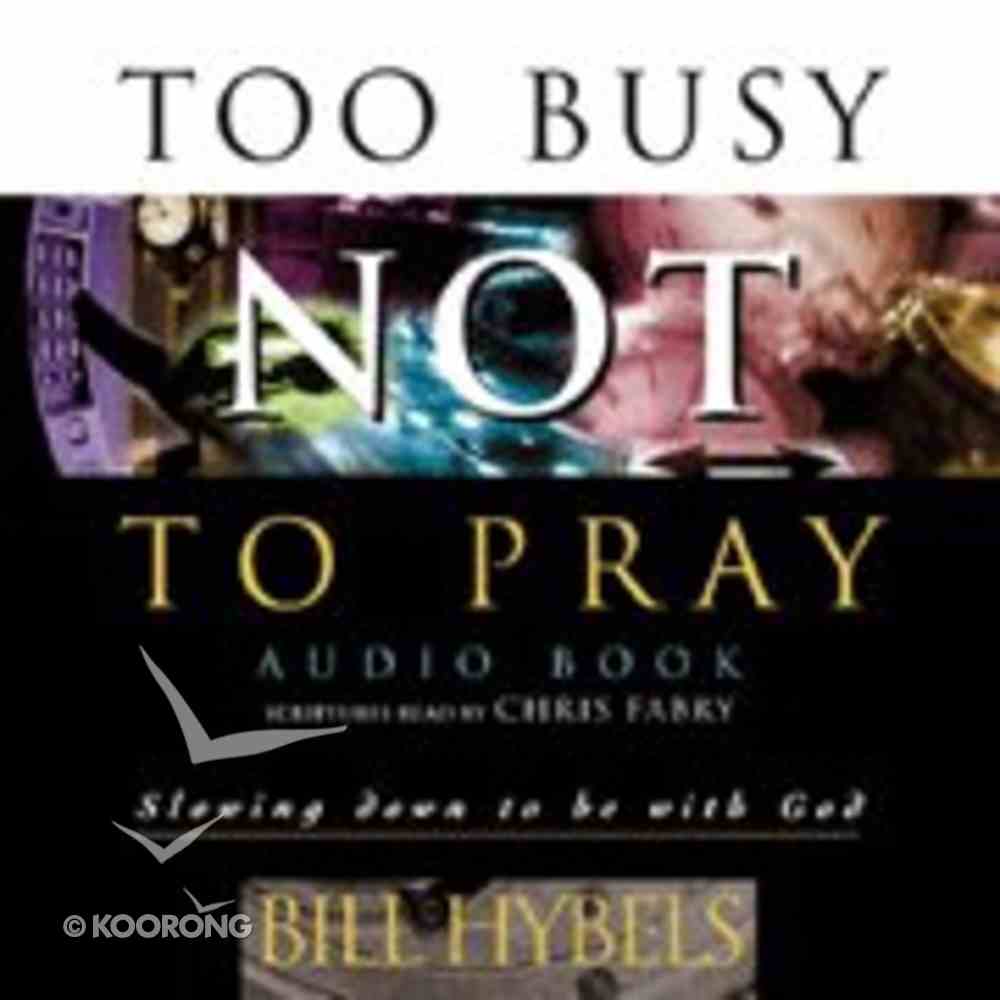 Too Busy Not to Pray (Abridged)
---
Free Shipping
for orders over $99.
60 Minutes On 2 CDs
-Publisher
:Most of us have trouble finding time to pray. There's church and school and neighborhood and job and friends and everything else we want to do! Time for prayer seems impossible to find.

As a pastor Bill Hybels knows hundreds of people with schedules like this. Yet in his own life he has made the hard discovery that prayer doesn't happen on the run. He decided that he was too busy to pray. The ideas in this practical book can help us to learn to slow down to be with God as well.

This audio book is an abridgment of the tenth-anniversary edition of the book. The book, with over one million copies sold, is now available in a twentieth-anniversary edition.

Two sixty-minute CDs read by Chris Fabry. Running time: Approximately 120 minutes.
-Publisher
Bill Hybels is the founding and senior pastor of Willow Creek Community Church in South Barrington, Illinois, one of the largest and most influential churches in North America, and the chairman of the board for Willow Creek Association. He convened The Global Leadership Summit in 1995, following a God-given prompting to help raise and develop the spiritual gift of leadership for the local church.

Both visionary and passionate about seeing every local church reach its full God-given potential, he speaks around the world on strategic issues related to leadership, evangelism, and church growth. An exceptional communicator, he is a best-selling author of more than 20 books on personal evangelism, marriage and especially on the subject of Christian leadership, including Just Walk Across the Room, Courageous Leadership and the newly released, The Power of a Whisper: Hearing God and Having the Guts to Respond.

Bill received a bachelor's degree in Biblical Studies and an honorary Doctorate of Divinity from Trinity College in Deerfield, IL. He and his wife, Lynne, have two adult children and one grandson.
:
<strong>god Calls Us Into His Presence</strong>
1. God's Presence, God's Power2. God Is Willing3. God Is Able
<strong>god Invites Us To Talk With Him</strong>
4. Heart-building Habits5. Praying Like Jesus6. A Pattern For Prayer7. Mountain-moving Prayer
<strong>god Breaks Down The Barriers Between Us</strong>
8. The Hurt Of Unanswered Prayer9. Prayer Busters10. Cooling Off On Prayer
<strong>god Speaks To Our Hearts</strong>
11. Slowing Down To Pray12. The Importance Of Listening13. How To Hear God's Leadings14. What To Do With Leadings15. Living In God's Presence
Questions For Reflection And Discussiona Guide For Private Or Group Prayer
Bestsellers in Audio Book