Torn Asunder: Recovering From An Extramarital Affair
Infidelity is at crisis level even within the church. No marriage is immune despite apparent moral convictions. Dave Carder wrote Torn Asunder to offer couples hope, healing, and encouragement in the face of adultery. He divides his book into first...
Out of Stock
Available to Order
---
Expected to ship in 4 to 5 weeks from Australia.
---
Free Shipping
for orders over $99.
Infidelity is at crisis level even within the church. No marriage is immune despite apparent moral convictions. Dave Carder wrote Torn Asunder to offer couples hope, healing, and encouragement in the face of adultery. He divides his book into first helping readers understand extramarital affairs and then offering healing for marriages dealing with this betrayal. Excellent resource for pastors, leaders, and lay people.
-Publisher
Written by respected pastor and marriage counselor Dave Carder, this revised and expanded version of Torn Asunder sorts through the factors that contribute to infidelity and then maps out a recovery process for both partners. With compassion and wisdom rooted in the Bible, Carder offers insight for the victims of adultery, the perpetrators, and those who seek to help hurting couples.
-Publisher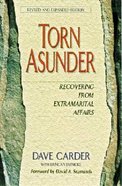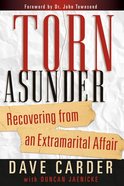 <div>foreword<br>acknowledgements<br>prologue: A Letter From "the Other Woman"<br><br>section 1: Understanding Extramarital Affairs<br><br>1. "what God Hath Joined Together": In Pursuit Of Healing For Shattered Marriages<br><br>2. Sorting Out The Chaos: The One-night Stand And Sexual Addiction<br><br>3. Sorting Out The Chaos: The Entangled Affair And The Add-on Affair<br><br>4. Causes: Environments That Allow Affairs To Flourish<br><br>5. Other Factors Contributing To Infidelity<br><br><br>section 2: Healing From Affairs<br><br>6. Understanding The Recovery: The Infidel's Process<br><br>7. Understanding The Recovery: The Spouse's Process<br><br>8. Why? Deciphering The Message Of The Affair<br><br>9. Anger In Affairs: Getting Good Out Of Getting Mad<br>10. Can I Trust You Again? Rebuilding Trust<br><br>11. "and They Shall Be As One": Restructuring Intimacy<br><br><br>section 3: Special Circumstances<br><br>12. To Tell Or Not To Tell? The Secret Affair<br><br>13. Emotional Affairs: Hooked, Played-out, And Desperate For Release<br><br>14. When Your Spouse Doesn't Want You Back: The 90-day Experiment</div>
Bestsellers in Relationships