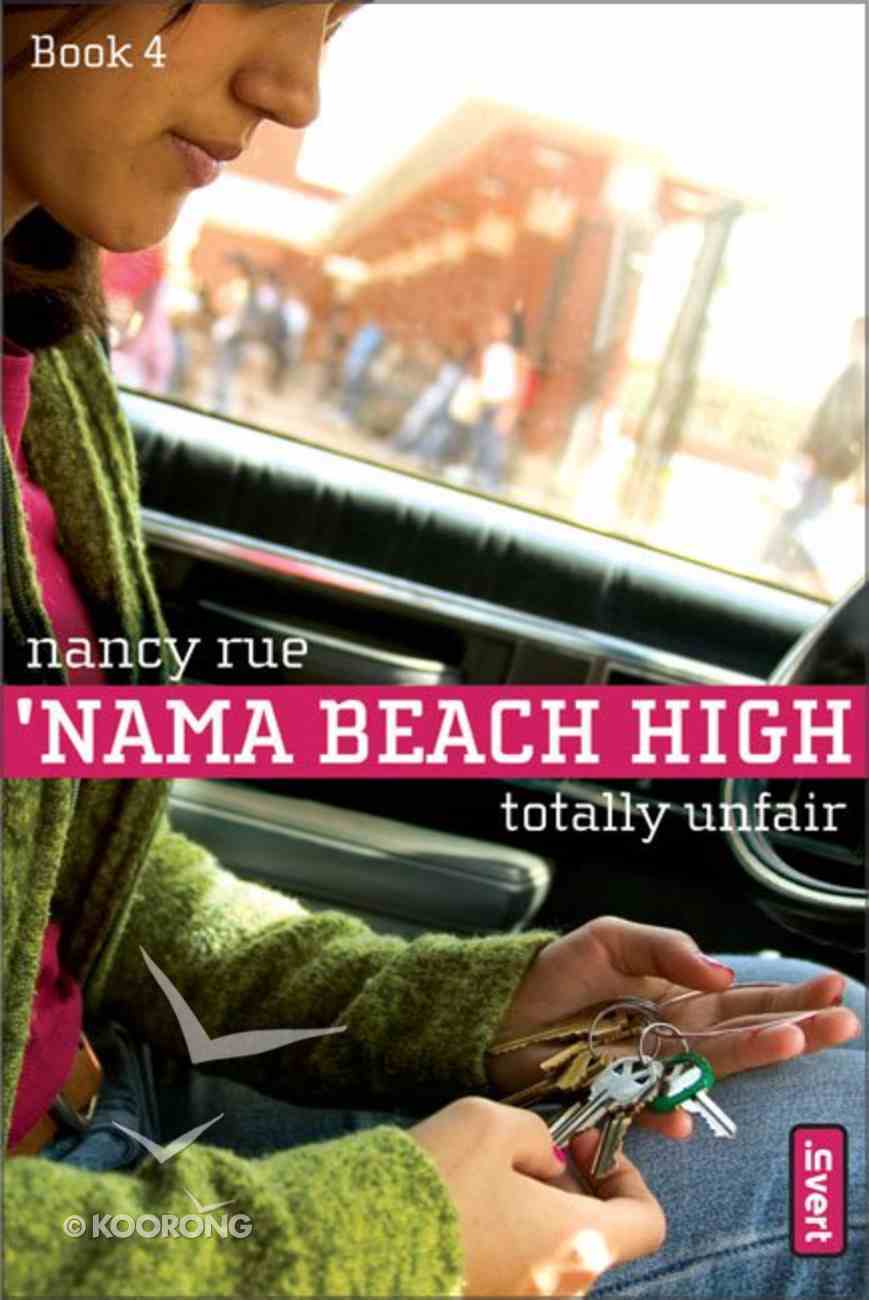 Totally Unfair (#04 in Nama Beach High Series)
Laura Duffy has been through some tough stuff--moving to a new state, starting her junior year in a new school, fights, kidnapping attempts, accusations, even explosions; but she's always had her friends to fall back on--at least until now.When old...
---
Expected to ship on Monday from Australia.
---
Free Shipping
for orders over $99.
Laura Duffy has been through some tough stuff--moving to a new state, starting her junior year in a new school, fights, kidnapping attempts, accusations, even explosions; but she's always had her friends to fall back on--at least until now.When old enemies start new trouble, Laura finds herself feeling very alone with a God who seems to be asking her to choose between faithfulness and friendship. And if that weren't hard enough, Laura is confronted with the possibility that her new friends aren't really friends at all. Join Laura as she tries to find the truth behind unfounded lies, restore old relationships, and figure out who's on her side.
-Publisher
PRODUCT DETAIL
Catalogue Code 

223959

Product Code 

0310251834

EAN 

9780310251835

UPC 

025986251833

Pages 

160

Department Children / Young Adults
Category Youth
Sub-Category Fiction/novels
Publisher Zondervan
Publication Date 

Feb 2005

Sales Rank 

21615

Dimensions 

203 x 136 x 9

mm

Weight 

0.158

kg
Nancy Rue has written over 100 books for girls, is the editor of the Faithgirlz Bible, and is a popular speaker and radio guest with her expertise in tween and teen issues. She and husband Jim have raised a daughter of their own and now live in Tennessee
Chapterone * 5
Chaptertwo * 13
Chapterthree * 21
Chapterfour * 27
Chapterfi Ve * 35
Chaptersix * 45
Chapterseven * 49
Chaptereight * 57
Chapternine * 63
Chapterten * 73
Chaptereleven * 85
Chaptertwelve * 91
Chapterthirteen * 99
Chapterfourteen * 107
Chapterfi Fteen * 113
Chaptersixteen * 119
Chapterseventeen * 125
Chaptereighteen * 133
chapterone I was feeling good about my sweet self. My BFFs or 'Best Friends Forever'---according to my sister Bonnie who was six and knew all---were looking at me like I'd just led them to Olympic gold or something. Okay, I admit---I pretty much felt that way too. Because there they were---Celeste, Stevie, Joy Beth, and Trent---all with bags the size of carry-on luggage under their eyes and hair that hadn't been washed in two days. Who shampoos at a retreat? But their eyes were shining and their expressions were noble, almost responsible---not something I saw in any of our 16-year-old faces that often. 'Can you believe every single person made the pledge?' I said. 'Yeah, baby, yeah, baby, yeah, baby---yeah!' That, of course, came from Celeste, who had been straight-faced and principled as long as the rest of the youth group was there. But the minute they went off to pack for home, the freckles across her constantly sunburned face started dancing, and that real-to-the-marrow smile stretched from one dangly rhinestone earring to the other. Only Celeste would wear faux diamonds with a backward ball cap and plaid boxers. And only Celeste could get away with it. She fl ipped that blond ponytail the way she did everything else---with total comfort inside her own skin. Stevie, my other best girlfriend, just sat there and smiled. I knew she was recovering from all the high fi ves and hugs she'd received from the guys in the group before they'd dragged themselves away. Her luscious tousle of highlighted tresses and her deep brown eyes---as well as absolutely everything else about her petite, Latina-fl avored self---were impossible for guys to resist. Me, on the other hand, they had no problem resisting. 'Duffy,' Celeste said to me. 'Read it out loud.' Trent raised his chin from the top of Joy Beth's head where he'd been resting it and scrunched up his very-small-for-a-big-guy mouth. 'She's already read it three times.' 'No stinkin' way!' Celeste said. Her Brooklyn accent was fully operational. 'Where was I?' Joy Beth grunted. That was her answer to just about everything. Her swimmer's shoulders and her gray-eyed laser gaze created a presence that said it all. 'You were either in the kitchen scavenging,' Stevie said, 'or changing the spark plugs on Pastor Ennis's car.' 'Did I hear my name?' said Pastor Ennis as he passed through with a package of trash bags. 'She jumped my battery.' He turned his head, shiny to the receding hairline, toward Celeste and added, 'Do you change spark plugs?' 'I can be your full-service mechanic, Pastor,' Celeste said. She whipped her face toward me, her freckles still doing the cha-cha. 'Just read it again, Duffy. I want to hear how awesome it sounds one more time.' It really was a big deal. Our youth group had only been in existence for a couple of months. And although we'd gone from eight members to fi fteen in that time, we were still tiny compared to the megachurches in Panama Beach. But there was nothing small about our voices---as we'd shown through our rowdy-'til-dawn pillow fi ghts two nights in a row and, better yet, by the pledge. 'Do it, Duff,' Celeste said. I turned to the giant sticky note on which Stevie had written the pledge. She was a former cheerleader. Cheerleaders could make posters in their sleep. 'Okay,' I said. 'Here's what we've pledged to do,' and I read it to them one more time. I will be part of the solution for ending hatred in my generation. I will not harbor any kind of suspicion about people just because they are different from me. I will not tear them down. I will speak up when other people are showing their ignorance. I will be sensitive to the hearts of others---even those who seem to have no hearts at all. I will be strong in my mission to set an example of a caring person and never let my lack of understanding hurt another human being. I know I can't do this alone. I will continually ask God for his strength and wisdom, empowering my whole generation to stop the hatred. I will pray for those who hate---for only then can I truly be like God's Son. Stevie grinned at the BFFs. 'And all God's people said---' 'Amen!' It was a pretty impressive response. And it should have been. I was hoarse from doing it about 20 times over the weekend; we'd amened everything from tacos to 'Let's hit the beach.' That and all the singing--- which I loved---had practically given me laryngitis. 'You really think everybody's going to stick to it?' Trent said. 'You obviously don't,' Stevie said. Joy Beth gave Trent a 'love punch' on the arm. 'He will.' 'I'm not talking about me,' Trent insisted. 'I'm talking about some of the other guys. They're saying they don't want to preach in the locker room---you know, make fools of themselves.' 'Who said they had to make fools of themselves?' I said. 'Do they think I'm gonna do that?' 'You did get your jaw broken, Duffy,' Celeste said. 'And your car stolen---' 'They just don't want to hand out pamphlets or pray in the lunch line,' Trent said. 'Hello!' Celeste said. 'Who said we were going to do that?' 'I think it's a valid concern.' Stevie was also in student government, which meant she had experience with these kinds of heated discussions. 'But they don't have to do any of that. And how would we know if they did or didn't anyway? They don't even go to our school.' That was true---they all attended Cove Christian School, a private academy. 'The pledge just says we're going to try to be more decent than most people,' Stevie said. 'We can help them with that,' Celeste said. 'Absolutely,' Stevie said. YOU two can help them, I thought. I was glad to have Celeste and Stevie around at times like this. I was Duffy the Responsible One, the Leader, the Girl Who Could Always Get You out of Trouble Because She Was So Good. But I didn't have a gift for stopping male coronary function with a toss of my hair. Let me just clarify that I wasn't drop-dead ugly or anything. I had sort-of brown, sort-of red hair that was thick, shoulder length, and didn't frizz too much (except when the Florida humidity got higher than the temperature). I wore contacts, so my brown eyes weren't hidden behind glasses, and people said I had a nice smile---although it was shiny with braces. Actually, those metal wires and brackets were going to be things of the past come Monday. I'd had a couple of boyfriends since I moved to Panama Beach last fall---Richard and Owen---but I was sure they hadn't been with me because of my looks. My looks hadn't held them, either. In spite of Celeste's insistence that she was going to get me a date to the junior/senior prom, I'd pretty much sworn off boys at this point in my life. Pastor Ennis poked his head back into the meeting room. 'All right, folks,' he said. 'Let's get your stuff---we need to get going.' He clapped his hands together the way he did a lot, furry arms glistening. The man had more hair on his forearms and legs than he did on top of his head. He wasn't a geek, though, which was what we'd thought a few months before. He had defi nitely improved since our fi rst couple of meetings when he used to sweat gallons every time he had to stand up in front of us. But he still did a lot of that hand-clasping thing, like he was sure we were going to pull some evil adolescent caper and reduce him to pastoral tears. Don't think some of the guys hadn't thought of it. When he ducked out, the BFFs still hung back. 'Did we do good, Duffy?' Celeste said. 'Ya did,' I said. 'YOU are responsible for it all, though, Laura,' Stevie said. She ran a latte-colored hand down my arm. 'I want to be like you when I grow up.' 'Stop!' I said. 'Aw, you know you love it,' Celeste said. She threw her arms around my neck for a minisecond and then herded Joy Beth and Trent down the hall. Stevie lingered for her own hug. 'I really am proud to know you, Duffy,' she said. 'You saved me---you know that.