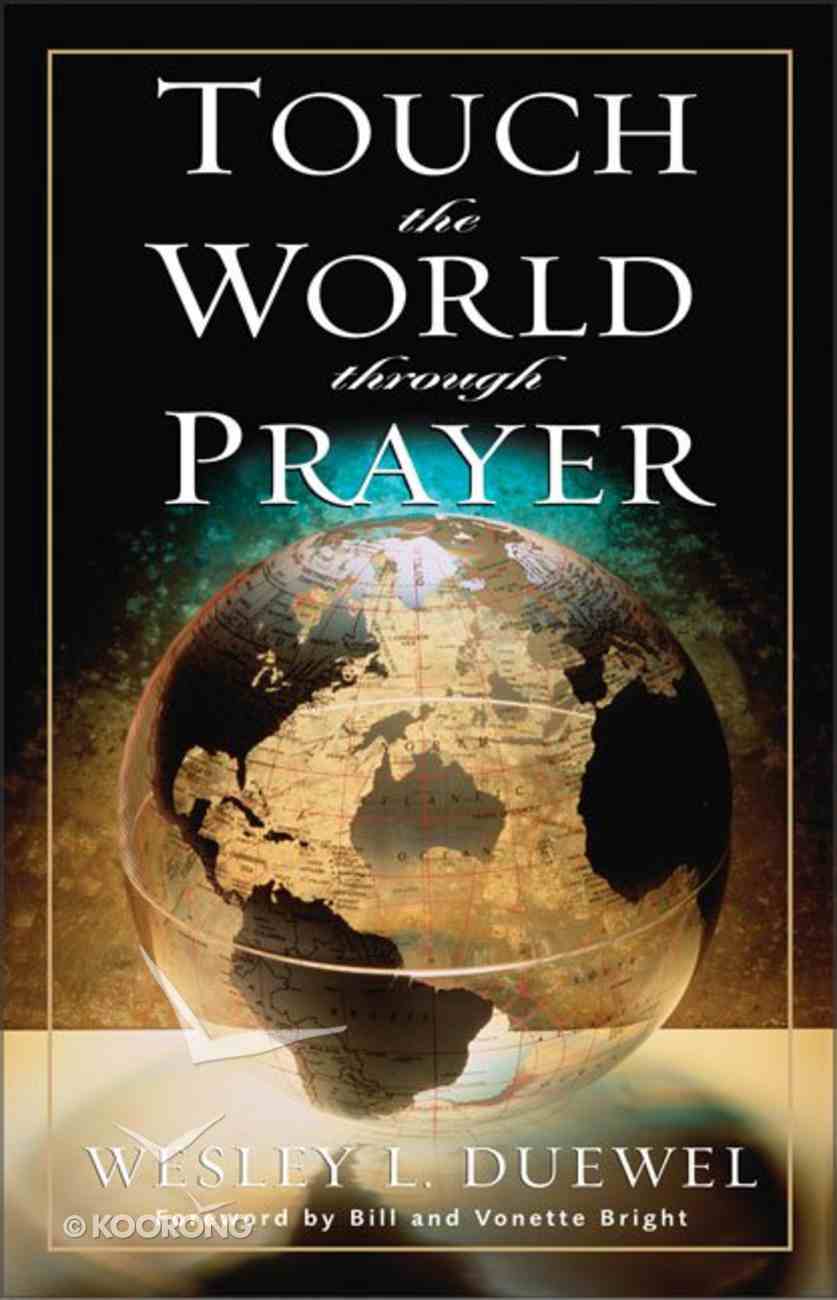 Touch the World Through Prayer
"God has a wonderful plan by which you can have a world influence through your prayer," writes Dr. Wesley Duewel. "God has planned that ordinary Christians like you and me can become mighty in prayer for the reaping of Christ's...
Out of Stock
Available to Order
---
Expected to ship in 5 to 6 weeks from Australia.
---
Free Shipping
for orders over $99.
"God has a wonderful plan by which you can have a world influence through your prayer," writes Dr. Wesley Duewel. "God has planned that ordinary Christians like you and me can become mighty in prayer for the reaping of Christ's harvest among the nations today."Touch the World through Prayer explains how every Christian can pray for the missionaries, church leaders, and political leaders in countries around the globe where the gospel is being preached today. Dr. Duewel gives specific Bible promises that we can claim in these intercessory prayers.He describes how to pray in the power of Jesus' name, how to counteract the influence of Satan, how to recognize the work of angels in answer to prayer, and much more. Touch the World through Prayer provides step-by-step plans for making a prayer list, organizing a prayer circle, and holding a prayer retreat for your Christian friends who have a burden for missions.
-Publisher
34 Chapters
-Publisher
PRODUCT DETAIL
Catalogue Code 

24035

Product Code 

0310362717

EAN 

9780310362715

UPC 

025986362713

Pages 

256

Department General Books
Category Prayer
Sub-Category General
Publisher Zondervan
Publication Date 

Aug 1986

Dimensions 

215 x 141 x 17

mm

Weight 

0.244

kg
Wesley Duewel, is a former president of OMS International. A missionary to India for 25 years, Dr. Duewel is also the author of Ablaze for God, Mighty Prevailing Prayer, More God, More Power, and Revival Fire.
Contents
Foreword
1. God Calls You To Prayer
2. God Is Preparing Harvest For You
3. Your Indescribable Power
4. Your Amazing Authority
5. Your Enthroned Prayer Partner
6. Your Indwelling Prayer Partner
7. Your Invisible Prayer Expediters
8. You Can Touch God's Throne Through Prayer
9. Prayer Can Give You Entree Anywhere
10. Your King Gives You His Keys
11. You Can Be Part Of God's Emergency Prayer Network
12. You Can Sow With Tears
13. You Can Deepen Your Prayer By Fasting
14. You Have Prayer Authority Through The Cross
15. You Must Use The Command Of Faith
16. Your Prayer Can Help Prove That Christ Is God
17. You Can Defeat And Bind Satan
18. Your Praise Can Rout The Devil
19. The Promise Is For You
20. Elijah Was Just Like You
21. God Needs You To Prepare His Way
22. How You Can Prepare The Way Of The Lord
23. You Can Experience And Share Revival
24. Let Jesus And Paul Guide Your Prayer
25. Your Prayer Can Reap World Harvest
26. You Need To Prevail In Prayer
27. How You Can Prevail In Prayer
28. You Can Be A Prayer Warrior
29. Your Prayer Can Be An Eternal Investment
30. Prayers That Can Never Be Lost
31. How To Hold A Personal Prayer Retreat
32. How To Pray For A Person
33. How To Prepare Prayer Lists
34. How To Agree In Prayer
My Prayer Of Commitment To Intercession
Chapter 1 God Calls You to Prayer God has a wonderful plan by which you can have world-wide influence. This plan is not just for a chosen few. It is for you. Let me tell you about it. Through prayer you can stand beside Billy Graham as he preaches in crusades anywhere in the world. You can strengthen him, bless him, lift him up at the very moment he is bringing the Good News to thousands. Through prayer you can stand beside Luis Palau in his Latin American crusades. Through prayer you can stand beside George Beverly Shea as he sings the glorious gospel. Through prayer you can accompany any missionary to remote reaches of the earth. Through prayer you can walk through crowded bazaars, minister in steaming jungles, feed millions of starving men, women, and children, hungry for bread for their bodies and for the Bread of Life. Through prayer you can contribute to the ministry of any pastor or evangelist in a church or gospel hall anywhere in the world. Many a time I have felt that through prayer I was at the side of some man or woman of God. Through prayer you can take a suffering infant in your arms. Through prayer you can touch a fevered brow in any hospital, mediating the healing love of Jesus. God has given you a way to make your presence count, a way to be a true partner in His kingdom's work, if you really want to be. True, there have been outstanding praying saints over the centuries. By no means do we forget them or the tremendous history-changing role they played through prayer. Thank God for James, the half-brother of Jesus, who spent the latter years of his life praying for the churches God was raising up. When he died and his body was prepared for burial, it was found that his knees were so calloused from hours and hours of kneeling that they almost resembled the knees of a camel. He became known as 'Camel-knees.' Thank God for Savonarola in fifteenth-century Italy, who prayed down revival in that corrupt age. Thank God for Brainerd, missionary to the American Indians, and his life of prayer and tears. Thank God for 'Praying Hyde,' the missionary to India, who was perhaps the greatest prayer warrior of this century. But God does not depend solely on a few staunch saints. He has planned for ordinary Christians like you and me to become mighty in prayer for the blessing and salvation of people and the reaping of Christ's harvest among the nations today. There is no reason in the world why you cannot become so steadfast in your personal prayer life that Christ will count on you to help build His church and advance His kingdom in many parts of the world. Beginning with your family, your church, and your community, you can play a significant part through normal daily prayer that will make a difference, even in distant lands. Again and again God has used persons like you and me to help Him meet special emergency prayer needs on a particular day or occasion. When He calls on someone for this special and temporary role, He usually selects one of His children who has been praying faithfully and consistently. You don't have to spend hours each day to qualify for God's prayer army. Thank God for those who can and do pray like that. But He knows the limitations of your own situation, your schedule, your home and employment responsibilities. His plan is intended to add a whole new dimension to your prayer life. Whether you are a business executive or a housewife, a factory worker or a student, a layman or a minister of the gospel---God desires for you to begin a thrillingly new and more effective life of prayer. I do not claim to have a magic formula to transform you into a spiritual giant overnight. But I do want to point out the possibilities of this simple plan as outlined in the Bible. You can have new power and effectiveness in prayer. You can play a significant part in Christ's plan. You can be the praying person God wants you to be---you can, if you will. Will you try? God's Wonderful Plan for You God has great expectations for you and me. He has every right. The average person has more ability to influence others today than ever before. This is especially true for Christians. Billy Graham has said he would rather be alive today than to have lived when Jesus was on earth. I fully agree. The average Christian can have a greater influence for God than the average Christian of any previous generation. This is an exciting time in our history. More believers are living today than at any other time. Christ's church has spread into more areas of the world, praises God each week in more languages, and is witnessing to or is in contact with more people than ever before. There are more gospel workers, more local churches, more Bible training institutions, more Christian organizations, and more missionary societies. Through the tremendous media of radio, television, and literature we have the facilities to speed up God's work beyond anything we have yet known. We can reach the farthest nations more quickly, we can present the gospel in more languages, and we have the means to recruit and guide prayer for the whole world more efficiently. We can reach our world, if we will. The greatest lack today is not people or funds. The greatest need is prayer. Without increasing the number of Christian workers or their financial support, we could see multiplied results if we would only multiply prayer. Prayer is the greatest resource of the church. It is the most effective means of preparing the way of the Lord available to us as Christians today. You yourself can influence more people for God and have a greater role in advancing Christ's cause by prayer than in any other way. It is not the only thing you must do, but it is the greatest thing you can do. It has often been said, The Devil trembles when he sees God's weakest child upon his knees. If that is true, think what could happen if every Christian really took his prayer role seriously and began to pray regularly and specifically, uniting with thousands or millions of others, all praying for the same priority needs around the world. Are you willing to be a part of such a prayer army?