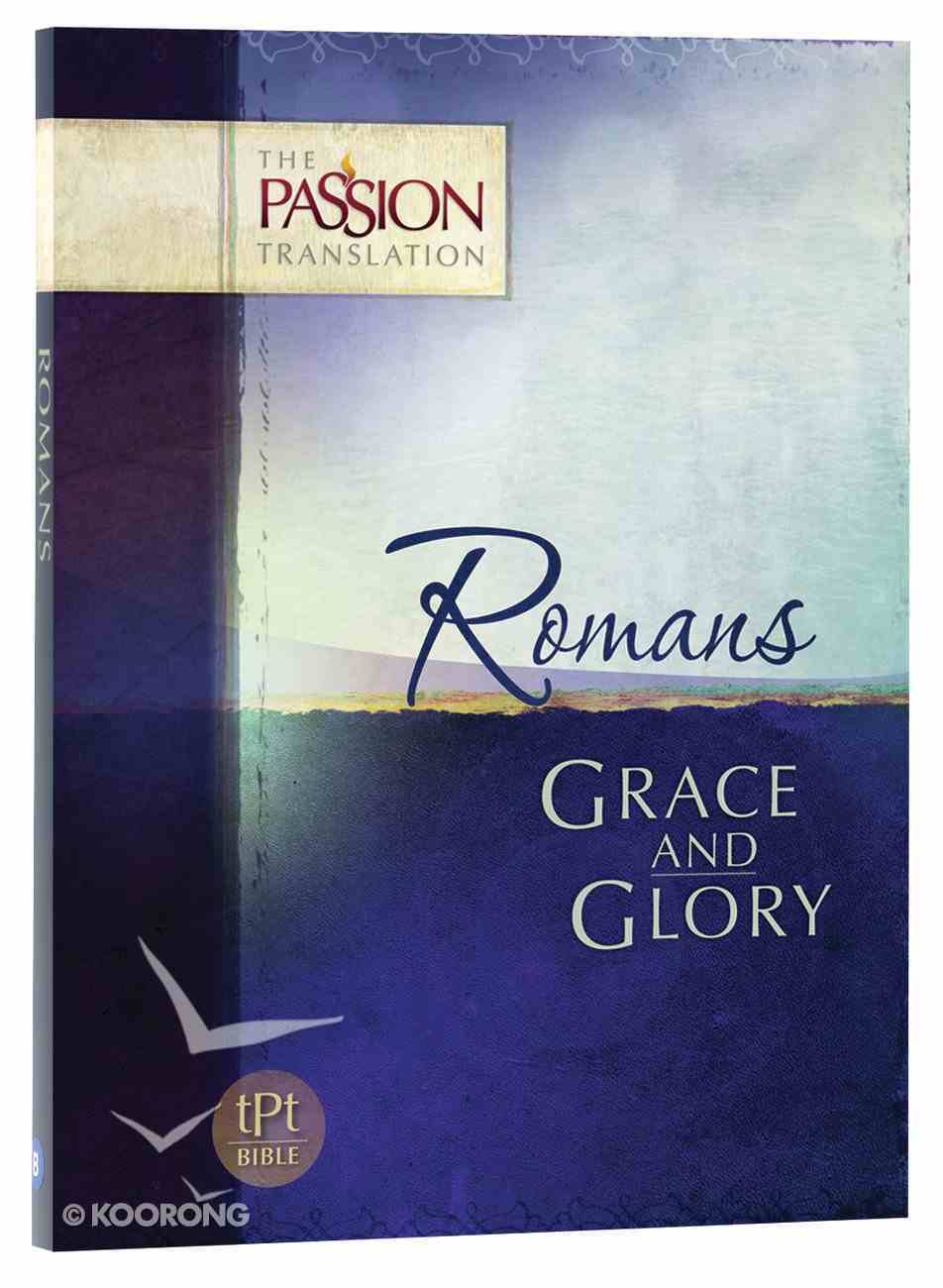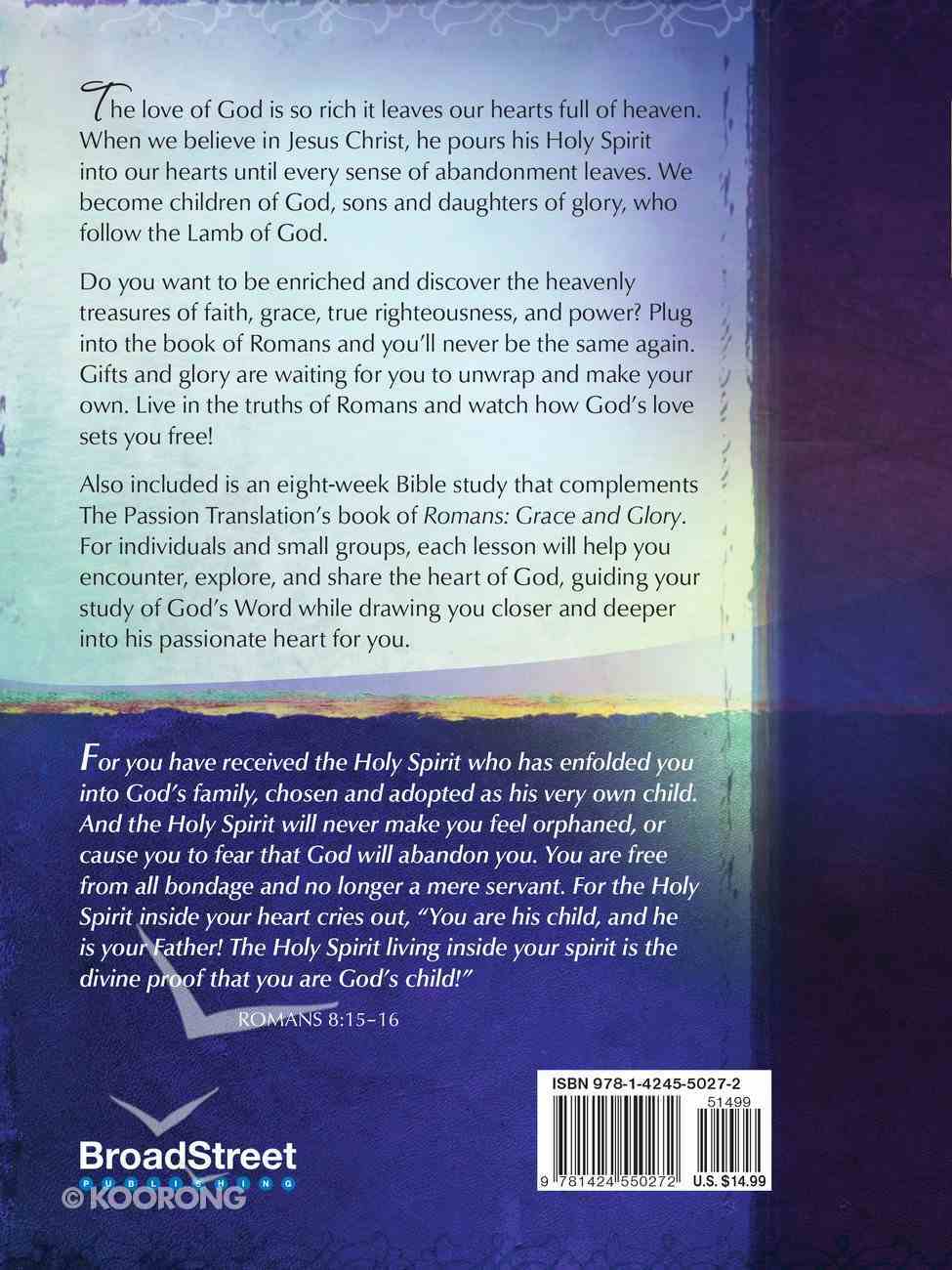 TPT Romans: Grace and Glory (Black Letter Edition)
TPT Romans: Grace and Glory Sample Passages Romans 3: 23 For we all have sinned and are in need of the glory of God. Romans 8: 1 So now the case is closed. There remains...
---
Expected to ship tomorrow from Australia.
---
Free Shipping
for orders over $99.
Features
Black Lettering
Footnotes/commentary
Single Column
TPT Romans: Grace and Glory

Sample Passages

Romans 3: 23
For we all have sinned and are in need of the glory of God.

Romans 8: 1
So now the case is closed. There remains no accusing voice of condemnation
against those who are joined in life-union with Jesus, the Anointed One.

Romans 8: 38
So now I live with the confidence that there is nothing in the universe
with the power to separate us from God's love. I'm convinced that his love
will triumph over death, life's troubles, fallen angels, or dark rulers in the
heavens. There is nothing in our present or future circumstances that can
weaken his love.

The Passion Translation Project is a groundbreaking attempt to re-introduce the passion and fire of the Bible to the English reader. God longs to have His Word expressed in every language in a way that would unlock the passion of His heart. The goal of this work is to trigger inside of every English speaker an overwhelming response to the truth of the Bible-unfolding the deep mysteries of the Scriptures in the language of love, the language of the heart. This translation is accurate to the Hebrew, Greek, and Aramaic texts, but passionately powerful in a contemporary form.

The love of God is so rich it leaves our hearts full of heaven. When we believe in Jesus Christ, he pours his Holy Spirit into our hearts until every sense of abandonment leaves. We become children of God, sons and daughters of glory, who follow the Lamb of God.


Do you want to be enriched and discover the heavenly treasures of faith, grace, true righteousness, and power? Plug into the book of Romans and you'll never be the same again. Truth always sets the heart free, and nothing can free you more than the truth found in Romans. Gifts and glory are waiting for you to unwrap and make your own. Live in the truths of Romans and watch how God's love sets you free


For you have received the Holy Spirit who has enfolded you into God's family, chosen and adopted as his very own child. And the Holy Spirit will never make you feel orphaned, or cause you to fear that God will abandon you. You are free from all bondage and no longer a mere servant. For the Holy Spirit inside your heart cries out, "You are his child, and he is your Father The Holy Spirit living inside your spirit is the divine proof that you are God's child " Romans 8:15-16




-Publisher
PRODUCT DETAIL
Features In Catalogues
DR. BRIAN SIMMONS is the lead translator of The Passion Translation. The Passion Translation (TPT) is a heart-level translation that uses Hebrew, Greek, and Aramaic manuscripts to express God's fiery heart of love to this generation, merging the emotion and life-changing truth of God's Word. The hope for TPT is to trigger inside every reader an overwhelming response to the truth of the Bible and to reveal the deep mysteries of the Scriptures in the love language of God, the language of the heart. Brian is currently translating the Old Testament.

After a dramatic conversion to Christ in 1971, Brian and his wife, Candice, answered the call of God to leave everything behind and become missionaries to unreached peoples. Taking their three children to the tropical rain forest of Central America, they planted churches for many years with the Paya-Kuna people group. Dr. Simmons established leadership for the churches that Jesus birthed, and, having been trained in linguistics and Bible translation principles, assisted with the translation of the Paya-Kuna New Testament.

After their ministry overseas, Brian and Candice returned to North America, where Brian began to passionately work toward helping people encounter the risen Christ. He and his wife planted numerous ministries, including a dynamic church in New England (U.S.). They also established Passion & Fire Ministries, under which they travel full time as Bible teachers in service of local churches throughout the world.

Brian is the author of numerous books, Bible studies, and devotionals that help readers encounter God's heart and experience a deeper revelation of God as our Bridegroom King, including Throne Room Prayer, The Sacred Journey, Prayers on Fire, The Divine Romance, and The Vision.

Brian and Candice have been married since 1971 and have three children as well as precious grandchildren and great-grandchildren. Their passion is to live as loving examples of a spiritual father and mother to this generation.
Bestsellers in The Passion Translation