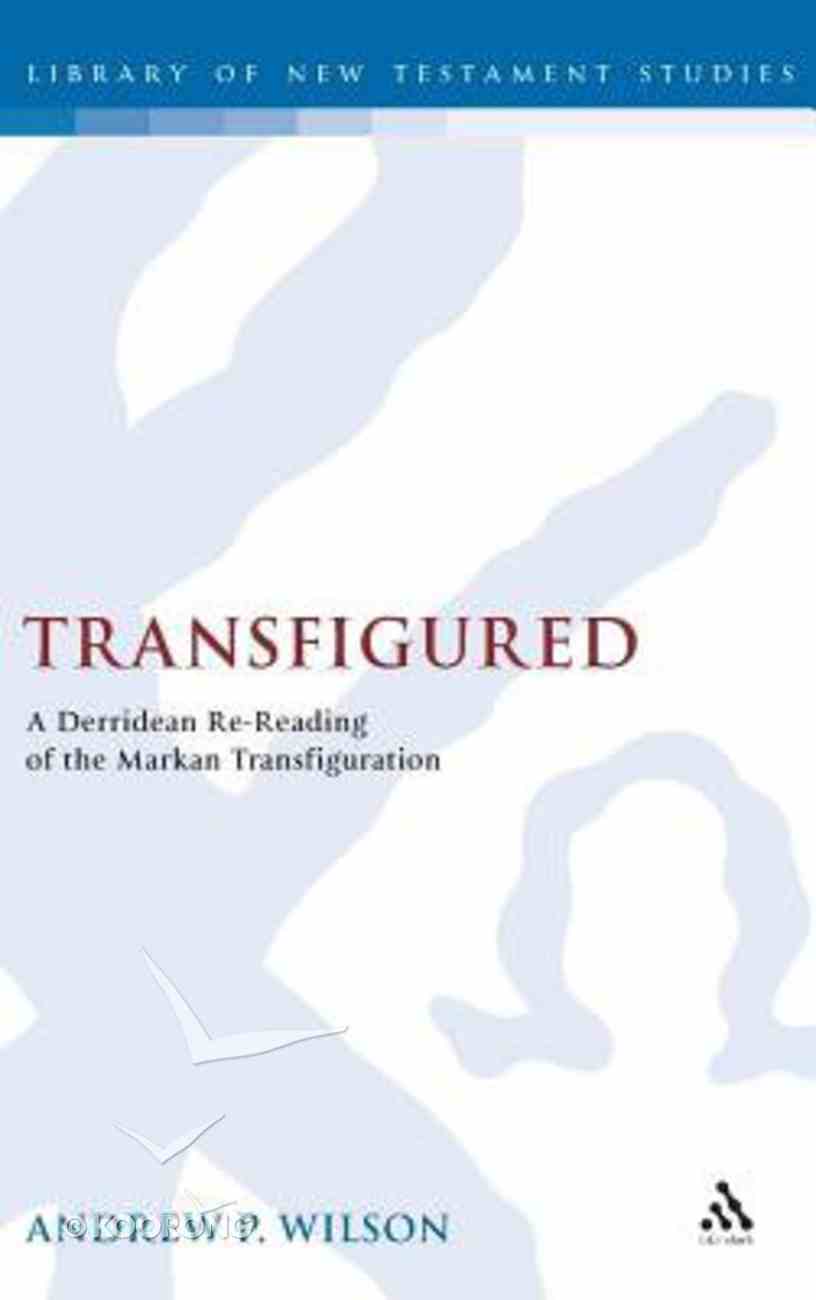 Uses Derrida to read the Gospels of Mark.>
Unavailable. We are unsure when this item will be available to ship.
0 Available.
---
Free Shipping
for orders over $99.
Uses Derrida to read the Gospels of Mark.>
-Publisher
At first glance the Markan transfiguration scene (Mk. 9:2-8) is all about light, sound and spectacle. Commentators see revealed in this scene a sparkling vision of God's glory - the light that banishes the shadow of incomprehension and by which the hidden truth of the Gospel finally becomes clear. But have commentators been blinded by their dazzling evaluations of Mark's theology? For, despite all the splendor and sparkle, the Markan transfiguration remains a difficult scene to interpret. "Transfigured" asks what would be seen if one were to squint past the sun-like glory that dominates this vision. Wilson focuses on the problematic elements, the gaps and inconsistencies of the scene, and re-evaluates them in order to re-read the transfiguration from an altered perspective. The theoretical work of Jacques Derrida, particularly his notion of "otherness," which draws together and realigns the reader (subject), the reading (method), and what is read (text), will be central to the orientation of this re-reading. Ultimately, the transfiguration story can be seen ably to accommodate readings that challenge traditionally prescribed metaphysical structures and presuppositions. In the end, the application of Derridean theory issues its own challenges to traditional scholarship in such a way that the approach to the Markan transfiguration and the theology one inevitably brings to it, require a certain amount of reformulation.
-Publisher
Andrew Wilson holds degrees in theology from Cambridge (MA) and London (MTh). He has taught a number of courses and seminars on apologetics, and has debated Christian issues with several leading scientists. His conference and teaching ministry is interantional in scope. His other books are: Deluded by Dawkins?, Incomparable and GodStories. He lives in Eastbourne with his wife Rachel and their two children, Zeke and Anna.
Chapter 1: Introduction To Derridean Thought; Introduction; Part 1: Introducing Derrida And Deconstruction; I. Structures, Signifiers And Centres; Ii. Differance; Iii. Foundations Of Sand; Iv. Derrida And The Tower Of Babel - Des Tours De Babel; V. A Question Of Method; Vi. Philosophy And De Man; Part 2: The Critical "other": Derridean Theory Within Biblical Studies; I. The Self And The Other; Ii. Reading Critically And Critiquing The Reader: The Evidence Of Style; Iii. Beyond Deconstruction: Acknowledging Otherness; Iv. Beauty And The Enigma; Conclusion. Chapter 2: The Markan Transfiguration In Biblical Studies; Introduction; Part 1: Mark's Glorious Process; Part 2: Close Reading Of Mk. 9:2-8; I. Defining The Transfiguration; Ii. Mark's Loss Of Face; Iii. Mark Stutters; Iv. Elijah Then Moses; V. Peter Misses The Point; Vi. Terror Of Incrimination; Vii. Cloudy Commands; Viii. Ending Alone; Conclusion; Chapter 3: Re-reading The Markan Transfiguration; Introduction; Part 1: The Spluttering Sun And The Palimpsest; I. Aristotle's Sun; Ii. The Fuller Glory Of The Robes; Iii. Reflections On/of Glory; Iv. Erased Face; V. Cloud Of Absence And Presence; Part 2: Peter's Terrifying Insight; I. Keeping The Mysterium Tremendum; Ii. Peter's "error"; Iii. Building The Tents; Iv. End Of Fear; V. Tomb Without End; Conclusion; Chapter 4: New Figurations: Implications And Future Direction; Introduction; Part 1: Transfiguring Transfiguration; Part 2: Poetic Comment; I. Transfigured - "sacred" Allegory; - God As Fragmented Unity - Metaphysics Of Ever-presence; - Unspeakable Breakages - Naked Beginnings -to End; Ii. Transfiguration - The One Legged Pas De Deux; Iii. Vision Of Bees; Part 3: Reading The Sacred Text; Conclusion.
Bestsellers in New Testament Commentaries