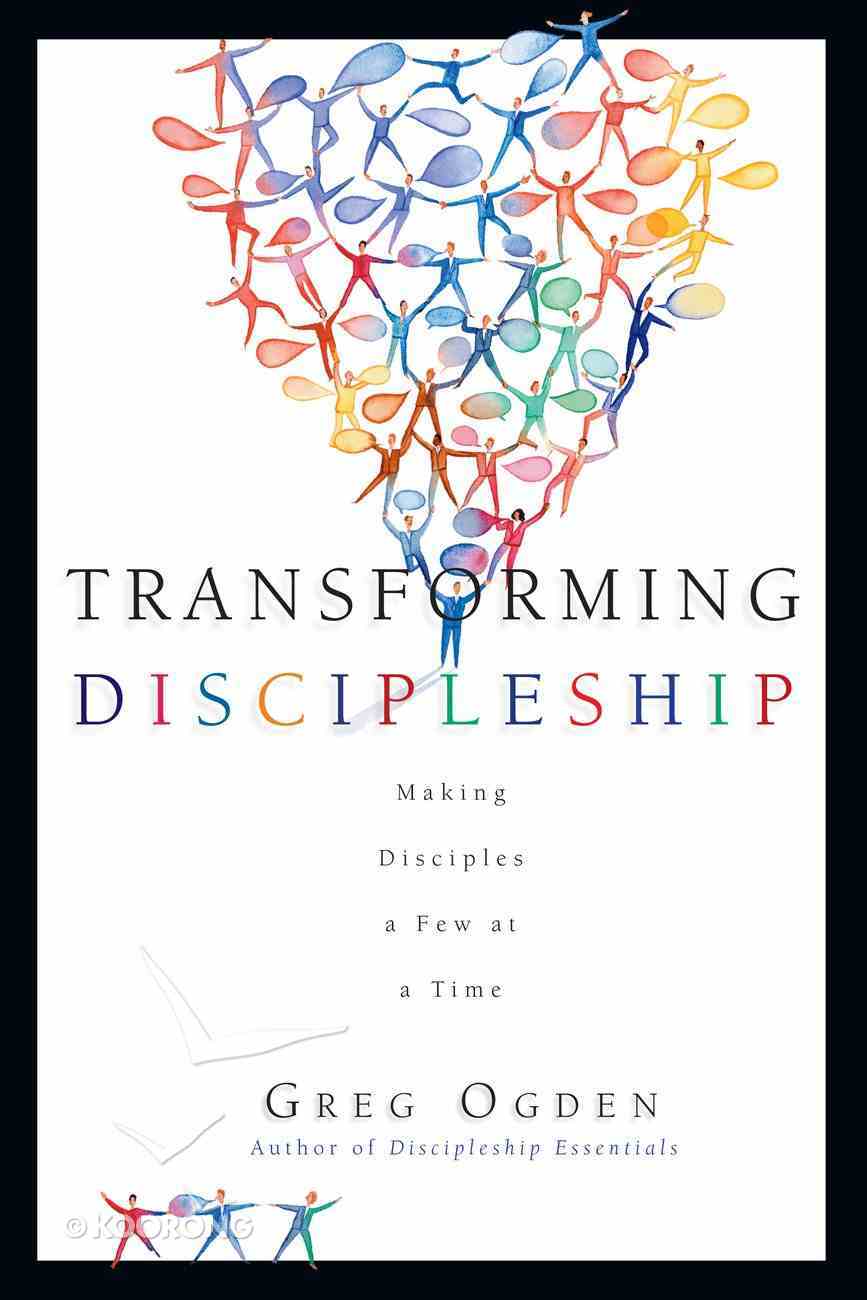 Transforming Discipleship
Many churchgoers complain that their churches lack a coherent plan for discipleship and spiritual growth. In turn, many church leaders lament their lack of resources to build and manage effective programs to help people become fully devoted followers of Christ....
Instant download
---
Read using our free app on your tablet or mobile!
---
Free Shipping
for orders over $99.
Many churchgoers complain that their churches lack a coherent plan for discipleship and spiritual growth. In turn, many church leaders lament their lack of resources to build and manage effective programs to help people become fully devoted followers of Christ. In Transforming Discipleship Greg Ogden introduces his vision for discipleship, emphasizing that solutions will not be found in large-scale, finely-tuned, resource-heavy programs.Instead, Ogden recovers Jesus' method of accomplishing life change by investing in just a few people at a time. And he shows how discipleship can become a self-replicating process with ongoing impact from generation to generation.Biblical, practical and tremendously effective, Transforming Discipleship provides the insights and philosophy of ministry behind Ogden's earlier work, Discipleship Essentials. Together, these ground-breaking books have the potential to transform how your church transforms the lives of its people.
-Publisher
Greg Ogden (D.Min., Fuller Theological Seminary) is executive pastor of discipleship at Christ Church of Oak Brook in Oak Brook, Illinois. Previously he was academic director of the doctor of ministry program and associate professor of lay equipping and discipleship at Fuller Theological Seminary in Pasadena, California. A pastor for 23 years with the Presbyterian Church, USA, he also served for nine years as senior pastor of Saratoga Federated Church in Saratoga, California. While there, he developed a discipleship program used by over 15,000 people and resulting in his book, Discipleship Essentials. Ogden has also written Unfinished Business: Returning the Ministry to the People of God (Zondervan), Leadership Essentials and Transforming Discipleship both from InterVarsity Press
Many Churchgoers Complain That Their Churches Lack A Coherent Plan For Discipleship And Spiritual Growth. In Turn, Many Church Leaders Lament Their Lack Of Resources To Build And Manage Effective Programs To Help People Become Fully Devoted Followers Of Christ. In <em>transforming Discipleship</em> Greg Ogden Introduces His Vision For Discipleship, Emphasizing That Solutions Will Not Be Found In Large-scale, Finely-tuned, Resource-heavy Programs.instead, Ogden Recovers Jesus' Method Of Accomplishing Life Change By Investing In Just A Few People At A Time. And He Shows How Discipleship Can Become A Self-replicating Process With Ongoing Impact From Generation To Generation.biblical, Practical And Tremendously Effective, <em>transforming Discipleship</em> Provides The Insights And Philosophy Of Ministry Behind Ogden's Earlier Work, <em>discipleship Essentials.</em> Together, These Ground-breaking Books Have The Potential To Transform How Your Church Transforms The Lives Of Its People.
Part 1: The Discipleship Deficit:what Went Wrong And Why
1. The Discipleship Gap: Where Have All The Disciples Gone?
2. The Discipleship Malaise: Getting To The Root Causes
Part 2: Doing The Lord's Work In The Lord's Way: The Bible As A Method Book
3. Why Jesus Invested In A Few
4. Jesus' Preparatory Empowerment Model
5. Paul's Empowerment Model: Spiritual Parenting
Part 3: Multiplying Reproducing Discipleship Groups: Church-based Strategy For Disciple Making
6. Life Investment: It's All About Relationships
7. Multiplication: Through The Generations
8. Transformation: The Three Necessary Ingredients
9. Practicalities Of Disciple Making
Appendix: Frequently Asked Questions
Notes
Bestsellers in Spiritual Growth