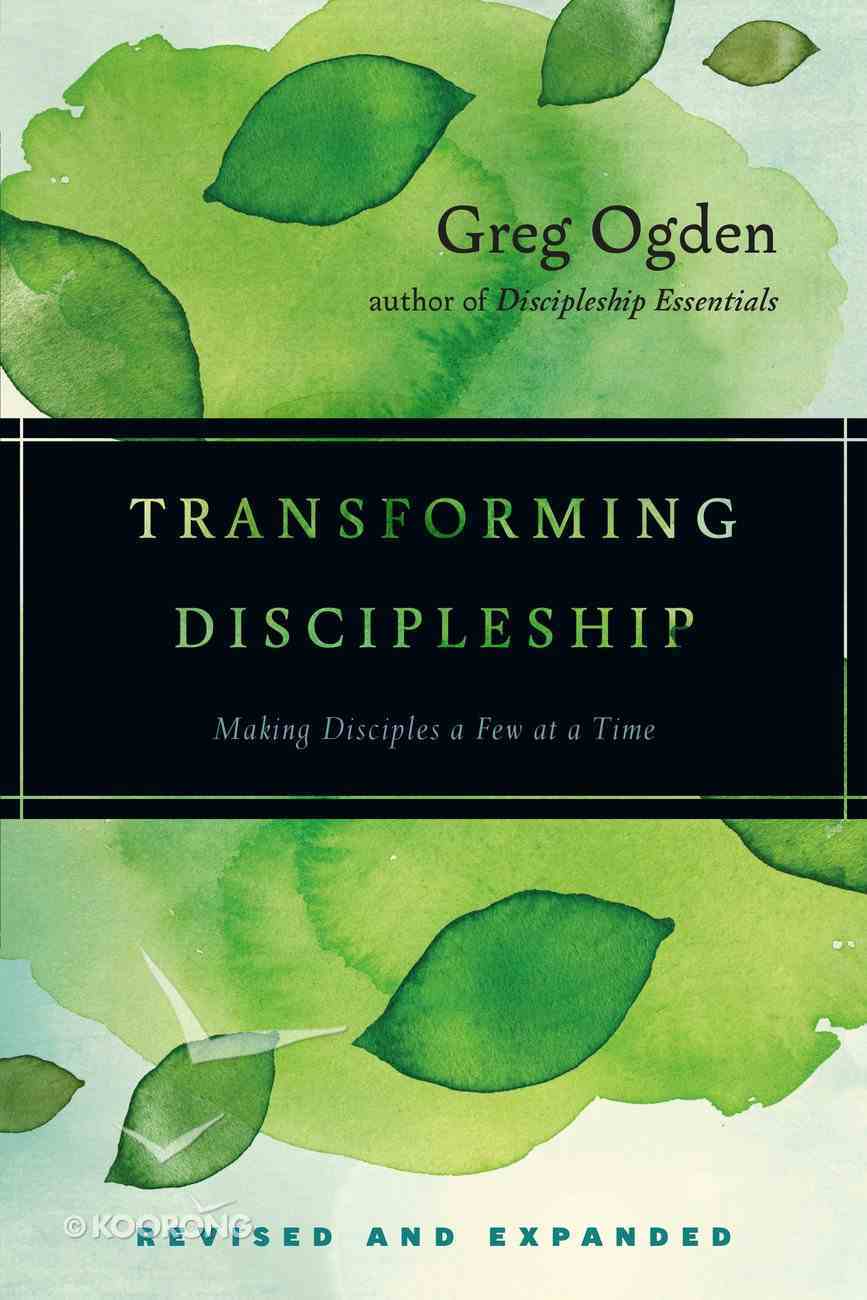 Transforming Discipleship
Many church leaders, yearning for church growth, look to the latest evangelistic strategies or seeker-targeted worship services. But lack of growth might not be due to lack of concern for new people-it may be because we are not effectively discipling...
Instant download
---
Read using our free app on your tablet or mobile!
---
Free Shipping
for orders over $99.
Many church leaders, yearning for church growth, look to the latest evangelistic strategies or seeker-targeted worship services. But lack of growth might not be due to lack of concern for new people-it may be because we are not effectively discipling the people we already have. Greg Ogden address the need for discipleship in the local church and recovers Jesus' method of accomplishing life change by investing in just a few people at a time. Ogden sets forth his vision for transforming both the individual disciple and discipleship itself, showing how discipleship can become a self-replicating process with ongoing impact from generation to generation.This revised and updated edition includes a new chapter on discipleship and preaching.
-Publisher
Greg Ogden (D.Min., Fuller Theological Seminary) is executive pastor of discipleship at Christ Church of Oak Brook in Oak Brook, Illinois. Previously he was academic director of the doctor of ministry program and associate professor of lay equipping and discipleship at Fuller Theological Seminary in Pasadena, California. A pastor for 23 years with the Presbyterian Church, USA, he also served for nine years as senior pastor of Saratoga Federated Church in Saratoga, California. While there, he developed a discipleship program used by over 15,000 people and resulting in his book, Discipleship Essentials. Ogden has also written Unfinished Business: Returning the Ministry to the People of God (Zondervan), Leadership Essentials and Transforming Discipleship both from InterVarsity Press
Many Church Leaders, Yearning For Church Growth, Look To The Latest Evangelistic Strategies Or Seeker-targeted Worship Services. But Lack Of Growth Might Not Be Due To Lack Of Concern For New People-it May Be Because We Are Not Effectively Discipling The People We Already Have. Greg Ogden Address The Need For Discipleship In The Local Church And Recovers Jesus' Method Of Accomplishing Life Change By Investing In Just A Few People At A Time. Ogden Sets Forth His Vision For Transforming Both The Individual Disciple And Discipleship Itself, Showing How Discipleship Can Become A Self-replicating Process With Ongoing Impact From Generation To Generation.this Revised And Updated Edition Includes A New Chapter On Discipleship And Preaching.
<strong>part 1: The Discipleship Deficit: What Went Wrong And Why</strong>
1 The Discipleship Gap: Where Have All The Disciples Gone?2 The Discipleship Malaise: Getting To The Root Causes
<strong>part 2: Doing The Lord&#x92;s Work In The Lord&#x92;s Way: The Bible As A Method Book</strong>
3 Why Jesus Invested In A Few4 Jesus&#x92; Preparatory Empowerment Model5 Paul&#x92;s Empowerment Model: Spiritual Parenting
<strong>part 3: Multiplying Reproducing Discipleship Groups: Church-based Strategy For Disciple Making</strong>
6 Life Investment: It&#x92;s All About Relationships7 Multiplication: Through The Generations8 Transformation: The Four Necessary Ingredients9 Practicalities Of Disciple Making10 The Role Of Preaching In Making Disciples
Acknowledgmentsappendix 1: Frequently Asked Questionsappendix 2: Critical Considerations For Growing A Reproducing Disciple-making Ministryappendix 3: The Importance Of Curriculumnotes
Bestsellers in Spiritual Growth