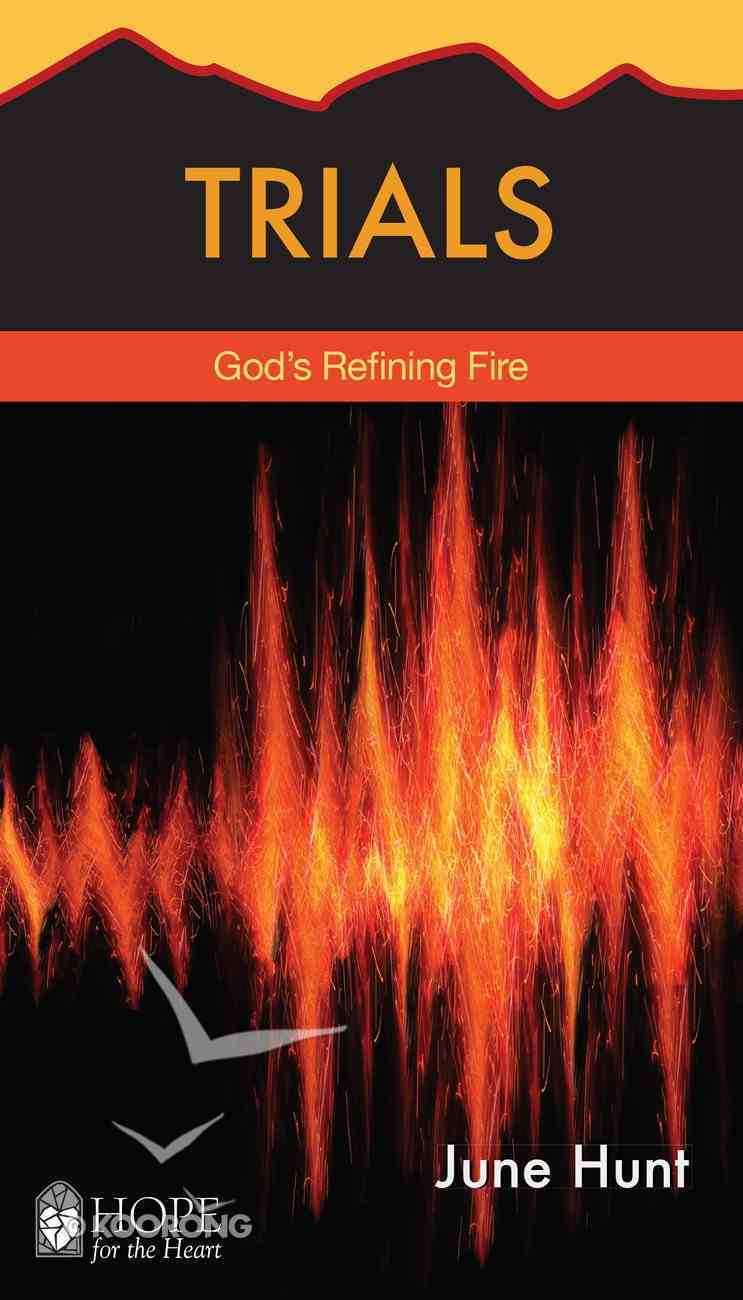 Trials (Hope For The Heart Series)
Everyone faces trials . Whether it's losing a job or losing a loved one, when trials hit they often make us wonder Why-why this? Why now? Why me? Packed with easy-to-understand explanations, key Bible verses, and biblical encouragement, this 96-page...
Instant download
---
Expected to ship within 10 hours from Australia.
---
Read using our free app on your tablet or mobile!
---
Free Shipping
for orders over $99.

Everyone faces trials. Whether it's losing a job or losing a loved one, when trials hit they often make us wonder Why-why this? Why now? Why me? Packed with easy-to-understand explanations, key Bible verses, and biblical encouragement, this 96-page book shows how God uses the trials of life to refine us, to strengthen us, and to transforms us into His glorious image. Find out how to stand on God's promises during tough times and be encouraged as you begin to see your "problems" as God's "possibilities."


Discover:

10 steps to accepting God's will for your life
6 stages of character refinement
8 key thoughts that can hardened your heart (and how to combat them)
5 ways to build your faith in the furnace. Covers how to:
Face your trials positively Persevere through your trial patiently Finish your trial maturely Pray for wisdom consistently Believe in God's answer confidently.
Perfect for individual use, group Bible studies, Adult Sunday School, church giveaways, or to hand to someone for encouragement. Includes incredible insight from key Bible stories, such as Job, Daniel, and Shadrach, Meshach, and Abednego.


We don't develop Christ-like character all at once. It's forged over time, especially through trials. But, how can you hang on to hope in the midst of the flames? June Hunt takes you step-by-step through the refiner's process-revealing how God uses trials to purify us, test us, and ultimately bless us. Enjoy getting biblical hope and practical advice on how to trust in God during the trials and tribulations of life.

3 Keys To Understanding the Trials of Life God uses trials to strengthen and refine me
June Hunt begins this minibook with a definition section where she describes the key ways God uses trials in our life. She explains how trials are instrumental in:

Exposing our current character and flawed thinking Testing our faith Refining our character Proving our commitment in Christ.
The Bible is filled with images of God working as the Refiner in our lives. In this section, June Hunt also walks you through the 6 stages of the "refinement process"-from "breaking" the rock to expose its precious qualities to the crucible meant for purification. (Includes key verses and amazing insight that will encourage you!)

My attitude and response to trials makes a difference
The mere presence of pain is not a promise of refinement. Your attitude and response toward your trials helps determine what God will accomplish through them. In the "Characteristics and Causes" section, June Hunt not only describes the different types of trials we face, she reveals how to keep our hearts from becoming hardened during the process. She tackles the 8 thoughts that can easily brew up bitterness and rot us with resentment.



Hardened Heart:
"It's not fair-no one is suffering like me"


Humble Heart:
"I am no different than others. God allows all his children to suffer."


" You know that the family of believers throughout the world is undergoing the same kind of suffering." (1 Peter 5:9)


God has given me all that I need to withstand trials and tribulations
Through every trial you can experience peace, transformation, and personal growth by depending on the guidelines of God's truth. In the last section of this book, "Steps to Solution," June Hunt shows how to practically apply the word of God to our lives.


It is easy to say we "trust God in our trials," but we often need practical steps to know how to trust him. Enjoy getting practical advice rooted in the Word of God that covers:

10 steps to accepting God's will in your life 12 responses to trials that please God 11 key truths from God's word that will comfort you during tough times How to pray during trials And more!
-Publisher
June Hunt is a biblical counselllor and the founder of the award-winning Hope for the Heart radio program, heard on more than 900 radio outlets worldwide. For decades, June has counselled people, offering them Bible-based hope and practical help for today's problems - emotional, relational, and spiritual. She is the author of numerous popular resources for people seeking help, including over thirty topical Hope For The Heart books, as well as the 31-day devotional Seeing Yourself Through God's Eyes, which is often used in counselling offices, churches and small group Bible studies.
Bestsellers in Christian Living