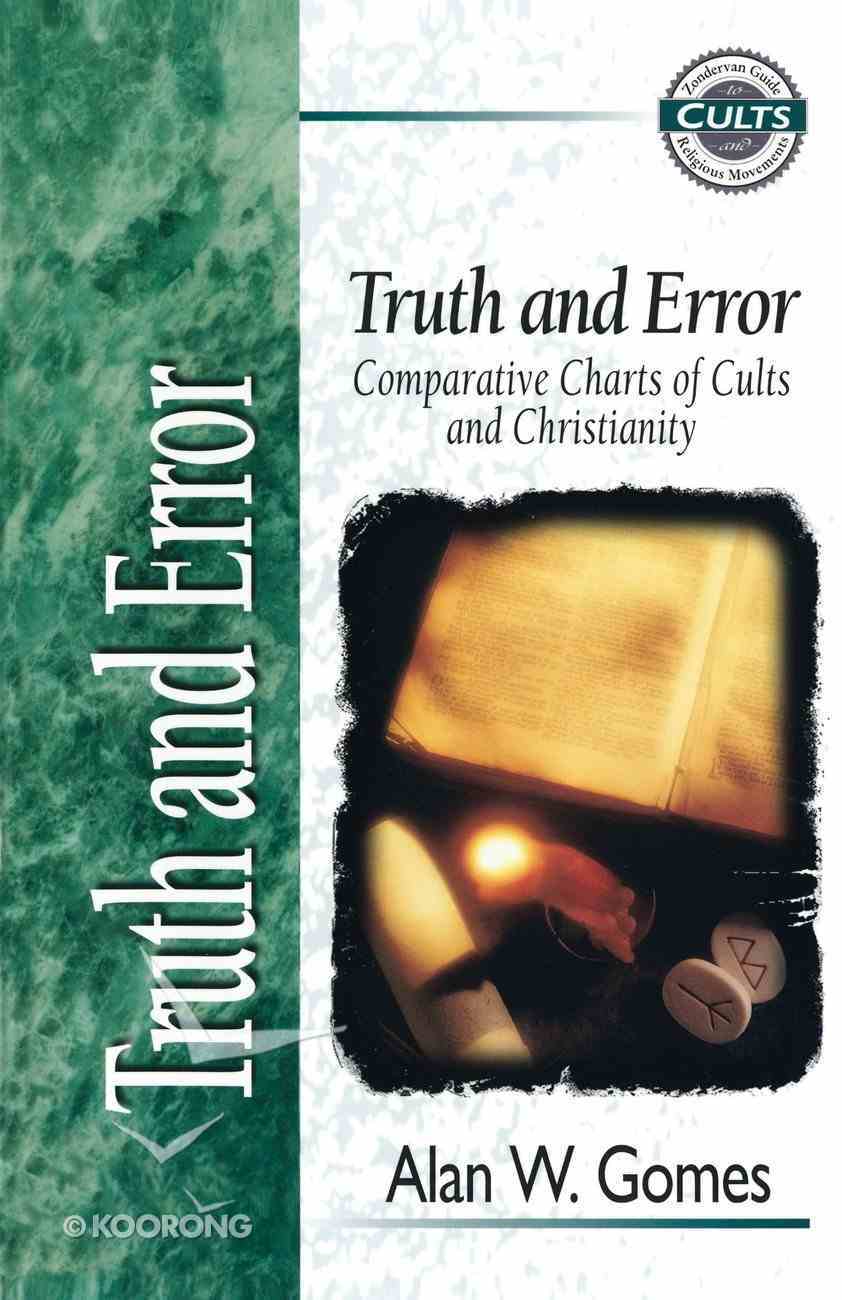 Truth and Error (Zondervan Guide To Cults & Religious Movements Series)
This series of brief books on contemporary religious movements compares what they believe with Christian doctrine and explains effective ways of witnessing to their adherents.
Out of Stock
Available to Order
---
Expected to ship in 5 to 6 weeks from Australia.
---
Free Shipping
for orders over $99.
This series of brief books on contemporary religious movements compares what they believe with Christian doctrine and explains effective ways of witnessing to their adherents.
-Publisher
1. Jehovah's Witnesses 2. Mormonism 3. Unitarian Universalism 4. "Jesus Only" Churches 5. Unification Church 6. Masonic Lodge 7. Mind Sciences 8. New Age Movement 9. Goddess Worship, Witchcraft And Neo-Paganism 10. Hinduism, TM And Hare Krishna 11. Buddhism, Taoism, And Other Far Eastern Religions 12. Satanism 13. Astrology And Psychic Phenomena 14. Unmasking The Cults 95 Pages
-Publisher
PRODUCT DETAIL
Catalogue Code 

118712

Product Code 

0310220491

EAN 

9780310220497

UPC 

025986220495

Pages 

96

Department Academic
Category World Religions
Sub-Category General
Publisher Zondervan
Publication Date 

Mar 1998

Sales Rank 

29322

Dimensions 

216 x 139 x 7

mm

Weight 

0.127

kg
Alan W. Gomes (PhD, Fuller Theological Seminary) is associate professor of historical theology and chairman of the department of theology at Talbot School of Theology, Biola University.
Chapter I Jehovah's Witnesses Author: Robert M. Bowman, Jr.; summary by Alan W. Gomes Background The Watchtower Bible and Tract Society, more commonly known as Jehovah's Witnesses, was founded in the 1880s by Charles Taze Russell, a haberdasher from Allegheny, Pennsylvania. Russell, who attended Presbyterian and Congregational churches as a child, found himself unable to accept their teaching about hell. Under Seventh-day Adventist influence, Russell embraced their teaching that 'hell' stood for the grave and that the wicked would ultimately be annihilated, not tortured consciously for eternity. Also through Adventist influence, Russell adopted the idea that Christ's second coming was an invisible, spiritual 'presence' that had already begun, rather than a literal, bodily return to take place in the future. Russell also denied the doctrines of the Trinity and of Christ's deity. He was known for his vociferous denunciations of 'Christendom's' allegedly false beliefs and practices. Russell died in 1916, believing that World War I was Armageddon. Joseph Franklin Rutherford (d. 1942), the society's legal counselor, succeeded Russell as head of the movement, and it was under his tenure that they adopted the name 'Jehovah's Witnesses.' The current Watchtower president is Milton G. Henschel. In terms of social and ethical practices, JWs do not observe birthdays, Christmas, Easter, Thanksgiving, Mother's Day, or any other such holidays, rejecting them as 'pagan.' They refuse blood transfusions (based on a misunderstanding of Leviticus 17), will not participate in politics or the military, and will not salute the flag. They maintain strict neutrality in war. There are presently at least 5 million active JWs worldwide. They are known for their massive proselytizing efforts, dedicating about one billion hours per year to witnessing (that is, over 200 hours per member per year). JWs also distribute enormous amounts of printed literature, more so than any other cult. Summary of Beliefs Jehovah's Witnesses believe that there is one almighty God by nature, who is also only one person. JWs wrongly allege that wicked scribes removed God's proper name, Jehovah, from the Bible. This divine name has been restored to its rightful place in the New World Translation of the Bible. The doctrine of the Trinity is roundly condemned as unscriptural and the result of pagan influences. Jesus Christ was Michael the Archangel before his incarnation as a man; after his death and spiritual resurrection (see below), the man Jesus again became an angel. Jesus was Jehovah's agent in creating all things after he himself was created by Jehovah God. Although not God by nature, he is a 'mighty one' and therefore may be called 'a god' in a loose sense of the word. The Holy Spirit is not a person, nor a member of the Godhead, but is Jehovah's active force, which emanates from him to accomplish his will. Concerning the afterlife, Jehovah's Witnesses do not believe in an entity called the soul that survives the death of the body. Rather, they teach that people cease to exist at death but that at the Resurrection Jehovah will recreate them from his memory. In the eternal state there are different classes of Christians with different destinies. The 144,000 are those who, along with Christ Jesus, are 'born again' to exist as spirits; they will reign with Christ in heaven. The rest will live in a paradise earth with resurrected bodies. There is no hell in the traditional understanding of the doctrine; the finally impenitent will be annihilated, not tortured for all eternity. Concerning Christ's death and resurrection, he gave his life as a ransom price to atone for our guilt in Adam. He was raised an invisible spirit creature, forfeiting his right to bodily, earthly life. Salvation is accomplished by faith in Christ Jesus plus works, such as taking in spiritual knowledge and doing God's kingdom work (such as door-to-door witnessing). Regarding Christ's second coming, JWs reject the notion that Christ will return bodily to earth. Rather, his invisible 'presence,' which began in 1914, is engineering events leading to the Battle of Armageddon and the beginning of the Millennium. The Watchtower Society is known for having set several different dates for when Armageddon would occur; after each failed prophecy, numerous disillusioned members left the movement. Truth and Error * CHAPTER I: JEHOVAH'S WITNESSES 'They say that it is sufficient to read the Bible exclusively, either alone or in small groups at home. But, strangely, through such 'Bible reading,' they have reverted right back to the apostate doctrines that commentaries by Christendom's clergy were teaching 100 years ago...' (The Watchtower, August 15, 1981, 28--29). 'All Scripture is inspired of God and beneficial for teaching, for reproving, for setting things straight, for disciplining in righteousness, that the man of God may be fully competent, completely equipped for every good work' (2 Tim. 3:16--17 NWT).* 'I am writing these things to you about those who are trying to lead you astray. Jehovah's Witnesses The Bible *Note: All italics in quotations in this chart are added for emphasis unless otherwise noted. As for you, the anointing you received from him remains in you, and you do not need anyone to teach you. But as his anointing teaches you about all things and as that anointing is real, not counterfeit---just as it has taught you, remain in him' (1 John 2:26--27 NIV). The Deity of Christ '... the Bible plainly states that in his prehuman existence, Jesus was a created spirit being, just as angels were spirit beings created by God... . The fact is that Jesus is not God and never claimed to be' (Should You Believe in the Trinity? [1989], 14, 20). 'So it was by means of this master worker, his junior partner, as it were, that Almighty God created all other things... . he was simply addressing another individual, his first spirit creation, the master craftsman, the prehuman Jesus' (Should You Believe in the Trinity? 14). 'In the beginning was the Word, and the Word was with God, and the Word was God' (John 1:1 NIV). ''I tell you the truth,' Jesus answered, 'before Abraham was born, I am!'' (John 8:58 NIV). 'In answer Thomas said to him [Jesus]: 'My Lord and my God!'' (John 20:28 NWT). 'I, Jehovah, am doing everything, stretching out the heavens by myself, laying out the earth. Who was with me?' (Is. 44:24 NWT). 'All things came into existence through him, and apart from him not even one thing came into existence' (John 1:3 NWT). The Personhood of the Holy Spirit 'The correct identification of the holy spirit must fit all the scriptures that refer to that spirit. With this viewpoint, it is logical to conclude that the holy spirit is the active force of God. It is not a person but is a powerful force that God causes to emanate from himself to accomplish his holy will' (Reasoning from the Scriptures [1985], 381). 'However, when that one arrives, the spirit of the truth, he will guide YOU into all the truth, for he will not speak on his own impulse, but what things he hears he will speak, and he will declare to YOU the things coming. That one will glorify me, because he will receive from what is mine and will declare it to YOU' (John 16:13--14 NWT). Death 'At death man's spirit, his life-force, which is sustained by breathing, 'goes out.' It no longer exists... . When they are dead, both humans and animals are in this same state of complete unconsciousness. ... That the soul lives on after death is a lie started by the Devil' (You Can Live Forever in Paradise on Earth [1982], 77). 'You have come to God, the judge of all men, to the spirits of righteous men made perfect' (Heb. 12:23 NIV). '... I saw underneath the altar the souls of those who had been slaughtered because of the word of God and because of the witness work that they used to have.
Bestsellers in World Religions