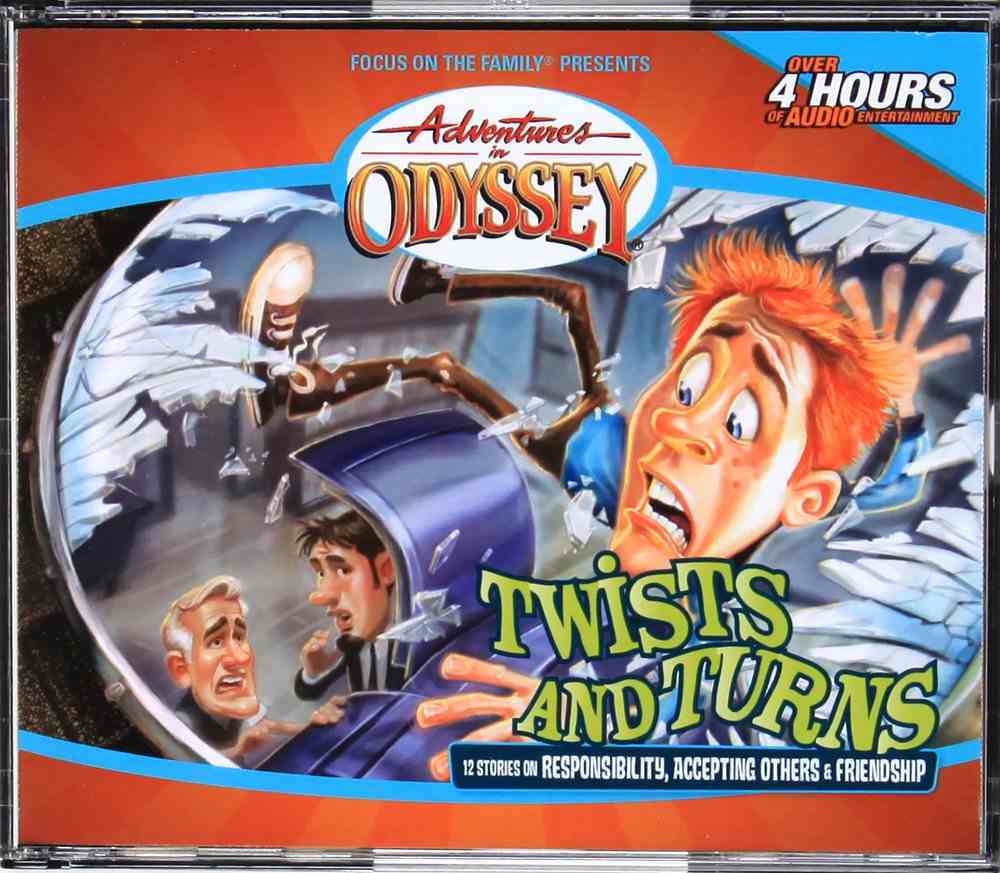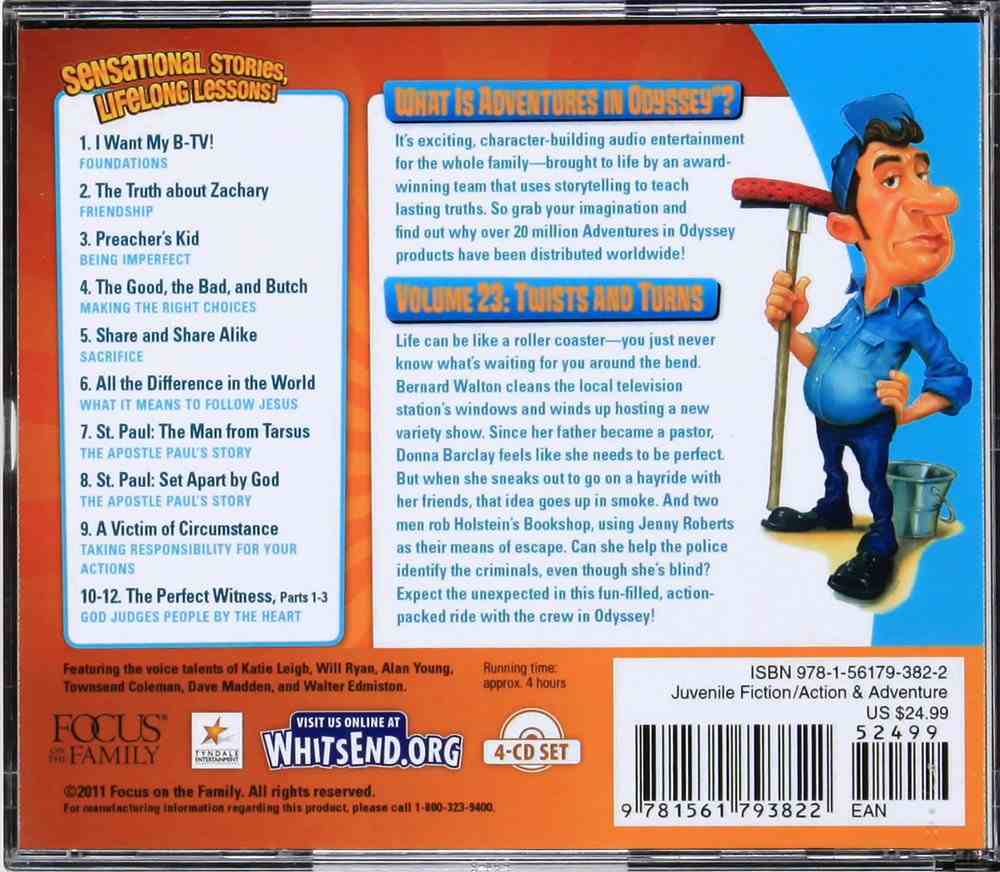 Twists and Turns (#23 in Adventures In Odyssey Audio Series)
Life can be a bit like a roller coaster--you just never know what's around the next bend! The folks in Odyssey, young and old alike, are learning some very important things lately: being responsible for yourself, accepting and understanding others,...
---
Expected to ship within 11 hours from Australia.
---
Free Shipping
for orders over $99.
Life can be a bit like a roller coaster--you just never know what's around the next bend! The folks in Odyssey, young and old alike, are learning some very important things lately: being responsible for yourself, accepting and understanding others, and being a friend even when it isn't easy. Whether it's a peak, a valley, or a hairpin curve, you're guaranteed a fun-filled, action-packed ride with the gang from Odyssey!
Volume 23 contains the following stories (and themes): I Want My B-TV! (Solid foundations) The Truth about Zachary (Being a friend) Preacher's Kid (Unrealistic expectations) The Good, the Bad, and Butch (Uncompromising morals) Share and Share Alike (Sharing) All the Difference in the World (The difference Christianity makes) St. Paul: The Man from Tarsus (Saul's conversion) St. Paul: Set Apart by God (God changes lives) A Victim of Circumstances (Taking responsibility for your own actions) A Perfect Witness, 1, 2, & 3 (Perception)


-Publisher
1. I Want My B-TV!2. The Truth About Zachary3. The Good, the Bad and Butch4. Share and Share Alike5. All the Difference in the World6. St. Paul: The Man From Tarsus7. St. Paul: Set Apart by God8. A Victim of Circumstance9. A Perfect Witness4 CDs
-Publisher
:Life can be a bit like a roller coaster?you just never know what's around the next bend! To Donna Barclay, it seems like being a preacher's kid means she has to be perfect. But when she rebels and sneaks out with her friends, the results are disastrous.

Gang member Butch is torn between his old friendship with Sam and his new friends in the Bones of Rath. Which will he choose?

Two men rob Holstein's Bookshop and kidnap blind Jenny Roberts but later let her go. Will she be able to help police find the criminals?

The folks in Odyssey, young and old alike, are learning some very important things lately: being responsible for yourself, accepting and understanding others, and being a friend even when it isn't easy. Whether it's a peak, a valley, or a hairpin curve, you're guaranteed a fun-filled, action-packed ride with the gang from Odyssey!
Volume 23 contains the following stories (and themes): I Want My B-TV! (Solid foundations) The Truth about Zachary (Being a friend) Preacher's Kid (Unrealistic expectations) The Good, the Bad, and Butch (Uncompromising morals) Share and Share Alike (Sharing) All the Difference in the World (The difference Christianity makes) St. Paul: The Man from Tarsus (Saul's conversion) St. Paul: Set Apart by God (God changes lives) A Victim of Circumstances (Taking responsibility for your own actions) A Perfect Witness, 1, 2, & 3 (Perception)
-Publisher
Bestsellers in Childrens Audio