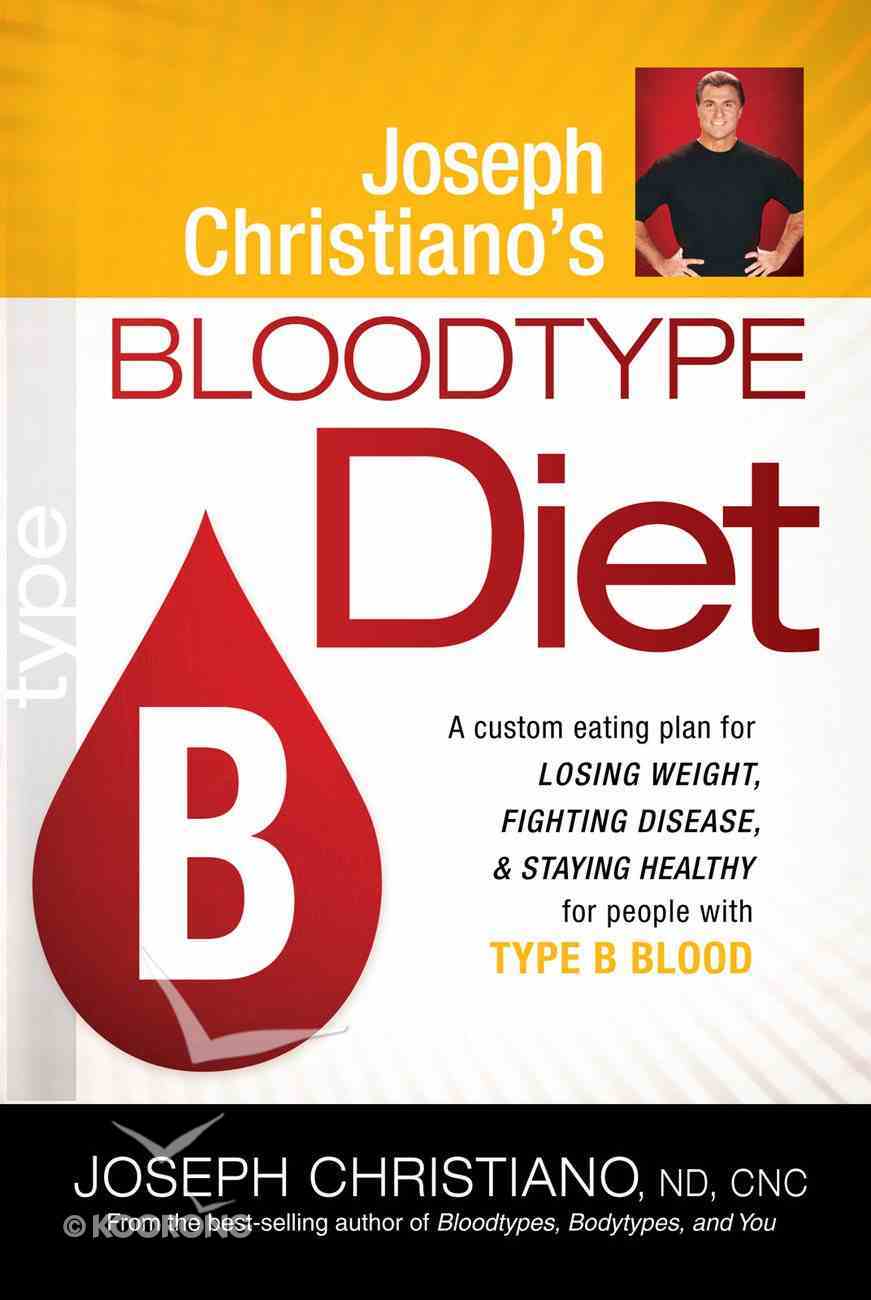 Type B (Joeseph Christiano's Bloodtype Diet Series)
Having trouble losing weight? You might simply be eating the wrong foods for your blood type! Your blood type determines which foods are right for you and is pivotal to weight loss success. This is why different people...
Available for immediate download.
---
Read using our free app on your tablet or mobile!
---
Free Shipping
for orders over $99.


Having trouble losing weight? You might simply be eating the wrong foods for your blood type!

Your blood type determines which foods are right for you and is pivotal to weight loss success. This is why different people can have such different results with the same diet.

Which foods are right for you? This book makes it easy to put together meal plans for type B blood that include delicious, satisfying foods like roasted lamb, chef salad, fresh strawberries with yogurt, and more with customized recommendations for:

· Meats, poultry, and seafood
· Oils and fats
· Dairy and eggs
· Breads, grains, and pastas
· Fruits, vegetables, and juices
· Spices and condiments

Learn how to drop the pounds quickly when you eat the right foods for your type B blood.




-Publisher
Joseph Christiano, ND, CNC, a naturopathic doctor and certified nutritional counselor, has spent forty years developing individualized diet and exercise programs for Hollywood celebrities, major media personalities, and swimsuit winners in the Miss America, Miss USA, and Mrs. America pageants. The former Mr. Florida and Mr. USA runner-up, has been featured in national publications, including Iron Man, Woman's World, and Women's Health and Fitness, and authored several books, including My Body, God's Temple. As founder of Dump the Junk America, Dr. Joe has developed a nationwide campaign for he
<div> <p><b>having Trouble Losing Weight? You Might Simply Be Eating The Wrong Foods For Your Blood Type! </b><br> <br> Your Blood Type Determines Which Foods Are Right For You And Is Pivotal To Weight Loss Success. This Is Why Different People Can Have Such Different Results With The Same Diet.<br> <br> Which Foods Are Right For You? This Book Makes It Easy To Put Together Meal Plans For Type B Blood That Include Delicious, Satisfying Foods Like Roasted Lamb, Chef Salad, Fresh Strawberries With Yogurt, And More With Customized Recommendations For:<br> <br> &#183; Meats, Poultry, And Seafood<br> &#183; Oils And Fats<br> &#183; Dairy And Eggs<br> &#183; Breads, Grains, And Pastas<br> &#183; Fruits, Vegetables, And Juices<br> &#183; Spices And Condiments<br> <br> Learn How To Drop The Pounds Quickly When You Eat The Right Foods For Your Type B Blood.</p> <div> </div> </div> <br>
Bestsellers in Christian Living