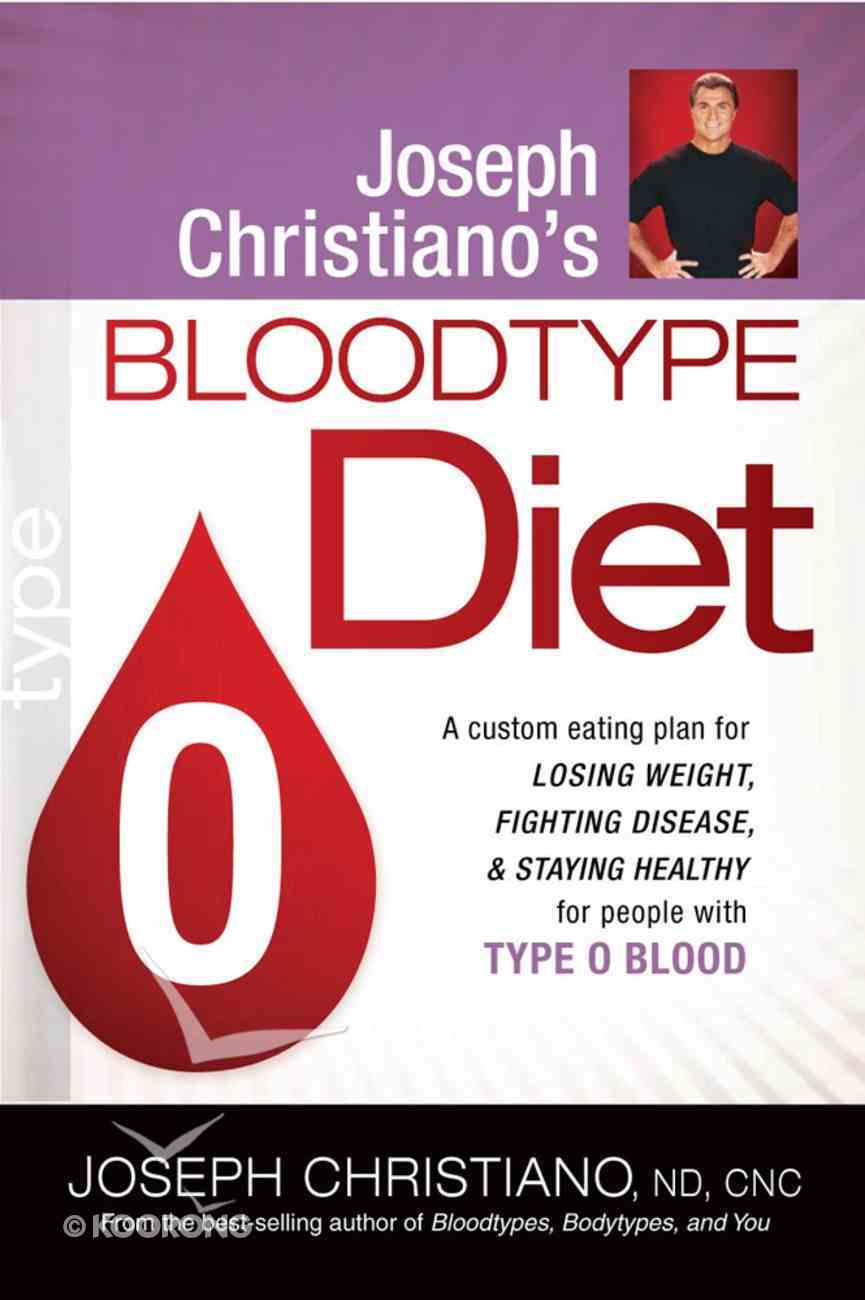 Type O (Joeseph Christiano's Bloodtype Diet Series)
Having trouble losing weight? You might simply be eating the wrong foods for your blood type! Your blood type determines which foods are right for you-and is pivotal to weight loss success. This is why different people can...
Out of Stock
Available to Order
---
Expected to ship in 5 to 6 weeks from Australia.
---
Free Shipping
for orders over $99.


Having trouble losing weight? You might simply be eating the wrong foods for your blood type!


Your blood type determines which foods are right for you-and is pivotal to weight loss success. This is why different people can have such different results with the same diet.

 

Which foods are right for you? This book makes it easy to put together meal plans for type O blood that include delicious, satisfying foods like roast beef, chicken teriyaki, French onion soup, and more with customized recommendations for:
Meats, poultry, and seafood Oils and fats Dairy and eggs Breads, grains, and pastas Fruits, vegetables, and juices Spices and condiments
Learn how to drop the pounds quickly when you eat the right foods for your type O blood.


-Publisher
Joseph Christiano, ND, CNC, a naturopathic doctor and certified nutritional counselor, has spent forty years developing individualized diet and exercise programs for Hollywood celebrities, major media personalities, and swimsuit winners in the Miss America, Miss USA, and Mrs. America pageants. The former Mr. Florida and Mr. USA runner-up, has been featured in national publications, including Iron Man, Woman's World, and Women's Health and Fitness, and authored several books, including My Body, God's Temple. As founder of Dump the Junk America, Dr. Joe has developed a nationwide campaign for he
<div><p><p Class="msonormal"><b>table Of Contents </b><b></b></p><p Style="text-indent: 0in;" Class="bodytext"><i>(the Following Shows You Blood Type O As An Example; All Four Blood Types Will Follow The Same Pattern As Far As Toc.)</i><i></i></p><p Style="" Class="contents">&#160;</p><p Style="" Class="contents">introduction</p><p Style="" Class="contents"><b>section I: Understanding Blood Types</b><b></b></p><p Style="" Class="contents"><b>1 Blood Type&mdash;your Foundation For Health</b><b></b></p><p Style="margin-left: 0.5in;" Class="contents">communicates, In A Reader-friendly Way, Valuable Information That Pertains Specifically To You As A Person With Blood Type O. Includes General Information About Your Specific Blood Type And Lays The Foundation For Understanding How Your Blood Type Affects Many Other Aspects Of Your Health.</p><p Class="contents"><b>2 Blood Type And Nutrition</b><b></b></p><p Style="margin-left: 0.5in;" Class="contents">addresses Your Specific Nutritional Needs Based On Your Blood Type, Including A Dietary Analysis Chart That Will Give You An Accurate Account Of Whether You Are Consuming Foods That Are Compatible For Your Blood Type.</p><p Class="contents"><b>3 Blood Type And Weight Loss</b><b></b></p><p Style="margin-left: 0.5in;" Class="contents">gives The Foundation Of Dr. Joe&rsquo;s Plan For Eating Food That Is <i>compatible To Your Blood Type, </i>an Individualized Method Of Eating For Obtaining Maximum Health, Reducing Illness, Losing Weight, And Maintaining Your Ideal Weight For Life.</p><p Class="contents"><b>4 Type O: Everything You Need To Know</b><b></b></p><p Style="margin-left: 0.5in;" Class="contents">this Chapter Includes Information On The Specific Characteristics Of Each Blood Type In Relation To Predisposition To Illnesses And Disease, With Advice On How To Address These Risks Through Nutrition.</p></p></div>
Bestsellers in Christian Living