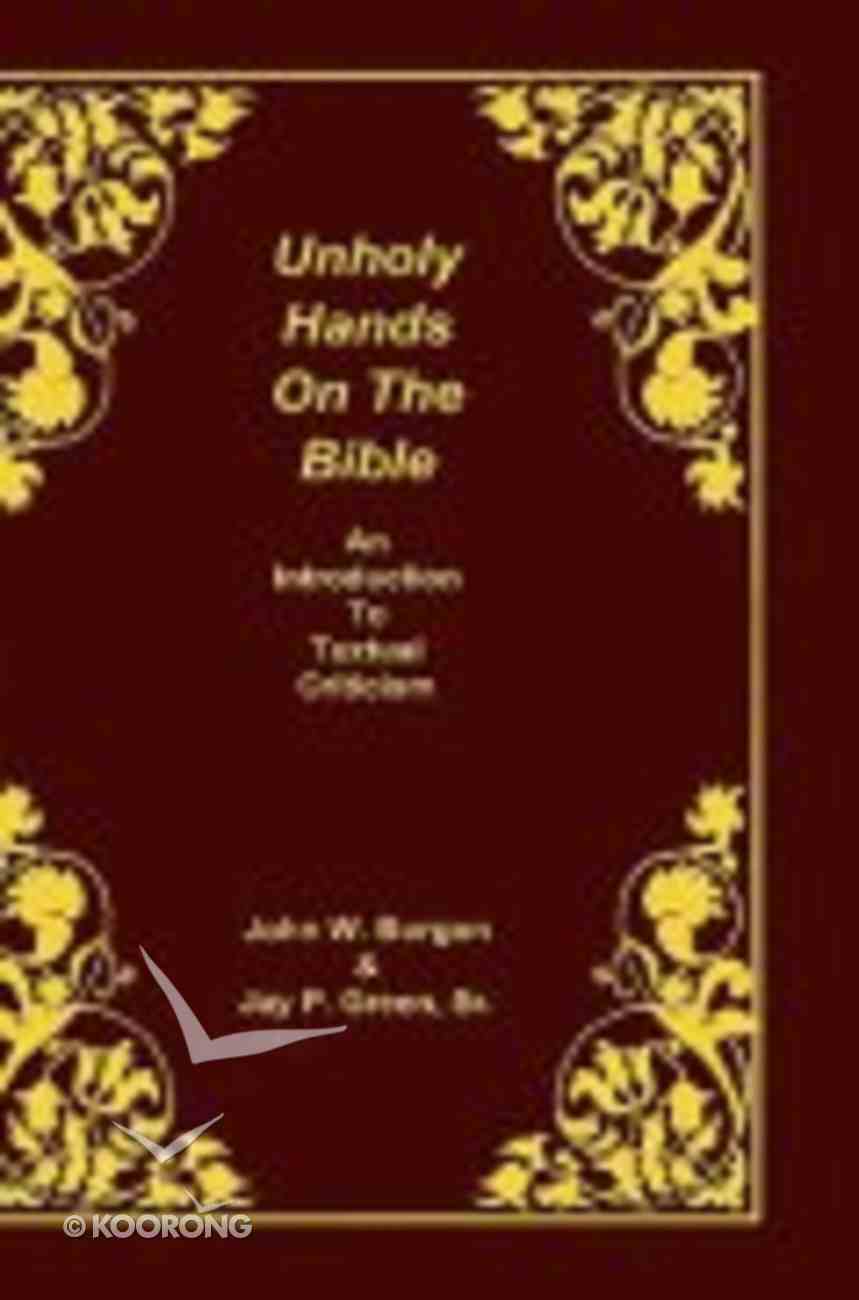 Unholy Hands on the Bible (Vol 1)
What do you get when you buy this volume? You get all six of the Works of Dean John W. Burgon, which in effect gives you an excellent introduction to Textual Criticism in The Traditional Text of the New Testament.In...
Print on Demand
50+ available to order from the Melbourne Supplier's Distribution Centre
---
Expected to ship in 3 to 4 weeks from Australia.
---
Free Shipping
for orders over $99.
What do you get when you buy this volume? You get all six of the Works of Dean John W. Burgon, which in effect gives you an excellent introduction to Textual Criticism in The Traditional Text of the New Testament.In The Causes of the Corruption of the Traditional Text of the Gospels you will learn how the Gnostics, Manecheans, Ebionites, Ariams, and other heretics sought to halt the spread of Christianity by putting out corrupt manuscripts. Discover the motivation that caused the critics to elevate these adulterated manuscripts to a place of adoration. See for yourself the overwhelming evidence against the thousands of changes in the popular new versions that dilute the Scriptures.The Last Twelve Verses According to the Gospel of Mark shows that over 2,000 manuscripts and as many Greek lectionaries contain these verses without any brackets or doubting footnotes. Did you know that except for the NKJV, MKJV, LITV, the nine other major new versions have bracketed the last 12 verses of Mark (or in a footnote indicated that they do not believe they are authentic). WHY? It's a mystery. There are only three (3) Greek manuscripts that do not have these verses. And in 200 pages of proofs, Burgon shows that those two are so edited at the place where these verses belong that anyone can see the scribes were looking at these verses in the older mss. they were copying. As Dr. Gordon H. Clark wrote, If a version brackets these verses, then you know that they are not going by the evidence.The Revision Revised is a Critique of the English Revised Version of 1881, with additional applications to the Modern Translations. There is an excellent critique of the Westcott and Hort textualtheories.Proof of the Genuineness of God Manifested in the Flesh contains an unanswered and unanswerable defense of 1 Timothy 3:16.The Woman Taken In Adultery gives a defense of the authenticity of John 7:53-8:11.Conflation and The 'Neutral' Text by Edward Miller, M.A. gives an additional critique of Dr. Hort's theories.Get this volume, and arm yourself to fight for the God-breathed words that God has preserved for you that you might have life and faith. Every one of His words are precious. We need not give up thousands of them...
-Publisher