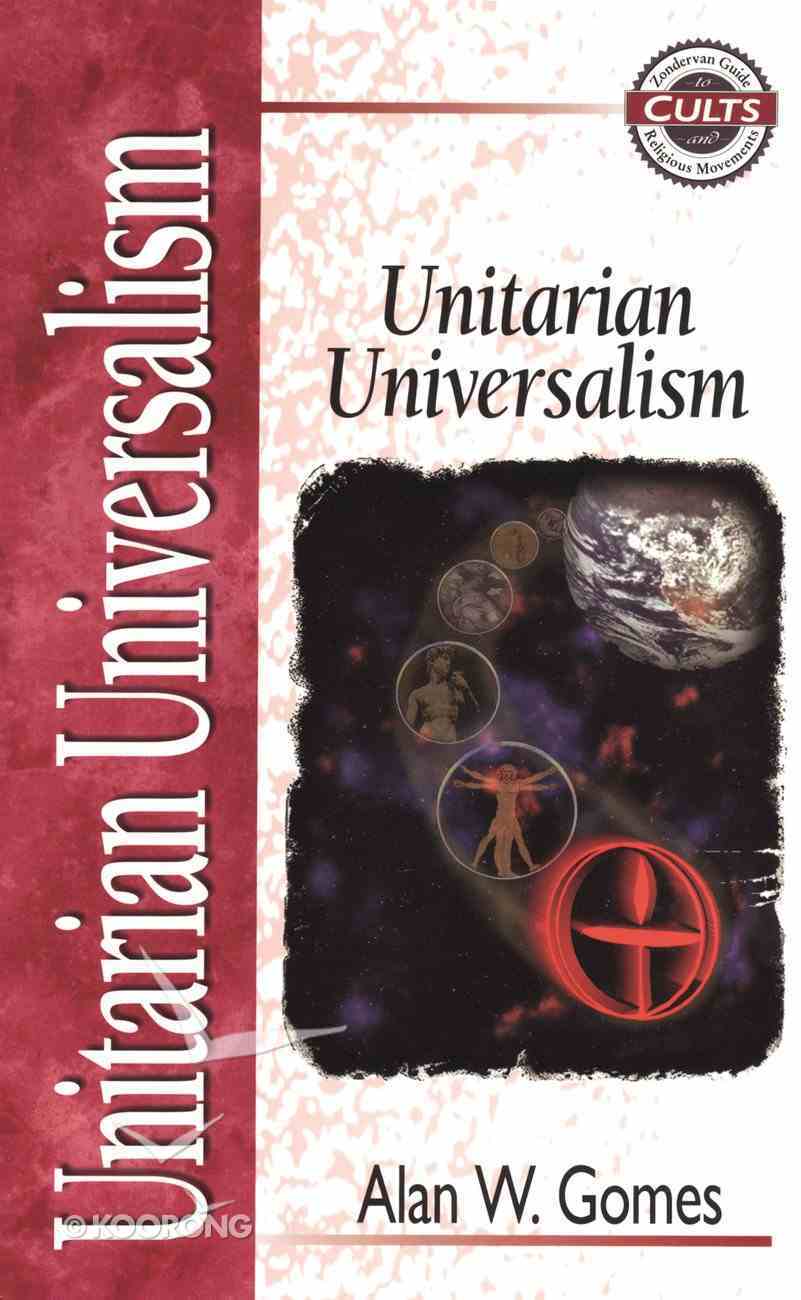 Unitarian Universalism (Zondervan Guide To Cults & Religious Movements Series)
Fast, informed answers to the challenges of false religions -- This is an age when countless groups and movements, new and old, mark the religious landscape in our culture. As a result, many people are confused or uncertain in their...
Out of Stock
Available to Order
---
Expected to ship in 5 to 6 weeks from Australia.
---
Free Shipping
for orders over $99.
Fast, informed answers to the challenges of false religions -- This is an age when countless groups and movements, new and old, mark the religious landscape in our culture. As a result, many people are confused or uncertain in their search for spiritual truth and meaning. Because few people have the time or opportunity to research these movements fully, the Zondervan Guide to Cults and Religious Movements series provides essential information and insights for their spiritual journeys. The second wave of books in this series addresses a broad range of spiritual beliefs, from non-Trinitarian Christian sects to witchcraft and neo-paganism to classic non-Christian religions such as Buddhism and Hinduism. All books but the summary volume, Truth and Error, contain five sections: -A concise introduction to the group being surveyed -An overview of the group's theology -- in its own words -Tips for witnessing effectively to members of the group -A bibliography with sources for further study -A
-Publisher
1. IIntroduction 2. Theology 3. Witnessing Tips 4. Selected Bibliography 5. Parallel Comparison Chart 96 Pages
-Publisher
PRODUCT DETAIL
Catalogue Code 

92417

Product Code 

0310488915

EAN 

9780310488910

UPC 

025986488918

Pages 

96

Department Academic
Category World Religions
Sub-Category General
Publisher Zondervan
Publication Date 

Mar 1998

Dimensions 

215 x 139 x 9

mm

Weight 

0.108

kg
Alan W. Gomes (PhD, Fuller Theological Seminary) is associate professor of historical theology and chairman of the department of theology at Talbot School of Theology, Biola University.
Contents
How To Use This Book 6
Foreword By Francis J. Beckwith 7
Acknowledgments 8
I. Introduction 9
Ii. Theology 30
Iii. Witnessing Tips 80
Iv. Selected Bibliography 83
V. Parallel Comparison Chart 87
Part I: Introduction I. What the Unitarian Universalist Association Is (UUA)? A. The Unitarian Universalist Association is an association of fellowships, churches, or societies1 that subscribe to certain broad principles and purposes and affiliate themselves organizationally with the UUA denomination, headquartered in Boston, Massachusetts. B. The names Unitarian and Universalist reflect the historical roots of the denomination. 1. Unitarian a. The Unitarians are so named because they denied the Trinity. b. The Unitarian movement with which we are concerned arose during the sixteenth-century Reformation. c. It spread from continental Europe (particularly Poland) to England and then to America. 2. Universalist a. The term Universalist refers to the salvation of all human beings. b. The Universalists opposed the doctrine of eternal punishment, teaching instead that God would save each and every human being. c. In the eighteenth century, Universalist teachings spread from England to America. 3. Merger of the Two Groups a. In America the Unitarians and Universalists developed cordial relationships, due to their similar beliefs and attitudes. b. The two groups merged officially in 1961, forming the Unitarian Universalist Association (UUA). c. Members of the Unitarian Universalist Association are often simply called 'Unitarians.' 4. The Unitarian Universalists should not be confused with the Unity School of Christianity or the Unification Church. C. The UUA is pluralistic, meaning that the group tolerates and even encourages within its ranks a wide diversity of belief. 1. For example, the UUA embraces theists, Neo-pagans, liberal 'Christians,' 4 religious humanists, atheists, and more. 2. Because of this wide variation in belief, a simple statement of UUA theology and practice is not possible. Nevertheless, this book presents and critiques the main forms of belief and practice found in today's UUA. See especially Part II, Section I.B. II. The Problem of Analyzing UUA Beliefs A. Factors Contributing to the Problem of Ascertaining UUA Beliefs 1. The pluralism of the UUA makes it difficult to define their beliefs. a. Some UUs favor a particular faith stance (e.g., liberal 'Christianity'), though not to the exclusion of other faith stances. Other UUs mix and match different belief systems into one of their own. b. UUA pluralism makes classification and exposition of UU belief challenging. (See Part II, Section I.B.) 2. Because the Unitarian Universalists are noncreedal---even anticreedal--- one cannot point to a specific statement of faith or systematic theology that speaks for the entire group. B. Procedure Followed in this Book for Analyzing UUA Beliefs 1. This book identifies the unity within the diversity of UUA beliefs. a. As one peruses UU writings, certain principles and beliefs often emerge, which can---at least generally---be taken as normative representations of current UUA belief and practice. b. I have consulted the most prominent and influential UUA authors. Because UU belief is a moving target, I have emphasized their most recent writings offered by their primary spokespersons (e.g., their president, denominational officials, influential clergy et al.). Unitarian Universalism * PART I: INTRODUCTION c. I have paid close attention to UU works published by official UUA presses (e.g., Beacon Press, Skinner Books, the UUA itself). d. Wherever possible, I have relied on UUs' own self-descriptions and analyses of their beliefs. 2. Even though positive UU belief is quite diverse, one finds considerable unanimity in their denial of historic Christian orthodoxy. a. Although UUs frequently disagree among themselves as to what they do believe, there is little doubt about what they do not profess. UUs completely reject the historic, biblical Christian teaching on such issues as the unique deity of Jesus Christ, his literal bodily resurrection, his role as the only Savior, atonement (satisfaction of God's wrath) through his blood, and other orthodox Christian doctrines. b. In their denials one often finds similar arguments. Thus, even though there is wide latitude in their beliefs, their arguments against historic, biblical Christianity are much less diverse. III. Historical Background A. General Observations 1. The UUA traces its roots to the radical wing of the Reformation, which considered itself the true heirs of New Testament Christianity.9 2. Although never viewed as genuinely Christian by its orthodox foes, the UUA has seen itself as such until this century. Generally speaking, today's UUA does not claim Christian allegiance even though individual UUs and certain UU congregations do. 3. Historian Earl Morse Wilbur pointed out that as Unitarianism spread from Poland and Transylvania through Germany and Holland to England and America, the various manifestations of Unitarianism all claimed Christian allegiance. 4. George Marshall notes that around the time of the Revolutionary War, 'Unitarianism emerged first and most conspicuously from the Calvinistic First Parishes of the Congregational order, whereas Universalism emerged from the Methodist and Baptist churches.' B. Early Unitarianism in Continental Europe 1. Michael Servetus (1511--1553) a. Many UUs consider Michael Servetus, a Spanish physician, the founder of their movement. b. Among his most influential---and highly controversial---writings were his De Trinitatis erroribus libri vii of 1531 (On the Errors of the Trinity in Seven Books) and his Christianismi Restitutio of 1546 (The Reconstitution of Christianity). c. After escaping from the Catholics, Servetus made his way to Geneva to propagate his views, in spite of being warned sternly by Calvin not to set foot there. d. After a trial lasting some three months, he was burned alive at Champel on October 27, 1553. e. Servetus's execution generated sympathy for his cause and raised him to the stature of a martyr for his anti-Trinitarian faith. 2. Faustus Socinus (1539--1604), Socinianism, and the 'Minor Reformed Church' in Poland a. The anti-Trinitarian party grew and was organized under the able leadership of Faustus Socinus, an Italian who migrated to Poland. b. Socinus became the de facto leader of the so-called Polish Brethren, known officially as the Minor Reformed Church. c. He championed their cause in writing and in oral debate, entering into disputes with the orthodox over cardinal doctrines such as the Trinity and the Atonement. d. Under Jesuit persecution, the Unitarians largely were forced out of Poland. Some merged with Unitarians in nearby Transylvania. Others migrated to the Netherlands, where Remonstrant (Arminian) and Mennonite congregations often received them hospitably. e. The Unitarian movement took firm root in Transylvania and Hungary and is still active there today. C. Early Unitarianism in England 1. John Biddle (1615--1662) and English Unitarianism a. John Biddle is known as the father of English Unitarianism. b. The authorities arrested Biddle numerous times for spreading heretical views about the Trinity. c. Biddle's Twelve Arguments Drawn out of Holy Scripture and A Confession of Faith Touching the Holy Trinity According to the Scripture attempt to prove both from reason and from Scripture that the doctrine of the Trinity is illogical and unbiblical. d. In 1654 Oliver Cromwell sent him into exile on the Scilly Islands. He eventually died in prison (1662). 2. Theophilus Lindsey (1723--1808) a. Lindsey was an Anglican clergyman who left the Church of England over theological differences. He objected to the Book of Common Prayer's requiring him to worship Christ and the Holy Spirit. b. Lindsey became friends with Joseph Priestley, with whom he cooperated in spreading the Unitarian cause. c. With Priestley's support, Lindsey established the Essex Street Chapel on April 17, 1774.
Bestsellers in World Religions