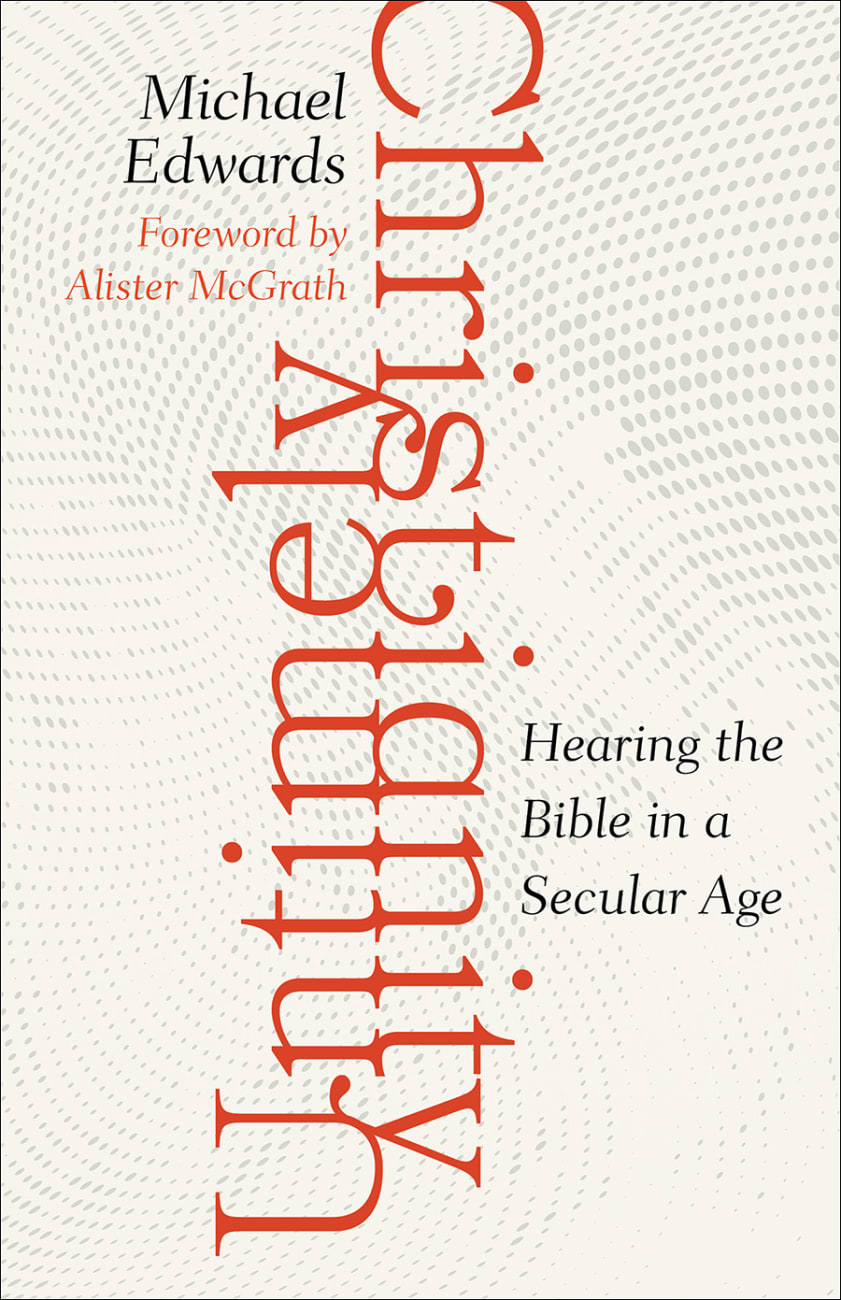 Untimely Christianity: Hearing the Bible in a Secular Age
Christianity is always untimely, always foreign to our beliefs and contrary to our desires. It was untimely in Jerusalem, Athens, and Rome when Jesus and his early followers were killed. It is just as untimely now. But we have
...
---
Expected to ship within 9 hours from Australia.
---
Free Shipping
for orders over $99.

Publisher Description


Christianity is always untimely, always foreign to our beliefs and contrary to our desires. It was untimely in Jerusalem, Athens, and Rome when Jesus and his early followers were killed. It is just as untimely now. But we have become deaf to its otherness, to the disruptive strangeness of Christian faith. If we are to hear it again, we must traverse the distance between our comfortable and overly conceptual Christianity and the true Christianity that "turns the whole world upside down." In Untimely Christianity, acclaimed poet and literary scholar Michael Edwards calls for a countercultural Christianity that recovers the Bible's radical otherness and renews our habits of attention to its message--to its revelation of a God who is not merely a set of doctrines but a person, someone we can know. Edwards's work is an eloquent, prophetic effort to recapture the revolutionary power of the Bible to transform the way humans view the world and how they live in it. Rich in theology, philosophy, poetry, biblical interpretation, and cultural criticism, Untimely Christianity invites readers of all kinds to encounter the Bible anew, as "a continuous questioning of the reader and a prodigious expansion of reality."



Scientist, and former atheist, turned internationally-regarded theologian and prolific author, Revd Professor Alister McGrath, (D.Phil (Oxon), earned D.D. (Oxon) has been appointed to the newly created Chair in Theology, Ministry and Education at King's College, London. Formerly he was Professor of Historical Theology, and Senior Research Fellow at Harris Manchester College, Oxford. He is a world-renowned theologian, and is the author of numerous bestselling titles including The Christian Theology Reader; Theology; Christianity: An Introduction; A Brief History of Heaven, and Dawkins' God . McGrath is an Evangelical on the cutting edge of the interface between Theology and Science, and Theology within post-modern culture as indicated by his most recent publications A Fine-Tuned Universe? Anthropic Phenomena and Natural Theology(2009),The Dawkins Delusion? Atheist Fundamentalism and the Denial of the Divine and The Open Secret: A New Vision for Natural Theology.

Koorong -Editorial Review.



Bestsellers in Christian Worldview